Cargo VPN is offered by Eltima Software.
These developers have been around for years, which makes them trustworthy, and they have a bunch of known products, such as Commander One, Folx, SyncMate, PhotoBulk, etc.
They now also offer their Cargo VPN service which has been recently reviewed.
VPN is a thing these days, and more and more options are coming to the market trying to battle internet censorship and ensure more secure browsing.
Some people feel uncomfortable knowing that their data can be monitored and collected by governmental structures. So, they access the Internet through VPN to keep their online activities, communications, geographical location, and IP address to themselves.
Keep reading this Cargo VPN review to see if this service can help you with this.
Cargo VPN overview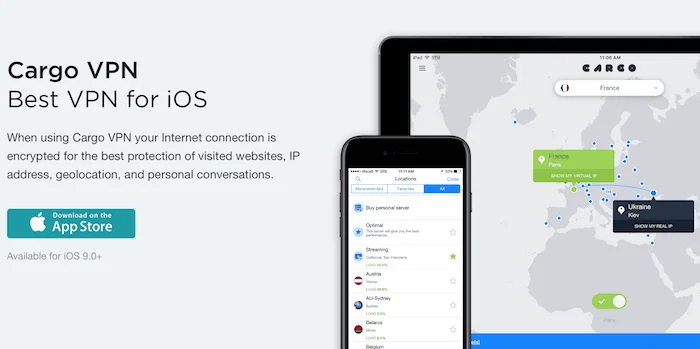 There is a multitude of VPN services available and the bigger the demand, the broader the array of those services.
However, not every service meet the expected quality, and depending on their possibilities the speed of your Internet connection can significantly drop when using a VPN.
VPN means security for its users, and Cargo VPN offers its users security and privacy.
Paying your bills online, checking your bank account, and logging in to your social networks through VPN promises more protection for your sensitive data.
Cargo VPN can help you save money. It is a fact that many car rental services, airfares, and online streaming services base their pricing on the client's location.
With Cargo VPN you can play with different geo locations to see if you can score a terrific deal and pay less.

As you are switching locations and are communicating with the Internet through a VPN "corridor", you may experience slower connection speeds.
It can be especially noticeable if you are using your new Apple TV.
Cargo VPN still promises a high connection speed as they claim to have over 70 locations around the world for their 1000+ high-speed servers.
This ensures instant and constant access through Cargo VPN to any website or service from any continent.
Highlights
Hide IP address, location and online identity for maximum privacy protection.
Keep your data safe while connecting to public WiFi networks in airports and hotels. VPN app will detect an unsecured network and encrypt your Internet traffic.
Bypass geo-blocks to access restricted global media.
Keep your online activity, location, communications, and traffic data away from government surveillance and monitoring.
Keep your sensitive data safe: login details, account numbers, billing address, etc.
Save on flights, hotels, rental cars and more by only playing with your geographical location through VPN.
Over 70 VPN server locations with more than 1000 high-speed servers across the world ensure top protection level of your privacy.
Block malware websites and ads.
Download torrent content without disclosing your identity.
The app works on Macs, iPhones, and iPads. One subscription includes up to 5 devices in one account.

Cargo VPN offers top-notch protection
Personal Static IP that is exclusively yours.
Personal Server can take your speed and protection to a higher level.
Additional slots for new devices.

Pricing and plans
Let's see how much it will cost you to use Cargo VPN.
This app is free on the Mac App Store, (and there is a version for iOS devices) for a 24-hour trial and testing, and then you can choose one of the subscriptions it offers:
One month will cost you $9.99
1 year – $49.99 ($4.17/mo)
3 years – $99.99 ($2.78/mo)
One subscription allows connecting up to 5 Macs in one account.
In-app purchases include a Personal Static IP that is exclusively yours, a Personal Server for a higher level of speed and protection, and slots for additional devices.

Cargo VPN review – Verdict
In conclusion, Cargo VPN is a worthy app that is highly competitive and maintains what advertises.
You just have to make a choice, whether it is the connection speed you care about or security layers over your sensitive data.
No matter how high-end a VPN server is, it will cut some of your connection speed down. However, it will also help you bypass specific blockages and keep your private data away from various snoopers on the web.
---