A proxy is an important tool for anonymous internet browsing, even better if it's an undetectable proxy.
This is especially true, considering the fact that various websites now employ different proxy detection tools and technologies in a bid to identify connections made via proxies to their platform.
Some proxies on the market claim to be unblockable, undetectable, and unidentifiable.
However, in the real sense, such services don't exist and it's easy for websites to identify them.
This is why it's important to do thorough research before opting for a proxy service to ensure that it lives up to expectations.
If you're new to the world of proxies and don't know what undetectable proxies are, how they work, and what their benefits are, you're in the right place.
Let's dive into it!
What is an undetectable proxy?
While in the real sense, there's no such thing as a 100% undetectable proxy, here we're talking about a proxy server designed to be difficult to identify and block by websites or other servers.
It works similarly to a VPN in the way it masks your IP address, providing you with a new one that appears normal so that websites can accept and process your requests successfully.
Just as different countries and websites block VPN connections, there are some with proxy blocks too.
In many cases, these blocks help to prevent access to geo-restricted content, especially if the platform has to follow strict distribution and copyright laws.
This is where undetectable proxies come into play, as they allow you to securely connect to geo-blocked platforms.
An undetectable proxy runs transparently once it establishes a secure line of communication on your internet connection.
This means that no service will detect that you're using a proxy server to access their service.
That's because undetectable proxies don't use the HTTP_X_FORWARDED_FOR or HTTP_VIA types of headers.
They also don't reveal your IP in REMOTE_ADDR.
The above configuration is what tricks the website into believing that the request is sent from a regular user, thereby bypassing all proxy blocks or restrictions.
How does an undetectable proxy work?
Apart from being totally transparent so that it can bypass restrictions, an undetectable proxy works by:
Using rotating IP addresses, so that you don't send multiple web requests on the same IP address.
Using a dedicated IP address on the proxy server exclusive to a single user.
Obfuscating the headers of HTTP requests to avoid detection by websites and proxy blockers.
In addition to these methods, undetectable proxies also have the following functions:
They provide a transparent connection to the client: An undetectable proxy uses the IPv6 protocol in addition to it masking the IP address, making it appear normal.
This makes it possible to send your requests over the internet without being traceable.
Acts as a middle-man: An undetectable proxy serves as a middle-man and privacy shield between the client's computer and the internet.
This helps the user safeguard his personal information including that of the PC because the PC has its own IP address.
When a request is sent online, it is routed via the proxy. The proxy accepts the response from the web server before passing it on from the page to the computer's browser.
Accepts and accesses the internet on the user's behalf: Since the request is routed via the proxy, the proxy tenders all the information it has gathered when the web request was sent to the web page so it can be viewed using the PC browser.
Although the proxy can change the data you submit during its online redirection of requests, you'll still have access to your preferred content.
In simpler terms, when it processes a request, it accepts it and connects it to the existing request before sending the response to the user.
Scrambles user data thereby ensuring privacy and security: An undetectable proxy server works by masking the location of users which is detectable using their IP address.
In addition, it also scrambles or encrypts user data such that it remains inaccessible and unreadable while in transit.
However, an undetectable proxy isn't entirely invisible and it's also different from a VPN.
Hence there's a need for a selection or configuration in the client computer's browser and other network protocol programs to set up the proxy's IP address.
Overall, undetectable proxies act as a regular endpoint that hides the user's location and identity while using the internet.
This gives you unrestricted access to the internet and web data regardless of whether or not there are geo-restrictions in place.
Now, let's check out the top services you may want to consider:
Best undetectable proxy providers
Below are the top 5 best undetectable proxy providers you can find: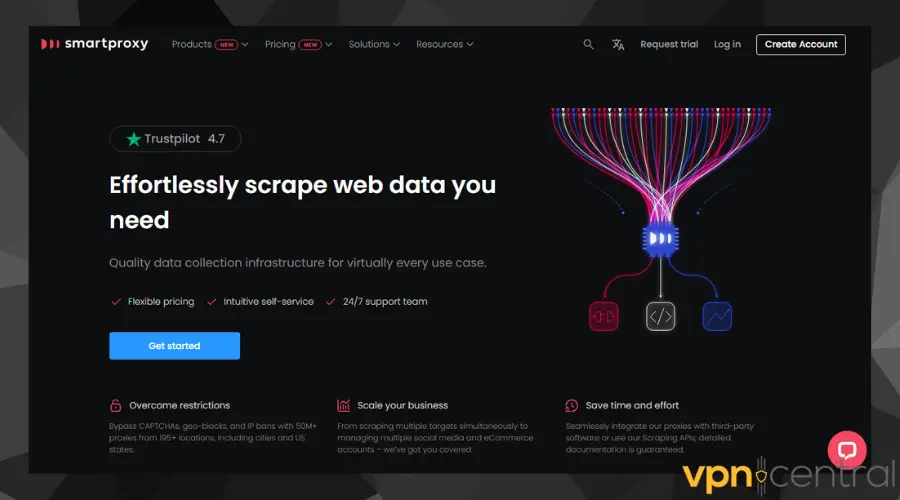 Smartproxy is one of the best proxy service providers on the market today.
With a pool of 40 million residential IP addresses across 195 locations in the world, it provides its proxy network service mainly as proxies without the use of subnets which is what makes it undetectable.
The proxy service has packages that serve both businesses and households.
In addition, it's specially designed for conducting basic online data harvesting and online scrapping tasks.
With Smartproxy, you get IP rotating features as well as high-quality, private, and anonymous proxy servers that allow unlimited device connections.
For a proxy that allows unlimited connections, Smartproxy is affordable but charges based on bandwidth usage.
Its bandwidth allowance starts from 5GB and subscription prices from $7.5 per month. You can also opt for its pay-as-you-go plan that charges you based on the bandwidth you consume.
Smartproxy has a session limit of 30 minutes per IP after which you get a new one.
It has an easy setup process and you can choose to use either Google Chrome or Firefox extensions.
Also, it has a beginner-friendly interface and you have access to a support team via chat.
Pros:
Large IP pool – over 40 million worldwide
Unlimited device connection
3-days money-back guarantee
Easy-to-navigate interface
Rotating IP
Cons:
Slow internet speeds
Doesn't use SOCKS5 protocol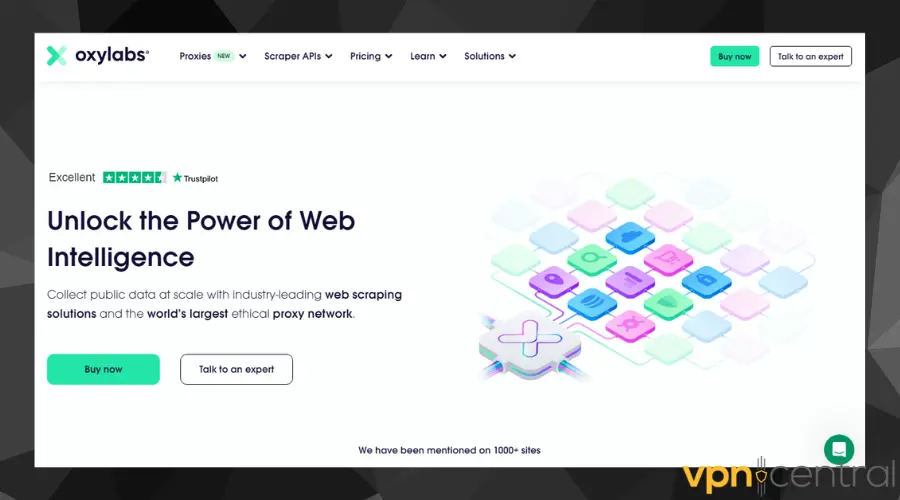 Known for how long it's been in the industry, Oxylabs provides undetectable proxy services for all.
However, it's widely used by companies, especially those who desire excellent results with their marketing efforts.
Oxylabs offers proxy networks which include: dedicated or rotating ISP, undetectable residential, and mobile proxies (3G/4G enabled).
It also offers dedicated and rotating data center proxies, as well as residential proxies.
This undetectable proxy provider uses residential IP addresses while also allowing geo-targeting.
Its use of residential IP addresses makes it appear like a normal user and isn't in use for data scraping.
Furthermore, it supports SOCKS and HTTP protocols in addition to its wide range of about 100 million IP addresses to ensure fast and secure connections with low ping.
Oxylabs has a user-friendly interface with an easy-to-navigate and colorful dashboard.
Additionally, it supports Google Chrome extensions for secure browsing which allows users to test the proxies and surf the internet with them.
Also, it allows usage with other third-party proxy managers and its products are compatible with various software that allow proxy servers.
Oxylabs has unlimited simultaneous device connections and allows you to optimize your business using its data center proxies. It also has an IP rotator for automated switching between IPs.
Pros:
100 million IP addresses
24/7 customer support via live chat
SOCKS5 and HTTP protocol for fast speed.
Cons: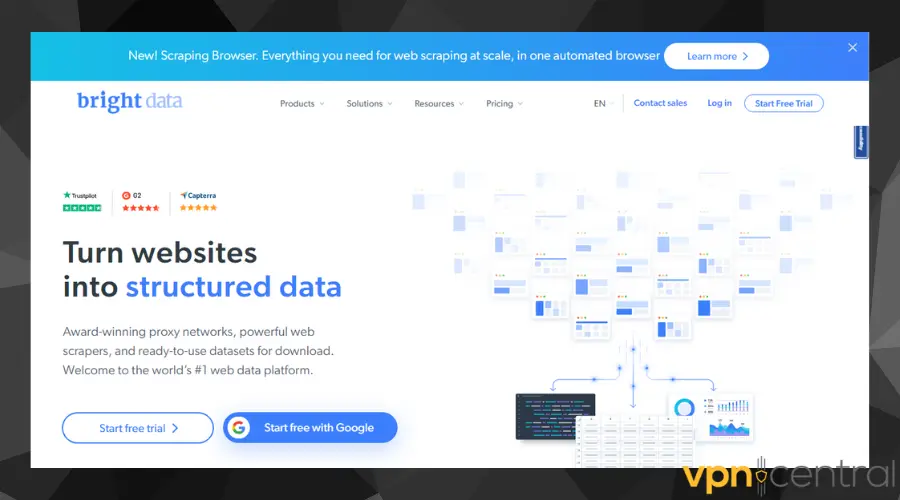 With over 72 million IPs across 195 countries, Bright Data is another undetectable proxy service provider worth mentioning.
In terms of mobile proxies, the service has well over 7 million IP addresses for you to choose from.
There are also over 700,000 ISP proxies and 770,000+ data center proxies in its control.
Bright Data's focus is on giving access to companies to get information they normally wouldn't have access to, especially from their target audience.
Currently, over 500 companies use this proxy service and there's no data of security breaches.
When you use its built-in proxy manager, you get advanced features like logs and statistics, CAPTCHA solving and markup changes handling, and cost and bandwidth optimization rules.
That's not all, you'll also get automatic retry of failed requests, SSL fingerprint and header adjustment, API integration, live traffic preview, IP rotation, and session management.
Its mobile proxies use 3G/4G connections and can run on mobile carriers across the world.
One of the added advantages of the service is its pay-as-you-go (PAYG) plan where you pay $15/GB.
Otherwise, you can opt for other plans with prices ranging from $350 per month to $750, and even $1,250 per month.
You also have the option to use its cloud manager which costs $150 additional charges every month.
Pros:
Largest IP pool
7 days risk-free trial
Over 7 million residential IPs
Cloud proxy manager
User-friendly and neat interface
Cons:
Customer support only works during business hours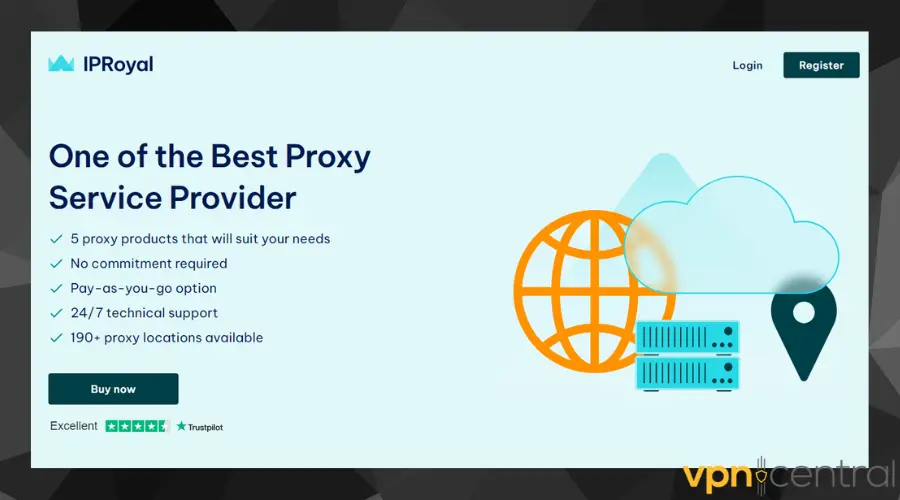 With affordable pricing, IPRoyal prides itself on the wide range of services it offers.
Firstly, it has the 4G mobile proxy that's backed by residential IPs and real users from their mobile carrier networks.
This makes it easy for its IP addresses to bypass any proxy detection and blocking tools.
This allows you to use restricted services, gather data and info, and do various tasks like SEO and competitor background checks confidently.
Secondly, it provides sneaker proxies. This is for sports shoe lovers who want to bypass purchase limits on their favorite sport shoes sites.
The proxies work perfectly with sneaker bots and provide unique IP addresses for every visit to the same online store, thereby allowing a single user to buy limited shoes in bulk.
IPRoyal has a pool of over 2 million IP addresses, to which it consistently adds hundreds of new addresses on a daily basis using its IPRoyal Pawns program.
Additionally, the service offers the rotating IP feature on autopilot and time-based sticky IPs if you want to maintain one IP address.
However, the sticky IP comes with a session limit of 24 hours, after which it changes to a new one.
It uses a P2P (peer-to-peer) approach which allows users to share their bandwidth and SOCKS5 to enhance user security and privacy.
In addition, it uses HTTPS for secure and end-to-end encrypted communication from the client's computer and the internet.
Furthermore, it accepts payment through Bitcoin and credit cards, and you can subscribe to IPRoyal for as little as $1.
Pros:
Automatic IP rotation tool
4G mobile proxies
Has coverage in locations including the US, China, Germany, the UK, and lots more
Affordable pricing
SOCKS5 and HTTPS protocol
Cons:
Slow download speed
No refund policy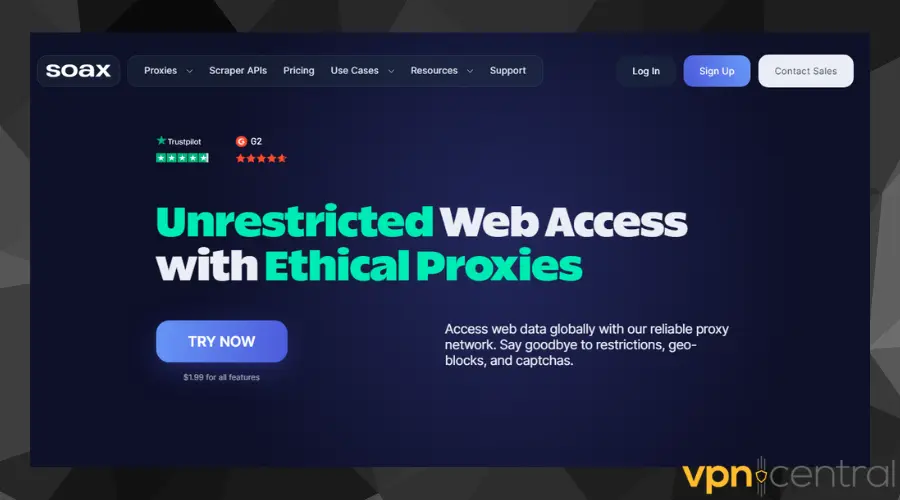 SOAX is one of the best undetectable proxies available In the industry.
Apart from offering lots of services to individuals and business entities, it also has a team of outstanding and excellent developers.
With about 8.5 million IPs, all of which are residential, its pricing plans are affordable and are grouped based on what you want to use them for – starters, residential or business use.
Although it has an IP rotating feature, you can choose to keep one IP address until it goes offline.
You can also specify your custom duration as well as rotate proxies on each of your connection requests.
It has a beginner-friendly interface with interactive tabs on the dashboard.
Also, it offers a wallet functionality that allows you to top up your account before the subscription ends so that you don't get charged multiple times.
A basic subscription plan gets you 300 ports, which is the number of IPs you have access to at the same time. However, you cannot exceed 30 connections simultaneously.
SOAX offers a trial that costs $1.99 and gets you 100MB of bandwidth.
This offer allows you to test its features to be sure it's what you want before committing to it long-term.
Its subscription plan starts at $99 for 8GB, which equates to $12 per GB.
At the moment, the highest plan IPRoyal offers gives 2 TBs of data at the cost of $3 per GB.
Pros:
Rotating IP feature
3 days trial with 100MB for $1.99
Accepts various payment methods
Residential IP addresses
Available support via Telegram, email, phone, or live chat.
Cons:
Premium subscription prices
How to set up an undetectable proxy
Now that you've made your choice, follow these simple steps to set up an undetectable proxy on your computer:
Open Settings from the Start menu.
Select Network and Internet (this should reveal a list of network and internet settings)
Click Proxy to open a list of available proxy settings
Navigate to the Automatic Proxy Setup section and toggle the Use Setup Script switch on.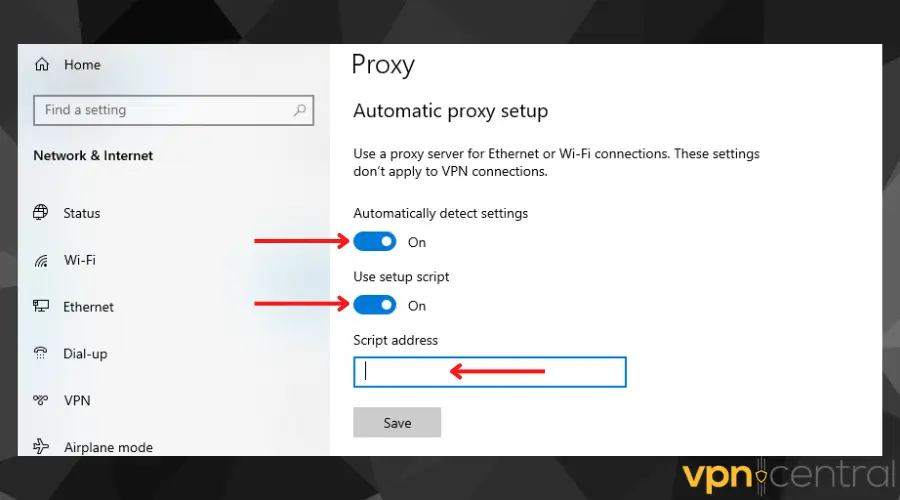 Input the script's address as you were given before proceeding to click Save.
For Manual Setup:
Repeat steps 1-3 above.
Toggle the Use a Proxy Server switch on in the Manual Proxy Setup section.
Input the IP address in the Address field.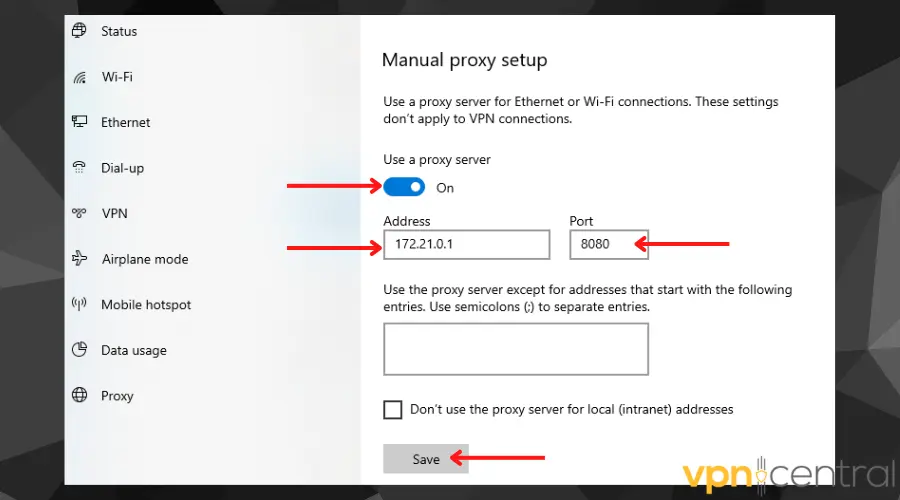 Type the port in the port field and click Save.
Do this before closing the Settings on your Windows PC.
It's important to note that the level of anonymity this setup provides is solely dependent on the quality of the proxy you're using.
This is why it's important to choose a tested and trusted undetectable proxy provider.
In addition to this setup, you can also make your proxy server undetectable by:
Using a private proxy server: these types of servers are usually more secure than public ones in that they're not shared, and as such, can help prevent detection.
Use a high-quality proxy server: the advanced features your proxy server offers guarantee how secure and undetectable your connection and IP address will be.
Rotating your proxies: Rotating your proxies makes it hard to detect that you're using such a server.
Rotating proxies automatically switch your IP address, choosing from a large pool of IPs. With this, websites and their proxy-identifying tools will have a hard time detecting the real source of your traffic.
Undetectable proxy benefits
1. Security and privacy
Using an undetectable proxy is one of the best ways to protect yourself from trackers while surfing the internet.
It serves as a firewall between your PC and the internet, thereby blocking every malicious attempt to obtain your IP addresses and manipulate your network.
Every website uses cookies to track its users' locations and sometimes sends targeted ads from advertisers.
In order to protect yourself from these and many more, you should use an undetectable proxy.
Doing this will help to guard against tracking and also ensure that the data you're sending and receiving is protected from unauthorized third parties.
2. Access to geo-blocked or restricted content
Numerous websites including streaming and gaming platforms now restrict users outside the countries where they have distribution licenses.
This stops many people from watching or playing their favorite games.
Using undetectable proxies grants you access to websites that have geo-restrictions in place.
This allows you to visit any website of your choice from any location including apps that are not available in your country.
3. Bypass proxy blocks
Certain websites and platforms use various tools and technologies like IP blocking, CAPTCHA, analyzing browser fingerprints, and others to identify the use of proxies on their platforms.
Undetectable proxies easily bypass these measures as they're unidentifiable and their IP addresses are routed like a regular IP address.
4. Regulate internet use
You can use an undetectable proxy to monitor internet useage.
When it comes to households or businesses, you can use it to regulate how children or employees use the internet and how much time they spend surfing.
You can utilize these proxies to block access to any website or service you deem distracting to adults or harmful to kids without telling them not to visit these websites.
5. Improve speeds and save bandwidth
An undetectable proxy can provide an improved network performance.
This is because all the requests sent from the client's PC will first go to the proxy server.
In a situation where the proxy server has preexisting cached resources in its local hard disk, it provides direct feedback to the client without having to surf the internet for web data.
This ensures a fast response to requests.
Summary
Undetectable proxies are secure proxies that help to mask your IP address, so you can evade detection online.
These proxies grant you unrestricted access to blocked websites and content from any part of the world.
They also help identify and block websites that have been flagged for containing trackers and other malware.
They're an important tool essential for a secure online presence, and just like VPNs, they should be widely recognized and accepted.
If you're considering exploring the world of proxies, you can read more on reverse proxy vs VPN, forward proxy vs VPN, and how to use a VPN and proxy together in the respectively linked articles.
But for undetectable proxies, the providers listed in this article are simply the best available options.
So, make a pick from the list and enjoy all the amazing benefits that an undetectable proxy has to offer.
FAQ
Which proxies are undetectable?
These are proxies that are hard for any detection tools to identify and block.

They hide your IP address and give you one that belongs to an ISP, thereby making your internet connection appear as though the traffic is coming directly from youm.

Also, they are able to bypass geo-restrictions or content blocks on any website or platform seamlessly, leaving no trace and granting their users unrestricted access.
How do I make my proxy undetected?
You can make your proxy server undetectable by using an IP rotating tool.

Other methods include using a high-quality proxy service provider, using anti-detection tools for proxy, or using a private proxy server.

Additionally, you can totally opt for using residential proxies as they generally are undetectable because their IPs are attached to an ISP. This makes them appear legit on any website.
Can proxies be detected?
Yes, proxies can be detected though IP detection tools and other technologies.

These tools identify and block any IP address belonging to a proxy from using a certain platform.
Can you still be tracked with a proxy?
The short answer is No. You cannot be tracked once you connect to a proxy server.

Upon establishing a secure connection to a reliable proxy, every request you send over the internet gets rerouted through the proxy's IP address.

This hides your own IP so that nobody can use it to determine your location, thereby granting you an anonymous connection to the internet.

With this, your actual IP address remains hidden and you can evade trackers at every turn.
---