Most countries consider streaming sites like PutLocker to be breaching copyright laws. Therefore, as a user, you are subject to face consequences for breaking the said law. This is the main reason that we advise our readers to attempt to protect their online privacy. While accessing PutLocker you must use a VPN and other additional tools that we will explain in this article.
Let's get into it!
Did you know that the site links to external streams?
As much as PutLocker fulfills our streaming needs, it exposes its users to viruses, malware, and other security threats from external links. That's why, it makes sense that every PutLocker user needs a security tool while accessing the site.
What is PutLocker?
PutLocker is a website that holds a cloud directory of media files including TV shows, music, and movies. The site itself does not host the content, but it gives users direct access to the files that are hosted somewhere else.
Originally, PutLocker was available only in the UK as putlocker.com. However, its popularity grew rapidly, and by 2012, it was averaging around 800,000 visitors a day. Their numbers increased to over 1.5 million after a big competitor got shut down due to an alleged copyright violation.
As of today, the number of PutLocker users has grown to even greater numbers making it one of the top 250 visited websites worldwide. This has attracted a lot of attention with a couple of attempts to put down the platform. However, it has been able to survive over the years by occasionally changing the URL.
The latter has evolved from putlocker.bz to putlocker.is which was put down for some time and then it started working again. It then changed to putlocker.rs, and, at the time of writing it's putlocker.boo.
Why PutLocker?
PutLocker's popularity has grown greatly over the years, and it has become a major source of TV shows and the newest movies for most people. Citizens of the UK, USA, Australia, India, and the rest of the world visit the site on a daily basis.
Unfortunately, most PutLocker users don't realize the risks associated with accessing or, in this case, streaming pirated media.
Although streaming sites offer a solution to access media online, they are, we all know, paid. Each streaming service has a subscription fee to access its content. The moral dilemma aside, for most people, these prices are usually too high. That said, they turn to cheaper or outright free alternatives like the PutLocker..
To top it off, most streaming services impose geographical restrictions due to potential copyright violations. This means that if you pay for a subscription in your home country, it is only valid in that country.
That's why we are witnessing the rise of free, all-inclusive, accessible sites and platforms that stream all the popular media your heart desires.
Sounds too good to be true?
Well, because it is.
Is PutLocker Legal?
In most countries, streaming movies and TV shows without having the rights to do so is against the law. Technically, that means that sites like 123Movies, PutLocker, Afdah, or CouchTuner are illegal. De facto, such sites don't host pirated content but only serve as a gateway, which makes things a bit fuzzy.
However, practice shows that many users face charges or rather get frequent copyright infraction warnings from their Internet Service Providers (ISP). In all cases, the reason indicated is watching/streaming pirated content.
Therefore, whether streaming content on the PutLocker site is legal or not, depends on where you reside. In all cases, though, if you are a PutLocker user, you must take security precautions and use a VPN when accessing the site.
A VPN creates a tunnel that encrypts your data and fakes your real IP address. When connected to a VPN server, your online activities remain secret to both your ISP and agencies.
Is PutLocker Safe?
There is no straightforward answer to this question. Users view the site differently. From one feedback site, 77% of regular users totally trust the site while 72% believe the site is safe for children to use.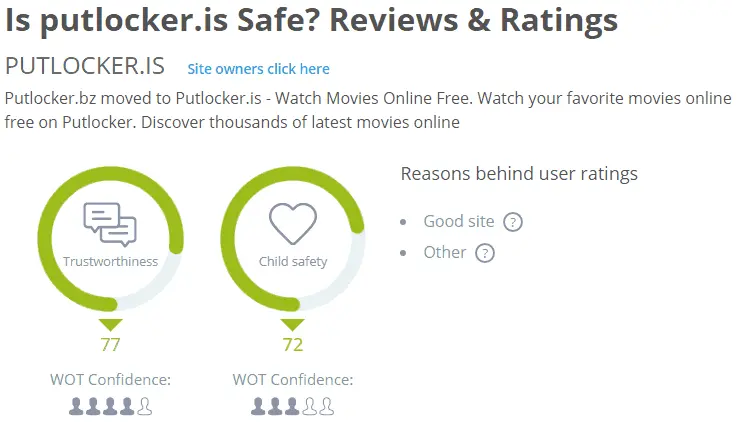 However, despite the popular opinion, PutLocker is not safe and can potentially cause harm via the following:
Malware: Since PutLocker does not host the content it provides its users with, you cannot be sure of the safety of the file sources. While streaming content, a temporary file is downloaded on your device, and therefore Malware can be easily injected into your device.
Always check the feedback of a file and follow all important security measures before streaming it.
Mirror Sites: PutLocker has changed its URLs a couple of times. All the previously used domains no longer work. However, malicious actors might take advantage of the old PutLocker URLs setting up malicious websites.
Pop-ups: Although this is how the site generates income, the pop-ups are potentially dangerous. Some of them have been reported because of redirecting to dubious, adult, or shady websites.
Unnecessary Downloading: Users have been complaining about being forced to install a downloading tool. Downloading PutLocker content is insecure and illegal.
How to stay safe on PutLocker
Although we don't embrace pirating content nor do we encourage it, our mission is to keep you safe online. That said, here's what you need to do to stay safe on PutLocker and similar websites.
There are some tools to boost your security, privacy, and anonymity that you need to use. They are:
#1 Use a VPN
As noted earlier, there are legal charges and potential security threats associated with using the Putlocker site. One can counter this by using a VPN service.
A VPN or Virtual Private Network works by redirecting all the user's internet traffic down an encrypted pathway and through an external server. This way no one can trace your IP address. On top of that, it ensures that all your traffic is kept clean and safe for your device consumption.
A VPN connection is the most important way to protect yourself while connecting to PutLocker.
#2 Use antivirus software
Internets users, especially those who access sites such as PutLocker, must have professional anti-virus software.
Accessing different sites on the internet causes a possibility of malware and other malicious programs being installed on your PC. Antivirus software helps you identify clean and infected files from the Internet. This way you can avoid executing infected files that could damage your device hardware or data.
It is advisable to go for a well-known anti-virus software for they have more broad databases of blacklisted content. However, which your choice is, it is crucial to ensure that your software is always up to date. Enable updates to download automatically to guarantee the best protection every time.
#3 Use an Ad-Blocker
The largest percentage of complaints about the PutLocker site is the undesired adverts. Therefore, equipping yourself with a good ad-blocker should keep the adverts to a minimum.
#4 Use a Pop-up Blocker
The biggest rate of complaints about PutLocker is the undesired adverts like those mentioned above. In this manner, outfitting yourself with a decent pop-up blocker should keep the adverts to negligible.
Summary
PutLocker is not "entirely" legal nor it is safe. You cannot afford to be ignorant by skipping all the security steps since you will be risking a fine if you are caught streaming pirated movies and TV shows online. Not to mention all the potential dangers to your devices and personal information.
A VPN service allows you to top up a layer of privacy and security to all your online activities. This way you can enjoy long hours of streaming trouble-free.