Double VPN (also known as multi-hop or cascading) is a flashy feature most users ignore. Many say it drives up latency while others, including gamers, believe that it's overkill.
Although its negative reputation is not unfounded, it does have real benefits. Most importantly, it can take your online privacy and security to new heights.
The problem is, a double VPN can be quite elusive, as most service providers don't offer it.
But don't you worry.
We scoured the internet for the top double VPN vendors on the market.
Best double VPN services
Interestingly, our picks have different takes on this exceptional functionality. So, you have to pay attention to their nuances.
We'll explain exactly how they work and let you be the judge of which one does it the right way.
Let's get started!
1. Surfshark – largest double VPN network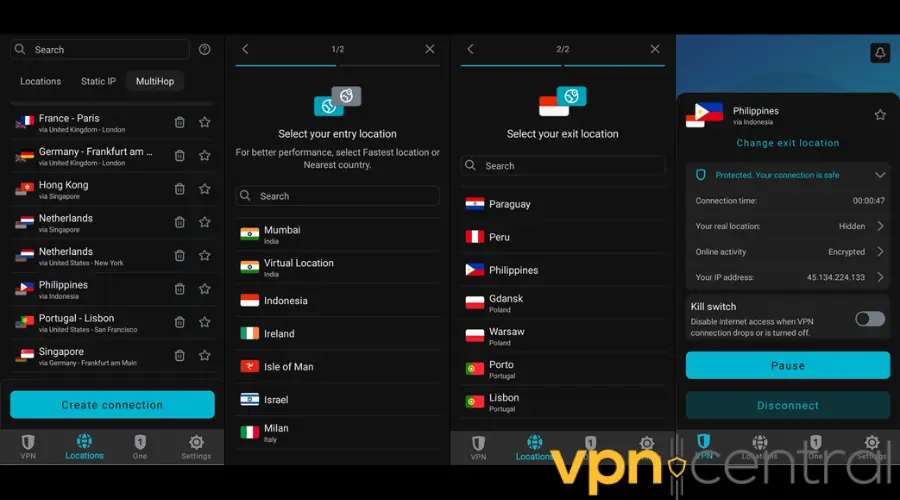 Surfshark's version of double VPN is Dynamic MultiHop, which is compatible with this vendor's Windows, Android, Linux, macOS, and iOS apps.
It enables you to pick any server location on this vendor's expansive global hardware fleet.
Considering that Surfshark's network covers more than 100 countries and territories, you have the luxury to mix and match locations and create the shortest data routes to minimize latency.
To further reduce speed loss while using Dynamic MultiHop, you can create VPN tunnels using WireGuard. It's the fastest among all common tunneling protocols right now.
Alternatively, you can switch to OpenVPN (UDP or TCP). Although it's not as fast as WireGuard, it obfuscates your data through any Surfshark server.
Also called Camouflage mode, this stealth feature erases any evidence of VPN use from your traffic. This way, you can fly under the radar in restrictive cyberspace.
To help protect you from extreme network restrictions, Surfshark automatically activates NoBorders mode. It filters out the servers that don't perform the best under such conditions, allowing you to connect to its most reliable pieces of hardware.
This VPN company is headquartered in the Netherlands, a Fourteen Eyes country.
Despite this, you can rest assured that Surfshark will protect your privacy from the government. We can say that with confidence because it has an independently audited no-logs policy and RAM-only servers.
Other great Surfshark VPN features:
Kill switch
CleanWeb (blocks ads, banners, cookie pop-ups, and trackers)
Bypasser (split tunneling on the system and app levels)
Unlimited simultaneous device connections
30-day money-back guarantee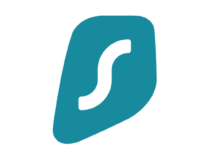 Surfshark
Enjoy the most intuitive and customizable double VPN experience with Surfshark.
2. Proton VPN – best speed-boosting capabilities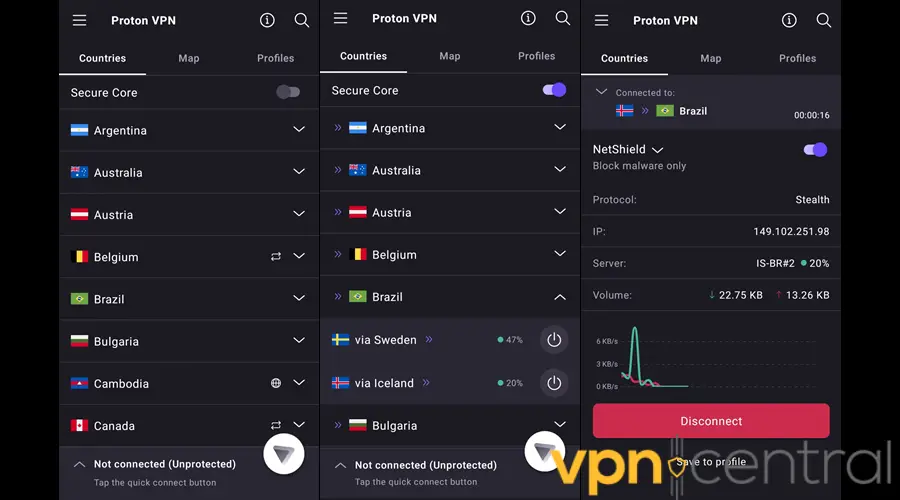 Proton establishes double VPN connections through its Secure Core servers.
They represent less than 4% of this vendor's 2,700-strong global fleet. But they can pass your traffic to anywhere in Proton's network of 67 international jurisdictions.
Only three countries host these premium servers: Iceland, Sweden, and Switzerland. These places aren't a random choice, as they have commendable privacy laws.
If you're far from Europe, being forced to send your data to remote locations may increase latency. But this vendor's VPN Accelerator can offset potentially significant speed loss.
Furthermore, you can set your protocol to WireGuard or OpenVPN to help route your data even more efficiently.
To counter VPN censorship, you can leverage the Stealth protocol for obfuscation. Plus, you can toggle on alternative routing to circumvent attempts to block Proton.
This vendor's home base is in Switzerland, outside the reach of the Fourteen Eyes Alliance. Its no-logs claim has been impartially verified too.
What else Proton VPN offers:
Tor over VPN
NetShield (ad and malware blocker)
Kill switch
10 simultaneous device connections
Freemium service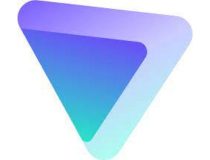 Proton VPN
Enjoy a smooth double VPN connection with this secure and speed-focused service.
3. NordVPN – strongest set of security features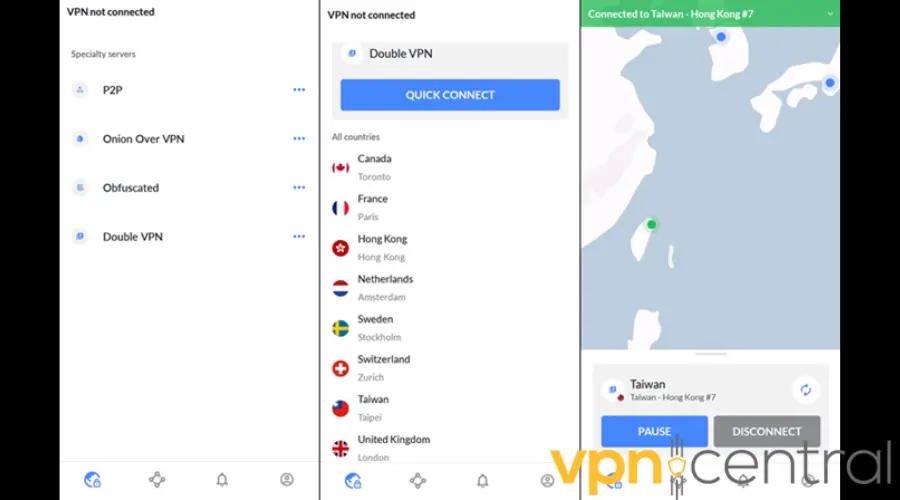 NordVPN supports double VPN on its Windows, Android, Linux, macOS, and iOS apps. As of writing, it has servers optimized for it in 10 cities across 9 countries and territories on 3 continents. These locations are:
Amsterdam (Netherlands)
Hong Kong
London (United Kingdom)
Manassas (United States)
New York (United States)
Paris (France)
Stockholm (Sweden)
Taipei (Taiwan)
Toronto (Canada)
Zurich (Switzerland)
Curiously, this vendor only lets you select your entry location. Once you've made your choice, it decides where to send your traffic next. In other words, you can't control where your final masked IP will come from.
However, NordVPN's algorithm always picks a country close to you and never one that's halfway around the world.
To minimize latency further, you can also go with the NordLynx protocol, which is this provider's own WireGuard iteration.
When it comes to privacy, the company is registered in Panama, a country with no mandatory data retention laws. Also, NordVPN is RAM-based, so it doesn't store data on hard drives. Lastly, its logs don't expose its users.
More things to love about NordVPN:
5,600+ in 60 jurisdictions
Kill switch
Robust security features (Threat Protection, Tapjacking Protection, and Dark Web Monitor)
30-day money-back guarantee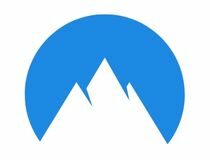 NordVPN
Benefit from advanced security features from one of the market's most trusted VPN providers.
When and why should you use double VPN?
You should use a double VPN when you need to get around state-sponsored internet censorship and traffic correlation attacks.
Let us elaborate:
Censorship avoidance
If you're in a country that bans certain foreign sites, double VPN may come in handy. This feature allows you to access restricted content by steering your traffic toward a server in an unrestricted location before sending to another in a prohibited region.
Here's an example:
Say you were in China where American sites are off-limits to the public. You could use a double VPN connection to transmit your traffic first to hardware in a permitted location like Singapore before it goes to another in an unpermitted city like Los Angeles.
The Chinese government wouldn't know that you're connecting to a US-based server. It would think that you're only interacting with a Singaporean one.
As a result, you'd be able to access banned sites and services.
Traffic correlation attack resistance
Also known as an end-to-end confirmation attack, a traffic correlation attack is an attempt to identify you even when you're using encryption.
Instead of trying to decrypt the scrambled contents of your traffic data, the attacker observes both ends of your communication channel. Then, they look for patterns in your data that match incoming and outgoing traffic flows to deanonymize you.
A normal VPN connection is more prone to this advanced cyber attack.
But if you turn to double VPN, the attacker will have to hack two servers to get a complete picture of your traffic. That's because if the hacker manages to compromise just one, your traffic's endpoint will remain hidden behind the other VPN hardware.
Wrap up
Double VPN may not be a ubiquitous feature, but at least some of the biggest industry players offer it.
So when you need to bypass large-scale censorship and mass surveillance techniques, Surfshark, Proton, and NordVPN are your best double VPN bets.
---