Users looking to access pornographic content online in the state of Louisiana now have to submit their state IDs as a way to verify their age.
This comes as the new Act 440 has made it illegal for sites to publish and distribute adult-only content without using age verification technology within the state.
The world's biggest adult-only site, PornHub, is already implementing the new age verification process through the LA Wallet app.
Many users are now looking for ways to access adult-only content without handing over their personal information.
There are many shady sites in the online pornographic industry. It's questionable whether all of them would handle user data responsibly.
Daily VPN demand in Louisiana skyrockets
With adult sites only asking users with Louisiana IP addresses to verify their age, the easiest way to avoid inputting your ID is to use a VPN.
That's exactly what many Louisianans have been doing since the law took effect. The daily demand for VPN services in the state has since skyrocketed.
The new law took effect on December 31st.
That day, the daily demand jumped by 210% compared to the daily average earlier in December. It later peaked at 246% on January 2nd.
Masking your IP's location is an effective way to bypass geo-blocking. It will help avoid having to input any of your personal information before accessing content.
Also, if you opt for one of the top providers, there's very little chance that anyone can trace you back.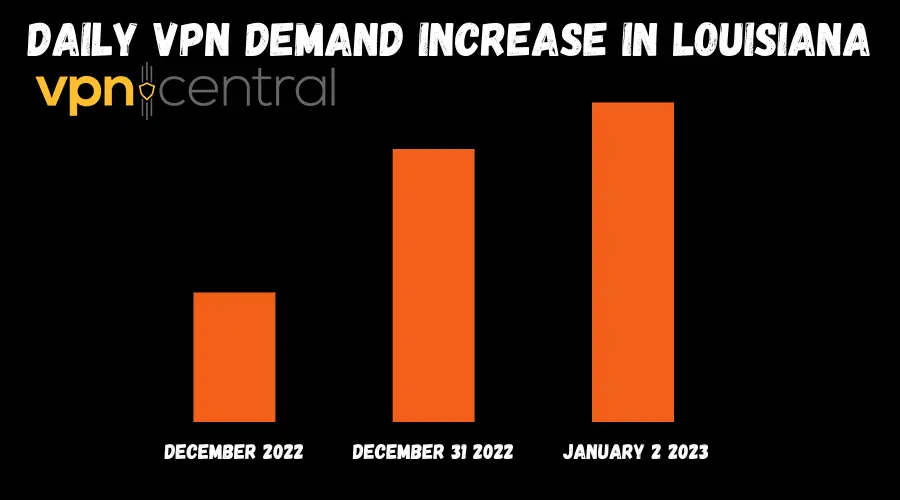 It's not only users who are doubting the way adult sites would handle user data.
Senator Missy Irvin said she supports a similar bill that has been proposed in Arkansas but had a constituent suggest that it could lead to porn sites tracking user data.
There have been propositions to hold companies liable for damages in case they do so. However, there's still no information on how the authorities plan to tackle the problem.
Another problem is that training people to input their IDs is a boon for scammers looking to steal other users' identities.
One of the most common phishing techniques is mimicking a real website and asking for information.
Blackmail and public humiliation aren't out of the question either.
Who is affected by the new law?
The law applies to sites with at least 33.3% content deemed as "harmful to minors."
Those who continue to allow access to young visitors are now at risk of being sued for damages. This marks an unusually severe step in the government's efforts to protect minors online.
Users now wonder what authorities will view as 33.3% adult content – file size, video length, or something else?
As a consequence of this law, adult sites may even try to create more non-porn content.
This could potentially make them fall under the category that doesn't require age verification.
Even some Redditors are now wondering what percentage of content on their favorite platform is adult-only and whether it could have to implement age verification. Just the #nsfw subreddit has 3.9 million members.
The new law also fails to account for individuals who live in Louisiana but are ineligible to receive the state's ID.
Another problem has already emerged – Users from both Texas and Arkansas have already reported the new age verification process malfunctioning.
Those living near the Louisiana border got locked out of PornHub even when accessing it from their states.
They had to use VPN services to get around the geo-blocks.
Some sites are already implementing it
The pornography giant MindGeek is already implementing the age verification process on its sites – PornHub, Brazzers, and YouPorn, among others.
Other major companies in the industry are yet to come up with their own implementations. However, they will be looking to do this in the coming months.
It's worth noting that MindGeek is responsible for 81.6% of the online porn industry's total revenue. This means the new law will have a large impact on the world of adult-only sites.
The company faced some legal issues in the past and is looking to avoid any new problems with the authorities.
Age verification pages on all of the company's adult-only sites claim they don't collect any data during the process.
Since there's no way to check this, users have to take their word for it. They also have to trust the third party that handles the verification process.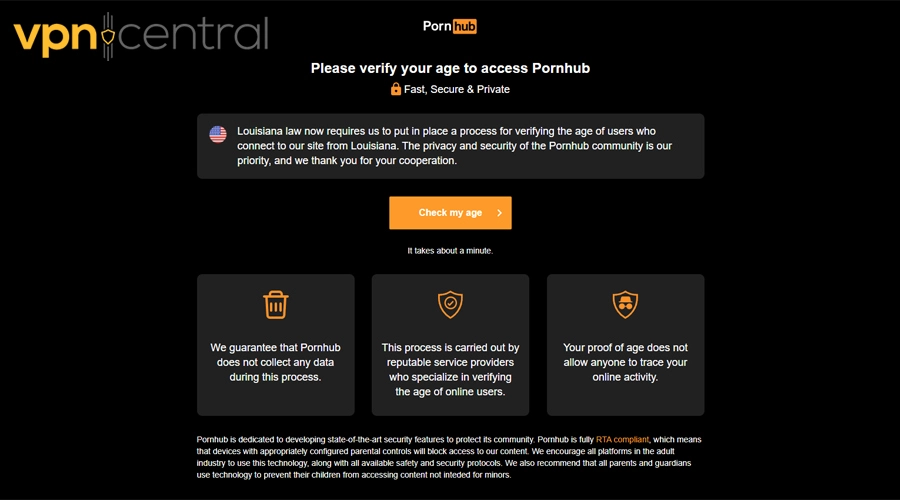 Although MindGeek is already implementing its own age verification system, it's ineffective against VPNs.
By simply connecting to a server in another state in the US, you can eliminate the entire process. You'll avoid handing over your personal information altogether.
It's a good idea to keep an eye out for new information on how authorities plan to prevent user data retention.
Even if they come up with something, using a VPN when accessing adult-only sites will be your safest bet.