When it comes to video games, few are more popular than the ones in the Diablo franchise. The most recent installment, Diablo 4, was launched on June 5th.
However, ever since the release Blizzard has been dealing with Distributed Denial of Service or DDoS attacks. They're designed to flood the system with requests, making it impossible for actual players to access the game.
The most recent one against Diablo 4 happened on June 25th, preventing players from logging into the servers. Even those who managed to connect had to wait in excruciatingly long queues.
The developer later confirmed the incidents in an official statement and said they're investigating the problem.
Because of this issue, players started wondering why there isn't an offline version of the game. Some of them were even unable to play for nearly 12 hours.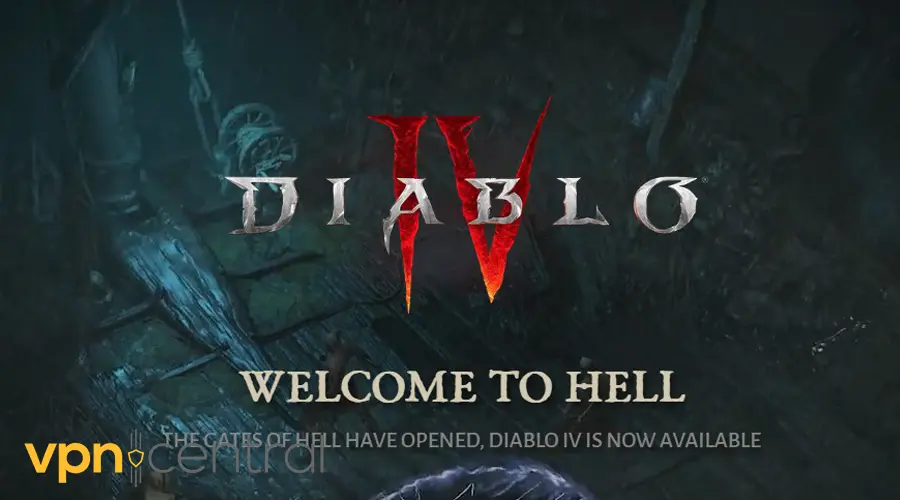 If incidents like this happen again (and it looks like they might!) you can try an alternative way to log in. We'll show you an easy Diablo 4 DDoS attack fix below.
Let's take a better look at it.
Diablo 4 DDoS attack fix
When hackers attack Diablo 4 again, the best thing you can do is try connecting to another server. Use a VPN to change your location and hop onto a less populated one. This will help bypass long queue times.
So far, hackers targeted the North East part of the US the most. However, fixing the problem with a VPN works for any server that's experiencing a DDoS attack.
Without a VPN, you'll get assigned to the closest server to your actual location. Once you obtain a new IP address, you'll join the server that's in the vicinity of your new location.
Another reason to use a VPN when playing Diablo 4 is extra security. With hackers targeting the game so often, it's important to protect your data. A VPN will encrypt it and prevent any leaks from happening.
Even admins on Blizzard forums suggested using a VPN as a good strategy. This is why the first thing you may want to try is changing your virtual location.
So, here's how to perform a Diablo 4 DDoS attack fix with ExpressVPN:
Purchase a VPN subscription from the provider's website.

Download the setup file and install the program on your device.

Log into your account using the information you signed up with.

Connect to a VPN server in a different location.

Launch the game.
Why is Diablo 4 getting so many DDoS attacks?
Distributed Denial of Service attacks are becoming an increasingly common occurrence in online gaming.
So, why are hackers targeting Diablo 4 so much at the moment?
Typically, it's for one or more of the following reasons:
Money — Online gaming has become a lucrative business. Developers make lots of money from sales, in-game purchases, subscriptions, etc. Sometimes, cybercriminals commit DDoS attacks in an attempt to extort money from these companies.
Competitiveness — The online gaming world is a fiercely competitive one. So, it's not uncommon for hackers to do things like this to gain an unfair advantage over other players.
Visibility — DDoS attacks on large companies may be an attempt to draw attention to their player bases and media coverage.
Infrastructure vulnerabilities — Sometimes, malicious actors see a vulnerability in the game servers or network infrastructure and decide to exploit it. They do this to disrupt the experience for players and cause financial losses for the developer.
Conclusion
Since Blizzard is experiencing so many malicious disruptions already, it's safe to assume the DDoS attacks will continue.
But with this Diablo 4 DDoS attack fix, you'll be able to bypass long queue times and enjoy the game. What's more, even if hackers try going after your data, their attempts will be futile.