Threads quickly gained massive popularity in the days following its release.
Unfortunately, due to certain limitations, the new social media platform is currently unavailable within the European Union.
Are you interested in learning how to download Threads in France? If so, this helpful guide will give you just that.
Why is Threads not available in the EU?
The unavailability of Threads in the European Union stems from Meta's response to the implementation of the GDPR and the Digital Markets Act.
The GDPR requires companies to adhere to strict privacy and data protection standards.
And, Meta decided to limit the availability of certain applications, including Threads, to comply with these regulations.
As a result, residents in the EU are unable to download or access the app through official means.
But luckily, we found the solution:
How to download Threads in France?
The steps to download Threads on Android and iOS are different. However, both processes involve using a reliable VPN.
This will allow you to spoof your virtual location, making it seem as if you're accessing the platform from a supported country.
During our tests, we found ExpressVPN to be particularly useful. It has tons of servers in Thread-supported countries and also provides reliable connections that will ensure your real whereabouts are never leaked.
Here's how to get started with it:
Visit ExpressVPN's website and pick a subscription.
Download the relevant mobile app for your device.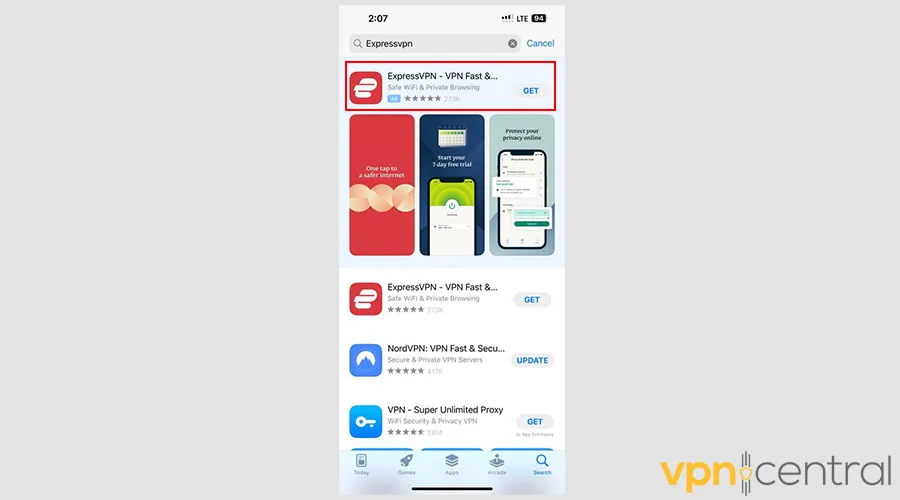 Open the app and connect to a server where Threads is available. In this case, choose a location outside the EU, such as the United States or Canada.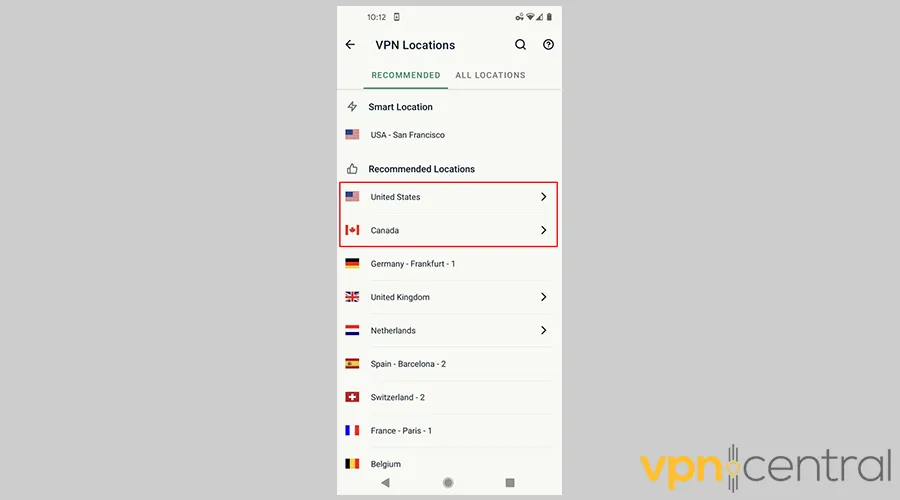 Tap the Connect button to establish a connection.
Now that you have this on lock, it's time to move on:
How to Download Threads in France on Android
To set things up, the first thing you need to do is clear Google Play's cache.
Cached files contain info about your real whereabouts. As a result, it's possible that even after changing your virtual location with VPN, they'll expose your real location and prevent you from downloading Threads.
Here's how to solve that:
Open your device's Settings.




In the Settings menu, go to Apps or Application Manager.




Look for Google Play Store in the list of installed apps and tap on it. Inside the Google Play Store app settings, tap Storage or Storage & Cache and clear it.




Now, return to the home screen and open the Google Play Store again. Search for ExpressVPN and download it if you haven't done so yet.




Log into your account. Once you're

done

, you'll see a

list of server locations

.




Tap VPN Locations and choose the country where you want to connect.

We recommend the US or Canada as Threads is available there.

Tap the Connect button to establish a connection.




Now, go back to the Google Play Store. Search for Threads and select the official app from the results.




Click Install to download and install Threads on your Android device.

Once that's done, open the app and sign in using your Instagram account.
How to Download Threads in France on iPhone
Downloading Threads on an iPhone is a bit more tricky than on Android because you have to change your Apple ID region.
However, if you have a subscription, it adds a few additional steps because changing location with a subscription can't be done due to location-related contradictions.
Here's how to bypass that and download Threads on your iOS device:
First, go to Settings on your iPhone, select your name, and then Subscriptions. Now check if you have any active ones.
If you have, you must create a new Apple ID with a US address.
To do that, open the ExpressVPN app and connect to the United States or Canada.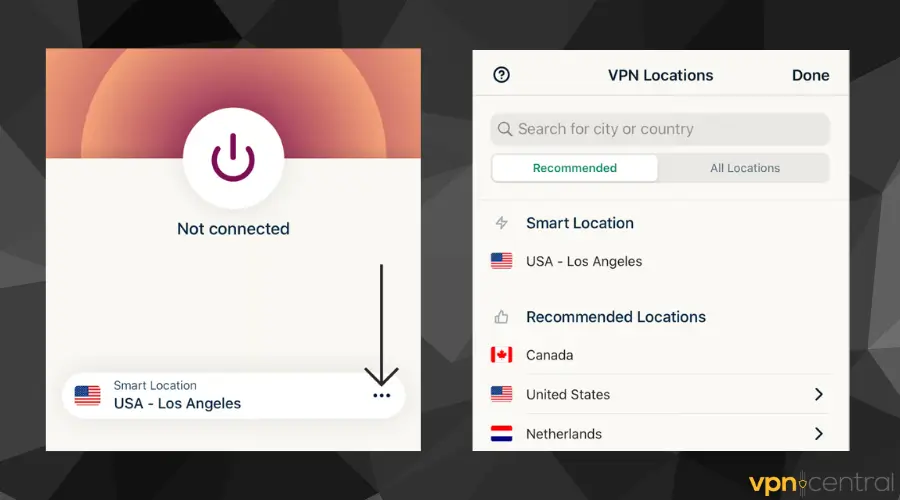 Then, open the App Store on your iPhone and select your profile icon at the top.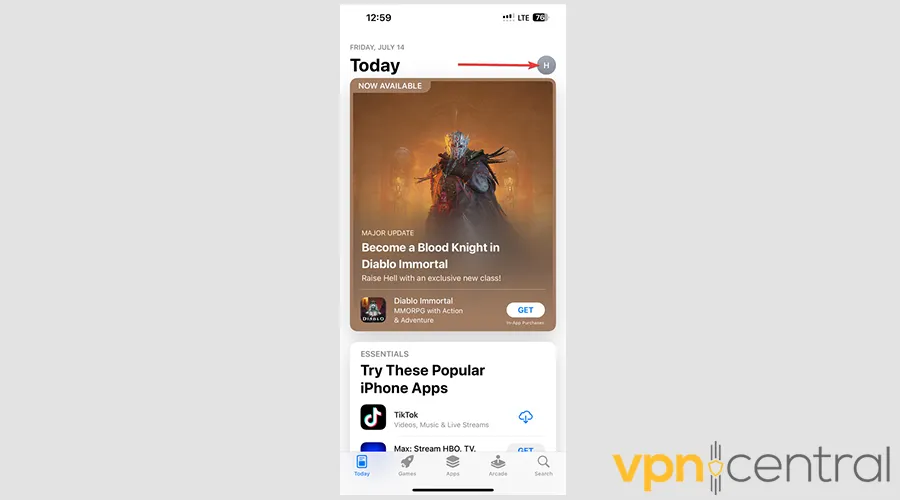 Tap on your Apple ID.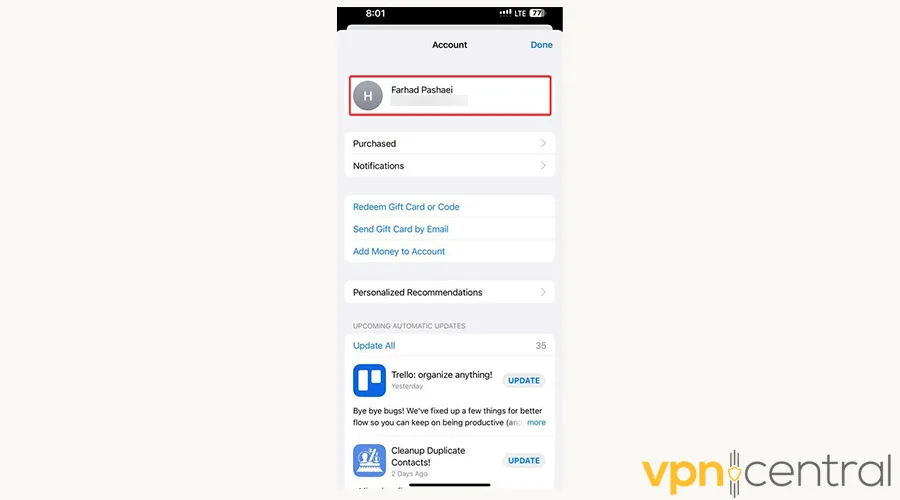 Choose Country/Region and change it to USA.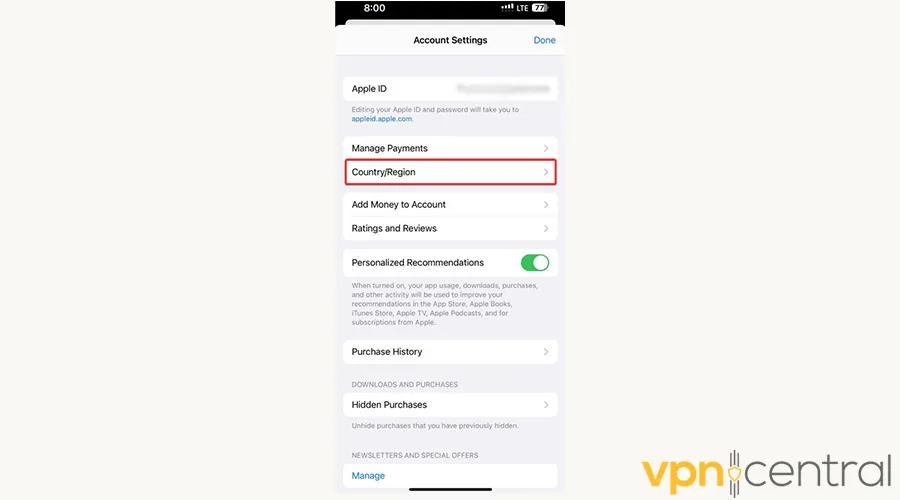 Fill in all the necessary information, including a real US address (such as a hotel), and select None as your payment method.
Now that you're in the US App Store, you can download Threads.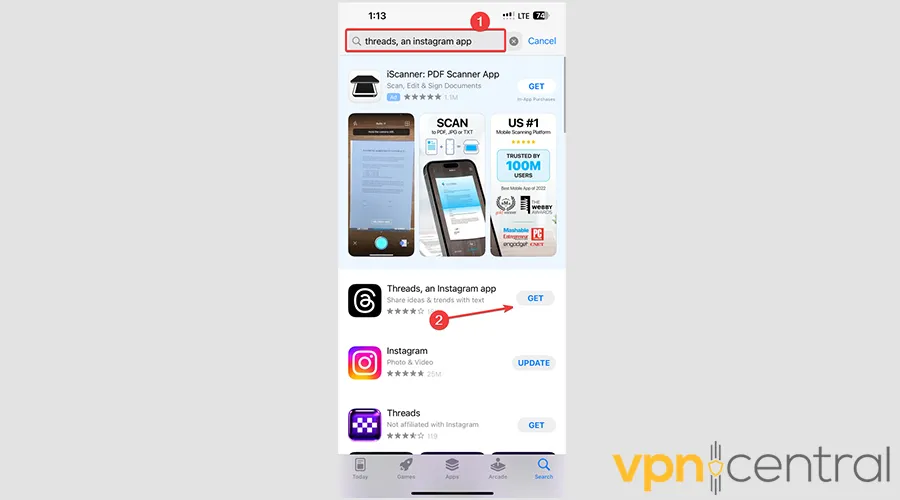 Open Threads and connect it to your Instagram account.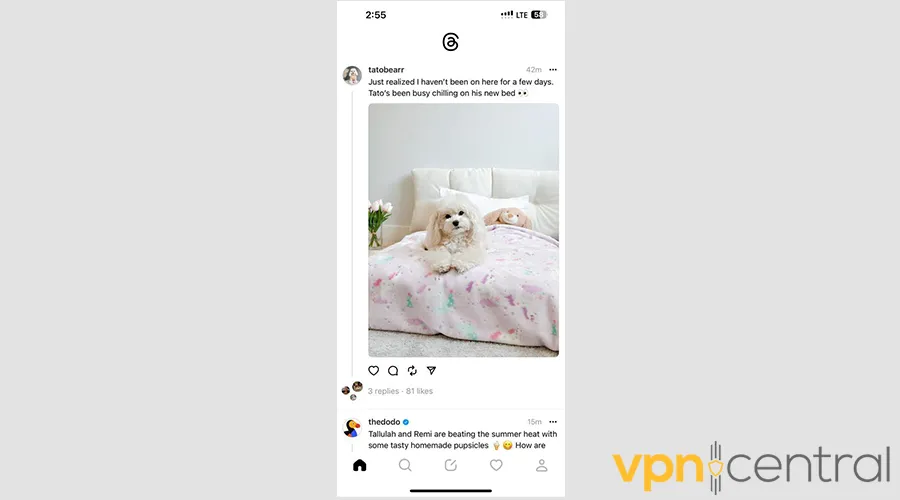 Once you've completed these steps, you no longer need a VPN connection.
Note that this process will delete all your locally downloaded Apple Music and Apple TV content.
However, your photos, messages, backups, and other data will be saved as long as you don't mess with iCloud's settings.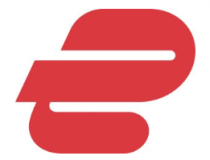 ExpressVPN
Easily bypass Thread's geo-restrictions with this fast and reliable VPN.
Wrap up
You can use a VPN to easily download Threads in France.
Our top recommendation for the job is ExpressVPN due to its large server network and highly-secure connections.
While the methods of downloading Threads differ between Android and iOS devices, following the steps above will get you there in no time.
Was our guide helpful? Let us know in the comments!
---