Mattermost is the dream collaboration tool for 21st-century companies. It's built with privacy and security in mind, but it has limitations.
To enjoy the best of it, you'll have to pair it with a VPN.
Read on to learn how a reputable vendor can address the weaknesses of Mattermost and discover the ones that best fit the bill.
Why do you need a VPN for Mattermost?
Most importantly, Mattermost recommends using its cross-platform software with a VPN.
That way, you'll grant those outside your firewall access to resources without jeopardizing your sensitive business data.
Moreover, the app is not available everywhere. In repressive regimes that tend to ban Western technologies, it's impossible to set up and use it without some extra measures.
A stealth VPN provides an easy workaround, as it can dodge extreme governmental restrictions for the benefit of Mattermost's users.
Which are the best Mattermost VPN services?
The more geographically fragmented your team is, the more you need a credible VPN for Mattermost.
After testing the top VPNs on the market with the chat service, the following three stood out:
1. NordVPN — well-rounded cybersecurity defense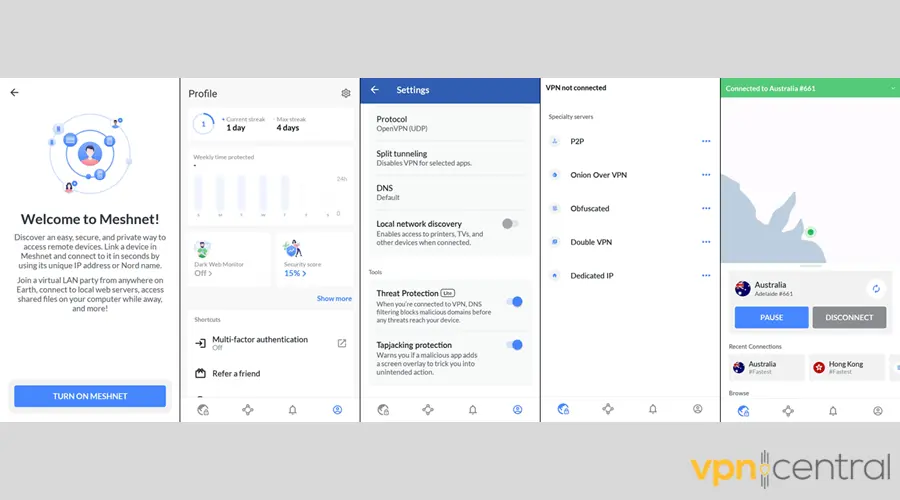 NordVPN has all the makings of an excellent VPN service for Mattermost. First, it has an enviable security feature set.
It comes with malware protection that alerts you about unsafe sites and scans downloads for malicious content. Also, this Panama-headquartered vendor can provide a password manager that stores credentials in an encrypted vault.
Besides a tracker and ad blocker, this VPN has a reliable data breach checker.
This Dark Web monitoring solution can reveal compromised information and how it was leaked and offer sound recommendations to prevent future breaches.
Plus, NordVPN can expose tapjackers by warning you about apps that add a screen overlay to trick you into doing something unintentionally.
You can also take advantage of this VPN's multi-factor authentication (MFA). You can choose from two options — an authenticator app and a security key.
NordVPN supports Authy, Google Authenticator, Microsoft Authenticator, and FIDO2-certified USB security keys series. Whichever MFA method you prefer, you can easily activate it.
Furthermore, it prevents you from going outside its private network with a kill switch.
Additionally, NordVPN has dedicated apps and browser extensions for all systems Mattermost supports. Namely, Windows, macOS, Linux, iOS, Android, Chrome, Edge, and Firefox. Alternatively, you can install its APK version.
As far as network size goes, NordVPN has 5,300+ RAM-only servers in 60 countries and territories.
It includes fleets of specialty hardware for double VPN, Onion Over VPN, and OpenVPN-based obfuscation. For an extra fee, you can get dedicated IPs too.
At no additional cost, you can securely link up to 60 devices through the Meshnet Internet traffic routing solution. It's powered by NordLynx, its WireGuard-based proprietary protocol.
More NordVPN perks:
IKEv2/IPSec protocol
App-based split tunneling
Router support
P2P specialty servers
Private DNS
Thrice-verified no-logs claim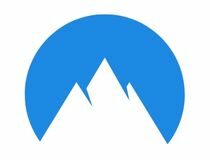 NordVPN
Connect securely to anyone on your team with this top-notch VPN service.
2. Surfshark VPN — wide global server network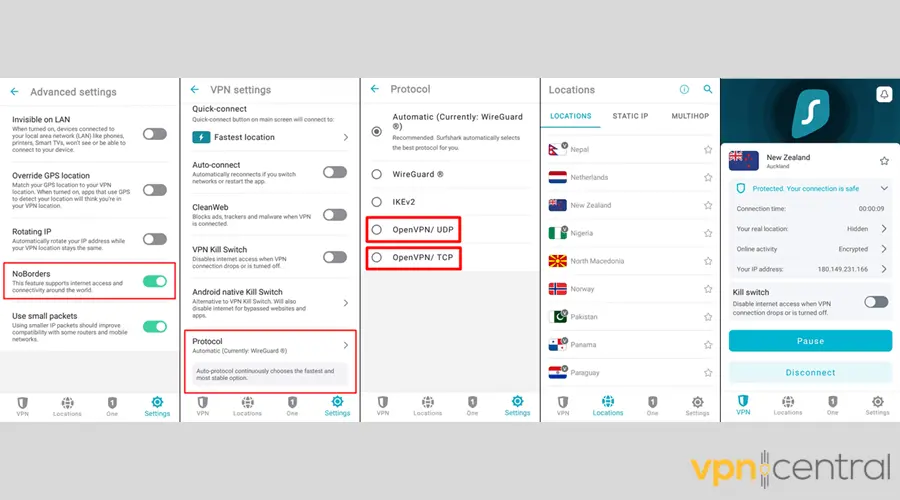 If you work with people from a large variety of international locations, Surfshark VPN is your best bet.
This service's 3,200+ RAM-only, obfuscated servers are scattered across 100 countries and territories. Its network covers all continents except Antarctica, so it has a server close to anyone on the planet.
On top of that, 100% of its hardware fleet supports OpenVPN, IKEv2, and WireGuard tunneling protocols.
Moreover, Surfshark VPN has native Windows, macOS, iOS, and Android apps. You'll also find Firefox, Edge, and Chrome extensions and a downloadable APK file. Likewise, it has an intuitive Ubuntu graphical user interface.
Security-wise, this VPN boasts a kill switch, a blocker of ads, pop-ups, and trackers, an alert for malicious files, and two-factor authentication (2FA).
Surfshark VPN also allows you to add a second layer of security to your account. You can generate a verification code through Google Authenticator, Authy, or email.
If you have team members in places that block Mattermost and VPNs, they'll be able to hide their traffic in plain sight with this service's NoBorders and Camouflage modes.
The NoBorders switch turns on automatically when Surfshark detects government censor measures, presenting you with the most suitable servers.
The Camouflage feature, on the other hand, can hide your traffic in plain sight. It's activated by default when you set the protocol to any OpenVPN option.
Other great reasons to go with Surfshark VPN:
App and system-level split tunneling options
Router support
IP rotation
MultiHop
No usage logs
Unlimited simultaneous connections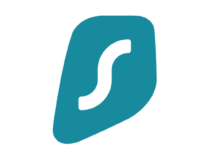 Surfshark
With this reliable VPN solution, you won't have to worry about the security of your sensitive communication.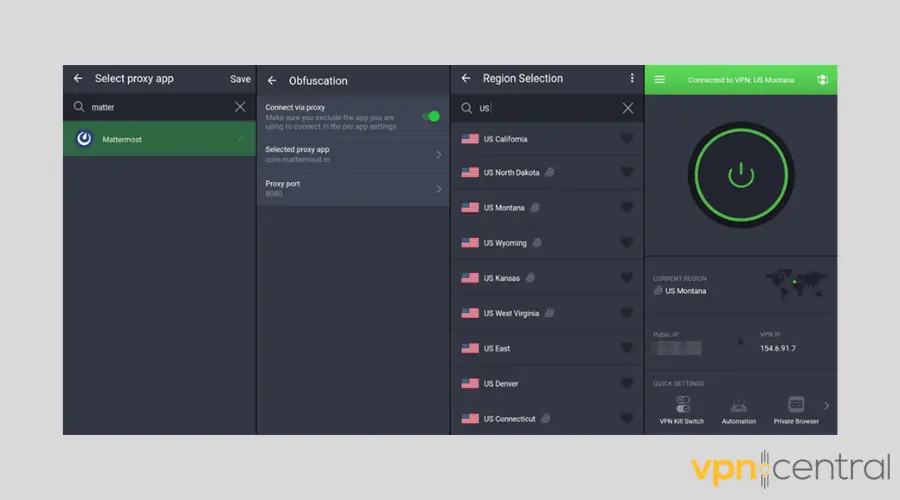 PIA has next-generation infrastructure powered by 10Gbps network cards that can transfer data at incredible speeds.
What's more, its fleet of RAM-only servers promises uninterrupted collaboration to help you harness your team's untapped productivity.
This service's network spans 145 locations in 84 international jurisdictions, but it gives US cities top priority. In fact, PIA has hardware in all 50 states.
This open-source VPN supports military-grade encryption and lets you go to AES-128 from AES-256 to further accelerate your connection speed without sacrificing security.
On the security front, PIA supports 2FA but requires the codes to be sent through a mobile authentication app only. It also has a malware, ad, and tracker blocker called MACE.
Lastly, this vendor's servers are colocated, so it has full control over them even though it uses third-party facilities to keep them.
PIA's other noteworthy qualities:
Native apps and extensions for all major OSs and browsers
APK version
OpenVPN, IKEv2/IPSec, and WireGuard protocols
OpenVPN-based obfuscation
SOCKS5 and Shadowsocks proxies
Litigation-proof no-logs policy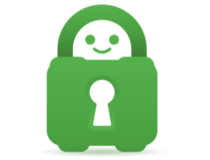 Private Internet Access
Don't make compromises with your online anonymity; trust PIA!
Wrap up
The Mattermost chat service has everything you need for a productive remote collaboration.
With the help of a robust Mattermost VPN, you can make the most of it no matter where your team members are.
Check our recommendations above to find the best fit for your company!