Paramount+ is one of the new streaming services with diverse content suited for different people. The platform, formerly known as CBS All Access even has a cartoon channel for kids among many other titles.
However, many people from different parts of the world can't stream movies on the platform as some of these titles are geo-restricted.
That's why many decide to use a VPN. However, Paramount is not always working even when you're connected to a VPN. That's probably because of some issues in your configuration. We'll take a look at the most plausible causes and how to fix them below.
How to fix Paramount+ not working with VPN?
There are several reasons why your Paramount+ might not work with a VPN, but we have some tips that can help you solve the issue regardless of what's causing your Paramount+ to not connect when you're using a VPN.
1. Clear your browser cookies and cache
This might seem too simple to fix the problem, but it works in a lot of cases when Paramount+ didn't work with a VPN.
To do this on the Google Chrome browser, follow these simple steps:
Click on the 3 dots icon at the top right corner of your screen to open your browser menu and go to Settings.
Click on Privacy and Security.
Select Clear browsing data.
Select the time range of cookies and cache you want to clear and click on Clear data.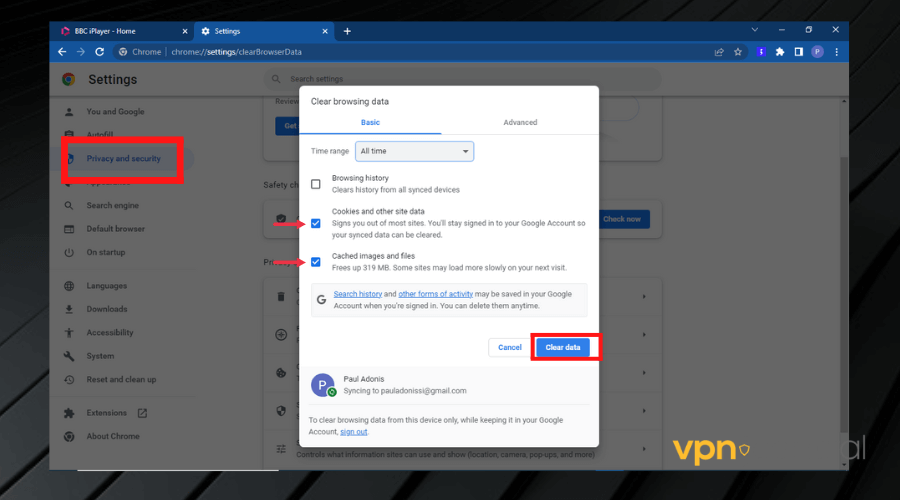 When you clear your browser cookies, you will force the website to generate new cookies, this time using the virtual location you got from your VPN.
2. Change your VPN server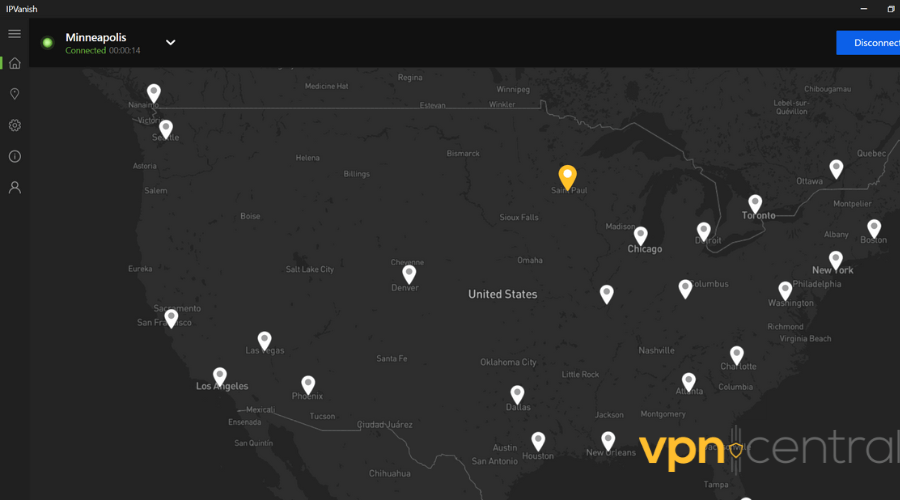 Streaming platforms are notorious for blocking VPN servers and even the best VPNs can struggle to avoid these blocks.
If your VPN is unable to work with Paramount+, it may be an indication that the server you connected to has been blocked.
To fix this, simply disconnect your VPN connection, connect to another server, and try again. Make sure you pick a server from a country where Paramount+ is supported such as the US.
3. Check for DNS leaks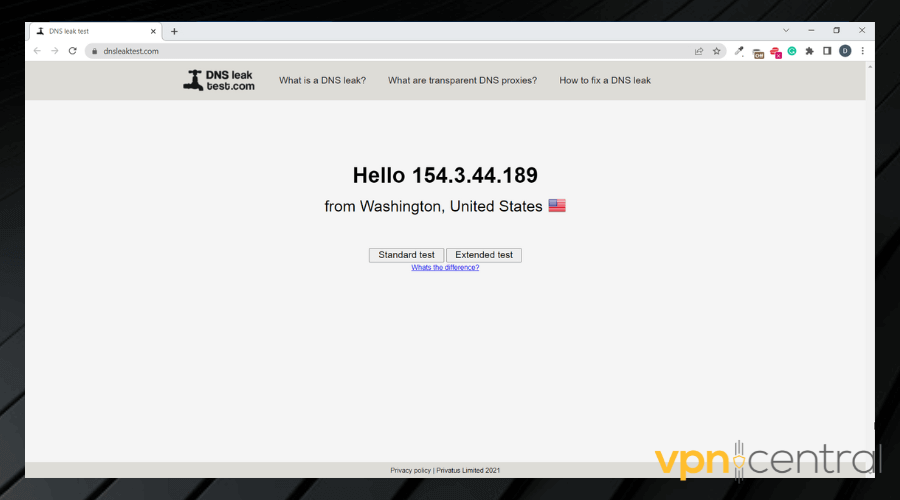 Various types of leaks can cause Paramount+ not to work with your VPN. Below are some of the leaks you need to check for on your browser:
DNS leaks happen when your DNS requests are not sent through your VPN's encrypted tunnel. this causes Paramount+ to detect your real location and block your access to its platform.
Connect to your VPN.
In your browser open a DNS leak test and run it.
If the DNS detected is the same as your VPN's, then your connection is secure. If it's not and your real location is revealed, then your VPN is not actually hiding your data.
We suggest you enable your VPN's DNS protection feature if it has it. It's also possible that you are connected to a less secure VPN server, so consider switching to a different one and running the test again.
Using a VPN with static IP and switching your DNS servers can also help overcome this leak. If the issue persists, make sure you contact your VPN's support team and let them know.
4. Disable IPV6
IPv6 leaks happen when the website you are visiting supports only IPv4. Most ISPs support IPv6 and this can reveal your real IP address and give away your location, causing Paramount+ to block your VPN.
Here's how to disable it on your PC:
Open

Settings.
Select Network and Internet.
Select Change Adapter Options.
Select the connection you're currently using.
Right-click on it and pick Properties.
Browse for the "Internet Protocol Version 6 (TCP/IPv6) option in your settings and make sure to uncheck it.
Click ok.
Restart your PC and try to connect again.
5. Log out and log in back in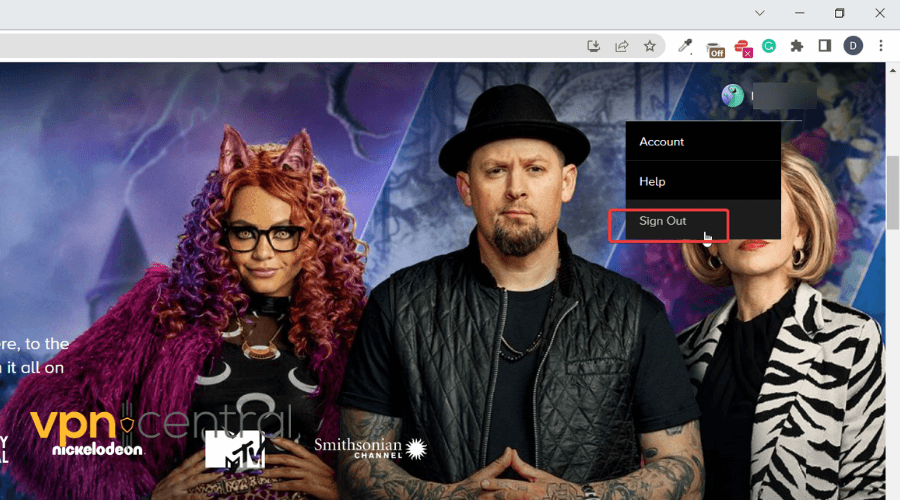 If you logged in to your Paramount+ account before turning on your VPN, the website server would have picked up your actual location, causing it to restrict your access to the platform.
All you need to do to reverse this is to log out of your Paramount+ account, turn on your VPN, and log back into the account.
6. Switch to a better VPN provider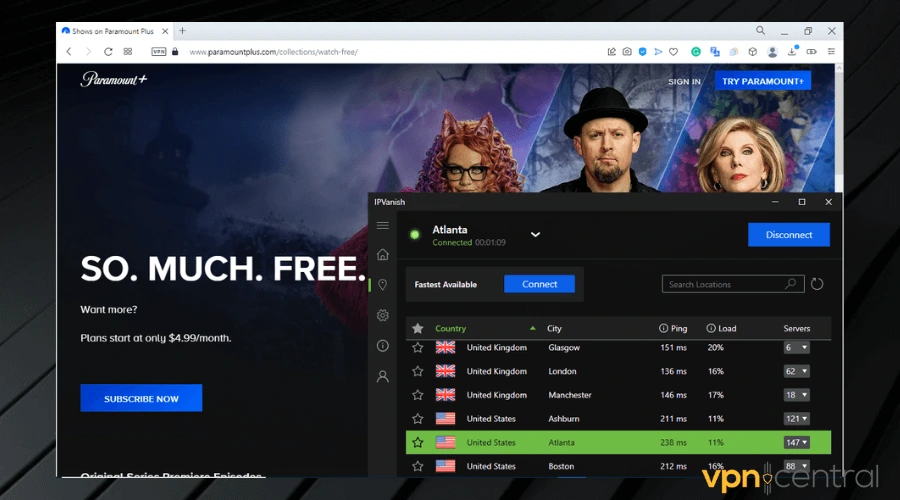 If your VPN is still not working with Paramount+, it may be time to consider another client. Switching to a premium VPN will give you the speed, anonymity, and ability to mask the IP address that you need.
We tested IPVanish with the platform and it worked perfectly. Not only is it fast, but encrypted with AES-256 bit, one of the industry's best algorithms.
IPVanish has a wide server coverage around the world, with locations in most of the countries where Paramount + is supported, with key locations in North America, Asia Pacific, Europe, and South America.
The VPN is fast and great for streaming because it has no limits on your data. You can stream as much content as you want.
Plus, it's compatible with all major devices so you can go ahead and install it on your PC, smart TV, or even mobile device and watch Paramount + whenever you want.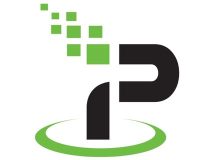 IPVanish
Watch Paramount+ without interruptions with this untraceable VPN!
Conclusion
Many people encounter problems with streaming platforms because they use a poor VPN service. Free services for example are limited in the quality of servers they can offer.
That is why using a premium VPN is usually the best way to fix any connection problems with Paramount+.
FAQ
Where is Paramount + available?
Paramount+ is available in the following regions:
Asia Pacific: Australia
Europe: Austria, Denmark, Finland, France, Germany, Italy, Norway, Republic of Ireland, Sweden, Switzerland, United Kingdom
North America: Canada, Mexico, United States
SouthAmerica: Argentina, Bolivia, brazil, Chile, Colombia, Costa Rica, Dominican Republic, Ecuador, El Salvador, Guatemala, Honduras, Nicaragua, Panama, Paraguay, Peru, Uruguay, Venezuela
Does Paramount Plus block VPN?
Paramount+ does not have a specific anti-VPN policy, but just like any other streaming service, they may block you if they detect you're actually browsing from a different location. That is to ensure they don't breach their own broadcasting rights.
What to do if NordVPN is not working with Paramount+?
Make sure your configuration is on point and that you're connected to a VPN server from a supported country. Check the above-mentioned fixes because they do apply to any client, so they should work great for NordVPN as well.
What to do if ExpressVPN isn't working with Paramount+?
ExpressVPN is a great option to unlock Paramount, but if it's not working, make sure your connection is up and running and follow the configuration suggestions in this article.