Russian authorities are taking over the biometric data organizations have collected and citizens have a few more days to opt out.
The idea is to have that data in one system for extra protection.
The collection of biometrics in Russia
Recently, discussions started among Russians about ATMs and automatic phone calls from banks collecting biometric information without consent.
For some of their operations, such data is necessary. For example, some banks in the country have recently advertised their new pay-by-smile concepts. These services allow citizens to pay by just looking at a camera with a face recognition system.
The authorities want this technology to evolve, but they also want to monitor its progress.
That's why all institutions that collect biometric data from citizens have to send it to the Unified Biometric System or UBS.
Apparently, the government believes it has more options for safe storage. It says its goal is to protect the data of Russian citizens.
From now on, the new system will be the only place that stores biometrics. Also, all transactions using this type of information will be carried out through it.
Federal Law No. 572-FZ states that the provision of biometrics is a right and not an obligation. (source: Duma.gov.ru)
Therefore, during the transfer, the government has made it possible for citizens to refuse to have their data in the new system.
According to some comments, this is only possible until August 31, and from September 1, the authorities won't accept refusals.
Lawyers and other experts have confirmed that this is only partially true. This is because other ways for citizens to prevent their data from being collected and stored will emerge in the future.
According to some of them, from 2024, Russians will be able to manage their biometrics through their personal account on the State Services portal.
From there, they'll be able to ask for deletion of their data and prevent its further use.
Why do Russians find biometrics scary?
Naturally, many citizens are afraid of having anyone collect and store such data. Experts have already said that scammers can use it for identity theft and other privacy violations.
Although the authorities claim the biometrics will be safe in the new system, such concerns still exist.
This is why they're asking any organizations handing over such information to the UBS to notify their customers through SMS or email.
This means that the transfer of biometrics without consent is possible if the user has ignored the message or hasn't sent an objection.
Even in such cases, citizens will be able to request deletion of their data from January 1, 2024. Those who have consented to their data being transferred will be able to do the same.
The government has also confirmed that the current rules for collecting and processing personal data still apply. Organizations can only send information customers have previously agreed to provide.
The state has also adopted fines for anyone who violates the rules regarding the use of biometric data belonging to citizens:
Citizens – ₽6,000 (approx. $63) to ₽10,000 (approx. $105)
Officials – ₽100,000 (approx. $1,501) to ₽300,000 (approx. $3,154)
Legal entities – ₽300,000 (approx. $3,154) to ₽700,000 (approx. $7,359)
The fines extend even further for repeated violations.
Russians opting out
With the deadline for refusing to have their data transferred approaching (August 31), more and more Russians are thinking about doing so.
The best example of this is the recent surge of Google queries for "биометрические данные отказ", which translates to "biometric data refusal".
Searches for phrases related to biometrics have also gone up in the past few days: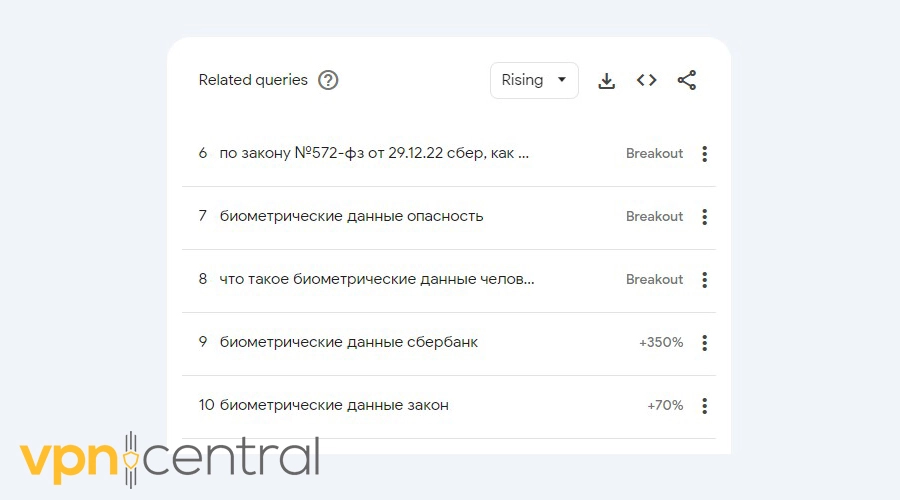 Google data shows that more and more Russians are trying to learn what biometric data is and how certain banks are collecting it.
For example, searches for "biometric data sberbank" or "биометрические данные сбербанк" in Russian have increased by 350% recently.
Similar surges can be seen in Yandex searches for terms related to biometrics. They went up since the government started accepting refusals in June, and they continue to increase with the deadline approaching.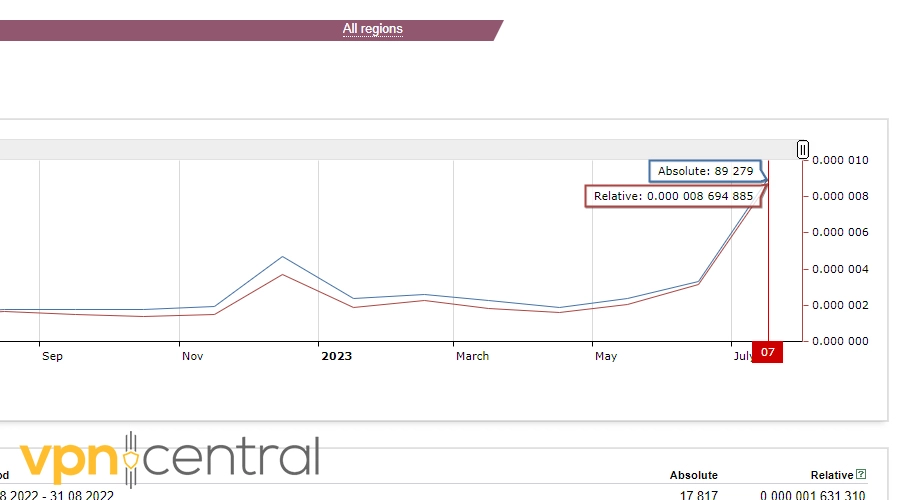 The MFC (Multifunctional Center) of Tatarstan has confirmed that the number of people issuing refusals has increased significantly in the second half of August. It said over three thousand citizens have already used the service.
It's natural that more and more people in Russia are concerned about their biometrics. Although the authorities claim their data will be safer in the new system, many are still skeptical about it.
What's interesting is that the majority of the population doesn't even know what biometrical data is. The searches for "what is biometrical data" (что такое биометрические данные) have increased by 60% throughout Russia.
Another curious point to mention is the fact that people are willing to educate themselves. The most common searches we've analyzed are regarding the dangers of biometric data, and more than anything else, the searches for refusal to collect biometric data. The searches for the latter and its different variations have skyrocketed by over 500% yesterday alone.
The searches on Yandex paint the same picture:

What's even more interesting is the location of the majority of people who want to opt-out of the system. The searches have the highest volumes in Primorsky Krai and Khabarovsk Krai, which are located on the east coast of Russia. Close followers are Rostov Oblast and Altai Krai.
Keep in mind that Yandex and Google together account for more than 98% of the search engine market share in Russia, so this data accounts for almost all search trends in the country.