Seasoned American software company Systweak entered the VPN market in 2020 and is quickly giving the industry leaders a run for their money.
The comprehensive VPN solution is currently limited to Windows, but when compared to other Windows VPN apps, it has all the necessary features to secure your internet connection and change IP without significantly impacting speed.
In this Systweak VPN review, its key features and performance is put to the test.
| | | | |
| --- | --- | --- | --- |
| Number of servers | 4,500 | Streaming and Torrents | Yes |
| VPN Protocols | OpenVPN, IKEv2 | Value for money | 6/10 |
| Speed | 8/10 | Split tunneling | No |
Features
Systweak VPN has all the features you would expect from a premium VPN, as well as a few welcomed extras. You also get unlimited connections, so you can log in on as many computers as desired.
Military-grade Encryption
A VPN is only as good as its encryption and Systweak applies the industry standard AES 256-bit. This is often called military-grade because it is used by governments and is virtually impossible to crack.
In simple terms, nobody will be able to intercept your real-time internet traffic when using the VPN. This is perfect for connecting to public Wi-Fi at cafes and other unsecured locations.
It also means your ISP cannot see what content you access, which prevents throttling and unblocks sites banned at the ISP level.
Server network
Systweak's server infrastructure covers much of the world, making it ideal for bypassing geo-restrictions.
You get your pick of 200 locations in 53 countries and you never have to worry about server errors or IPs getting blacklisted. That's because it has multiple servers for most locations, bringing the total server count to 4,500.
This number is arguably more important than the number of countries covered by other VPNs with fewer overall servers.
If all the countries with popular streaming platforms are available with multiple backups, why would you need a server in an obscure nation?
Stealth mode
Now let's review an advanced security feature of Systweak VPN.
A feature that stands out among the rest is called stealth mode.
By checking this option in the settings, users in China can successfully bypass the so-called 'great firewall' that the state uses to censor the internet.
With stealth mode, you can choose a server outside of China and unblock access to the entire web.
This has similar benefits to anyone living in or traveling to countries that censor the internet, restricting access to popular social media sites and other services.
Kill Switch and Leak Prevention
When hiding your IP to unblock sites and services, the last thing you want is for your real location data to seep through.
Fortunately, Systweak VPN comes with an effective kill switch that pauses all traffic if your connection to the VPN server drops. This means no data is ever sent from your real IP address.
This isn't turned on by default, so remember to check the box in advanced settings to: Drop all network connections if VPN disconnects.
Windows App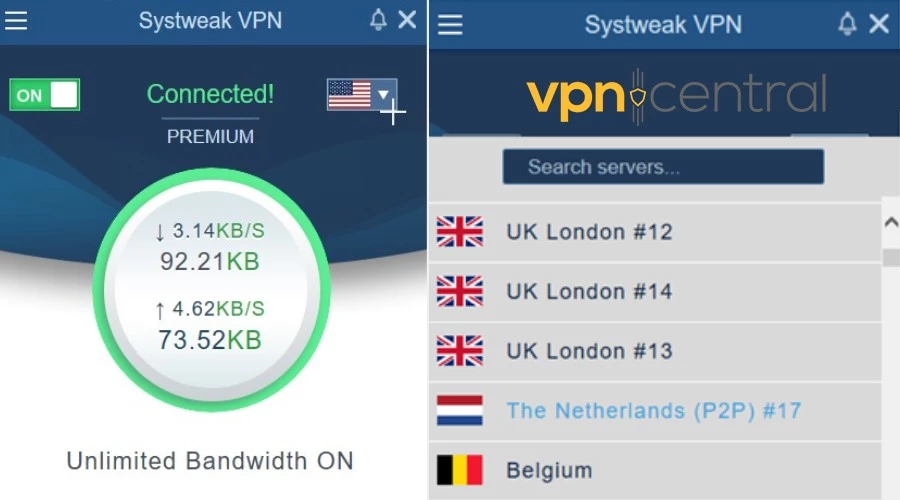 Systweak VPN is compatible with Windows 11, back down to 7. It has minimal impact on system performance and server switching doesn't lag like some popular Windows apps.
The software is very easy to navigate, and most users can connect right away without configuring any settings.
Simply click the big on-off button to connect to the default server or hit the dropdown menu to browse the other locations.
The only settings you might want to consider are the kill switch, protocol, and startup status.
All it really lacks is split tunneling. This means you cannot route apps or websites outside of the encrypted tunnel, you'll have to turn it off first.
Systweak VPN for Windows is available in 13 languages and support staff are only an email away.
Systweak VPN Speed
All VPNs impact internet speed to some degree, as your traffic must be routed through a separate server before reaching its destination. Despite this, Systweak performs well and can still handle high-bandwidth tasks like streaming in 4K.
Using SpeedTest.net, let's measure our baseline speed in the UK without connecting to the VPN.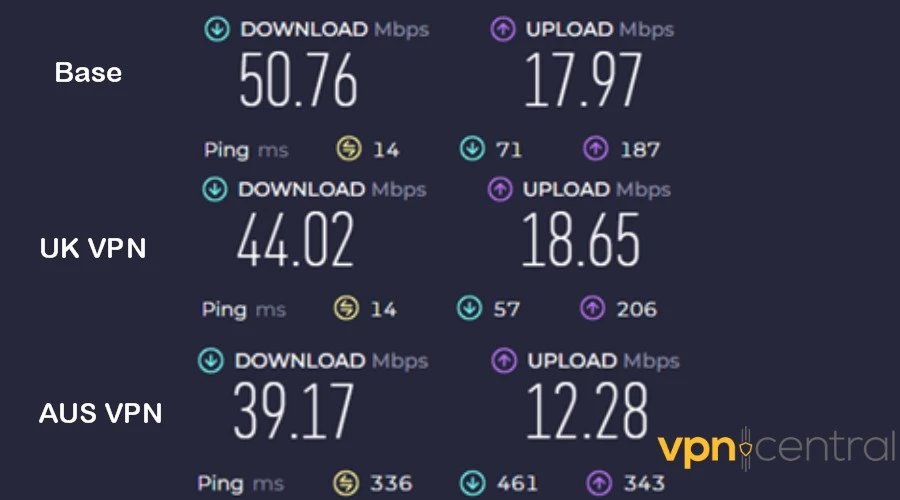 The download is 50.76 Mbps and the upload is 17.97 Mbps.
For a fair comparison, let's connect to a UK server on Systweak VPN. As you can see, the impact on download is negligible, while the upload speed actually increased.
Moving further afield in Australia, this time there was a 22.8% decrease in download and 31.6% decrease in upload. This is to be expected due to the distance between countries and is still above the average speed (25 Mbps) for 4K streaming.
Overall, this puts Systweak VPN on par with many of the more well-known VPN providers.
Protocols
To make a VPN connection a protocol has to be used. Systweak lets you choose between two of the leading options, OpenVPN and IKEv2.
Most users don't need to worry about changing the default because performance won't be significantly different. However, if you are using an old PC, IKEv2 is less taxing to the CPU.
IKEv2 also has the ability to maintain a stable connection when devices switch between different network connections, such as Wi-Fi to cellular or between Wi-Fi networks. This feature, known as seamless handover allows for uninterrupted VPN connectivity during network transitions.
On the other hand, OpenVPN has a better affinity for streaming and data transfer. So, if you intend to do high-bandwidth tasks and have a modern computer, this may be the better option.
Is Systweak VPN safe?
As well as a kill switch, Systweak has strong leak prevention, so your IP address is not likely to leak by accident.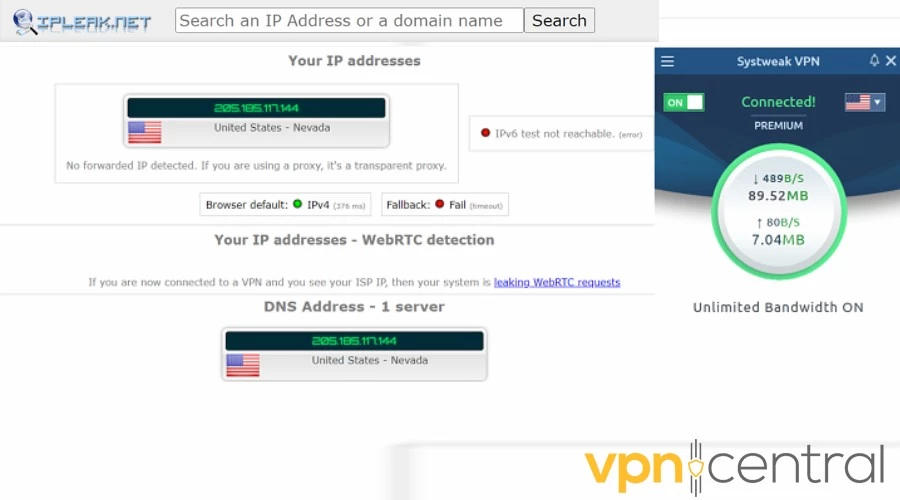 Using IPleak.net, we see that the test machine based in the UK was fully protected by a United States IP address. There are no WebRTC, DNS, or IP leaks, and the IPv6 protocol was successfully disabled.
Furthermore, Systweak has a no-logs policy, so it does not store any data about what sites you visit or how you use the VPN. The policy also explicitly states that your real IP address is never logged, so even if the authorities ordered Systweak to hand over info, your real location is still protected.
Because of this, the VPN is not available in countries like India, whose government requires providers to maintain logs.
The only caveat is it only accepts debit or credit cards for billing, while other providers accept anonymous crypto payments.
Nonetheless, the average user does not require this level of privacy and nobody has ever been targeted in this manner for simply unblocking a few international streaming services.
Overall, Systweak VPN passes the safety test.
Is it good for streaming and torrenting?
Streaming and torrenting are some of the biggest reasons why one chooses to use a VPN in the first place.
So it's important to review how Systweak VPN performs in these areas.
Systweak has unlimited bandwidth and does not impose any restrictions on streaming or torrenting. Its speeds are more than capable of accommodating both activities. Here's what you need to know.
Streaming
The VPN was designed with streaming in mind and has servers in locations to unblock all the major platforms and international libraries. What's more, because your connection is encrypted, your ISP won't be able to throttle streaming speeds.
Systweak has been tested with Netflix, Prime, Hulu, HBO Max, ESPN Go, Disney Plus, ITV Player, BBC iPlayer, and countless others.
Streaming performance is also top-tier when watching YouTube and other services in your own region. In this scenario, it's best to choose a server closer to your real location to maximize speed.
Torrenting
There were no problems downloading torrents with Systweak. You may not get quite the same performance as using your unprotected internet connection.
However, with the VPN turned on, your real IP address will never be snooped on and your ISP won't know you are torrenting.
It's best to connect to a location in your own country when torrenting. Geo-restrictions don't apply and speeds will be faster this way.
Also, make sure torrenting is allowed in your area and that you only use it for legal purposes. Otherwise your risk penalties like heavy fines or even jail time.
Systweak VPN pricing
You can opt for a rolling monthly plan or get a discount off the comparative monthly price for committing to a longer period.
$9.95/mo
6 Months: $47.70 ($7.95/mo)
15 Months: $71.40 ($5.95/mo)
Systweak VPN also comes with a 30-day money-back guarantee, so you can easily get your money back if its performance is not to your liking.
There is also a 7-day free trial after signing up, so there's more than enough time to test the service.
Conclusion
To conclude this Systweak VPN review, you can expect strong encryption, fast speeds with no limitations, and enough servers to unblock content from all over the world. Support for Chinese users is encouraging to see.
While a lack of mobile support isn't ideal, Windows users have everything they need to secure their internet activity and hide their real location.
The easy-to-use app is the icing on the cake.
Pricing is comparable to other VPNs with similar performance, so it's well worth your consideration.
---