You're probably aware that VPNs encrypt your traffic to protect you from intruders. Popular platforms like WhatsApp, Messenger, Signa, and others use it too.
Curious to know how it works?
Well, VPNCentral's Encryption & Decryption Visualizer is here to help. It's custom-designed to show you the inner workings of maximizing security and privacy.
Rest assured, it doesn't require any technical know-how. We promise it's fun and easy to use.
Let's explore it.
Encryption & Decryption Visualizer
Encryption
Enter a message to visualize its encryption:
Encrypted Message:
Decryption
Enter an encrypted message to visualize its decryption:
Decrypted Message:
This example uses a simple Caesar cipher for visualization purposes
How to use the tool
Below is the step-by-step guide for our encryption and decryption tool.
Access the visualizer and type your message in the first text box.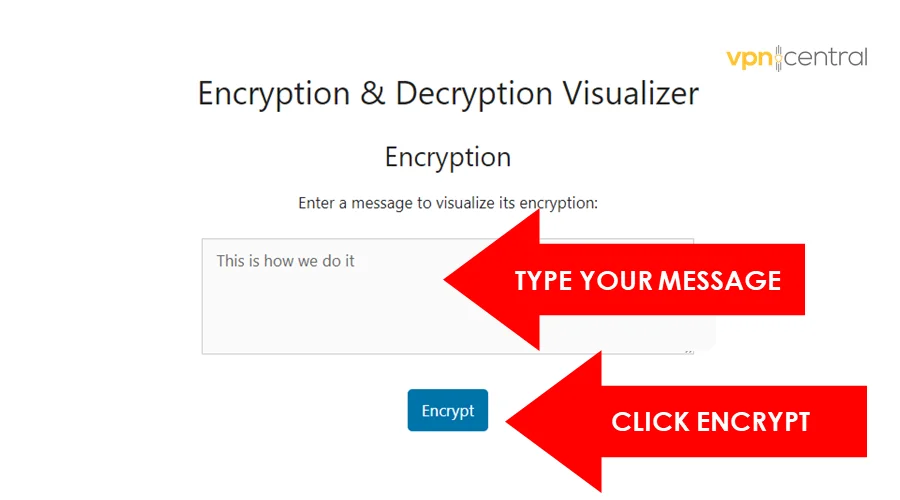 Once you've pasted it, click the Encrypt button to generate the encrypted message.
Now you can also paste an encrypted message on the second text box if you have one.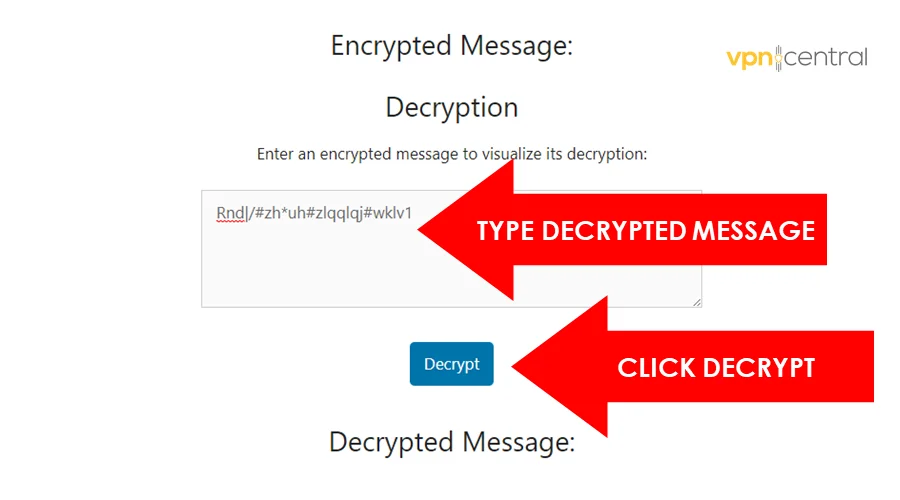 Click the Decrypt button to view the contents of the previously encrypted message.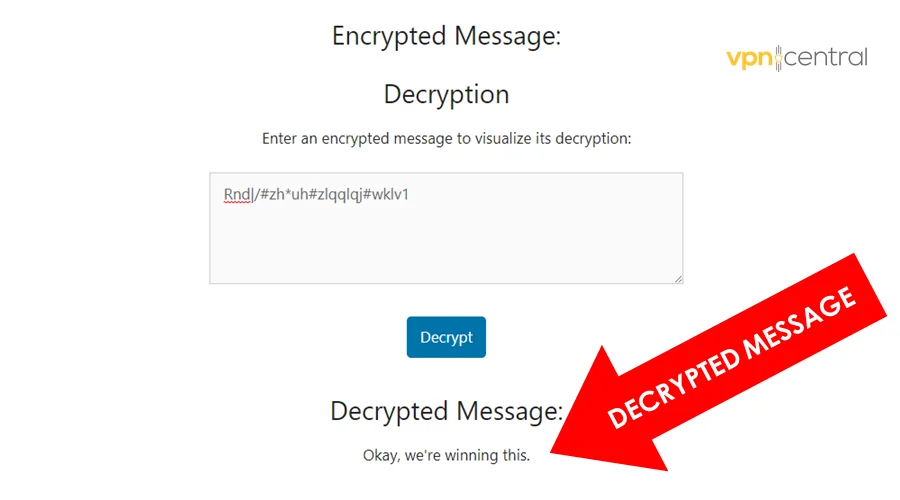 Our app helps you understand how encrypted and decryption work. We've kept it simple so you can explore it hassle-free.
The visualizer is engaging and offers a hands-on and interactive experience. Moreover, you get to understand how platforms encrypt your information.
➡️ It demonstrates how your text becomes jumbled during encryption. Likewise, only the rightful recipient gets to view the contents after decryption.
However, remember to use this tool for fun and educational purposes.
Summary
VPNCentral's encryption and decryption tool enables you to understand how platforms secure communications. As you can see, it's really simple and pretty straightforward.
You shouldn't stop exploring the way it works. Take advantage of the tool to share the knowledge with others. But please note that it just serves as a demonstration, you cannot use it for actually encrypting data.