SHOWTIME is the US-based streaming service behind iconic shows like Californication, Dexter, and Penny Dreadful.
However, it's only available to US viewers. You'll have to change your IP or DNS address to watch SHOWTIME in the UK.
In this article, we cover how to make short work of SHOWTIME's geo-blocks. We'll also look into the best VPN providers for this task.
Let's jump right in!
Why is SHOWTIME blocked in the UK?
Unfortunately, SHOWTIME is exclusively available in the US because it doesn't have broadcast rights for other regions.
It's bound by licensing deals that dictate where and how it can distribute its content.
If you try logging into the website from the UK (or anywhere else), you'll only get a blank, unresponsive screen.
Expanding broadcasting territory is often too expensive or complicated because of copyright laws. So, it's just easier for SHOWTIME to focus on the US for the time being.
However, it's also obligated to block VPNs.
They make geo-restrictions obsolete so everyone can access SHOWTIME's content, which goes against its licensing and distribution agreements.
How to watch SHOWTIME in the UK?
Unable to access SHOWTIME? Here are some suggestions that will surely do the trick:
1. Use a VPN
Subscribing to a premium VPN is the most reliable way to evade geo-restrictions.
As you know, SHOWTIME will check your IP address whenever you access the website. If it detects that you're not from the US, you won't be able to log in.
But with a VPN, you could redirect your traffic through a US server. Meanwhile, your real IP address will remain hidden.
Of course, not just any VPN will do. So, you'll need to be careful while looking for a provider. We recommend NordVPN.
It managed to unblock SHOWTIME on every try. And best of all, it's straightforward and intuitive.
Here's how to use it:
1. Subscribe to NordVPN and download the software.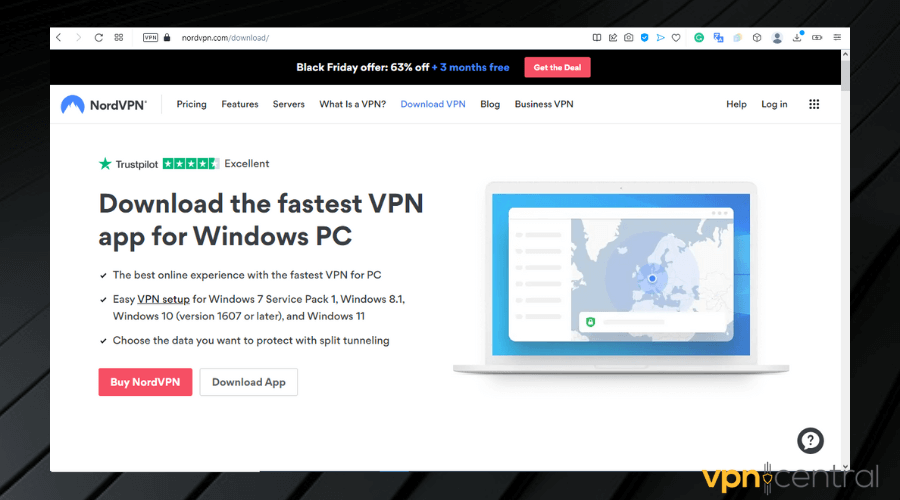 2. Follow the instructions to install the app.
3. Open it and scroll down the list to find a suitable server in the US.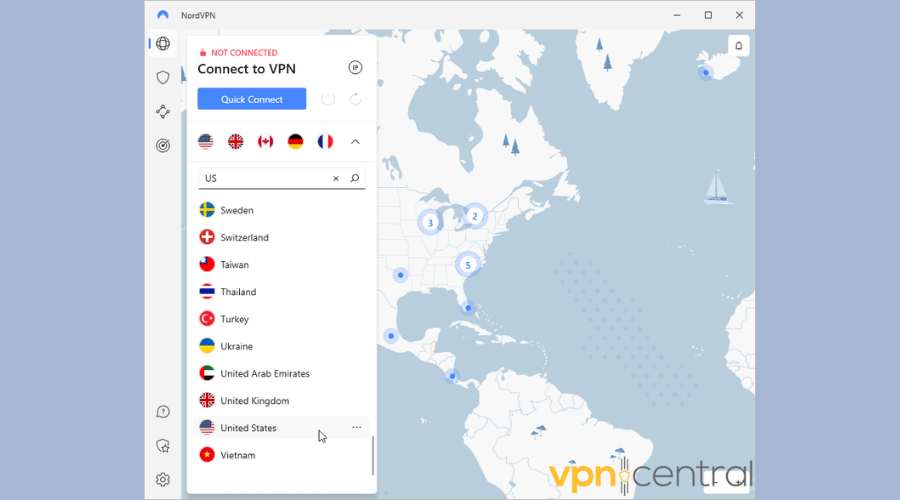 4. Click on the flag icon to connect. If you press the three dots next to it, you can look at all the available cities in this county.
5. Go to SHOWTIME's website and log in or sign in.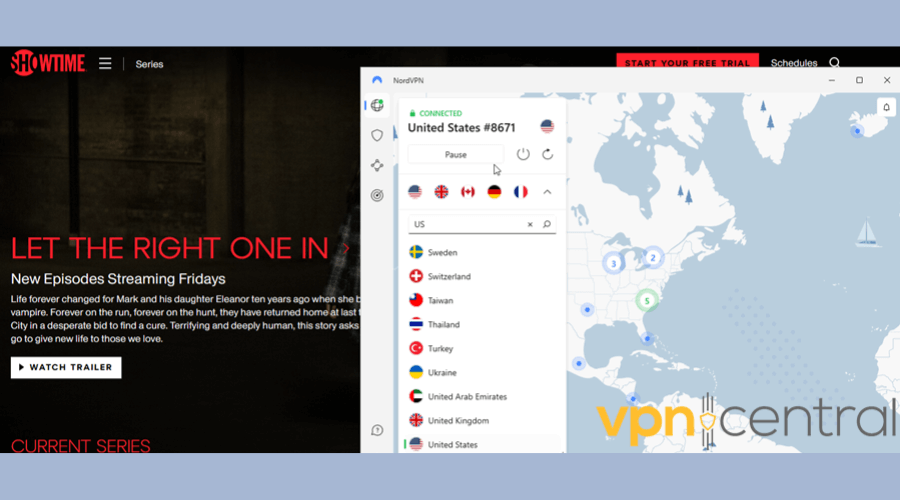 So, what makes NordVPN so good at what it does?
First, it has great server distribution. It counts over 5600 servers in 85 locations across 59 countries.
As for the US, you can connect to major cities such as:
Atlanta
Buffalo
Chicago
Dallas
Los Angeles
On top of that, the WireGuard-based NordLynx is one of the fastest VPN protocols available on the market. You won't encounter any annoying buffering or lag.
It also employs 256-AES encryption for maximum security. And don't worry about your data: NordLynx won't log anything related to your online activities.
The obfuscated servers are the cherry on top. They successfully mask your VPN traffic, so it doesn't alert platforms with anti-VPN measures.
Finally, you can use NordVPN on up to six devices, including Windows, macOS, iOS, Android, Linux, Chromebook, Amazon Fire, and more.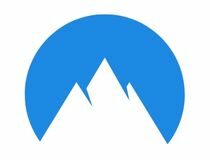 NordVPN
Enjoy your favorite shows from everywhere without geo-blocks with this premium VPN service.
2. Use a proxy server
Proxy servers are another viable option for geo-blocks, although less effective. Still, they're great quick solutions or for one-time use.
They also serve as a middle-man between you and the Internet, rerouting your requests through distant servers.
Keep in mind that they won't hide your entire traffic — only a single website. In this case, SHOWTIME.
Additionally, they won't encrypt your data like VPNs. Depending on your needs, this can actually work out in your favor.
If you're using the proxy solely for streaming, it will be noticeably faster because encryption slows down your connection.
However, free proxy connections can also be laggy and unstable when many users share the same server.
So, you can't expect stellar results with free proxies!
3. Use smart DNS
Smart DNS subtly differs from VPNs and proxy servers, but it achieves the same end result.
Instead of changing your IP address, it lets you switch from your local DNS servers to those located in another country. You'll need US-based DNS servers for SHOWTIME.
But, just like proxies, smart DNS can't be used for security purposes because it lacks encryption.
On the bright side, it's also generally speedier and easier to configure.
We recommend Smart DNS Proxy for the best results with SHOWTIME.
It's worth noting that smart DNS won't work in certain cases. If your ISP uses transparent DNS proxy technology, you won't be able to change your DNS address.
Best VPNs for watching SHOWTIME in the UK
NordVPN might be our top pick, but three more exceptional providers deserve your attention: ExpressVPN, CyberGhost, and PIA.
All three are experts when it comes to tricking even the best-guarded streaming platforms.
Let's take a closer look at their capabilities!
ExpressVPN is one of the best providers for unblocking streaming services.
Besides SHOWTIME, it works on Netflix, BBC iPlayer, Amazon Prime, Disney+, Hulu, and others.
It offers 3000+ servers in 94 countries. It's also especially suited for SHOWTIME because it has over 20 servers in the US.
Additionally, it's known for its quickness and responsiveness. When servers stop working, new ones will spring up to replace them.
And if you don't know which connection to choose, you can find the fastest one with the speed test.
ExpressVPN's in-house Lightway protocol will boost your speed even further.
Most importantly, ExpressVPN doesn't take cyber security lightly.
It uses 256-bit encrypted DNS on every server and stands by its no-logs policy.
It supports up to five simultaneous connections on Windows, macOS, Android, iOS, Linux, various SmartTV devices, and routers.
What ExpressVPN offers:
Network kill switch
Lightway, OpenVPN, IKEv2, and L2TP/IPsec protocols
Split tunneling
Browser add-ons for Chrome, Firefox, and Edge
IPv6 leak protection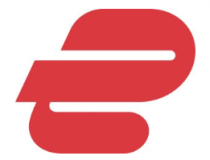 ExpressVPN
With this VPN provider, you'll be able to stream anything you want at HD quality.
CyberGhost is a multitalented provider that excels in streaming. You'll never have a shortage of servers for SHOWTIME.
It has +8900 servers in 110+ locations across 91 countries. It will also list the least crowded options for the best connection.
On top of that, you can find a dedicated streaming tab with optimized US servers. They're all capable of HD streaming.
Now, let's talk about security.
CyberGhost VPN uses the same encryption standard used by governments and military organizations: AES-256.
Furthermore, it won't log your IP address or your traffic.
It supports up to seven simultaneous connections, including Windows, macOS, iOS, Android, Linux, Smart TV, Android TV, and other devices.
What CyberGhost VPN offers:
One-day free trial
45-day money-back guarantee
WireGuard, OpenVPN, and IKEv2 protocols
NoSpy Servers
IPv6 leak protection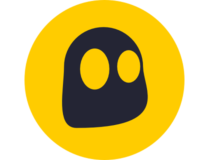 CyberGhost
For complete online anonymity and excellent Internet speeds, trust CyberGhost!
PIA is another smart pick for bypassing geo-restrictions on SHOWTIME. You can also unblock Disney+, Amazon Prime, BBC iPlayer, and foreign Netflix libraries.
It has lightning-fast 10 Gbps servers spread across 84 countries. They're distributed even in the most distant corners of the world.
What's more, you can reroute your VPN connection through proxy servers for extra protection. It uses Shadowsocks and SOCKS5.
Additionally, it's consistently leak-proof. Your DNS requests won't betray your real IP address to SHOWTIME.
It uses the most advanced encryption cipher 256-bit AES. It can't be brute-force cracked by hackers or malicious users.
PIA also states that it doesn't record any personal data about your online activities.
It supports up to ten simultaneous connections, which makes it ideal for bigger households. You can get it on Windows, macOS, Linux, iOS, Android, and routers.
What makes PIA stand out:
WireGuard, OpenVPN, and IPsec protocols
Dedicated IP
30-day moneyback guarantee
Kill switch
MACE ad blocker and malware protection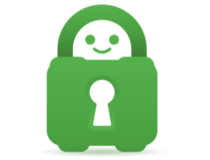 Private Internet Access
With its vast server network, PIA is sure to fulfill all your streaming needs!
Best shows to watch on SHOWTIME
Don't know what show to watch next? You'll never have this problem with SHOWTIME.
Check out this list of beloved classics and cool newcomers for inspiration:
Yellowjackets (2021-present)
American Gigolo (2022-present)
The First Lady (2022)
I Love That for You (2022-present)
We Need to Talk About Cosby (2022)
Billions (2016-present)
Shameless (2011-2021)
Californication (2007-2014)
House of Lies (2012-2016)
The Affair (2014-2019)
Ray Donovan (2013-2020)
The Chi (2018-present)
Black Monday (2019-2021)
Episodes (2011-2017)
Penny Dreadful (2014-2016)
Kidding (2018-2020)
Back to Life (2019-present)
Dexter (2006-2013)
The L Word (2004-2009)
The L Word: Generation Q (2019-present)
The United States of Tara (2009-2011)
Homeland (2011-2020)
Weeds (2005-2012)
The Tudors (2007-2010)
Nurse Jackie (2009-2015)
Masters of Sex (2013-2016)
The Borgias (2011-2013)
Dead Like Me (2003-2004)
Your Honor (2020-2022)
Stargate SG-1 (1997-2007).
Wrap up
If you want to watch SHOWTIME in the UK, you'll have to use a VPN, proxy, or a smart DNS.
VPNs are the most effective method, although potentially more expensive. They're great if you need complete anonymity and protection.
Proxies and smart DNS are cheapер and easy to use, but they have drawbacks too. It might take them a few tries to unblock SHOWTIME.
So, consider your priorities before committing to a solution.