Are you familiar with the streaming giant Apple TV+? This dynamic platform has made waves in the entertainment industry with its exceptional original content and global reach.
Since its launch, it has swiftly become a prominent player, and in this article, we present over 30 intriguing statistics that shed light on Apple TV+'s impact worldwide.
We'll uncover the platform's journey to prominence from its rapid subscriber growth to demographics, engagements, and more.
Check them out!
Fascinating Apple TV Plus statistics worldwide
As of March 2022, Apple TV+ had an estimated 25 million paying subscribers worldwide.
Since its launch, the streaming service has produced over 30 original series.
Apple TV+ is available on the Apple TV app in over 100 countries and regions worldwide.
As of September 2021, original shows like Ted Lasso on Apple TV+ received over 100 awards nominations.
Apple has spent over $1 billion on original content for Apple TV+.
General worldwide Apple TV+ stats and facts
In 2019, Apple TV Plus debuted in the streaming industry, aiming to become a prominent player with an array of captivating original content.
The platform focused on original content and sought to captivate audiences with exclusive shows and movies.
As the global streaming landscape evolved, it experienced growth and slowdowns, securing a position among industry giants.
Let's explore some intriguing statistics that shed light on its performance in streaming entertainment. Here is Apple TV Plus statistics worldwide:
1. Apple TV Plus subscribers worldwide in 2022
(Statista)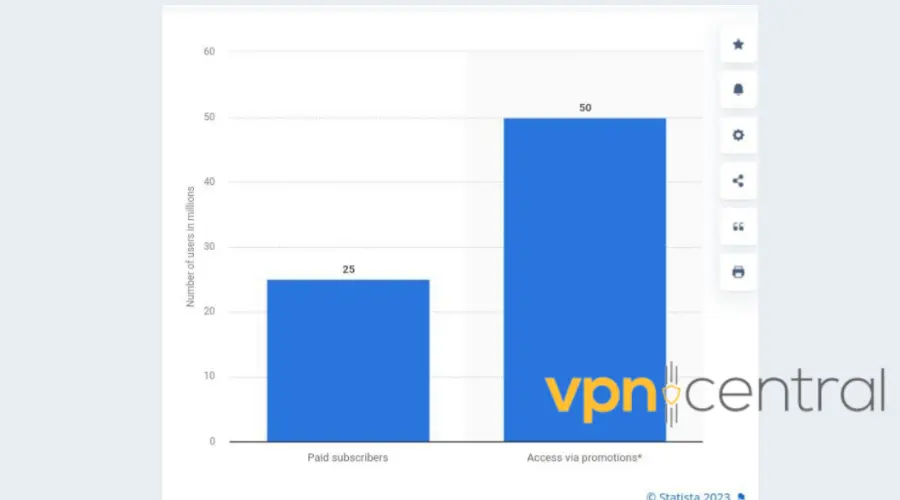 The streaming service boasted an impressive 25 million paying subscribers by March 2022.
What's more? The SVOD (Subscription Video on Demand) platform garnered an astounding additional global user base of approximately 50 million as users flocked to access the service through enticing promotions.
With a generous year-long free subscription offered upon purchasing new Apple devices, the service's widespread appeal continues to attract audiences far and wide.
2. Number of subscriptions to Apple TV+ in Africa as of 2021 was 121,000
(Source: Statista)
By the end of 2021, it was estimated that Apple TV+ had reached 121 thousand subscriptions in Africa.
Looking ahead to 2026, the number of subscribers to Apple TV+ in African countries is projected to experience significant growth, reaching an estimated 304 thousand.
3. The service is available in 100+ countries and regions worldwide
(Source: Apple.com)
Apple TV+ made its presence felt in over 100 countries and regions, providing vast global audience access to its exclusive and captivating content through the Apple TV app.
4. Apple TV+ earned 100+ nominations at the end of the third quarter of 2021
(Source: Apple.com)
As of September 2021, Apple TV+ received over 100 nominations for various prestigious awards including the Emmys and the Oscars, solidifying its position as a contender for excellence in the entertainment industry.
This recognition highlights the platform's commitment to producing acclaimed and high-quality original content.
5. In March 2023, Apple spent $1 billion on original Apple TV+ content
(Source: Bloomberg)
Demonstrating its dedication to providing compelling content, Apple invested over $1 billion in original productions for Apple TV+.
This substantial financial commitment underscores the company's focus on creating captivating and unique experiences for its audience.
6. Reports show that customer satisfaction with Apple TV+ surged in 2021 and 2022
(Source: Whip Media, Apple Insider)
Data from Whip Media reveals a significant rise in customer satisfaction for Apple TV+ between 2021 and 2022.
Research shows that overall customer satisfaction with Apple TV+ content quality and user experience increased from 62% in 2021 to 76% in 2022.
This remarkable 14-point increase represents the largest improvement among all video-on-demand services studied.
While Apple TV+ ranked sixth in customer satisfaction among streaming services, its progress highlights the platform's commitment to enhancing viewer enjoyment and retention.
7. Apple TV+ priced its monthly plan at $4.99
(Source: CNBC.com)
In September 2019, Apple strategically launched its streaming service at just $4.99 per month, positioning it as the most affordable option among significant streaming platforms.
Moreover, Apple enticingly offered a free one-year subscription to Apple TV+ for those purchasing a new iPhone, Mac, iPad, or Apple TV box.
This approach aimed to rapidly build a sizable subscriber base and further solidify its position in the streaming market.
8. In Q4 of 2022, Apple TV+ market share was 3% in the host country
(Source: 9to5mac)
Despite Apple's substantial investments in original content for its streaming service, recent research indicates that the platform held a modest 3% market share in the US during the last quarter of 2022.
While Apple continues to expand its library with new movies and shows, the data suggests that Apple TV+ still lags behind streaming giants like Netflix, Disney+, and Peacock.
9. Apple TV+ is a $6 billion investment in original content at launch
(Source: Financial Times)
In 2019, Apple demonstrated its commitment to the launch of Apple TV+ by investing over $6 billion in original TV shows and movies.
This substantial financial commitment was aimed at building a compelling content library to compete against major players like Netflix, Amazon, and Disney in the streaming market.
Apple TV+ users and demographic statistics
How many users does Apple TV+ attract worldwide? What are the demographics of these users?
Let's dive into the statistics and gain insights into the platform's user base and diverse audience.
10. Apple TV+ brand awareness soars to 77% in the United States in 2022
(Source: Statista)
Surveys conducted in 2022 revealed that an impressive 77% of U.S. video-on-demand users are familiar with Apple TV+.
The survey exposed respondents to both the brand's logo and written name. This indicates the platform's significant brand awareness among streaming enthusiasts in the United States.
11. Apple TV+ in the UK soars to 86% in 2022
(Source: Statista)
In 2022, Apple TV+ mesmerized video-on-demand users in the UK, achieving an impressive brand awareness of 86%.
This surge in recognition came to light through an aided brand recognition survey, where respondents were shown the brand's logo and written name.
The results reflect the platform's increasing presence and popularity, making it a prominent player in the vibrant UK streaming landscape.
12. The platform captured 18% usage share among U.S. VOD users in 2022
(Source: Statista)
Usage share refers to the portion or percentage of video-on-demand users in the United States who actively used Apple TV+ as their preferred streaming service during 2022.
In this case, Apple TV+ accounted for a notable 18% of the market, demonstrating its popularity among viewers.
This equates to approximately 23% of the total number of people (77%) who were aware of the platform.
13. Users between 25 and 34 years top the traffic share on the Apple TV+ website
(Source: Similarweb)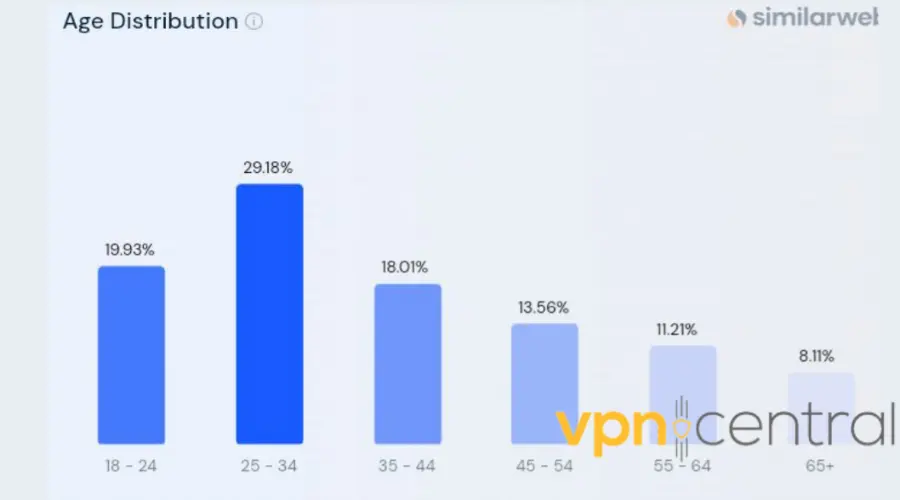 The age distribution of appletvplus.com visitors reveals fascinating insights into its audience composition.
The largest age group of visitors falls within the 25 to 34 bracket, contributing significantly to the platform's traffic with an impressive 29.18%.
As users get older, the numbers gradually decrease, with the following age groups contributing to the traffic as follows:
35 to 44 age group: 18.01%
45 to 54 age group: 13.56%
55 to 64 age group: 11.21%
65 and above age group: 8.11%
Notably, the 18 to 24 age group follows closely, engaging with the platform at a substantial rate of 19.93%.
14. The platform garners 15% popularity among UK Video-On-Demand users in 2022
(Source: Statista)
Among UK video-on-demand users, a remarkable 15% expressed their liking for Apple TV+ in 2022.
Whereas among the 86% of respondents familiar with the platform, 17% revealed their preference for the brand.
15. Apple TV+ fans: Gen Z led the way in 2020
(Source: Statista)
In the streaming world, Gen Z emerged as the frontrunner for Apple TV+ subscriptions in March 2020, with 11% of respondents proudly sporting a current subscription.
Yet, the survey unveiled a fascinating twist—across all age groups, a whopping 70 % expressed awareness of the service, but they were yet to dive into its enticing offerings.
16. Appletvplus.com attracts 53.50% male and 46.50% female audience
(Source: Similarweb)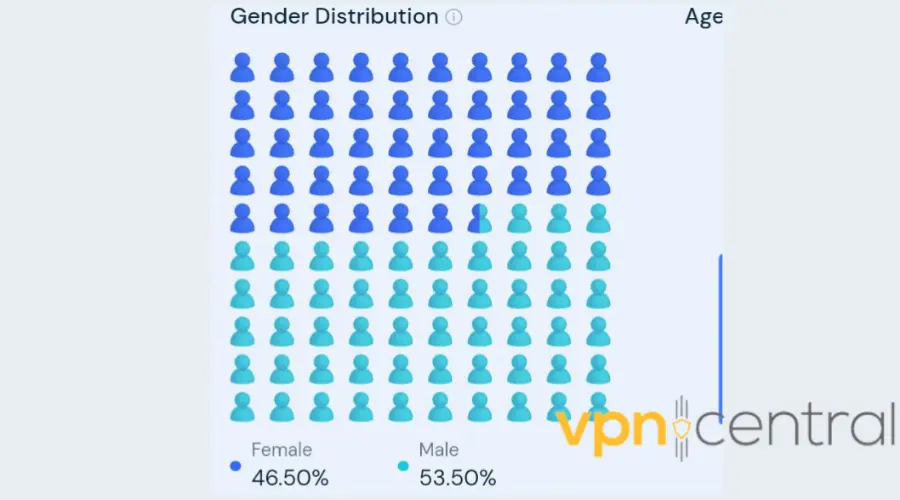 The gender distribution of the Apple TV+ website's audience showcases a relatively balanced representation.
As of the latest data, the platform's audience comprises 53.50% male and 46.50% female users.
Although there is a slight disparity, the platform's appeal to both male and female viewers and its ability to cater to a diverse audience.
17. The streaming platform enchanted the U.S. in 2020
(Source: Statista)
In March 2020, a survey in the United States revealed intriguing figures about Apple TV+ subscriptions. 7% of respondents were active subscribers.
Meanwhile, 70% were aware of the service's allure but were yet to subscribe.
18. Frequency of use by gender in the U.S. 2022
(Source: Statista)
In November 2022, a survey conducted in the United States revealed captivating insights into the frequency of using Apple TV+ among respondents.
20% of participants reported watching Apple TV Plus at least once during the month preceding the survey, with a notable 5% engaging with the service daily.
Furthermore, the data indicated that men were more likely to use the streaming service than women.
19. Apple TV+ viewership in the U.S. from 2022 to 2026
(Source: Statista)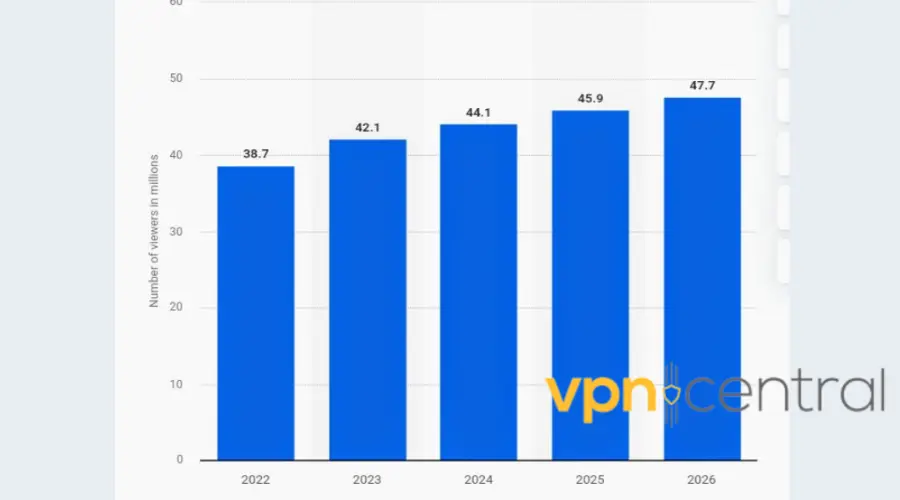 Estimates from February 2022 suggested a continuous increase in Apple TV+ viewers in the United States.
By the end of 2022, Apple's video streaming service was expected to have nearly 39 million users.
The forecast indicated further growth, with Apple TV+ potentially reaching an additional 9 million viewers by 2026.
Apple TV+ Global Ranking and web traffic
Does Apple TV+ have what it takes to claim a top spot in the global streaming arena?
This section will provide insights that reveal where the platform stands in the ranks of streaming services and how its traffic trends have evolved. Let's find out together!
20. Apple TV Plus website global ranking declines to 1,688,177 in June 2023
(Source: Similarweb)
Appletvplus.com's global ranking decreased from 1,381,519 to 1,688,177 between April and June 2023.
The declining global ranking over the last three months indicates the need for potential improvements in web presence and user engagement to attract and retain a wider audience.
21. Traffic to Apple TV+ drops by 41.39% from May to June 2023
(Source: Similarweb)
In June 2023, the website experienced a significant decrease of 41.39% in traffic compared to the previous month for desktop users.
This decline raises the importance of assessing visitor expectations and enhancing captivating content to sustain user interest and regain traffic momentum.
22. United States Leads with 73% of traffic to appletvplus.com
(Source: Similarweb)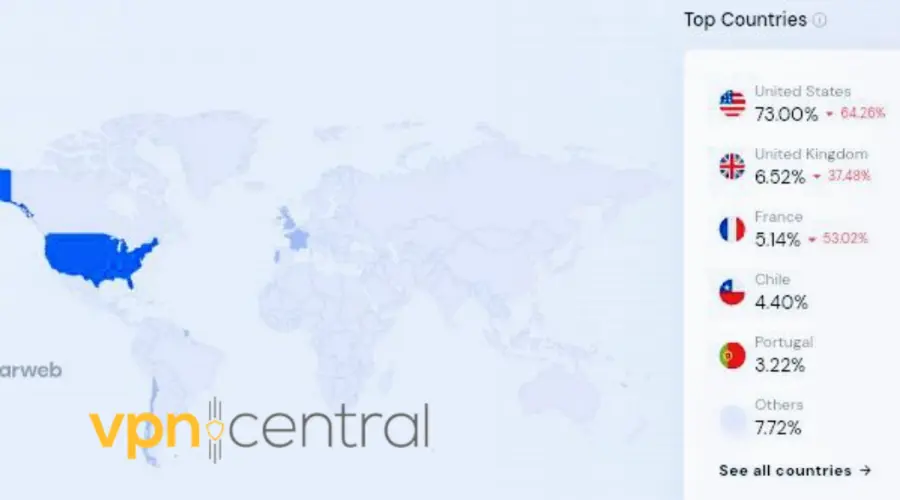 In June 2023, among countries sending traffic to appletvplus.com, the United States claims the top spot, accounting for a remarkable 73%.
Behind the leader, the United Kingdom ranks second with 6.52%, followed by France with 5.14%.
Chile and Portugal contribute 4.40% and 3.22%, respectively, while other countries comprise 7.72% of the total traffic.
23. Apple TV+ has a monthly visit of 28,700
(Source: Similarweb)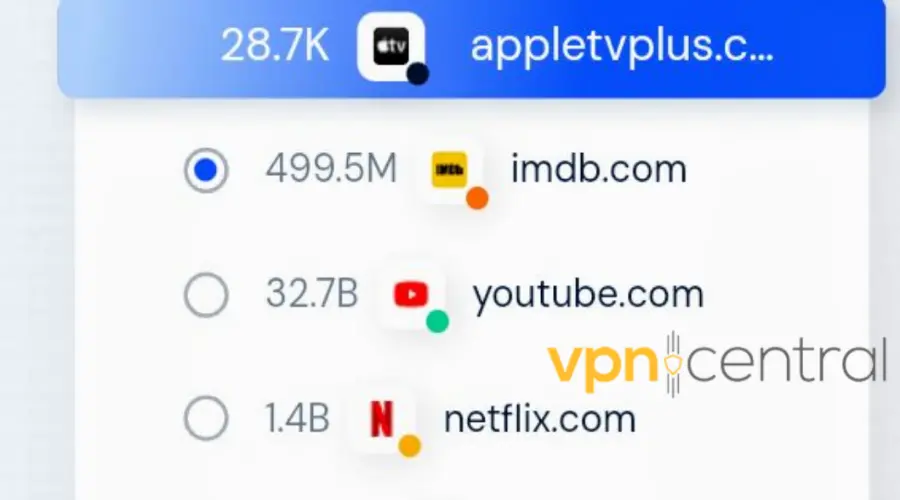 Despite its efforts, Apple TV+ needs to catch up regarding monthly visits. Between April to June 2023, the platform recorded an average monthly visit density of 28,700.
In comparison, competitors like imdb.com garnered a staggering 499.5 million monthly visits, youtube.com dominated with a mind-blowing 32.7 billion visits, and Netflix attracted 1.4 billion visits.
Clearly, Apple TV+ has some ground to cover to catch up with the visit numbers of its competitors.
24. Direct traffic drives 68.21% of desktop visits to appletvplus.com in May 2023
(Source: Similarweb)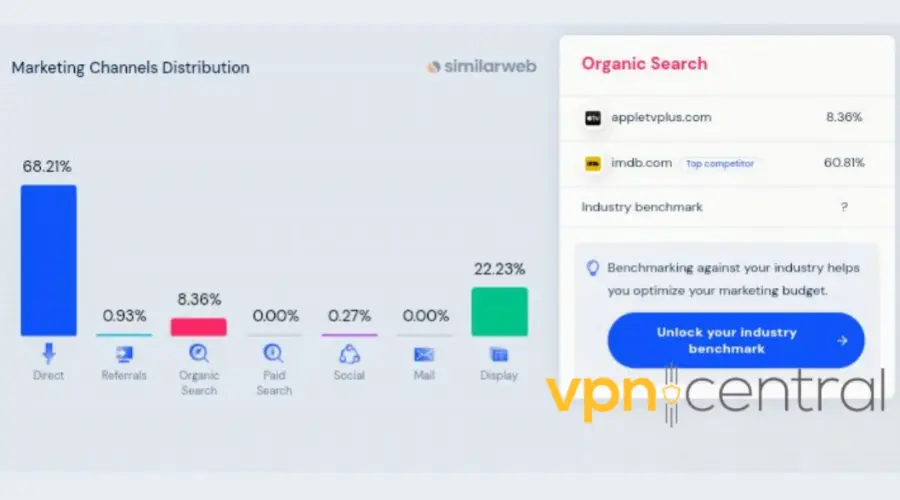 In May 2023, Direct traffic emerged as the top source, contributing 68.21% of desktop visits to appletvplus.com.
Following closely, Display accounted for 22.23% of traffic, while other channels like Referrals amounted to 0.93% and Social 0.27%.
Surprisingly, Paid Search remained underutilized, with 0.00% of traffic share. These insights provide the platform's key traffic sources and optimization potential.
25. Display advertising traffic from paramountplus.com accounts for 15.71%
(Source: Similarweb)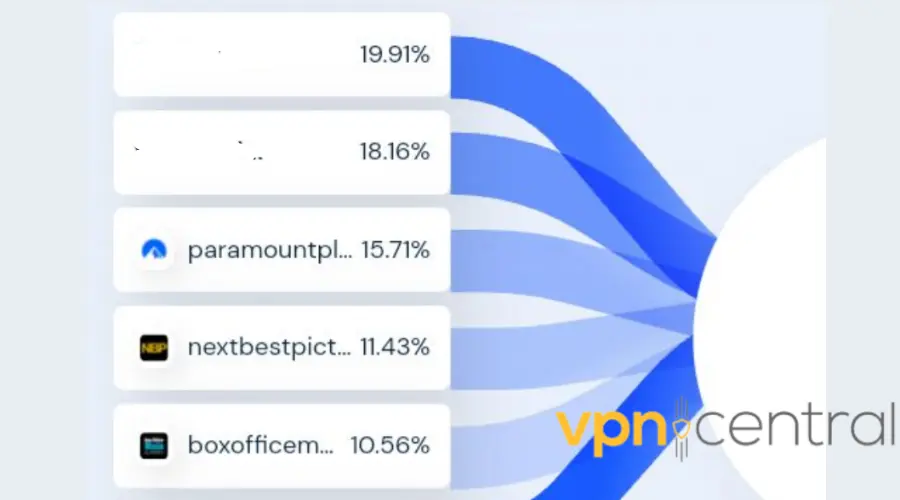 An analysis of display advertising traffic to appletvplus.com revealed that Paramountplus.com contributed 15.71% of the platform's traffic, while nextbestpicture.com accounted for 11.43%.
These findings highlight the impact of strategic partnerships and collaborations in driving traffic to the platform through display advertising.
26. Reddit Accounts for 100% of appletvplus.com's Social Traffic
(Source: Similarweb)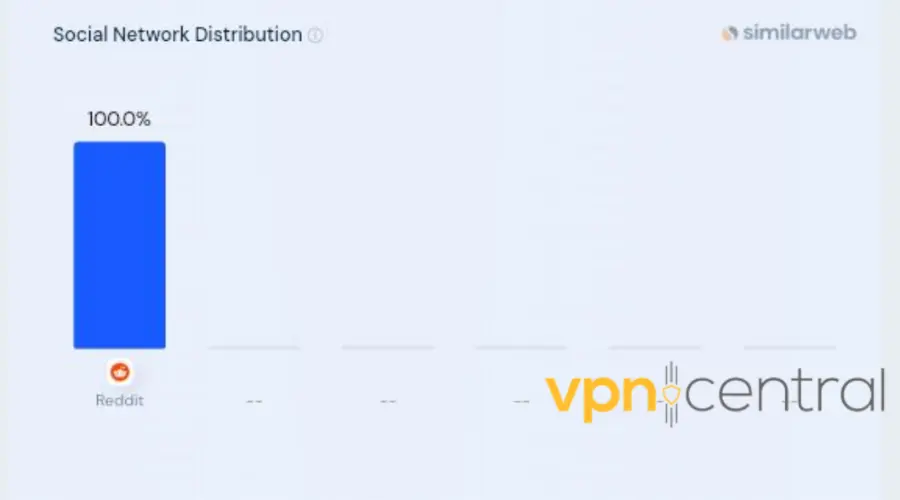 Reddit emerged as the sole social media platform driving 100% of appletvplus.com's social media traffic.
Search terms facts
Are audiences searching for Apple TV+ content, or is the competition dominating search results?
Let's uncover the data and see how search terms are crucial in shaping Apple TV+'s presence in the global streaming space.
27. In May 2023, 8.36% of searches on Apple TV+ traffic were organic.
(Source: Similarweb)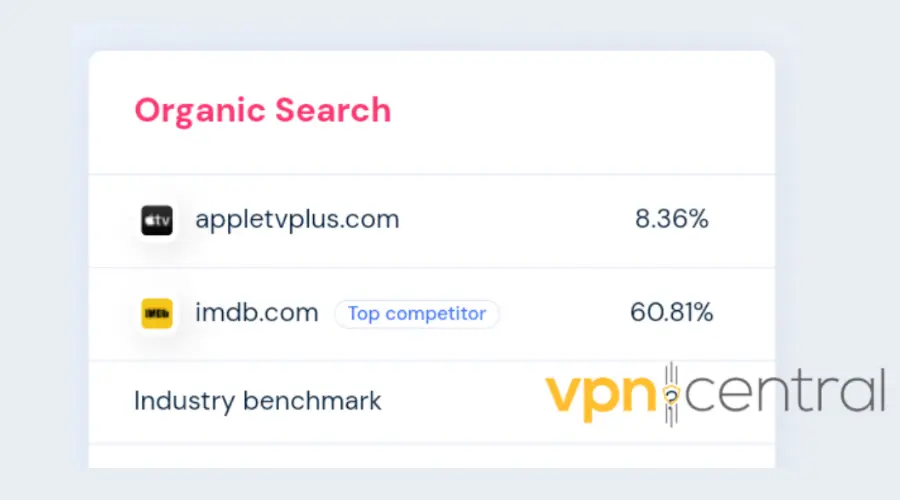 In May 2023, organic search accounted for only 8.36% of traffic to Apple TV+ compared to its top competitor IMDb.com, which held a substantial 60.81% share.
This data indicates the service needs to work on being discovered through search terms, and IMDb.com is currently enjoying a strong advantage in this aspect.
28. apple press screener drives 1,121 organic visits to appletvplus.com
(Source: Similarweb)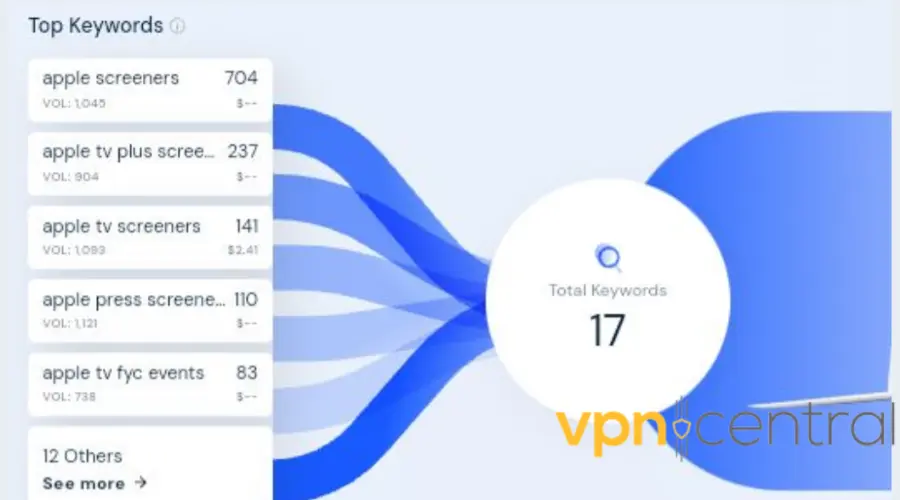 Among the top keywords driving organic traffic to the Apple TV+ website, apple press screener generated the highest volume with 1,121 visits.
However, apple tv fyc events brought in the lowest volume of 738 visits.
These keyword insights shed light on the search terms that resonate with the platform's target audience and contribute to organic traffic growth.
29. The average bounce rate for Apple TV+ stands at 76%
(Source: Similarweb)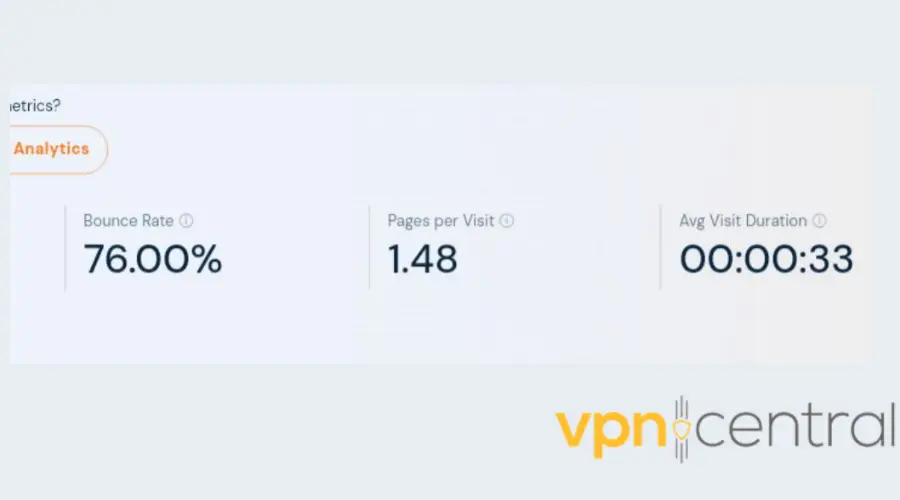 This indicates that 76% of visitors left the site after viewing only one page. Additionally, visitors typically spent about 33 seconds on the site before moving on.
Market share and revenue
Is Apple TV+ thriving in the market, or is it facing challenges from its competitors?
Let's uncover the numbers and explore how Apple TV+'s market share and revenue figures provide valuable insights into its standing in global streaming services.
30. Apple TV+ market share surpassed 6% in August 2022
(Source: 9to5mac)
In August 2022, Apple TV+ achieved a significant milestone by securing 6.2% of the global streaming platform market share. This growth places it closer to HBO Max, which holds a 7% share.
While it strides towards capturing a bigger portion of the market, it currently ranks behind Amazon Prime Video with a 24.3% share and Disney+ with 18.2%.
Despite the competition, Netflix remains the undisputed leader, maintaining its dominant position with a 27.3% share.
31. Apple TV+ experiences market share decline, surpassed by Paramount+ in March 2023
(Source: 9to5mac)
In a significant development, Apple TV+ witnessed a decline in its global market share, slipping from 6% to 5% as per recent JustWatch research, drawing on data from August 2022.
Concurrently, HBO Max gained traction, expanding its share from 7% to 9%. Despite this setback, Apple TV+ remains an active competitor in the ever-evolving streaming landscape.
32. Apple TV+ revenue growth: from $1.5 billion to $2.2 billion by 2023
(Source: Barrons)
The streaming service covered 2% of Apple's $78 billion annual revenue in 2023.
However, this was a considerable increase compared to 2022, when it had a revenue of $1.5 billion.
Wrap up
The statistics presented in this article provide a clear picture of Apple TV+'s performance in market share, web traffic, global reach, and search visibility while steadily growing its library of original content.
With a focused approach to high-quality productions, the platform competes among industry giants, aiming to secure its place in the streaming landscape.
Despite some of its content being geo-locked, Apple TV Plus is popular worldwide. If you want to watch restricted content, you can use a VPN to change your location.
FAQ
How many people stream Apple TV Plus?
Apple TV+ has an estimated 25 million paid subscribers globally.
In addition to this, there were approximately 50 million users who accessed the platform through promotions, availing the service for free for one year with the purchase of new Apple devices.
Each subscription allows up to 6 simultaneous streams, enabling subscribers and their five additional viewers to enjoy content concurrently.
What is the market share of Apple TV Plus?
As of March 2023, Apple TV+'s global market share declined from 6% to 5%.
Does Apple TV Plus have a lot of movies?
Apple TV+ provides a streaming service with original content produced by Apple. Subscribers can access over 30 original movies and 50+ TV shows.
Is Apple TV Plus growing?
The streaming service has been experiencing growth since its launch in 2019. However, according to a new report in April 2023, its growth rate also slowed in the US during that period.
What percentage of Americans have Apple TV?
Approximately 6% of the streaming service market share in the United States belonged to Apple TV+ in 2022, compared to 5% in previous months, ranking it sixth among US streaming platforms.
How much does Apple make from Apple TV Plus?
Apple TV+ contributes about 2% to Apple's services revenue, generating $1.5 billion in revenue in 2022, projected to grow to $2.2 billion in 2023.
Sources:
---