Are you looking for the best VPNs for GeForce Now? You can find the list of the perfect ones in this article.
GeForce Now is a cloud gaming service by the famous graphics card maker NVIDIA. It has gained popularity for its excellent performance and availability.
You can buy games at a cheap rate these days. But, gaming PC components are becoming too much expensive for average users. It is another reason for GeForce Now's popularity.
Even though it is available in a large part of the globe, many gamers are still out of touch just because it is unavailable in their countries.
For them, a perfect VPN is a must to play games using this cloud gaming service. First, we will give you the names of the best VPN services for GeForce Now. However, before that, let's go through the list of the countries where it is not available.
If interested, you may also want to know the best VPNs for Xbox Game Pass.
Which countries don't have GeForce Now available?
NVIDIA is slowly expanding its cloud gaming services to as many countries as possible. They are making the availability either directly or via any of their partners.
Recently, they have launched GeForce Now in Turkiye and Australia. But still, gamers from the following countries are waiting for this service's arrival.
| | |
| --- | --- |
| India | Indonesia |
| Hong Kong | Brunei |
| Qatar | Thailand |
| South Africa | Nigeria |
| Egypt | Vietnam |
| Bangladesh | Iran |
| Malaysia | Laos |
| Macau | Philippines |
| United Arab Emirates | Algeria |
| Oman | Kuwait |
Living in such unsupported countries will make an error while accessing this remote gaming service.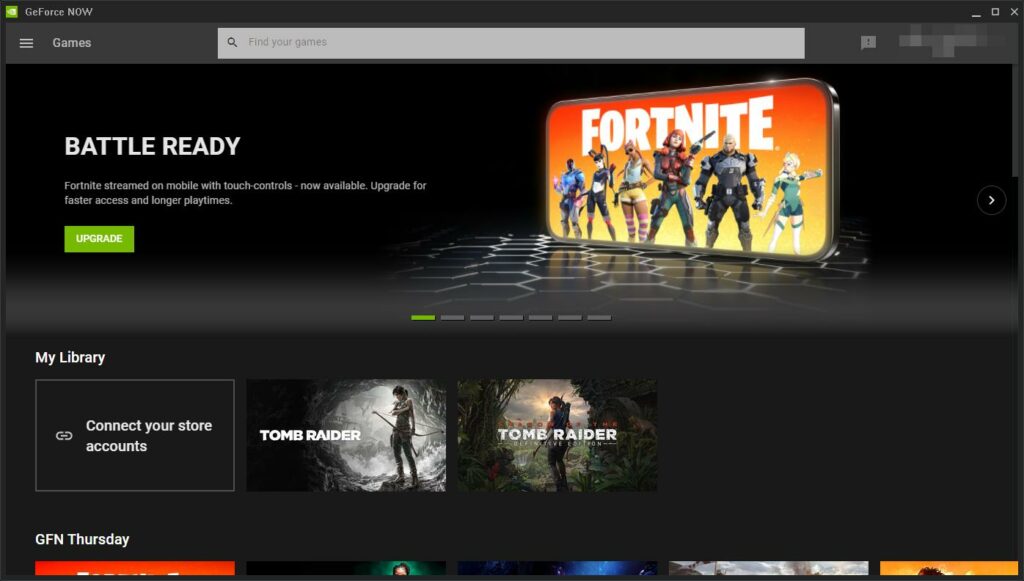 However, you can still access GeForce Now using any industry-leading VPN service. We have already prepared a list for your convenience.
Which are the best VPN services for GeForce Now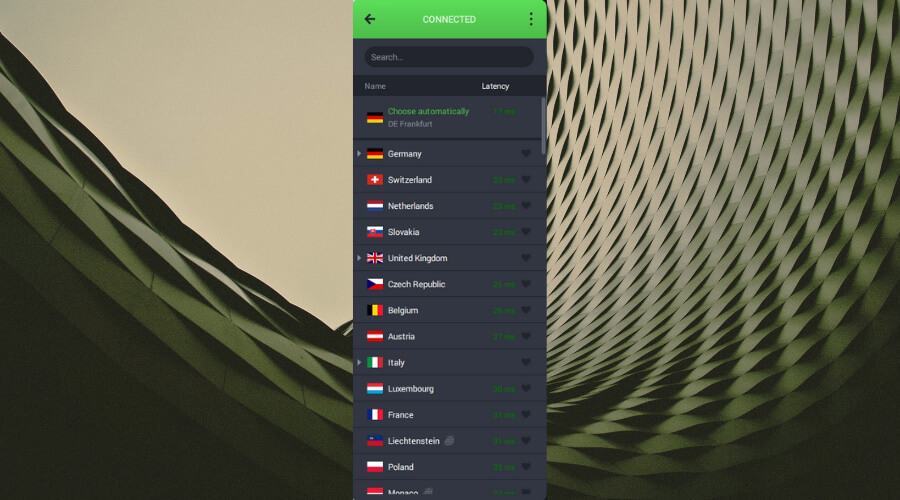 For Geforce Now, Private Internet Access (PIA) is one of the best VPNs in an unsupported region. This US-based VPN service has a global VPN network consisting of massive 35000+ high-speed servers.
Thes servers are available in 100+ different locations in 78+ countries. While maintaining a no-log policy for privacy, it also encrypts your data using AES-128 and 256 algorithms for security.
For gaming, speed is essential. But, Along with the top-class performance and latency, PIA also has a port-forwarding feature which is extremely important for online gaming.
Having all these benefits, particularly for gaming and the excellent network performance, Private Internet Access has become the best GeForce Now VPN.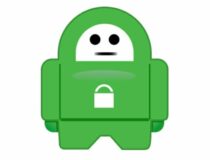 Private Internet Access
To access GeForce Now and play games with the lowest latency, Private Internet Access is one of the best services you can get right now.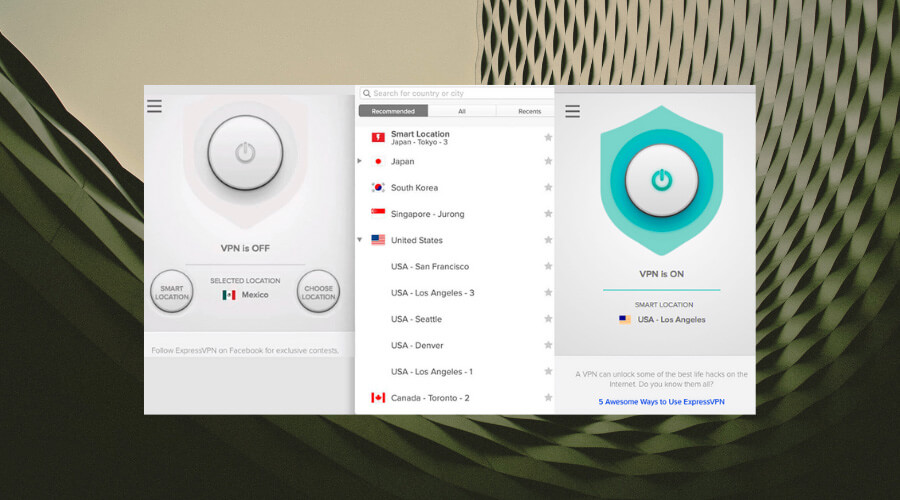 ExpressVPN is an excellent gaming VPN service you can use with GeForce Now. This service has been available in the industry for quite a long time. But, that has not made us include this in our list.
This British Vergin Island-based VPN's performance, lowest possible latency while gaming, security with AES256 encryption, and no-log policy attract any gamers and privacy concerned people.
Else, the ExpressVPN has thousands of servers in 160+ locations in 94+ countries, ensuring better performance from any global site.
After considering all the benefits it can provide, we can say that ExpressVPN is one of the best VPNs for GeForce Now.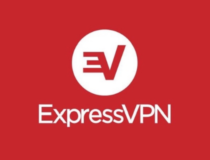 ExpressVPN
Not only for online gaming but also to access cloud-gaming services like GeForce Now from any restricted regions, you will not find many alternatives to ExpressVPN.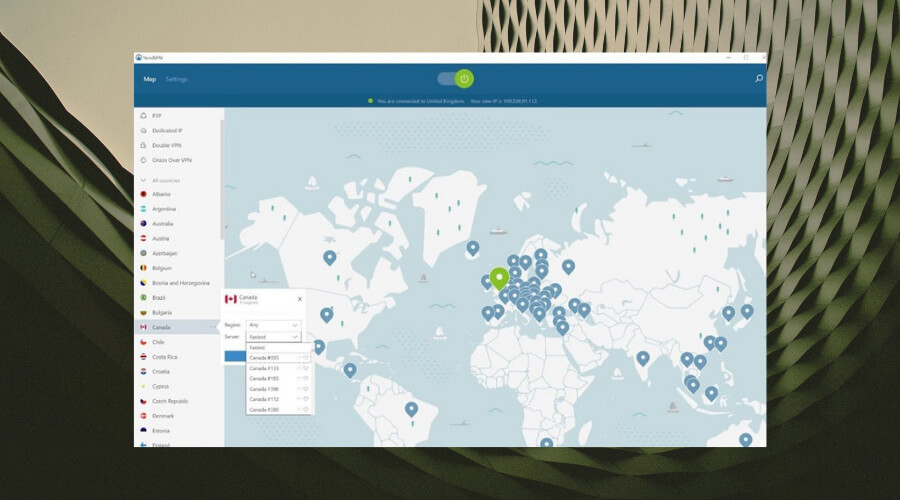 NordVPN is known for its top-notch security and privacy features among privacy-concerned people. However, it can also provide exceptional performance when playing games via a cloud-gaming service like GeForce Now.
This VPN is based in Panama, where companies can easily maintain a no-log policy as that country doesn't have any data retention law. NordVPN has been doing it perfectly for years.
This service currently has an extensive global network of around 5100+ servers in 60+ countries.
When you access GeForce Now from any unsupported countries using this VPN, NVIDIA won't be able to detect your real identity as NordVPN uses technologies that can bypass any geo-restrictions.
For performance in cloud gaming, extra security, and privacy features, you can consider using the NordVPN service for GeForce Now.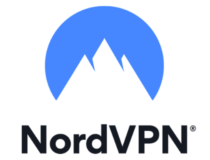 NordVPN
To play games while maintaining privacy, NordVPN is one of the best GeForce Now VPNs available out there.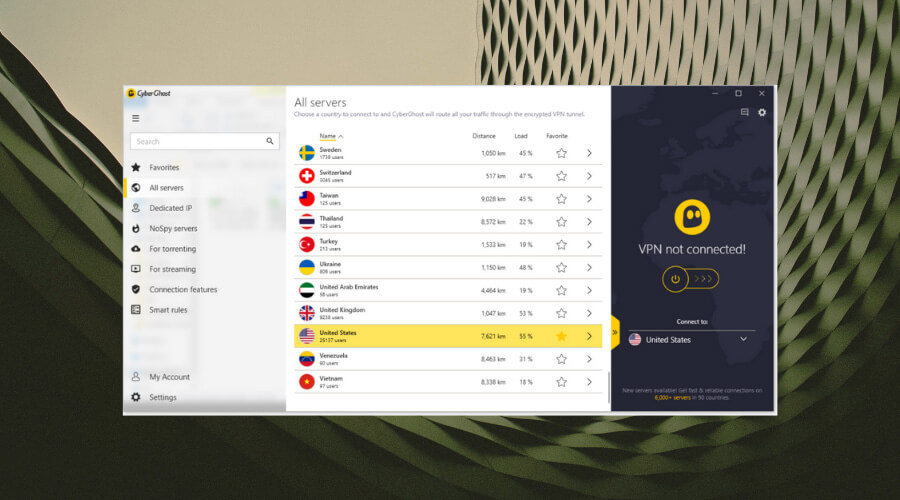 CyberGhost is another perfect VPN service to access GeForce Now from any unsupported country. This Romania-based provider has been maintaining its excellent reputation for years.
This service has a massive global network with around 7500 servers in 91+ countries. CyberGhost is an excellent choice for gamers due to its high-speed network with low latency.
This service supports multiple VPN protocols, provides security with AES-256 encryption, and maintains a no-log policy for privacy. Excellent stable performance and these benefits have made it one of the best VPNs for GeForce Now.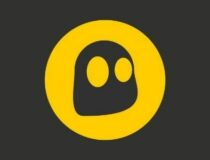 CyberGhost
To access GeForce Now from any unsupported locations and for a better gameplay experience, CyberGhost VPN is a perfect choice for most types of users.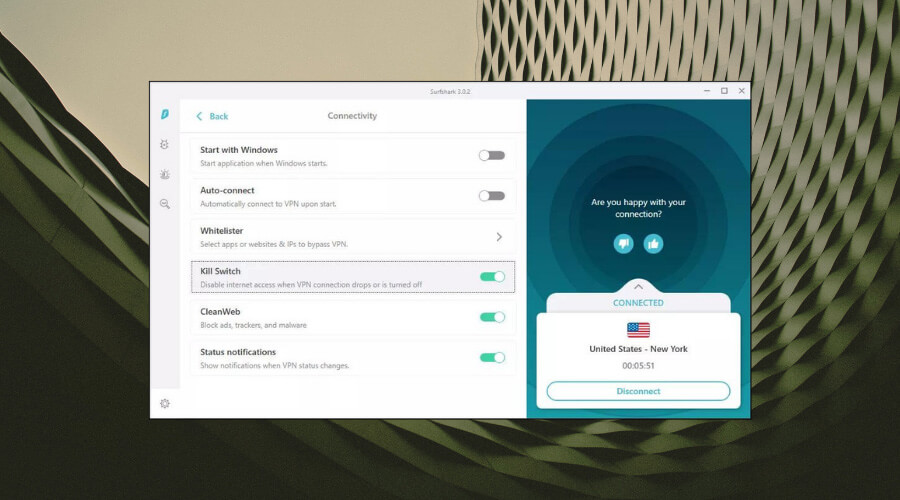 If you need a more affordable VPN service to play games on GeForce Now, we have not found any other better VPNs than Surfshark. This is also a British Virgin Islands-based VPN service like ExpressVPN.
Surfshark is offering 3200+ services in 65+ countries, which ensures you can access any cloud gaming service while traveling to unsupported regions.
Like all other services on our list, this VPN offers a no-log policy, AES256 end-to-end encryption, and industry-standard performance.
Our test found that its performance with GeForce Now is outstanding. While playing games like Tomb Raider 2013 using this service, we have not faced a problem. That is exceptional from an affordable VPN like this.
Surfshark also has a Camouflage mode that ensures you can access GeForce Now and any other geo-restricted services from unsupported countries.
For having these features and benefits, Surfshark has been a perfect affordable choice as a gaming VPN service, particularly for the GeForce Now gamers.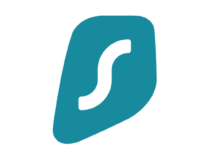 Surfshark VPN
Surfshark is the best affordable VPN for GeForce Now that you can buy for a fantastic experience while not spending too much.
What happens if I use a free VPN with GeForce Now?
First of all, a free VPN cannot match the performance of a paid VPN service. Secondly, you will not get proper security and privacy from such VPNs.
If you consider playing games on cloud platforms using a free or cheap VPN, the experience will be horrible. You will face high latency, input lag, blurry gameplay, and many other issues.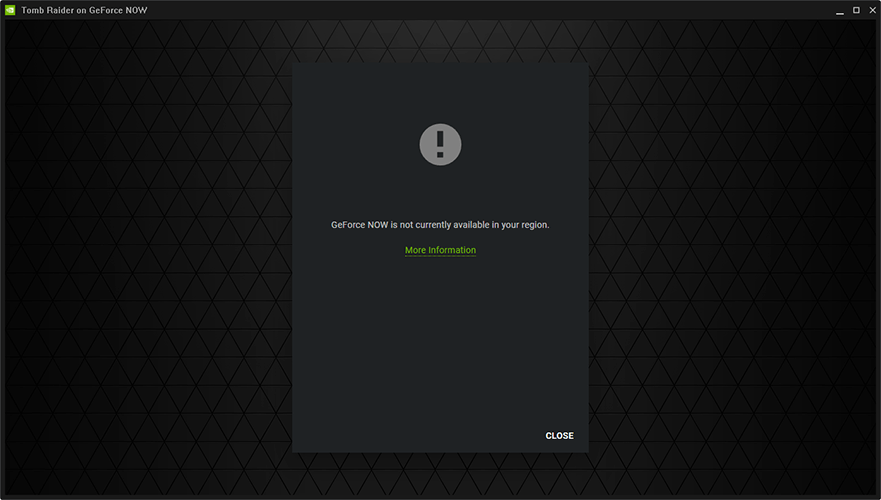 In most cases, a free VPN may not be able to unblock GeForce Now in an unsupported country. As a result, you may get a geo-restriction error.
So, you must use a top-class VPN service, particularly those mentioned in our article. If you face a geo-blocking-related error, we have another article for a fix. Please go through this: How to fix GeForce Now is not available in your region error.
This article has showcased the based VPNs for GeForce Now for better gameplay. If you have already been using any of these services for this cloud-gaming service, please let us know in the comment box.