Zulip is one of the best team messaging apps due to its innovative threading model.
The problem is that it's not available worldwide, so you'll need a VPN to access it and make the most of its features.
That's why we tested and reviewed the best providers on the market to find the ones that work best with the messaging app.
But first, let's look into the problem!
Why do you need a VPN for Zulip?
Unfortunately, if you or your teammates are outside the US, you'll experience some troubles.
First, you need to create a Stripe account set to the US for your billing system.
Moreover, Zulip may not work in China, as the country blocks US tools in favor of its domestic counterparts. You can still manually download and install its APK version, but your traffic will likely get detected and blocked.
Also, the app may deny access to users physically located in embargoed and sanctioned jurisdictions.
Therefore, if you want to connect users from Russia, the Balkans, certain parts of the Middle East and Africa, Myanmar, or Cuba, they'll need a VPN first.
Which are the best VPNs for Zulip?
We tested the top VPN services on the market, and our recommended picks for the messaging app are as follows.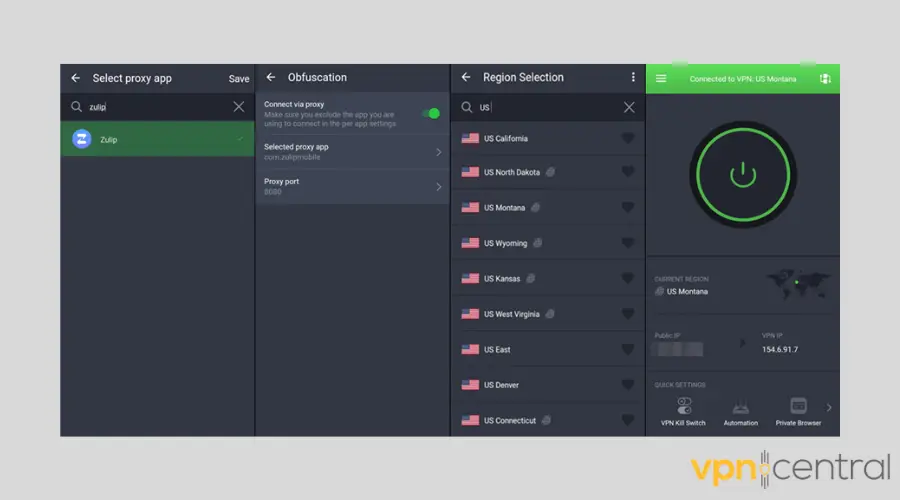 Most VPNs have servers in the US. But if you want an abundance of options, nothing comes close to PIA's offer.
It has 145 locations worldwide and can provide IPs from all 50 US states.
Furthermore, PIA has a verified no-logs policy, and its next-gen network delivers super-fast 10Gbps connection speeds, beating most of the industry's major players.
Another reason to trust this VPN service provider is its open-source Windows, macOS, Linux, iOS, and Android apps.
Its native desktop clients come with the MACE ad, tracker, and malware blocker. Since Google Play bans this security feature, you can download PIA's APK to get it on Android.
This VPN can help you use Zulip in locations where it's prohibited through its OpenVPN-based obfuscation functionality or Shadowsocks or SOCKS5 proxy.
Other features that make PIA stand out:
WireGuard and IKEv2/IPSec protocols
Router support
RAM-only data storage
Multi-Hop and dedicated IPs
Up to ten simultaneous connections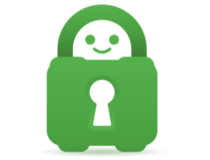 Private Internet Access
PIA can help connect all your teammates on Zulip regardless of their location.
2. Proton VPN — sophisticated anti-censorship solution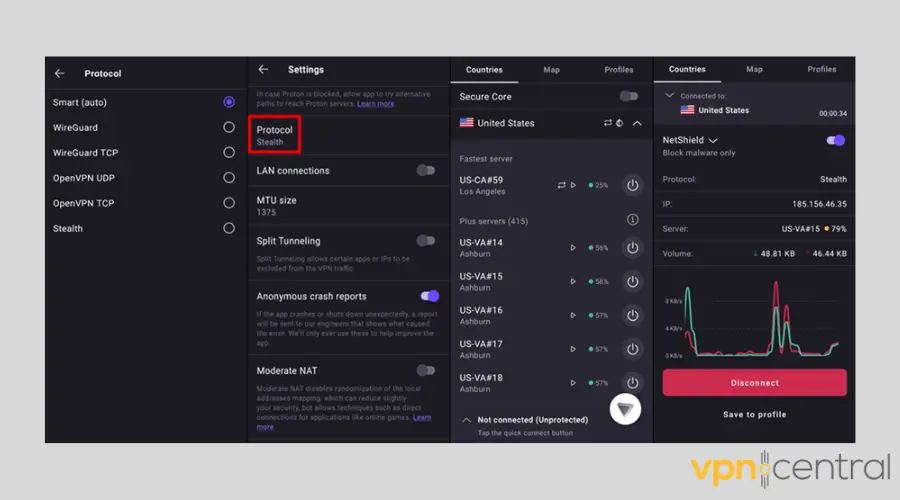 Proton takes censorship circumvention so seriously that it has developed its own protocol to outsmart state-sponsored software blockers.
Aptly called Stealth, this proprietary protocol is based on obfuscated tunneling over TCP, a departure from the conventional UDP-based methods. As a result, it can creatively mask your VPN traffic so that Internet filters would ignore it.
In addition, Proton VPN uses hard-to-detect alternative paths to successfully establish a connection to its servers when it senses censorship attempts.
Likewise, its Secure Core network can defend you from network attacks that aim to unveil your real IP and location. And to stop dead malicious sites, ads, and trackers, Proton VPN uses its DNS filter NetShield.
If you have Zulip teammates in regions with outdated Internet infrastructures, you can take advantage of the VPN Accelerator. This revolutionary speed booster can help transmit data more than five times faster.
In terms of network coverage, Proton VPN has 1,900+ servers in 65+ international jurisdictions. It has 10Gbps hardware in more than a dozen US locations, some of which also support Tor over VPN.
Whether your team uses Zulip on Windows, macOS, Linux, Android, or iOS, there's a native app for any system for easy installation. You can sideload it using its APK version too.
Other reasons to choose Proton VPN:
Freemium software
WireGuard and OpenVPN protocols
Kill switch
P2P support
Up to ten simultaneous device connections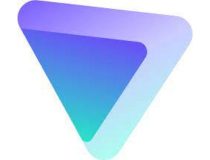 Proton VPN
Ensure your online privacy, even in the most restrictive cyberspace with this reliable VPN solution.
3. Surfshark VPN — optimal privacy features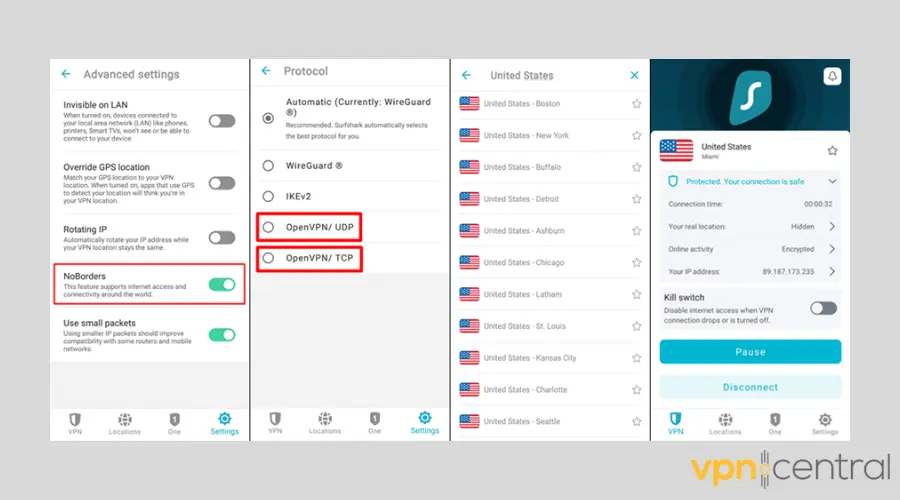 Surfshark has very little competition when it comes to IP masking.
It has servers in 100 jurisdictions, covering the Americas, Europe, the Asia Pacific, the Middle East, and Africa. What's more, it offers 600+ RAM-only servers in 25 major US cities.
Surfshark VPN's network runs on private DNS, which helps keep ISPs blind to Zulip activity.
If you need to keep a low profile, you only need to switch your VPN's protocol to any of the two OpenVPN options. This way, Surfshark's entire global fleet becomes obfuscated.
Its Windows, macOS, iOS, and Android apps can also detect network restrictions. They automatically pick the best server options to get around the blockers using the NoBorders feature.
While in a VPN session, you can set Surfshark to regularly change your IP every five to ten minutes without routing your traffic to another location. That can make monitoring your Zulip activity extra difficult.
But if you wish to keep your IP the same, you can send your data to Surfshark's static VPN servers instead.
Additionally, its MultiHop servers envelop your first secure tunnel with a second one. Double VPN masks your IP twice too.
Unlike most VPN service providers, Surfshark is capable of GPS spoofing, which ensures that your device's location data is consistent.
Finally, multiple independent audits have verified the company's privacy claims, so you can safely trust it with your data.
Other features that make Surfshark VPN a definite bargain:
Linux support and Android APK
WireGuard and IKEv2 protocols
System and app-level split tunneling
No usage logging
No simultaneous connection limit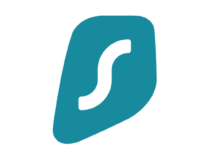 Surfshark
With its advanced feature set, this VPN can protect your online anonymity like no other.
Wrap up
Zulip is an excellent messaging app intended to make it easy for teams to collaborate and achieve great things.
While sometimes you might experience trouble accessing the platform from different locations, any of our recommended VPN services can resolve the issue.
Once you pick the best VPN for Zulip and your needs, you'll able to fully benefit from its great features.