Equipped with state-of-the-art security features, Private Internet Access (PIA) VPN ensures absolute privacy protection.
PIA VPN is at the forefront of the vast ecosystem of VPNs with the ensemble of:
Quality features
Affordable price
Advanced security and excellent speeds
This provider is visibly different from other VPN providers regarding the look of its desktop interface.
BitTorrent downloads and P2P file sharing have no limitations, which only a few VPN providers allow.
For these, and many other, reasons, this provider is often considered one of the best VPN services.
In this Private Internet Access review, you will realize that with this combination of features, this great VPN provider remains unrivaled by other competitors; maybe a few.
As you'll see, PIA's strengths far outweigh its weaknesses:
Pros
Affordable yearly plan
Adblocking
Supports P2P file sharing and Torrents
Multi-platform support
Advanced security features; 256-Bit Encryption and 4096-Bit Encryption Keys
No Traffic Logs
Kill-Switch
DNS and IPv6 Leak Protection
10 Devices simultaneously
30-day money-back guarantee
Cons
The interface is not user-friendly
Now, let's check out how much it will set you back to get it:
Pricing and plans
You can choose between three plans:
Monthly ($9.95/mo)
Yearly ($3.33/mo)
6-month plan ($5.99/mo)
The only difference between the yearly and the 6-month plans is that you get billed monthly. The yearly plan will go for $3.33 per month while the 6-month plan will go for $5.99 per month.
It is not difficult to see how the yearly plan is the most economical.
All plans offer the same value except for a different price and all come with a 30-day money-back guarantee you can use to test PIA VPN free.
Payment оptions
There are various payment options for their subscriptions. Payments can come through either of the following:
PayPal
Visa
Credit Cards
Amazon
CashU
Google Wallet
For anonymity, the company accepts Bitcoin and also all major gift cards. This way, you don't have to worry about anyone tracking you, even the government.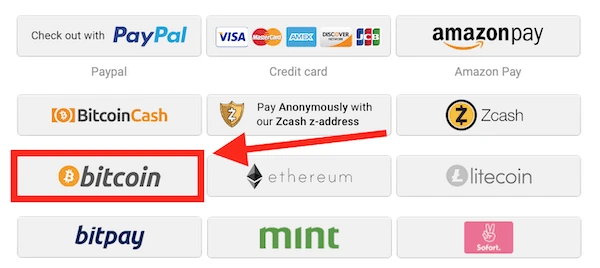 You could also use a disposable email for the payment process. After you buy the VPN and the subscription process ends, the service disposes of your email account data, leaving no trace of you signing up with PIA. This is an extra step to further protect your privacy.
Main features
Now, let's shed some light on what the service offers:
Servers

PIA has 3300+ plus Servers in 30 Countries.
These are mostly located in the US and Europe. Other areas are also well represented among the 30 countries.
What's more, you get to test the servers in the specified location from their server page. You just need to visit the official website, click on the menu "Network" in the footer and it will redirect you to the servers page.
At this point, clicking on the flag of your country of interest you will see all the servers available in this location. Click on "Run test" and you will see the performance of the selected VPN server.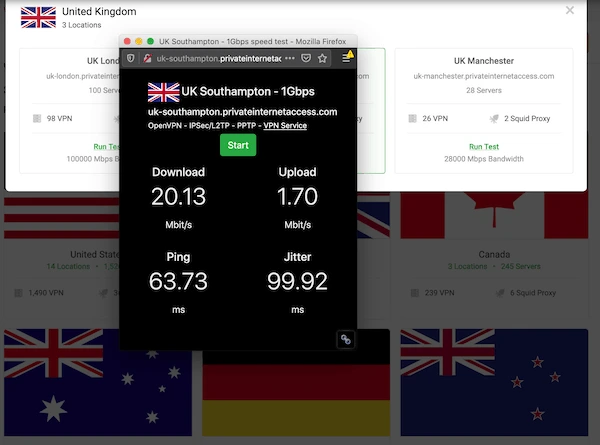 Protocols and encryption
Through the internet and tools available, hijacking, eavesdropping, and stealing of data and information, has become a simple task.
This is possible via insecure connections such as public Wi-Fi in your favorite coffee shop. Even your ISPs, as they can track your activities.
Supported VPN protocols
These vulnerabilities put your data at risk but Private Internet Access overcomes them by using multiple protocols; PPTP, L2TP/IPSec, and OpenVPN.
The VPN protocols are one of the core features of your VPN connection. They are responsible for the encryption of your data and make sure that your privacy is totally protected. That's how important they are.
PIA supports several VPN protocols which makes your connection very flexible for any kind of usage. However, keep in mind that not all protocols guarantee the same level of security and protection.
Of all the protocols, OpenVPN is the most secure. As such, you should keep it in use all the time you're doing a data transmission. It's backed by high-grade encryption which utilizes the cryptographic secure Blowfish CBC algorithm.
Blowfish algorithm encryption is effective in software such as their desktop client, no one has ever hacked into it since its invention. Additionally, the transmission is under encryption by AES-256 and authenticated with SHA256.
You can use the less secure PPTP but be aware that even though your connection speed is faster, the level of security is significantly lower.
You may use PPTP for content streaming or P2P file sharing but only if law infringement is not involved. Otherwise, never use PPTP for these tasks.
Private DNS server
DNS spoofing or poisoning of the DNS cache, is another common trick that hackers use to gain access to your data.
DNS spoofing is when a hacker uses a corrupted DNS to intercept your traffic and send it to a fake website he created. The fake website is an exact copy of the original one. As you navigate through the pages of the fake website, the hacker enters your computer and steals your private data.
To avoid DNS spoofing/poisoning of the DNS cache, users also have access to a private DNS server.
With this feature, attackers can't get DNS requests from web traffic. And hence your IP address is not redirected to them. As a result, you are sure that the websites you visit are legit.
SOCKS5 proxy
PIA also includes a SOCKS5 proxy. With this, only authenticated users can get access to the server via the SOCK protocol.
When tunneling (hiding your data from prying eyes as if you were inside a tunnel), Secure Socket Layer (SSL) encrypts the channels used by the VPN. It does this when establishing the links between the browser and the server.
RSA 4096 handshake
RSA 4096 handshake is also used. This means that if the information is somehow changed, the user (program) will know of it.
By means of RSA Handshake, the system always makes sure you are really connecting to a safe Private Internet Access Server. It will not redirect to an attacker's server.
No one has ever managed to hack it.
Does PIA VPN unlock the US Netflix library?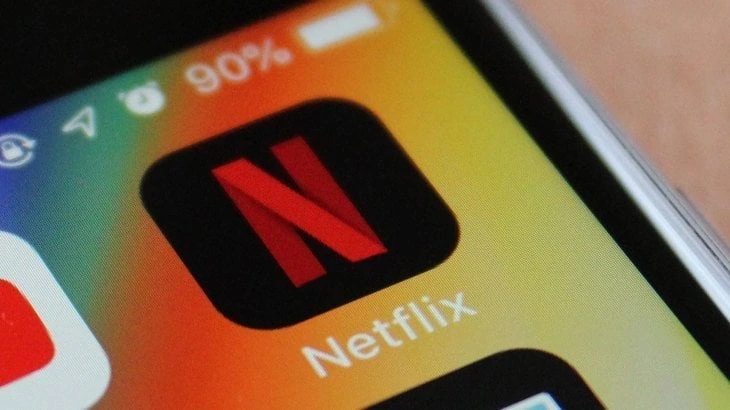 The fight between Netflix and the VPN providers keeps unfolding week after week.
Recently, Netflix has been able to block several VPN providers that now cannot unlock the US library anymore.
PIA VPN was not among the victims of this war. Private Internet Access unlocks the US Netflix library. You can use it even to watch movies on Popcorn Time in total safety.
Even in consideration of the recent improvements implemented to the service, this provider confirms its status. It is one of the best VPN services to unblock geo-restricted websites and download BitTorrent.
Where is PIA VPN based?
Private Internet Access is based in the US. While the service has pretty good privacy options, the fact that it is based in the US is actually a downside to it.
You see, the US is one of the worst countries in the world when it comes to online privacy. The country's ISPs (Internet Service Providers) are doing their best to record everything, and its government agencies are known for heavy online surveillance.
Not only that, but the US is one of the founding members of the 5 Eyes Surveillance Alliance, which eventually grew to become a 14 Eyes Surveillance Alliance. The member countries all record any scrap of data they can and share it with one another. While PIA VPN can protect you from them to an extent, it is obligated to surrender data, if the governments come knocking and demanding it.
Fortunately, the company has a strong no-traffic logs policy, meaning that it does not store user data. However, if the government comes and demands that it starts recording what you do, we are unsure whether or not the service will be able to disobey.
It is likely that it will comply with the orders, and that you won't even be notified of the change, so it is highly recommended to not do anything that could get you in trouble with the law if you use it.
Of course, we would recommend that either way, as performing illegal actions is wrong, in general, and we do not support it.
Kill switch
Like other VPNs, PIA also has the kill switch feature.
A kill switch blocks all the outgoing/incoming traffic when the VPN connection drops and the VPN is trying to connect again.
This is very critical because if a slight packet of data is transmitted within that moment, your information will not be secure and you will be tracked by interested parties.
This feature is very handy, for instance, if you leave your computer unattended for hours as you download BitTorrent. If during this time the connection drops, you are exposed and may find yourself in trouble.
Ad blocker and firewall
Private Internet Access has added a new tool known as MACE.
This tool is responsible for blocking ads, trackers and has the capability of filtering out malware.
This saves you from annoying unwanted ads. It also you are safe from malvertising; legit advertisements that are capable of executing malware attacks.
MACE is automatic by default, and you don't have to worry about ads with PIA. MACE achieves this capability by running the advert's DNS requests against its database of blacklisted DNS.
PIA VPN is also coupled with a server-grade firewall. This firewall employs the filtering and firewall capabilities of the Netfilter project. With this firewall, you can rest assured all unwanted connections will be blocked.
It has an optimal performance that doesn't affect the speed at which the VPN operates. With this firewall, you are impenetrable by attackers and other eavesdroppers.
IP cloaking
Private Internet Access VPN masks your real IP address with one of their anonymous IPs.
It uses a shared IP system. For instance, an individual's traffic is mixed with traffic from many other people.
This ensures that unwanted data leaks and exposures are blocked or made hard to trace. Interested parties will have a hard time monitoring your internet activities, and your exact geographical location will also be hard to find.
IPv6 and DNS leak protection
This VPN also protects its users from vulnerabilities such as websites that have IPv6 embeds. These embeds are enablers that may leak clients' IPv6 information.
Likewise, DNS leaks are prevented from occurring. A DNS leak occurs when a packet of data is somehow sent to the ISP directly instead of following the stipulated secure path implemented by the VPN.
This stray data packet may open a window for your ISP to monitor your activity or for even other interested parties that you were cloaked from.
Using a no-log private DNS daemon, PIA ensures DNS requests are made safe for your total protection.
Auto-connect
It's a good practice to always set the VPN to auto-connect on launch.
This means that VPN tunneling will automatically activate when you log onto your device and protect you from prying eyes.
This is helpful in case you have programs that also launch the moment you start your machine. If inadvertently you forget to activate the VPN, you will be totally exposed as you turn on your computer.
Such programs include P2p and also torrent clients. These apps can make your ISP to limit your traffic or even block you. Even worse, you may find yourself involved in legal actions from copyrighting surveillance agencies.
Compatibility
PIA VPN is multi and cross-platform. It is compatible with;
Windows
Linux
Mac OS
iOS
Android.
Other platforms such as DD-WRT routers are also supported. This is a feature that you will surely appreciate.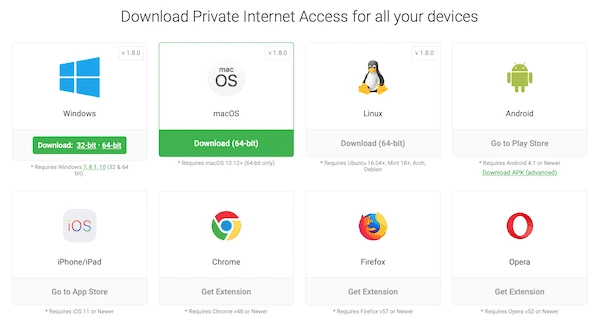 Installing the VPN on your router means that all devices that connect to it are also protected. That includes gaming consoles and smart devices. Protecting the router it means that you can protect as many devices as you like instead of the maximum 5 allowed.
How to install PIA VPN on Firestick
Another thing that our review needs is steps to install it on Firestick. A lot of people enjoy using Firestick and watching all of its content. But, that content tends to change from country to country. And so not everyone has access to the same things.
If you wish to access something that is not available in your part of the world, or you traveled somewhere and wish to watch your favorite shows, Private Internet Access VPN can certainly help.
All you need to do is follow these short steps:
Go to PIA's website and sign up
Go to your Firestick app store and search for PIA
Install it
Log in with your new PIA credentials
Connect to a server in a country that has the content you wish to watch available
Enjoy!
That's pretty much all it takes. Note that you may need to use another app called the Downloader to get PIA on your Firestick, but this is also quite easy and quick, so you should not have any problems when it comes to doing it in minutes.
Customer support
There are various ways of getting help including a live chat. The live-chat is not 24/7 yet but it will be implemented soon.
On the bright side, they have a vast knowledge base of FAQs and pages that offer extra support and a ticket system that works efficiently.
For ease of finding a solution, they have been subdivided into categories.
The website also has a message-like help platform. This platform takes in keywords on what help you might need and then displays top suggestion results that contain the keyword.
This makes it easy to find the solution you are looking for by getting in line for customer support.
The website also has a link to the VPN blog. This blog is updated weekly and offers the latest information that concerns VPN and its operations regarding security and privacy.

Private Internet Access free trial
Unlike other great VPN providers, there's no direct free trial.
You only get to test the service after you have subscribed to one of its plans. This subscription comes with a 30-day money-back guarantee.
It's during this period that you should test the VPN and decide whether to continue using it or mark it as not right for you.
Even though testing the service before buying makes more sense, this company is very reliable when it comes to refunds. We are talking about one of the best VPN services after all.
From our experience, we can confidently say that trying Private Internet Access for free is without risks. If you are not happy, just request a refund and nothing will be lost.
Private Internet Access speed test review
Due to the encryption and rerouting of traffic that occurs in VPNs, the internet speed is bound to be affected and drop by a certain percentage.
The company's mission is, however, to provide a high-speed VPN network. They have an unmetered bandwidth powered by its vast network of gigabit gateways.
To curb poor speed performance, PIA VPN employs the option of using small packets. This option is helpful and can improve stability and speed.
Here are the results of the speed tests performed during the preparation of this Private Internet Access review;
This is a screenshot of the speed before connecting the VPN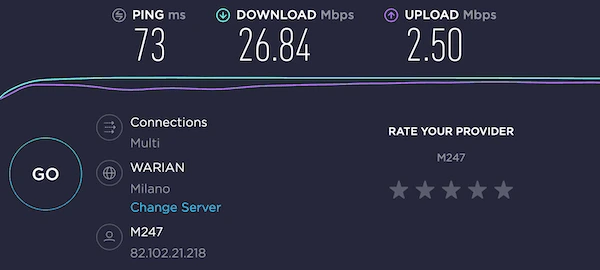 After activating the VPN, we connected to a server based in Singapore and this is the speed that we got (we were performing our test while based in Europe.)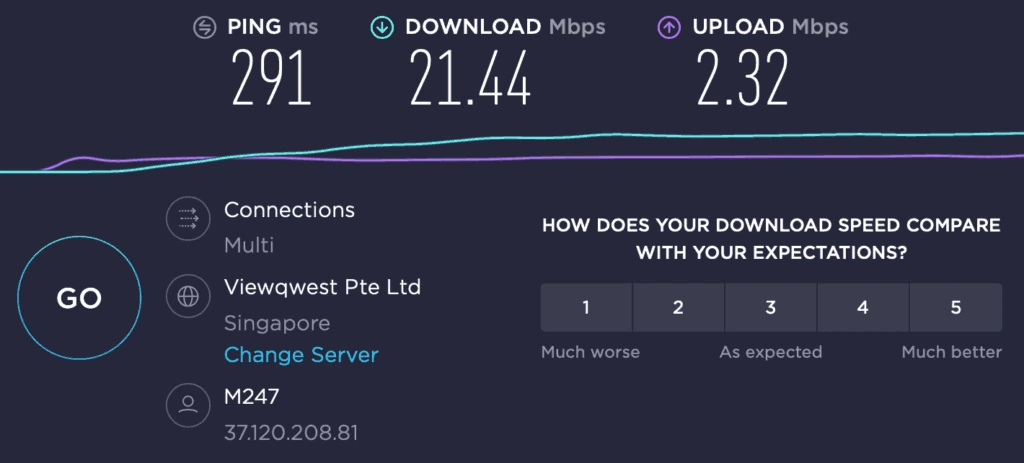 You can notice that just like all other VPN providers, there's a drop of speed due to the encryption involved. PIA VPN, however, manages to uphold high speeds with just a slight drop. Considering the distance, this result is not bad at all.
Connecting, instead, to a server nearby our location, the drop in speed has been almost unnoticeable. You can see the result in the following screenshot.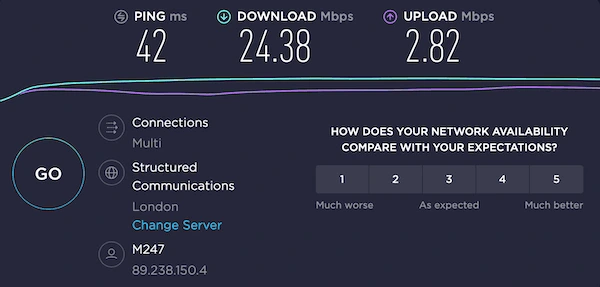 Overall, the speed is quite good. Using the server speed test we mentioned above you always have a chance to choose the best-performing server at the moment.
Getting started
Signing up and log in
To enjoy the service, you need to register. Registration entails a few simple steps:
Choose your preferred subscription plan
Pay for it using your preferred payment method
You are sent your login credentials via the email you used for the subscription.
Download the Private Internet Access client for your device
Follow the installation guides for your platform.
Running the client (Windows)
After installing the desktop client, you will be required to log in using the credentials you were provided via the email you used to make your subscription.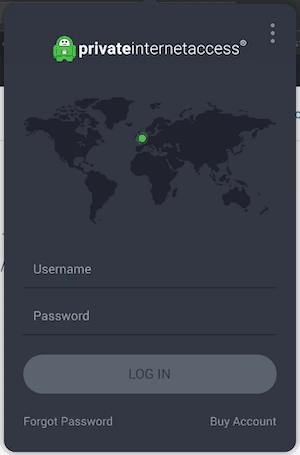 You might need to perform some simple settings at the login interface such as:
Auto-connect
Start the app at login
Show desktop notifications
These settings are anyway extremely easy and intuitive. We believe even inexperienced users can go through them comfortably.
The interface
PIA VPN is not the most user-friendly on the market. An inexperienced user may at first get confused and need to spend some time to understand how to operate it.
The opening screen is pretty simple though. You will see a list of recommended servers and a big button to activate the VPN. Just click on the server you want and then click the button.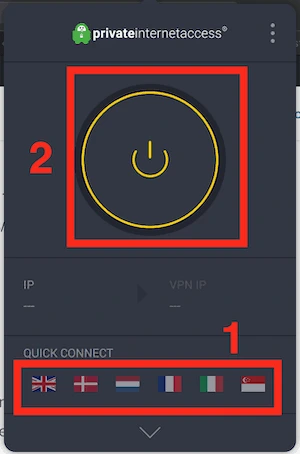 As the VPN connection is established (usually it will take just a few seconds) the button will turn green.
However, when you expand the app, things can get a bit confusing for some users. From the interface, you can totally control the functions of your VPN but the design is a bit cluttered and may disorient users at first.

Following you will find some tutorials on how to use the app and how to set the most important security features.
Server selection
Besides the suggested servers that you can see at the start of the app, you have the option to choose among 3300+ servers in 30 countries.
Clicking on the arrow next to the server you will be granted access to the full list of VPN servers from which you can choose the most suitable for your needs.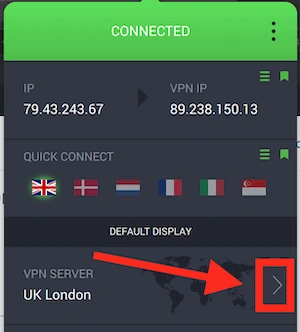 Encryption settings
Encryption setting involves how encryption will take place. PIA VPN recommends using the default settings due to speed and performance factors, but there are still other parameters that can be used.
You can access the security settings by clicking on the three dots in the Quick Settings mask
From this window, click on "Connection" to adjust the encryption settings (even though you are recommended to use the default ones.)
You can modify the Data Encryption, Handshake, Connection type and more.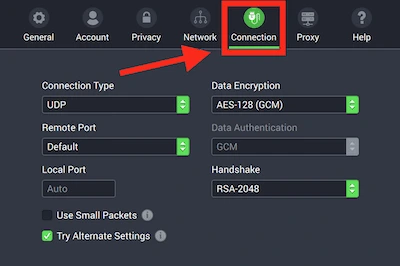 Kill switch
This is a very important feature for your security that every great VPN needs. It prevents your personal data to be accidentally exposed. This may happen if the VPN connection gets disconnected without you realizing it.
In the case of such an unfortunate event, if the Kill Switch is activated the VPN will block instantly your internet connection preventing your data from being exposed.
You may find this feature extremely useful, for instance, when you download torrents and your device needs to stay connected for long periods, often unattended.
You can activate the PIA VPN kill switch from the settings window. Click on "Privacy" and then set the Kill Switch to "Auto."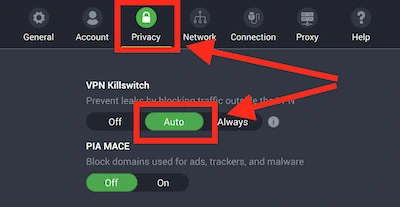 Mobile platform
Smartphones have grown more common over the years and so are the security concerns facing users.
This VPN takes care of the vulnerabilities facing smartphone users by availing Android and iOS clients.
The App for both Android and iOS can be said to be a replica of the client for Windows and macOS. It, however, organizes its features in a slightly different way
It offers nearly the same features such as a Kill Switch and advanced encryption options to choose from.
Connection settings are also similar.
TCP/UDP
Use of the secure socket layer
Auto connect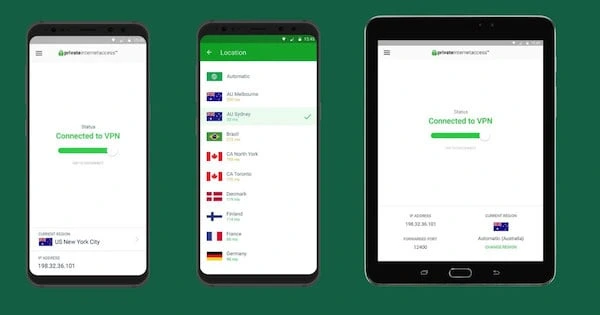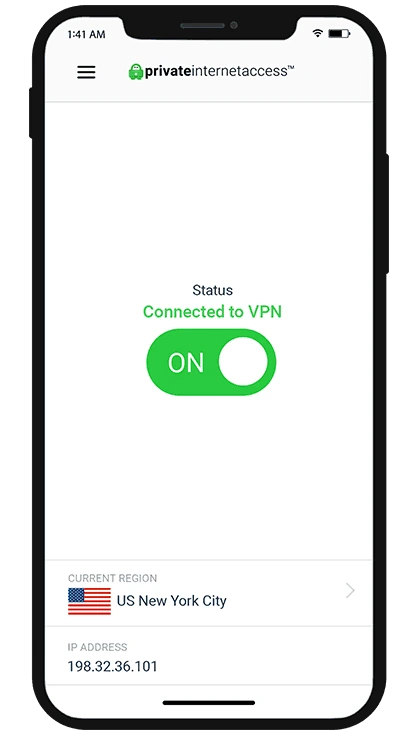 IP Cloaking is also available, and this ensures your online activities on your mobile device will not be tracked, spoofed, or even hacked.
With data encryption, your information will be hidden from prying eyes. This is already done for you by the application.
You also get a workaround censorship blockade. Using PIA VPN for your device offers the ability to access blocked apps and also connect to censored websites.
The prices are also the same since the plans don't change even for the mobile platform.
You only need one subscription since you can use up to 5 devices simultaneously.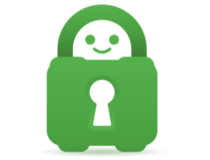 Private Internet Acces
Benefit from lightning-fast speeds and bullet-proof security with PIA VPN.
Private Internet Access review – Verdict
Private Internet Access is an ideal VPN beast.
If you are planning to buy a VPN, this one offers value over price. Not many VPN providers in the market with similar features have done that.
Although its interface is decluttered to the core, it offers pretty amazing performances. It has top-notch security encryption and an added ad-blocking feature to ensure a smooth surfing experience.
Based on our experience with it, we found this to be one of the best VPN services that you surely ought to try.
Feel free to subscribe to one of their plans, as you can always trigger the guaranteed money-back policy within the specified time!
---