Using a VPN for MeetMe will protect your private information and let you access the dating app from restricted regions and connect to a global user base.
Given that MeetMe is one of the most popular dating apps in the world, it has its fair share of malicious users that try to steal your data. By encrypting your traffic and hiding your true location, a VPN can prevent that.
The app uses the personal information you add to your profile to connect you with strangers, so it's essential these private details remain protected. Luckily, there are several reliable VPNs you can use on MeetMe.
Can I use a VPN with MeetMe?
Yes. You can use a VPN with MeetMe to unblock geographically restricted regions, protect the privacy and boost your internet connection. The platform doesn't ban VPNs.
However, the MeetMe registration prompt uses your IP to guess your location. You'll have to provide the name of your country, as well as county/ sector names (depending on the country) or zip codes.
If you plan to register using a VPN from a remote location, you should consider this as well. The information you provide should match your IP.
But if you already have an account, you should be able to connect to VPN directly on any server you want.
Why do I need a VPN for MeetMe?
MeetMe suggests profiles based on your profile's location. If you plan to socialize with people from abroad, you can use a VPN to change your region and chat with individuals across the world.
➡️ Bypassing geo-blocking: MeetMe is widely available, and with a VPN you can access it from blocked countries, or change your location to chat with people from other regions.
➡️ Get rid of network restrictions: certain public networks like your school or work may block access to platforms like MeetMe, but with VPN encryption, all your activity is private, so they can't detect or block it.
➡️ Ensuring data security: Your login details and personal information you have used on this app may leak. A VPN will stop this occurrence by improving your security.
What are the Best VPNs for MeetMe
1. ExpressVPN – seamless internet connection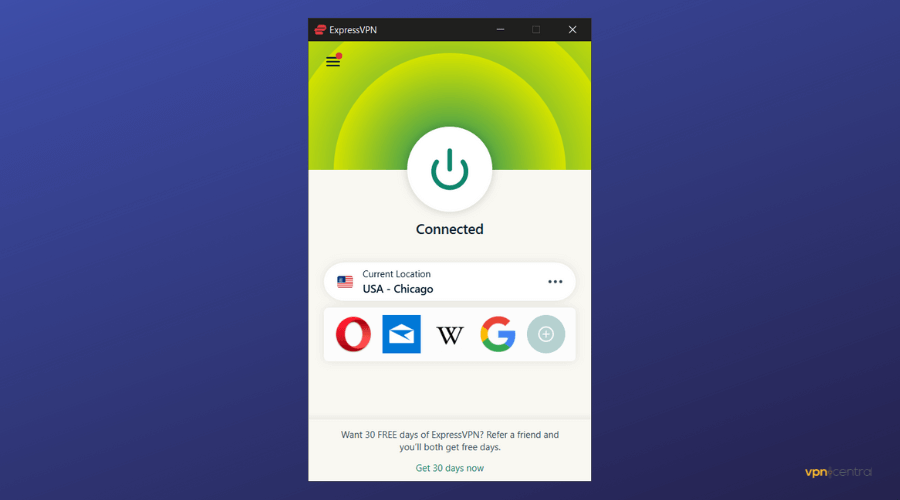 ExpressVPN is an extremely fast VPN that will ensure a fast connection on pretty much any network. Its collection of 3000+ servers in 94 countries lets you access the app from restricted regions.
It's a good choice if you want to change your virtual location or access MeetMe from a blocked region. Many online dating users prefer this VPN, and it's proven also to unlock Okcupid in restricted countries.
The 256-bit Military Encryption is the current standard encryption that even top government agencies use. This is what ExpressVPN incorporates to encode its users' information and prevent any form of hack.
You can use ExpressVPN with five devices simultaneously without any connection hitch. Protocols like Lightway, OpenVPN, IKEv2 and L2TP/IPSec VPN protocols further strengthen your security on MeetMe.
Since Internet Service Providers are notorious for throttling their users' bandwidth, you are susceptible to this situation. This VPN will stop throttling by hiding your IP address in a way that your ISP cannot track your activities.
In case you don't wish to continue with this VPN, you can utilize the 30-day money-back guarantee it offers. If you experience difficulty when using ExpressVPN its round-the-clock customer service is always ready to help.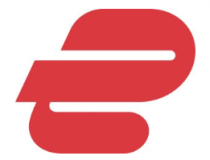 ExpressVPN
Focus on the fun of MeetMe and let ExpressVPN take care of your privacy!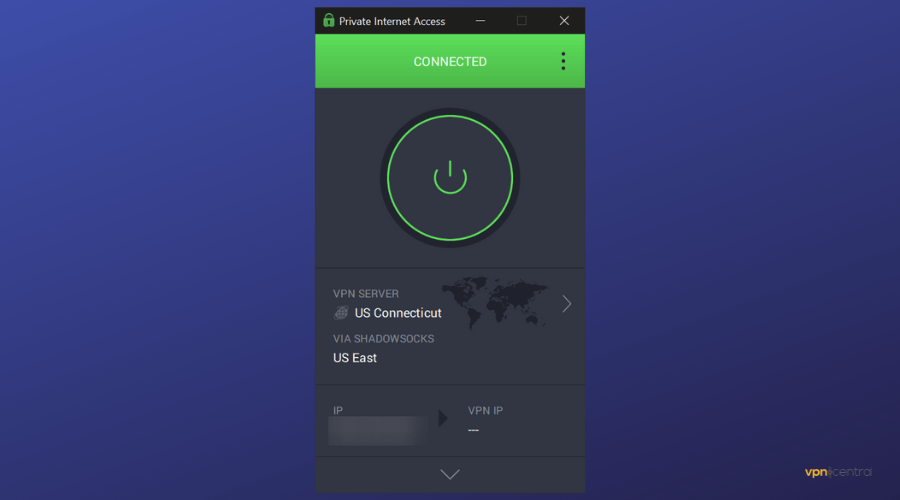 Private Internet Access (PIA) has a whooping 32,000 + servers in 84 countries across the globe. These servers are swift and well-secured for all your activities on MeetMe.
PIA encrypts customers' data using 256-bit encryption alongside the OpenVPN and WireGuard protocols. This makes it difficult for anyone to hack or track you on MeetMe.
You may lose connection with your VPN at anytime online and this could make you vulnerable to data theft. The Automatic Kill Switch embedded in this VPN averts this by cutting off your connection to the internet.
Moreover, the built-in adblocker will also come in handy. The MeetMe free version is ad-supported so the PIA MACE blocks ads from interrupting your happy hours on this app.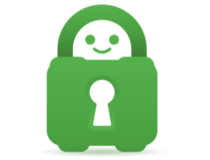 Private Internet Access
Connect to Private Internet Access to protect your data and bypass restrictions on MeetMe!
3. NordVPN – best for obfuscation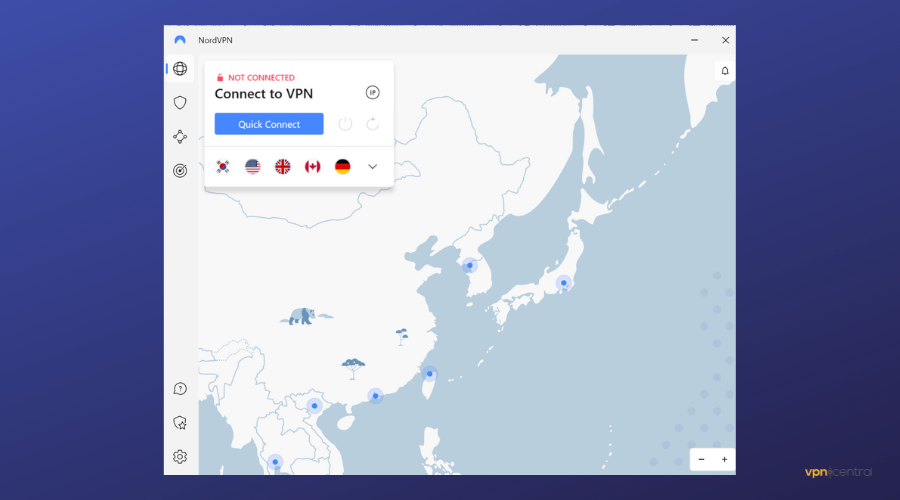 NordVPN is one of the top VPNs with zero logs that you can use with MeetMe when connected to any network, including public Wi-Fi.
Its encryption hides your data from trackers so that no one can hack your MeetMe account or learn your whereabouts or private info.
NordVPN also features DNS leak protection and an Automatic Kill Switch, to keep their users fully secure.
This VPN is great at bypassing restricted content in any location. So if you travel out to a country you cannot use MeetMe in, NordVPN can help you assume a new location.
With 5200+ servers in 60 countries, it is possible to find a location closer to you from anywhere in the world.
NordVPN supports up to 6 devices simultaneously. This means you can share the connection with your friends that also wish to log in to their MeetMe accounts.
4. Surfshark – unlimited secure connection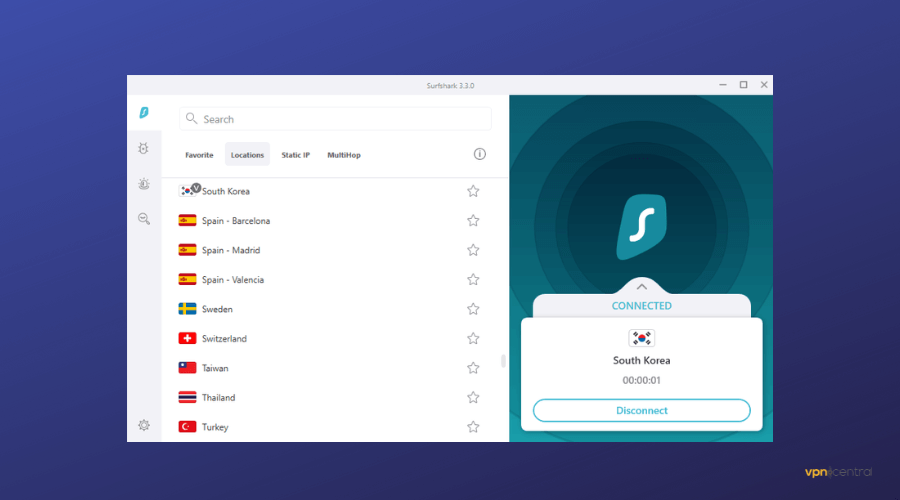 Surfshark VPN stands out as the VPN that offers its users unlimited simultaneous device connections at a great price.
Its split tunnelling feature enables you to choose which app you want to connect to the VPN.
This VPN has over 3200+ servers in 60 countries, enough to allow access to as many locations as possible when connected to MeetMe. Using MeetMe in a banned country won't be a problem.
Surfshark makes use of 256-bit Military-grade encryption to block anyone from tampering with your data on MeetMe.
In addition to the encryption technology used, Surfshark also sports powerful protocols like IKEV2/IPSec, LT2P and WireGuard. All these strengthen security for you on MeetMe.
Surfshark is compatible with all major device platforms. You can use it alongside MeetMe's mobile apps on Android and iOS, and also on the web, on Windows, macOS and even Linux.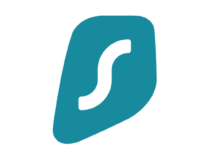 Surfshark
Stay in touch with your MeetMe connections on any device while keeping your data secure, all thanks to Surfshark!
5. CyberGhost VPN – User-friendly interface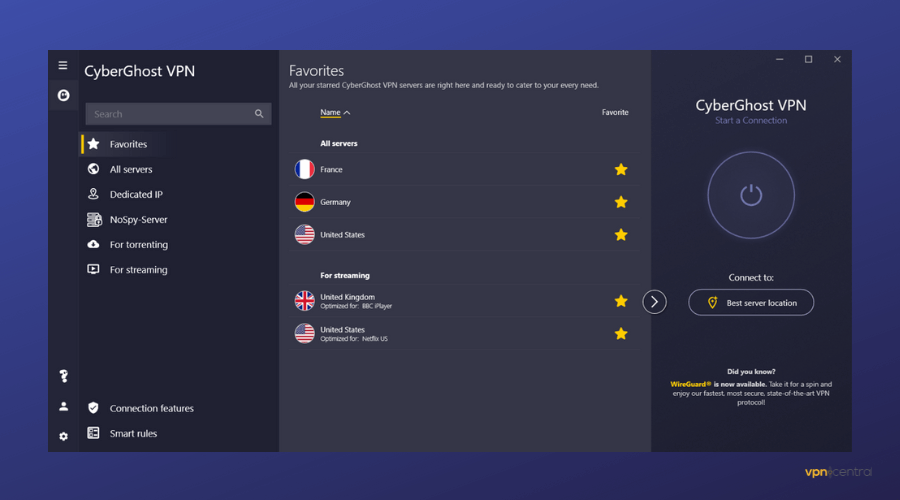 Cyberghost uses standard security features and protocols to provide you privacy on MeetMe. Its NoSpy servers are good if you want extra protection.
It is just the right VPN for anyone who wishes to explore MeetMe. Cyberghost also has a good number of servers in 91 countries and one subscription can connect up to seven(7) devices simultaneously.
This VPN is located in Romania, outside the Five and Fourteen Eyes Surveillance. This means that they do not impose data logs on their customers. Cyberghost also has user-friendly apps for all operating systems.
You will not experience poor picture or video quality while chatting on MeetMe because this VPN will enhance your internet connection.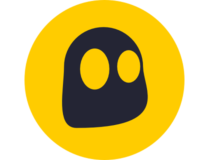 CyberGhost
Get your data protected and bypass network and regional restrictions for the MeetMe app!
A VPN that strengthens your connection, protects your privacy, helps you bypass geo-blocking and controls ads is what you need when using MeetMe.
This is because you need to stay as safe as possible when trying to build friendships online. The VPNs we recommend are best for MeetMe due to their fast servers and powerful protection techniques.