If you want the cheapest deal on your RuneScape membership subscription, then you're in the right place.
As you already know, players who connect to the game from diverse corners of the world pay varying prices for membership based on their locations.
For example, Mexico (MX$147.99 – $8.8) pays less than the US ($12.49) for the same one-month membership. But you can save up even if you're outside of Mexico.
This article brings you every detail you need to know about how to purchase its membership as a resident of this country without leaving the comfort of your gaming spot.
So, read on to the very end to get every bit of the process!
What's the cheapest RuneScape membership country?
Argentina is the cheapest RuneScape membership country ($25.71/year), based on a recent update on Steam.
This exceptional affordability has not only developed a flourishing community of passionate players within Argentina. It has also sparked discussions about the huge price differences globally.
However, there are other countries with cheap membership prices, as well as expensive countries to play games. Check them below:
Top 10 cheapest countries to play RuneScape
| | |
| --- | --- |
| Country | Price (per year) |
| Argentina | $25.71 |
| Brazil | $40.21 |
| Turkey | $52.73 |
| Ukraine | $61.42 |
| Russia | $63.16 |
| South Africa | $64.38 |
| Mexico | $66.96 |
| Japan | $69.65 |
| New Zealand | $70.81 |
| India | $72.68 |
The latest findings from my in-depth research show that these countries pay the cheapest prices for RuneScape's 12-month membership subscription.
They offer players access to the game's membership at lower-than-standard rates, creating an enticing opportunity for players to indulge in the game without breaking the bank.
To put this into better context, the standard price for membership in the game is currently pegged at $79.99 yearly or $12.49 per month.
However, in sharp contrast,
Top 10 most expensive countries to play RuneScape
| | |
| --- | --- |
| Country | Price |
| Costa Rica | $100.13 |
| United Arab Emirates | $97.73 |
| Peru | $97.40 |
| Kuwait | $96.89 |
| Uruguay | $95.38 |
| Switzerland | $94.95 |
| Qatar | $90.51 |
| Singapore | $87.74 |
| Poland | $86.98 |
| Chile | $85.17 |
Steam's website also shows the above countries to be the most expensive to play RuneScape.
In fact, players in these countries pay higher than the standard prices for the same gaming content.
How to get a RuneScape membership cheaper?
You can get a RuneScape membership cheaper by connecting to an Argentine VPN server in order to evade the game's location-based pricing.
But you'll need a strong VPN to unblock Steam's strong anti-VPN standards.
After testing different top VPN services for RuneScape, I found ExpressVPN to be the best option.
Here's how to get ExpressVPN on your device right now:
Visit ExpressVPN's official website and pick your preferred plan.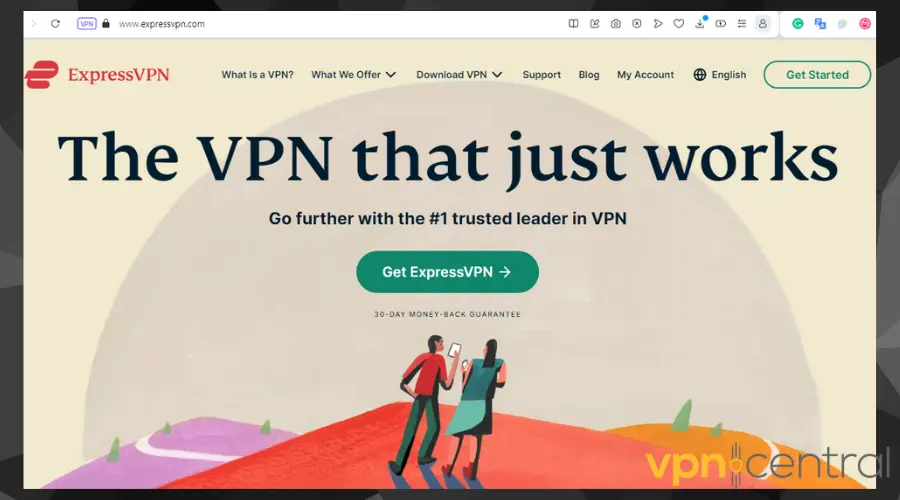 Create and activate your account.
Download the suitable app for your device.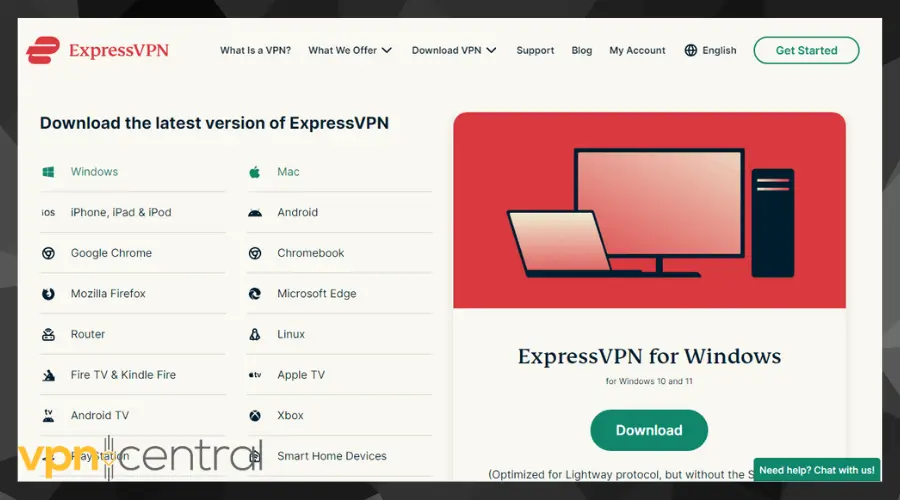 Install it and sign into the app.
Connect to a server in Argentina.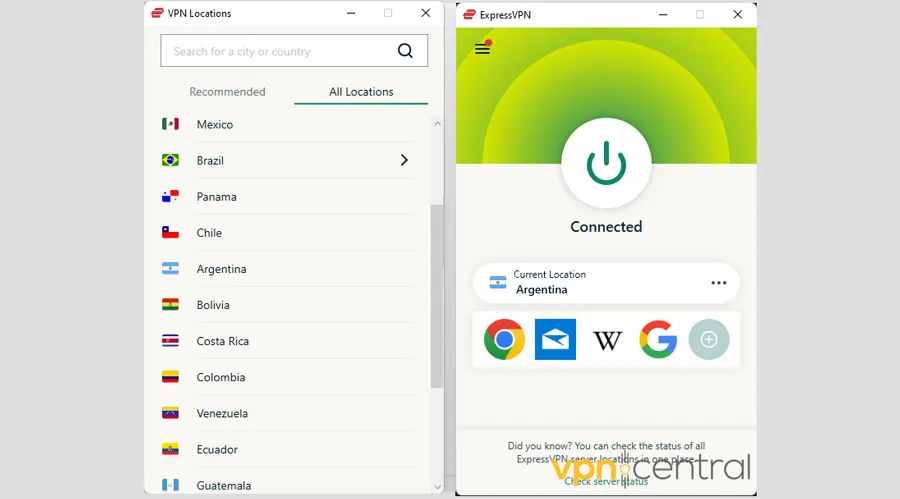 Open Steam and search for RuneScape membership.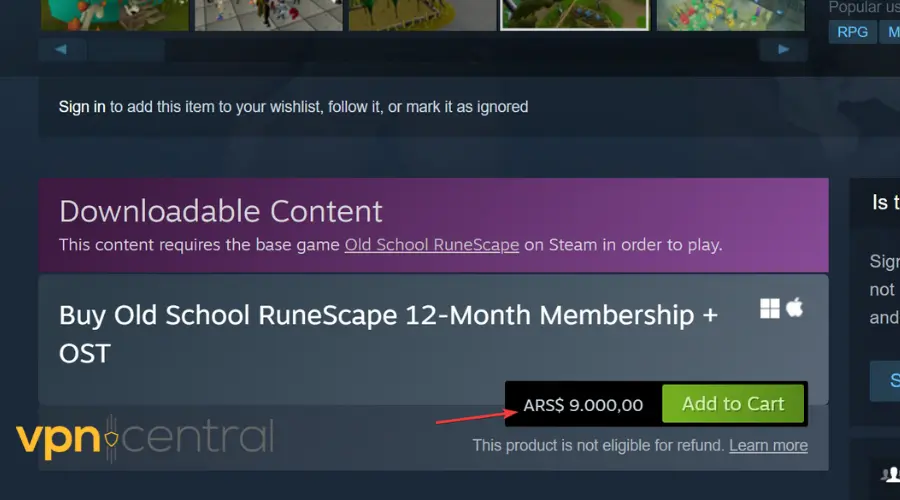 Its powerful unblocking ability makes it a reliable option to outwit RuneScape's anti-vpn system.
Furthermore, it has some of the fastest servers in the world, making it great for a smooth gaming experience.
Surfshark, NordVPN, and PIA are also great alternatives and can bypass the game's geolocation as well.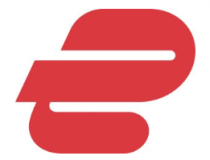 ExpressVPN
Secure a better price for your RuneScape membership using this nifty location-changing tool!
How to pay for a RuneScape membership in Argentina
Follow the steps below to pay for a RuneScape membership in Argentina:
Launch your ExpressVPN application and connect to a server in Argentina.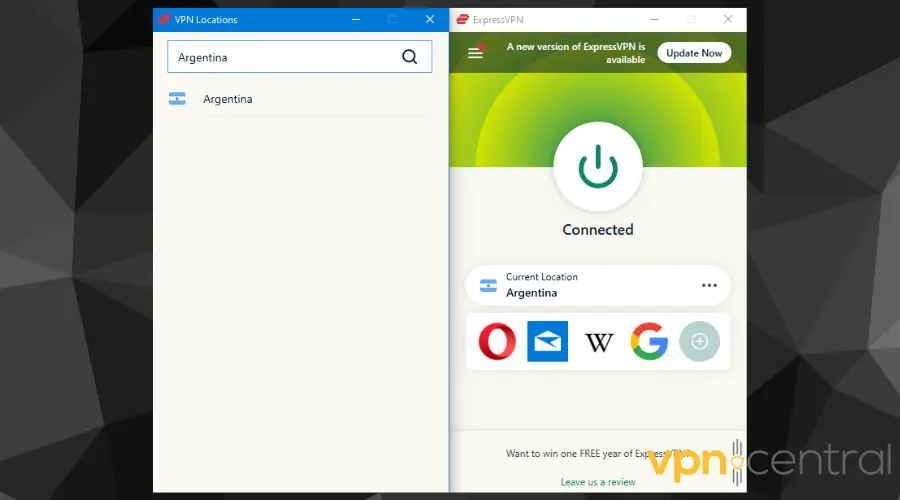 Visit Steam's website and log into your account. If you don't have one yet, simply sign up.
Search for RuneScape, then select Old School RuneScape from the search results.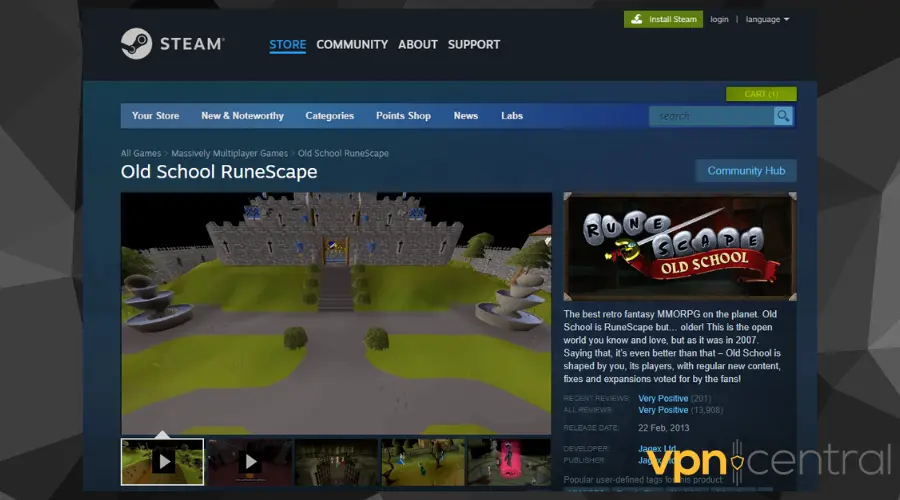 Scroll down on the page to the content for this game section and click on Old School RuneScape Membership + OST.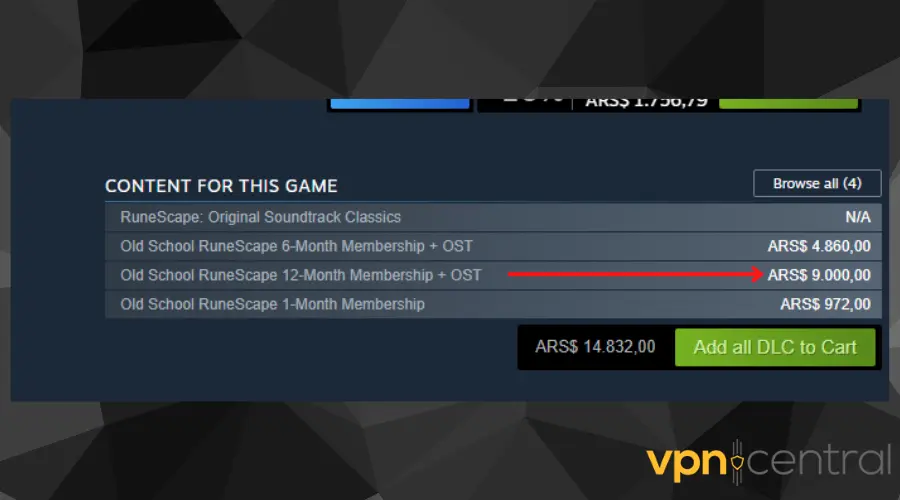 Click the checkout button to initiate the payment process.
Download the Tenpo app from the Google Play store and create a prepaid Argentina virtual card. Alternatively, you can also use services like AstroPay or Wise.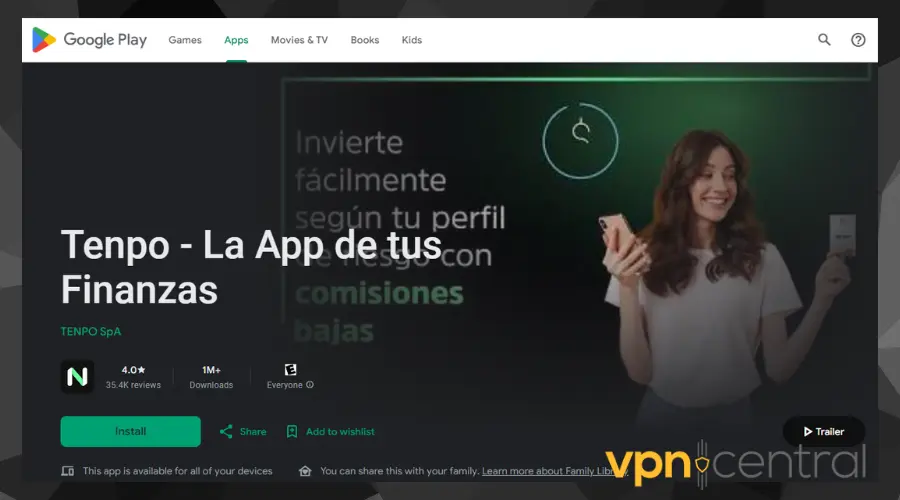 Add funds to the virtual card.
Enter your payment details on the Steam checkout page.
You can now enjoy your membership benefits.
You have to create a virtual card because the payment won't go through unless your method is localized in Argentina.
Conclusion
RuneScape is a massive game with tons of dedicated fans all over the world. Different locations pose different pricing for membership. While some are expensive, some others come out quite cheap.
Purchasing the membership is quite difficult but not impossible as Jagex has a strong anti-VPN system that detects when a location is a VPN and eventually bans the account.
We found out that Argentina, among many others, has the least expensive prices, following the Argentine peso's devaluation and Jagex's adaptive pricing strategy.
However, you have to be careful and strategic to avoid getting banned. Payment methods may vary depending on the one that's convenient for you.
The article has shown the cheapest RuneScape membership country and a few others (if you would like to check). Do well to follow the guidelines carefully and you'll get the result you desire.
---