Nowadays, VPNs have become a vital tool for anybody using the internet. They help to protect our private data and information and also bypass geographical restrictions.
One such VPN tool is VPN Super Unlimited Proxy, a freemium VPN app that's available for iOS and Android devices.
Since the market is very competitive, many free VPN providers make huge claims about their services without actually having the performance to back them up.
Therefore, it is vital to put these claims to test.
In this article, we will review the VPN Unlimited Proxy app and help you decide if it's worth your time. We'll also show you how it compares to an industry-leading VPN service.
| | |
| --- | --- |
| Number of servers: Over 400 servers in 70+ countries | Protocols: OpenVPN and IKEv2 |
| Split tunneling: Yes | Security: AES 256-bit encryption |
| Kill switch: Yes | Speed: Average/below depending on location |
| Supports: iOS and Android | No logs policy: Not to be trusted |
| Value for money: 6/10 | Customer support: Email |
Does VPN Super Unlimited Proxy work?
The short answer is Yes. VPN Super Unlimited Proxy does its job as a normal VPN would.
Although free (with some in-app purchases), it enhances user privacy protection and uses industry-standard encryption protocol to safeguard data and information amongst other features.
This makes it an averagely OK option for users that want VPN qualities and functions without paying a dime.
It has servers in 📍over 70 countries, most located in USA and Europe, and is able to bypass content restrictions and online censorship.
It 📺 works well with streaming services like HBO, Hulu, and Netflix, which makes it suitable to watch movies and TV shows online regardless of geo-block.
Features
As previously mentioned, VPN Super Unlimited Proxy has some features which are standard for most VPN services. These features include:
1. Kill switch
A kill switch is a feature that instantly turns off your internet connection once there is a disruption in your VPN connection. This helps to protect against accidental IP and location leaks.
VPN Super Unlimited Proxy does have a kill switch, but there is no way to toggle it on or off inside the app. This means it's always on.
However, you may experience disruptions in your internet flow if your connection is unstable. This is the app's kill switch protecting you.
2. Split tunneling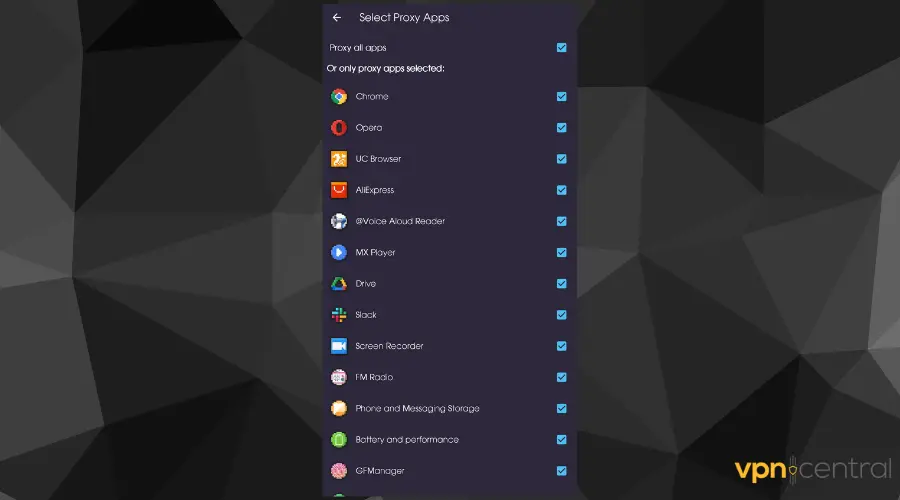 This feature is available in the app under the Select Proxy Apps option.
It allows you to choose the apps, devices, or websites you want to channel through a VPN connection and which ones use the direct connection.
You can select which apps you want to tunnel through a VPN server in VPN Super Unlimited Proxy.
This feature makes it easy to protect your sensitive data from snoopers and prying eyes.
3. Server number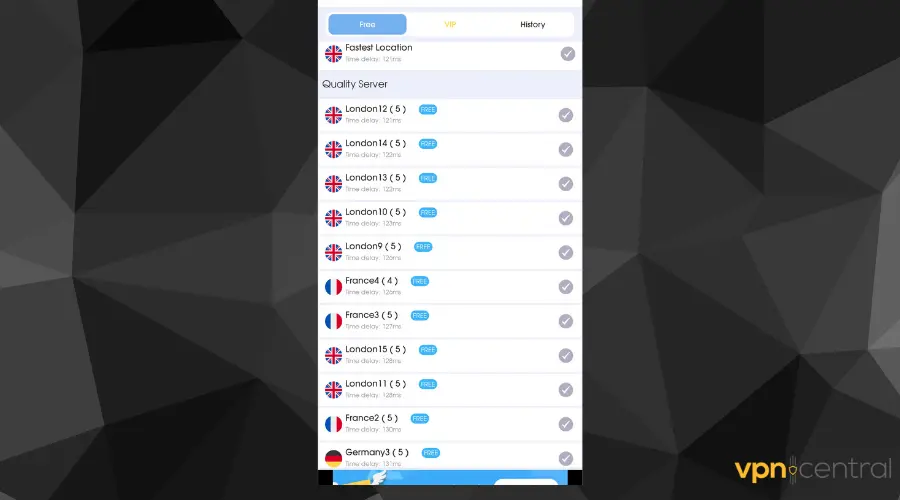 VPN Super Unlimited Proxy boasts of an abundant 400+ servers across over 70 countries.
This ensures that users are able to bypass content blocks and restrictions in lots of regions around the world.
Most of the provider's servers are set in Europe and USA, with a few others in Hong Kong, and Singapore. That makes it quite limited as opposed to premium VPNs that have servers in 100+ countries.
4. Speed
VPN Super Unlimited Proxy claims it uses high-quality servers to deliver fast speed.
Well, we ran a series of speed tests while connected to different servers and the results prove that it does have speedy servers.
Below are the test results:
We started out with a rather slow internet connection speed (without VPN) and the speed actually increased on some servers.
Normal network speed – 7.84mbps
UK server speed – 8.12mbps ↑
US server speed – 6.60mbps ↓
Singapore server speed – 11.43mbps ↑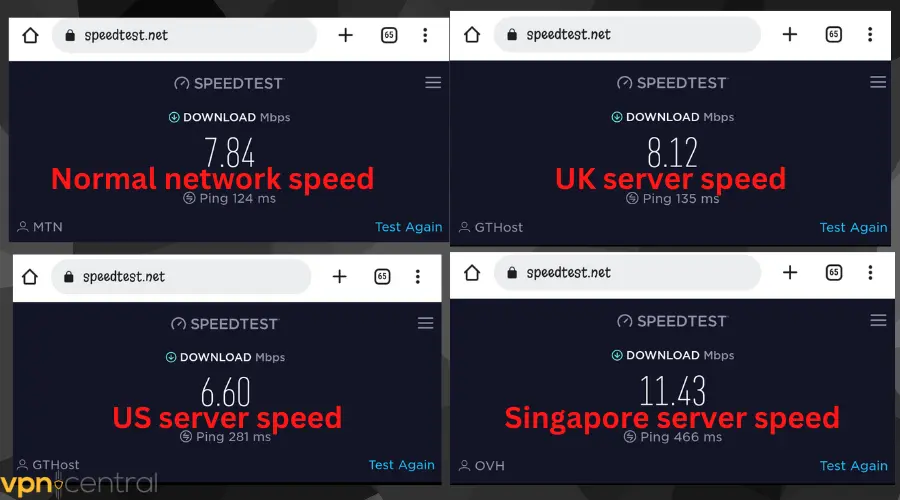 The app's servers generally performed excellently during testing with faster download and upload speeds even on the Asian servers.
Overall, VPN Super Unlimited Proxy's connection speed was relatively good when compared to other VPN providers.
This means it can increase internet speed for potentially better streaming and gaming.
5. Security
In addition to the inbuilt kill switch mentioned earlier, VPN Super Unlimited Proxy uses the industry standard AES 256-bit encryption to scramble and protect user data.
This encryption helps to keep your traffic private and anonymous online. The data you send becomes unreadable, so it cannot be understood even if the network you're on is hacked.
6. Logging policy
VPN Super Unlimited Proxy is based in California, USA. The country is a member of the 14 eyes alliance.
This means that they are bound by the law to log and share your data with the government if the need arises.
And although it says it doesn't keep or store user data and information, this isn't entirely true.
Free VPN hosts need to earn revenue so as to be able to continue providing their "free VPN" services, they may use some of your data for targeted ads.
Regarding this, in December 2019, Zak Doffman, the CEO and founder of Digital Barriers reported some sneaky activities of VPN Super Unlimited Proxy.
They're said to gather numerous personal information about their users, especially their location, and then bombard them with location-based advertisement purposes.
In conclusion, their no-logs claims seem to be untrustworthy.
7. Protocols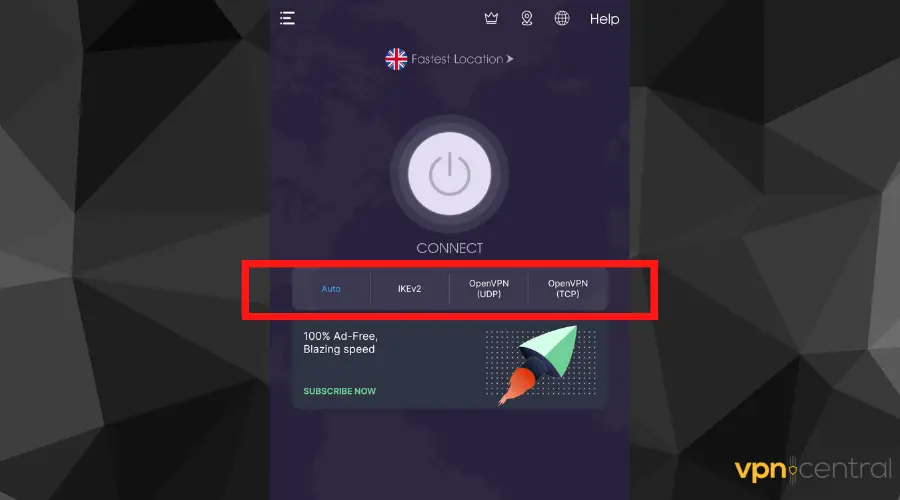 This VPN uses industry-standard OpenVPN, IPSec, and IKEv2 encryption protocols to secure your data.
The VPN security protocols are a set of rules that determine how the connection works. As VPNs evolve, so do the protocols.
As of right now, these 3 tunneling protocols provided by VPN Super Unlimited Proxy are considered secure and fast.
8. Data leak protection
The most important function of a VPN is to help people protect their data or mask them in order to access restricted websites.
That is why we put the VPN through a series of tests on www.ipleak.net.
We ran the first test on our normal internet connection and it revealed our true location.
Then, for the second test, we connected to a server in the app, and the result this time around was the VPN server's information.
Following our tests, we discovered that the app does not leak your data.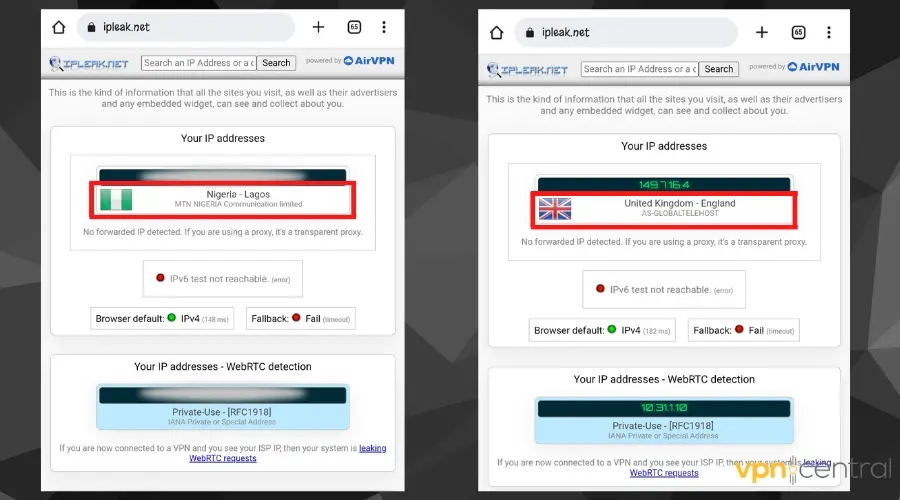 Is it good for streaming or torrenting?
Before you can rank a VPN as good or bad, it is important to test its streaming and torrenting abilities to see how well it performs.
1. Streaming
VPN Super Unlimited Proxy didn't disappoint during the streaming test. In fact, it has all the features you need for seamless streaming online.
It was able to unblock NBC's Saturday Night Live and The Tonight show, both of which are restricted outside the US.
In addition, it also unblocked BBC iPlayer as seen in the image below. Therefore, we can conclude that VPN Super Unlimited Proxy works well for streaming.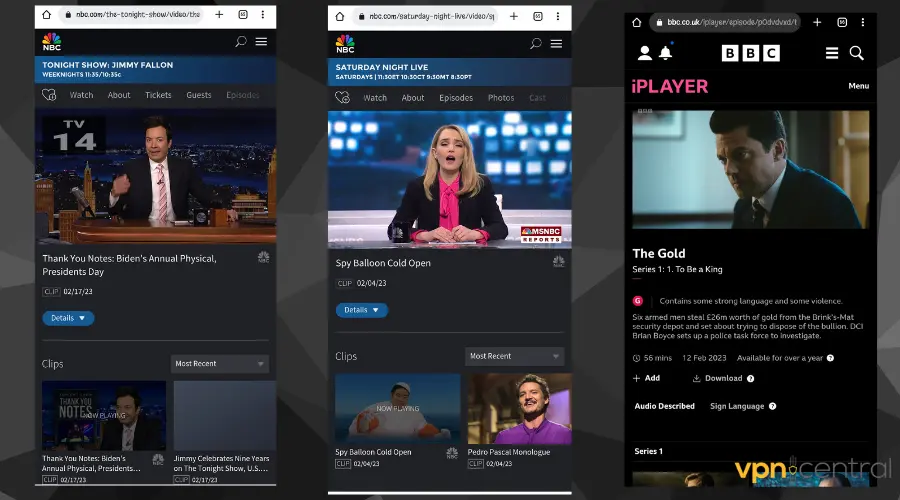 2. Torrenting
VPN Super Unlimited Proxy easily masks IP addresses and spoofs people's locations. It also offers decent download speeds.
However, it does not have P2P servers, which offer the best speeds and connections for torrenting.
Therefore, it cannot be considered a good VPN for torrenting. It will do the job to some extent, but not as reliably as premium VPNs with dedicated torrenting support.
ExpressVPN vs VPN Super Unlimited Proxy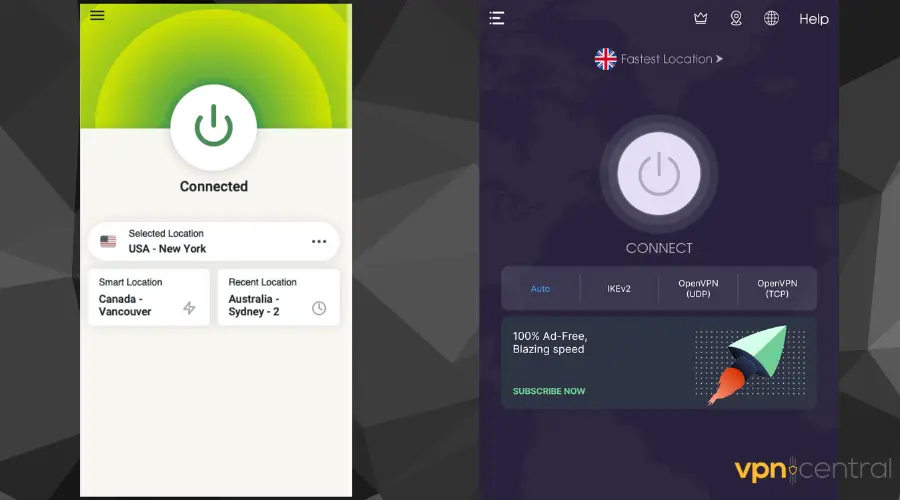 Now, let's see how VPN Super Unlimited Proxy compares with ExpressVPN, one of the biggest and most reliable names on the market.
In a quick comparison, you'll notice feature similarities like tunneling protocols including OpenVPN and IKEv2.
However, ExpressVPN has a wide range of ultra-fast 3000+ servers spread across 150 locations in 94 countries. This is way more than VPN Super Unlimited Proxy's 400+ servers in 70 locations.
Unlike VPN Super Unlimited Proxy which markets itself as a no-logs VPN but actually keeps user information, ExpressVPN operates a strict no-logs policy that's been independently audited and proven.
ExpressVPN is based in the British Virgin Islands and is not part of the 5 eyes, 9 eyes, or 14 eyes alliance. This is unlike VPN Super Unlimited Proxy, which is based in the US, so it's a member of all 3.
In addition, ExpressVPN also offers a way better streaming or torrenting experience, coupled with the best unblocking abilities.
ExpressVPN also offers a 30-day money-back guarantee on all subscription plans, so you can fully test it out and get a quick refund if you're not happy with it.
Overall, ExpressVPN is a much better option.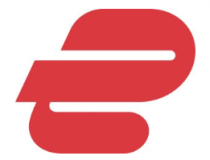 ExpressVPN
Get a trustworthy VPN with proven zero logs and worldwide server coverage!
Conclusion: does VPN Super Unlimited Proxy work?
Yes, VPN Super Unlimited Proxy works. However, it doesn't necessarily tick all the boxes when it comes to security and privacy, especially as its logging policy remains sketchy.
Free VPNs have to make some profit and many of them do this by logging and selling off user data which could put your identity and sensitive information at risk when it gets into the wrong hands.
Since it has been exposed for storing user data and information so as to send targeted ads, it has had an unreliable reputation as regards user privacy.
In conclusion, the app works, but you're probably going to be better off with a paid VPN that offers assured privacy and more features.