eBay users utilize VPNs for various reasons, including protecting their privacy and accessing international eBay sites with better products or pricing.
While eBay has no explicit policy against VPNs, some users have been banned for using them to access the platform.
In this guide, we'll explain how you can get banned using a VPN on eBay and the tips to maintain a successful account with its use.
Can eBay ban you for using a VPN?
Yes, eBay can ban a user if a VPN is used for illegal purposes, such as creating fake accounts, committing identity theft, or engaging in fraudulent activities.
Also, people think eBay could blacklist certain VPN providers or IP ranges if they have been associated with previous scams or fraudulent activities.
Therefore, it is not the use of a VPN itself that can lead to a ban, but rather the result of any policy violations committed while using it.
However, to minimize the risks of getting banned while using a VPN on eBay, it's best to choose a reputable provider.
Are eBay bans permanent?
Not all bans are permanent. The suspension can vary depending on the severity of eBay's policy violation.
An indefinite suspension occurs if a user repeatedly violates eBay's policies. Typically, eBay will issue a few warnings before taking action.
While first suspensions are often temporary, repeated violations can lead to permanent suspension.
How to recover a suspended eBay account?
Before attempting any of the following methods, it is important to carefully review the email notification sent by eBay regarding the suspension and take note of the necessary actions.
We have outlined two ways to recover a suspended eBay account.
1. Find out the reason for the suspension
Contact eBay customer support to determine the exact reason for your account suspension. This information will help you understand what you need to do to recover your account.
Here are the steps to contact eBay customer service:
Contact eBay via Chat
Go to the eBay website and sign in to your account.
Click on the Help & Contact option located at the top of the page.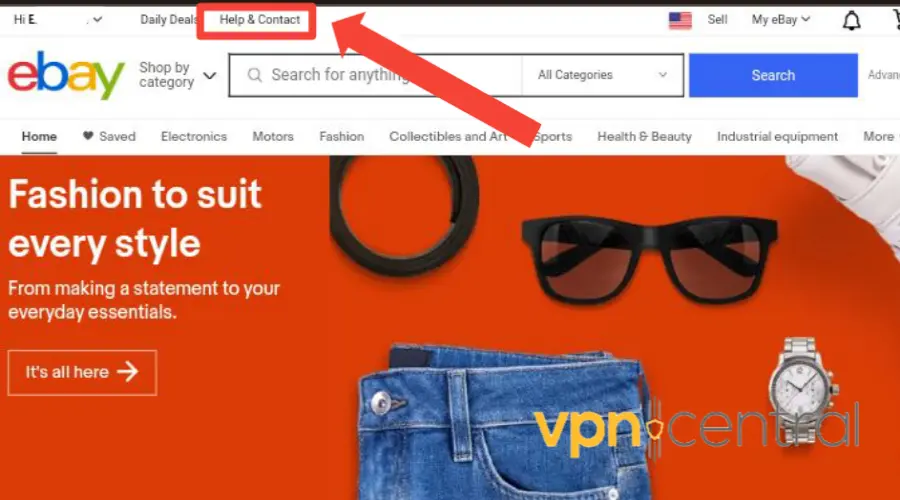 Scroll down to the bottom of the page and click on the Contact Us option.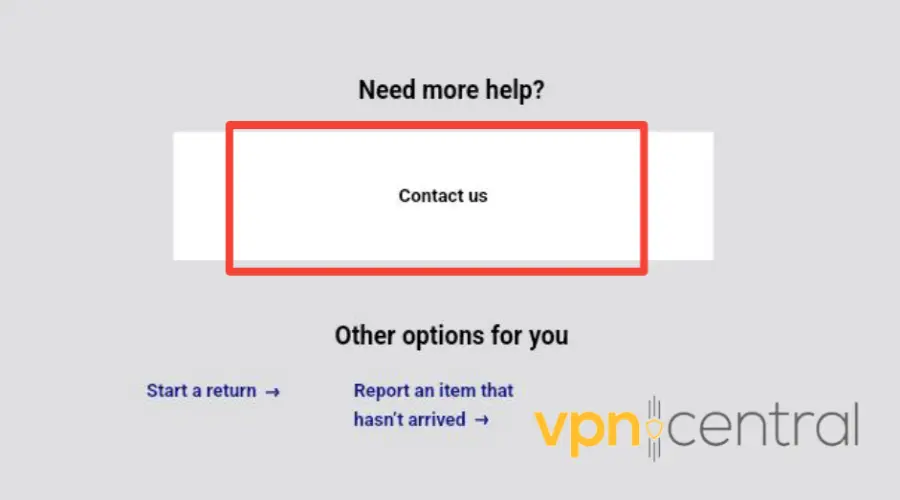 Choose Account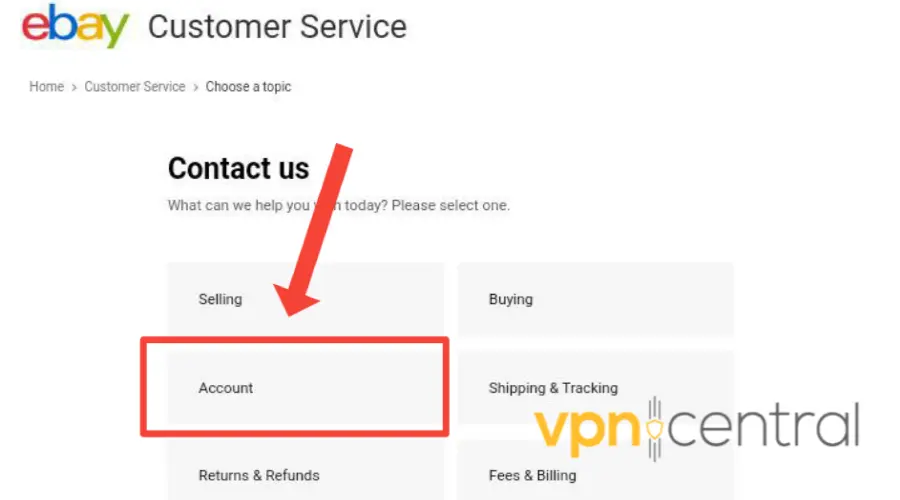 Select the Chat option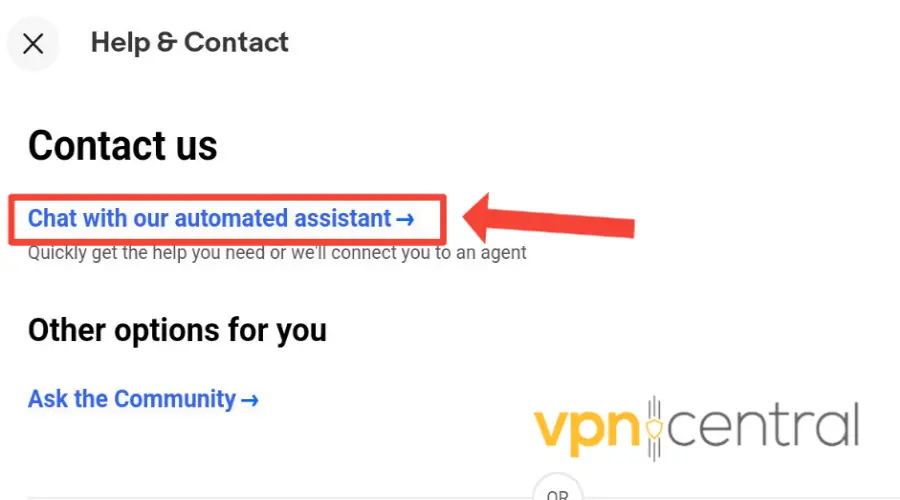 Provide the necessary information and follow the instructions to resolve your issue.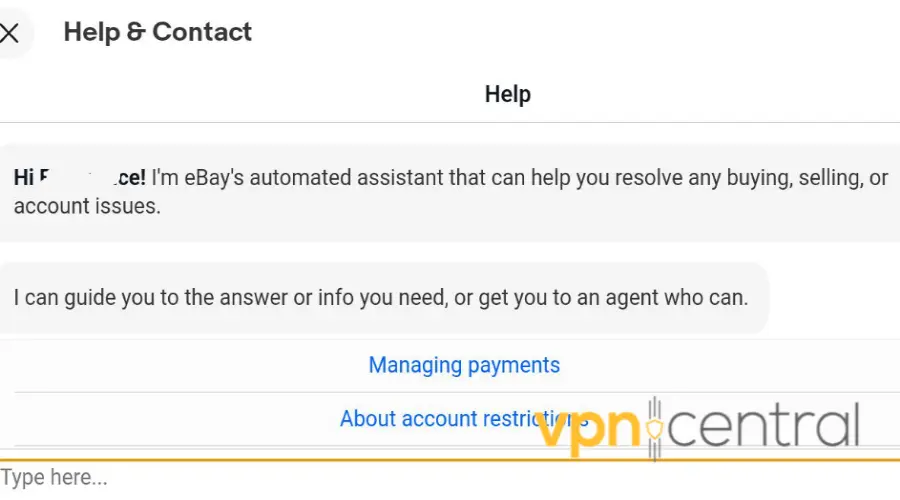 Contact eBay via email
Another way to contact eBay about the VPN ban is to use their email service.
When contacting eBay via email, it's essential to gather all the personal information associated with your eBay account and prepare a list of questions regarding the ban.
Follow these steps to contact eBay via email:
Go to eBay's Customer Service page.
Click on the Email us button.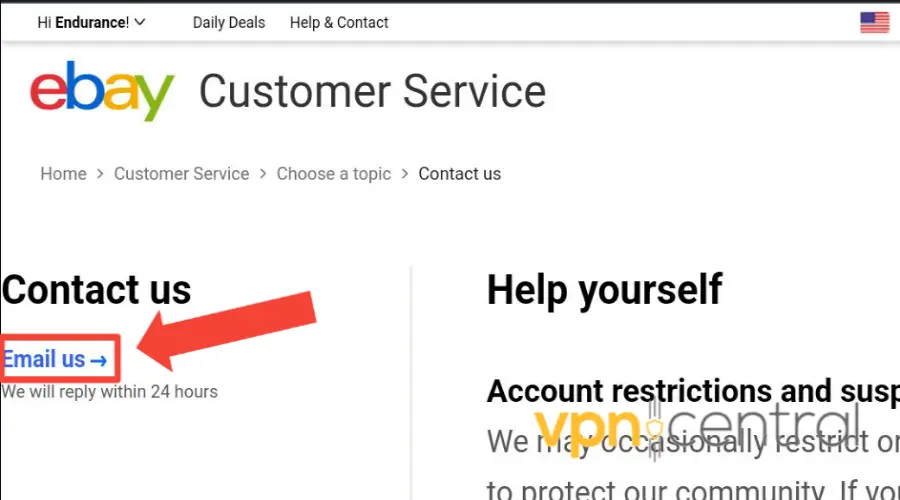 Submit your email inquiry.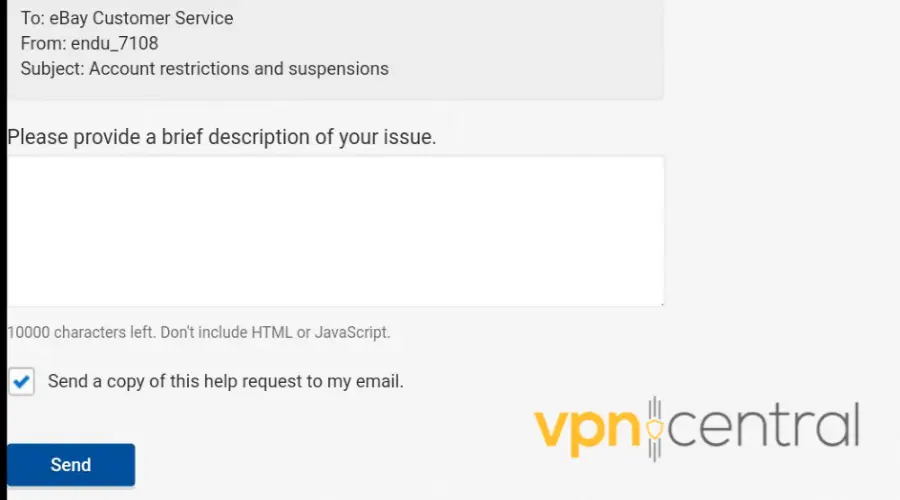 You should expect to receive a response from eBay within 24 hours.
If your account was suspended due to a policy violation, the representative might guide you on fixing the issue.
Once you identify the reason for suspension, take corrective actions such as removing non-compliant listings, resolving buyer issues, or providing identity verification documents.
2. Use a reliable VPN
It's important to note that using a VPN cannot help recover an already banned eBay account, but it's effective in getting a new account without linking it to the previous one.
Once an account is suspended, all linked information is logged by eBay, making it difficult to create a replacement account with the exact details.
However, to get around unfair eBay suspensions, a good eBay VPN will help you create a stealth account with a new name, address, and IP address. One way to do this is by using a VPN like CyberGhost.
Here's how to use it:
Go to the CyberGhost website and create an account.

Download and install the CyberGhost VPN software.

Launch the software and connect to a server.

Once connected, you can use eBay with your stealth account without revealing your location or identity.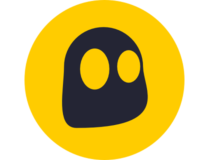 CyberGhost
Browser privately on eBay without being blocked using this reliable VPN!
Summary
Although eBay VPN ban is not explicitly stated in its policy, it closely monitors stealth accounts and can suspend them.
To avoid this, use a reliable VPN to create and maintain stealth accounts. You can also try to get your account back by contacting customer support.