Google has started rolling out its Privacy Sandbox, a tech designed to replace third-party cookies, to all Chrome users.
The company calls it a privacy-forward feature that gives you more control over targeted ads.
A big win for internet privacy
In the past few days, Google started showing a new pop-up about its Privacy Sandbox feature.
It's a part of the company's plan to phase out third-party cookies from Chrome while still showing targeted ads.
The main job of third-party tracking cookies is to track your online activity to learn about your likes and dislikes. Then, they share this information with companies with the purpose of delivering relevant ads for you.
You've probably already seen this in practice.
The new tech from Google does the same but it comes with a set of security tools that give you more control over what's going on.
Most importantly, you can use the Privacy Sandbox feature to block all targeted ads.
If you've clicked "Got it" when you first saw the message, the browser will still show them though.
However, you can disable them by heading to Settings > Privacy and Security > Ad Privacy > Ad topics.
The new tool also lets you access the topics the system has generated for you and block the ones you find irrelevant.
➡️ This allows you to only see the ads you're actually interested in.
Just keep in mind that Google has just rolled out this system and your list may still be empty.
The company said it could take up to a week for the sites to show on these lists.
Lastly, you can disable the sites you don't want to collect your data for targeted ads.
This can help filter out the websites you have no interest in and the ones you don't trust.
Let's see how this works when put into practice.
When you head to Settings > Privacy and Security > Ad Privacy, you'll see three options: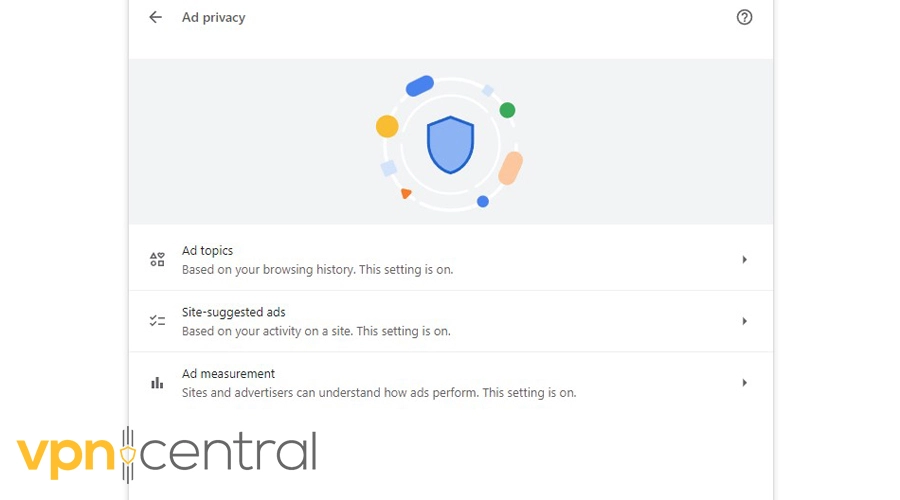 Here's what you can use each of them for:
Ad Topics – lets you choose your topics of interest
Site-suggested Ads – stops websites from collecting your data
Ad Measurements – ensures your browsing history stays private
Goodbye third-party cookies
As mentioned earlier, Google plans to use the Privacy Sandbox feature to phase out third-party cookies.
Other web browsers, such as Safari and Firefox, have already blocked them.
In May 2023, Google announced plans to block all third-party cookies by the second half of 2024.
This will bring the end of a decades-long reign of tracking and privacy violations.
The company will begin the process at the start of 2024 by blocking them for 1% of users.
The Privacy Sandox a.k.a. the cookie killer is, however, already available to 97% of Chrome users. The number will jump to 100% in the next few months.
---