Omegle is a great place to talk with random strangers from around the globe. But if you live on the wrong corner of the planet, you won't be able to enjoy it.
The platform may restrict your access due to various reasons, and it'll notify you about them as soon as you attempt to open it.
There are two main notifications you'll see, depending on why you're getting blocked.
If Omegle blacklists your IP address, you may encounter this error message:
And if the site thinks that your IP is linked to any past misbehavior, you might get this one:
In this post, we'll show you how to get around Omegle's IP blockers and safeguard your privacy at the same time.
How to change your IP address on Omegle
The best way to do this is through a reliable VPN. Using such a service will allow you to connect to servers in various countries while masking your real IP address.
However, the top Omegle VPN services could occasionally fail. Due to IP bans or problems with specific servers, even big names like ExpressVPN may struggle with the platform. 
So, the one we recommend is Surfshark as it proved to be highly capable for this particular job.
Now, let's go ahead and see how to set it up on your different devices:
On desktop
To get unbanned from Omegle on your desktop or laptop, follow these steps:
Go to Surfshark's site and download the right app for your device.
Create an account.
Connect to Surfshark VPN's Seoul server, as it showed great results during our tests.
Enjoy unrestricted access to Omegle.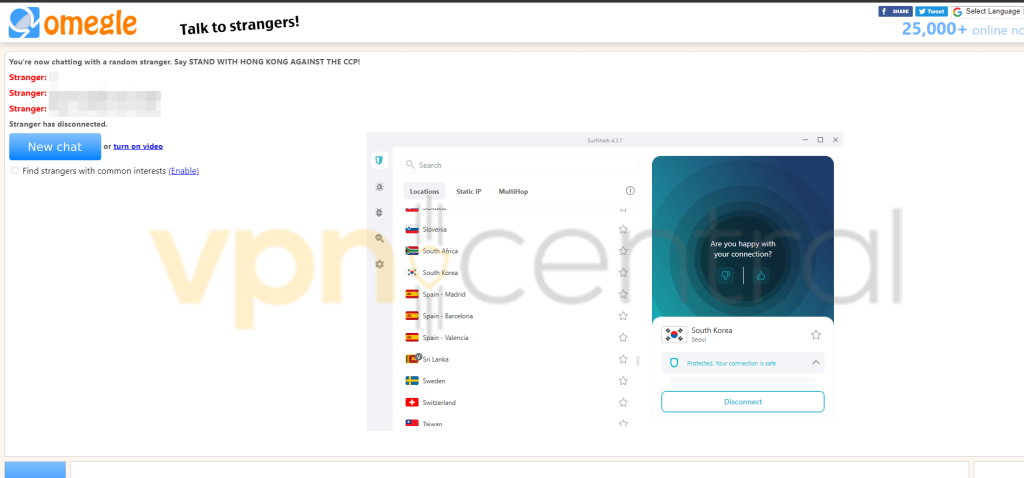 On mobile
To freely use Omegle on your smartphone or tablet, do the following:
Download the Surfshark VPN app that suits your mobile device.
Create an account.
Connect to Surfshark VPN's Paris server, which worked perfectly for us.
Open Omegle.
Now, truth be told, Omegle's IP blockers are tough to beat, so you might need to try multiple VPN servers before you can chat with others.
What's more, our recommended Surfshark VPN locations may stop working when you disconnect and reconnect to them.
But don't be discouraged.
This vendor maintains more than 3,200 servers in 100 countries and territories. So, if some of Surfshark's IP addresses get rejected, there are plenty more to try.
What are the benefits of changing your Omegle IP address?
Not revealing your IP address when using Omegle is advantageous for many purposes.
Let's look at some of them:
To bypass a ban
Omegle bans users for two main reasons:
If you live in a jurisdiction that censors internet content, you may not be able to use Omegle properly. Such countries include China, Oman, Qatar, and the United Arab Emirates.
Violation of Omegle's terms of service and/or community guidelines:
Unlike before, the site is no longer available to users under the age of 18.
Although Omegle doesn't employ any sort of verification to determine your age beforehand, you may eventually be banned if you violate this restriction.
Furthermore, you should be mindful of the big no-nos in the Omegle community. These include hateful conduct, harassment, marketing and advertising, nudity, etc.
Knowing how to use a VPN with Omegle may let you rejoin the platform after misbehavior.
However, it doesn't give you a license to violate the site's rules and regulations. You should still abide by them, as breaking them could have serious, long-term consequences.
To remain safe
You don't have to reveal your identity to use Omegle. But this doesn't mean you'd be anonymous on the site.
Omegle may store your IP address on its servers, which can point to your actual location. If the site gets hacked, your Omegle IP address could wind up in the hands of cybercriminals.
An IP isn't a type of personally identifiable information. But an experienced and determined hacker may be able to associate it with your true identity.
In addition to Omegle, you may have to conceal your true IP from other users too. You may encounter a stranger that uses an IP grabber or logger to obtain this information.
What they'd use it for is anybody's guess. But you should take measures to preserve your online privacy and protect yourself from identity theft and fraud.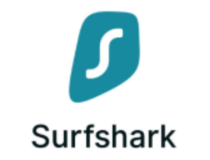 Surfshark VPN
Want unrestricted and anonymous access to Omegle? Surfshark is your one-stop solution.
Wrap up
Omegle can be a fun place to socialize with people you'd never have the chance to meet in real life.
And if you know how to change your IP address on Omegle properly, you can bypass its restrictions and talk with countless strangers while remaining absolutely anonymous.