Omegle is a popular site with a twist. It lets you text and video chat with strangers without registration.
You can be paired completely at random or based on shared interests, and your identity is hidden unless you share it.
The site quickly became a sensation and currently has tens of millions of monthly visitors.
Let's dive into some of the fascinating data about Omegle.
Eye-opening Omegle statistics
Here are some facts that are sure to change your mind about the website.
Omegle has reached over 50 million monthly visitors in 2022.
Currently, India has the most users, while Tunisia has the most all-time users.
Omegle is banned in China, Qatar, Libya, Jordan, the UAE, Pakistan, and Oman.
The platform's traffic surged in December 2020 and has continued to grow since.
About 3.5% of users are 65 years or older.
General Omegle site stats and facts
Below you'll learn more about the platform with a controversial reputation.
Omegle was founded in 2009 by 18-year-old Leif K-Brooks.
(Source: Founder's Blog, New York Times, Forbes)
Omegle first went live on March 25, 2009, as a text-only chat site to pair strangers. By the end of April, it had already reached 150,000 page views a day.
The site was developed and founded by Leif K-Brooks. In 2018 he made the coveted Forbes 30 under 30 in the Enterprise Technology category.
He also co-founded Octane AI, a quiz add-on for Shopify that recommends products to customers.
Omegle video chat was introduced in March 2010.
(Source: DBpedia)
Omegle traffic stats reveal that the site's most popular feature is video conferencing. It allows users to turn on their webcams to talk to strangers.
Since its release, it has been consistently updated to ensure convenience.
People also have the option to text chat during video calls or move on to a new conversation if they aren't satisfied with pairing.
Omegle's traffic surged during the rise of the COVID-19 pandemic.
(Source: Google Trends, SEMRUSH)
Near the height of the COVID-19 pandemic, Omegle traffic rode a wave of popularity, bumping monthly organic visitors up to nearly 29.4 million by December 2020.
In fact, according to Google Trends, its search popularity reached its first peak in years during this period. It still remains high thanks to influencers on platforms like TikTok promoting it.
Omegle's biggest backlash was in 2019, following a $22 million child exploitation lawsuit.
(Source: New York Post, Input Mag)
There is no doubt that Omegle has suffered its fair share of negative publicity over the years and is well-known for its sexually explicit content.
In 2019, a lawsuit was filed, alleging child sexual exploitation after an 11-year-old girl was groomed by a man in his 30s.
The man went on to be convicted of multiple criminal offenses. Meanwhile, a judge ruled in August 2022 that Omegle could be held responsible for the harm created by its platform in the ongoing civil case.
Omegle expanded its monitoring and safeguarding measures in 2020.
(Source: Omegle.com, DolmanLaw)
Omegle now employs several safeguarding measures. The site no longer permits users under 18 years of age and blocks users that look like minors.
The video chat is monitored to ensure the new guidelines are followed. Moreover, chats are anonymous and can be stopped at any time.
India and the US currently send the most traffic to Omegle.
(Source: SEMRUSH, Scroll)
When ranking Omegle users by country, SEMRUSH data puts India at the top, with 14.6 million visitors in the past month and 28% of the traffic share.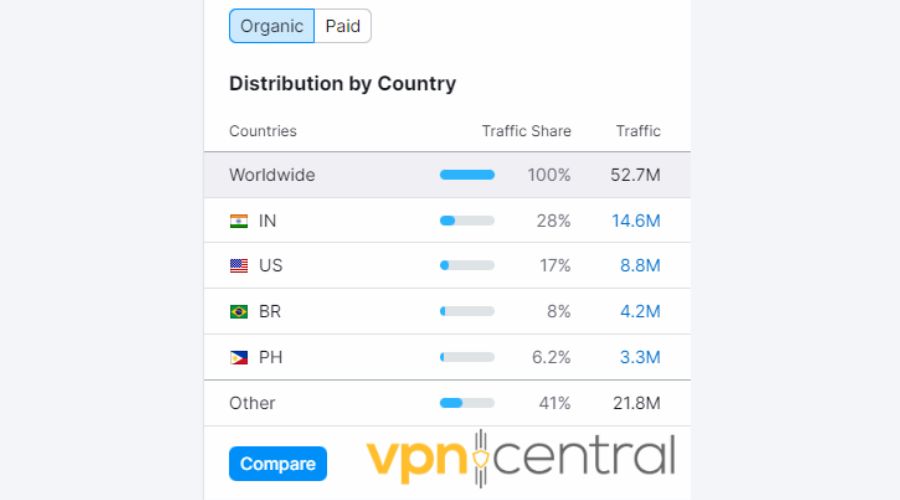 In September 2022, however, the United States was ahead, followed by India, the United Kingdom, the Philippines, and Brazil.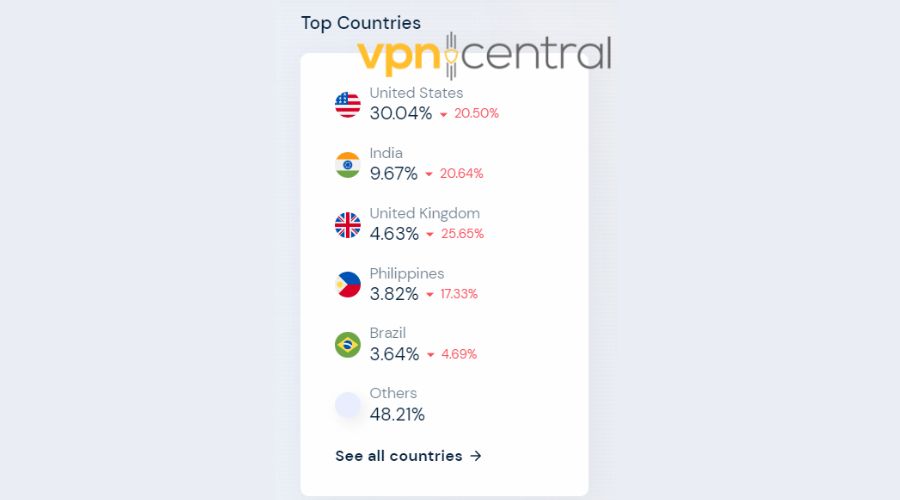 The countries where Omegle is banned include China, Qatar, Libya, Jordan, the UAE, Pakistan, and Oman.
Individual countries ban Omegle along with VoIP services and popular social media apps. They include China, Qatar, Libya, Jordan, the UAE, Pakistan, and Oman.
Users there require a VPN to obfuscate their location and traffic sources and gain access to the platform.
Omegle user statistics and demographics
Let's take a closer look at who uses the site and how.
Tunisia has shown the highest interest in Omegle over time.
(Source: Google Trends)
When accounting for all-time worldwide web searches, Tunisian users have shown the most interest in Omegle. They are followed by the Philippines, and Bosnia and Herzegovina.
Within the past year, the Philippines have taken the lead, while Tunisia is third.
Omegle reached 54 million visits in September 2022
(Source: SEMRUSH)
SEMRUSH puts Omegle's traffic at over 50 million visits a month since July 2022. That translates to around 600 million visits a year and 8.3 million weekly.
That's a lot of traffic, but is Omegle still popular?
In recent months its numbers are higher than ever before:
Over 53 million in October
54.2 million in September
53.6 million in August
51.6 million in July
Omegle's site ranking is 407 in the US and 522 worldwide.
(Source: SimilarWeb)
Based on worldwide traffic, Omegle currently has an overall site ranking of 522, making it only slightly less popular than the food delivery service Uber Eats!
In the US, the platform ranks 407 behind SignUpGenius but above OfferUp.com.
7.5 million of Omegle's monthly visits come from Brazil and the Philippines.
(Source: SEMRUSH, Google Trends)
Brazilian Omegle stats are strong, with 4.2 million visits so far in October, or 8% of the total traffic share. The Philippines is also high, with 3.3 million and 6.2% of the traffic.
When accounting for all-time Google Trends data, The Philippines shows the second most interest in the platform.
Omegle's largest age demographic is 18 to 24-year-olds.
(Source: SimilarWeb)
18 to 24-year-olds are responsible for 39.57% of the traffic to Omegle. The numbers trend downwards as users get older, dropping to:
27.85% for the 25 to 34 age group
14.24% for 35 to 44
9.04% for 45 to 54
5.47% for 55 to 64
3.65% for 65 and over
Men are the dominant gender, with 64.75% of Omegle's audience.
(Source: SimilarWeb)
Omegle statistics show the female audience, standing at 35.25%, is significantly less than the male.
Similar sites, like Chatroulette, also report consistent male dominance.
Visitors stick around for about seven minutes on Omegle.
(Source: SimilarWeb)
Omegle is great for a bit of entertainment, as, evidently, most people use it in short bursts.
Interestingly, users also average seven pages per visit, which indicates the average chat session lasts just a minute.
Omegle traffic is almost exclusively organic.
(Source: SimilarWeb, SEMRUSH)
The company doesn't pay for search-related clicks, so where does the traffic come from?
Let's take a look at the data breakdown from September 2022.
62.29% of traffic came from directly accessing the site.
31.82% came from organic search.
5.74% came from links from other sites.
Only 0.15% came from social media.
Users worldwide access Omegle primarily between 9 pm and 8 am.
(Source: Google Trends)
It appears people all over the world look for somebody to talk to in the evening and early hours of the morning. More specifically:
In India, there are clear peaks at 8 pm, rising sharply between 9 pm and 10 pm before trending down.
In the US, activity peaks at 7 am and drops considerably by 10 am.
Brazilian users usually chat the most at 6 am.
Omegle search term facts
The search terms used to find the platform give insight into its branding and competition.
Let's take a look at some more Omegle site stats.
Three of the most popular Omegle-related search terms are misspellings.
(Source: SEMRUSH)
If you're wondering how to write Omegle, you wouldn't be the first.
Spelling it from memory also seems to be an issue in the US. Three of its most common related searches by monthly volume are:
Omegal: 165,000
Omegel: 110,000
Omgle: 110,000
Chatroulette is Omegle's 3rd highest-searched related query.
(Source: Google Trends)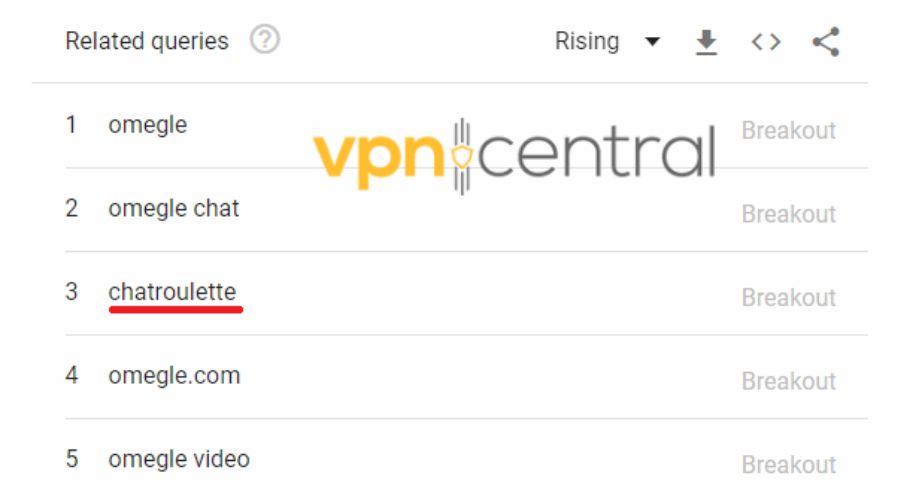 According to Google Trends, people who search Omegle also search Chatroulette, which is a similar video chat platform.
In fact, it ranks higher than Omegle.com.
The search term Omegle app has 135,000 queries per month.
(Source: SEMRUSH)
Omegle prides itself on being a simple app-free service used mostly by desktop users via webcam. However, the way users search might suggest an app is just what they want.
With 135,000 monthly searches in the US, Omegle app is a large driver of organic visits to the website. Yet, whenever someone lands on the site, there's no app to be found.
Omegle market share and revenue
Omegle's market value is conservatively estimated in the tens of millions. Meanwhile, it ranks within the top 20 most popular US social networks. Here's more insight into its market share and revenue.
Omegle is the 17th most popular social network in the US.
(Source: SimilarWeb)
While Omegle is far from the success of platforms like Facebook and Instagram, it's dwarfing its direct competitors.
Coomeet.com has 9.6 million monthly visits.
Video chat site Ome.tv gets around 5.9 million visits.
Chathub.cam has roughly two million visits.
It's 1.6 million for chatrandom.com.
1.4 million people visit chatroullet.com.
Omegle's market value is $92 million.
(Source: WorthOfTheWeb)
Omegle is a private company and doesn't release revenue reports. Combining estimated daily, monthly, and annual revenue creates an overall Omegle valuation of over $92.7 million.
Estimating traffic and ad revenue averages, the platform's revenue reaches at least:
$43,707 per day
$1.3 million per month
$15.7 million per year
How does Omegle make money?
Omegle sells traditional advertising space, as seen throughout the site.
Unfiltered video chats have affiliate links to third-party sex cam sites that will invariably give Omegle a commission.
Omegle statistics show the platform has over ten times the traffic of its closest competitor Ome.tv.
(Source: Google Trends, SEMRUSH, SimilarWeb)
Ome.TV is Omegle's closest like-for-like competitor. So much so that it labels itself an Omegle Random Chat alternative.
The site launched in 2015 but didn't reach its stride until 2018, when in April, its worldwide interest almost reached Omegle's. It has since followed a similar trajectory, with a sharp rise during the early days of COVID-19.
Nonetheless, Omegle is still much more popular, dwarfing its traffic over July, August, and September this year by more than ten times.
Wrap up
So, here's everything you need to know about Omegle's revenue, traffic, and user demographic.
There's no question the site remains popular among a contingent of internet users. It's entertaining and can get pretty wild.
Is it time to jump on board or give this one a miss?
FAQ
When did Omegle come out?
Omegle was first launched in March 2009. Back then, it only supported text-based chat sessions, and video chat was introduced the following year.
When did Omegle peak?
According to SEMRUSH, Omegle experienced its worldwide peak in popularity in September 2022, with over 54 million visitors. This is after steady growth since 2020. It's too early to tell when this wave will die down and what the ultimate peak will be.
How many people use Omegle?
Since July, Omegle has recorded over 50 million visitors a month via organic search. At any given time, there are tens of thousands of active users, a number which is displayed on the top right corner of the Omegle homepage.
At what time is Omegle most active?
Omegle is most active during the late night and early hours of the morning. For example, in the US, the peaks are around 7 am and 8 am. In India activity is highest between 9 pm and 10 pm.
Which country uses Omegle the most?
India uses Omegle the most, on average, with around 28% of the global traffic share. It's followed by the United States at 17%, and Brazil at 8% traffic share.
What age group uses Omegle?
Omegle statistics reveal the 18-24 age group uses the site the most, followed by 25 to 34-year-olds. Its smallest age group is 65 and over.
The site is intended for users 18 years and older, though it almost certainly has users younger than this, as per surveys and public controversies.
Sources: