Omegle is a free online chatting platform where you can talk to strangers from all around the world.
This is one of the most accessed platforms in the world, where thousands of people can connect and chat, no matter the distance between them.
That's why your activity and data can be threatened every day. It seems like a lot of users are looking for a reliable VPN to use while running Omegle. If you're one of them, you're in the right place.
In this article, we're taking a closer look at various security tools to see which is the best Omegle VPN for you.
If you're still not sure about the power and utility of a VPN, make sure you read the following information.
Can you use a VPN on Omegle?
If detected, your VPN connection will be blocked because Omegle doesn't allow it. However, VPN services do implement advanced privacy features to remain undetected.
Some features that signal that a VPN will work with Omegle include DoubleVPN, obfuscated servers, IP masking, DNS protection, and a secure killswitch to ensure no traffic data is leaked even if you disconnect.
On top of offering great privacy and security, a VPN is also a reliable tool that will help you unban Omegle in case your IP has been blacklisted in the past.
Why is it important to use a VPN on Omegle?
A virtual private network solution changes your IP address and location. In doing so, you gain a new online identity when joining Omegle chats, which comes with improved privacy and security.
Because this is a platform that doesn't encrypt your data and conversations, these can get into hackers' hands. Then, they can use your private information for their own purpose.
Fortunately, a good VPN is able to encrypt your online traffic through powerful protocols.
Plus, a valuable virtual private network is the best solution to try if you've got unfairly banned on Omegle, but you're going to discover more about this subject later in this article.
Now, let's see what are the best options you should definitely consider.
What are the best VPNs that work with Omegle?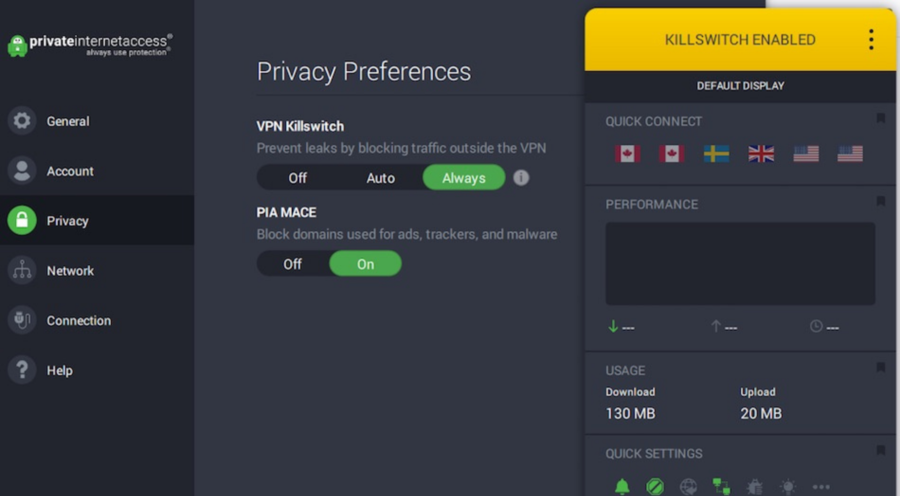 Private Internet Access (PIA) is among the top VPNs that work with Omegle, thanks to its impressive server coverage, great connection speeds, and excellent security features.
Our experiments showed that PIA managed to get through the ban of the Omegle platform without any problems.
Keep in mind that Omegle uses advanced technologies to detect your geolocation and IP and blocks you if they don't correspond. To make sure you don't have to deal with that, use the obfuscation features in PIA.
Just open your PIA app, go to Settings, then find the Obfuscation and Multi-Hop feature and make sure to enable it. This will mask your traffic data, even more, adding an extra layer of privacy.
So, wherever you are, you can easily unblock Omegle by connecting to its US and UK servers. The VPN actually has a major server base located in the US.
PIA has static and dynamic IP addresses, private DNS servers, a kill switch, split tunneling, and port forwarding mode.
It also comes with an ad blocker for all your web browsers, called PIA MACE. This feature will always allow you to have a full and pleasant streaming experience, not being bothered by the randomly appearing pop-ups.
What's more, PIA uses OpenVPN with up to 256-bit military-grade encryption to keep you safe online.
Because PIA is able to protect up to 10 devices at the same time, we recommend sharing the experience with your family and friends.
Do not forget to take a look at some of the most amazing features of PIA:
Unblocks Omegle in a matter of minutes
Static and dynamic IP addresses
Private DNS servers
AES 256-bit encryption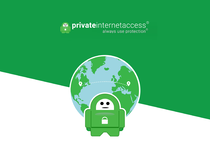 Private Internet Access
Safely use Omegle by turning to this fast and reliable VPN for multiple operating systems and devices.
2. NordVPN – exceptionally fast servers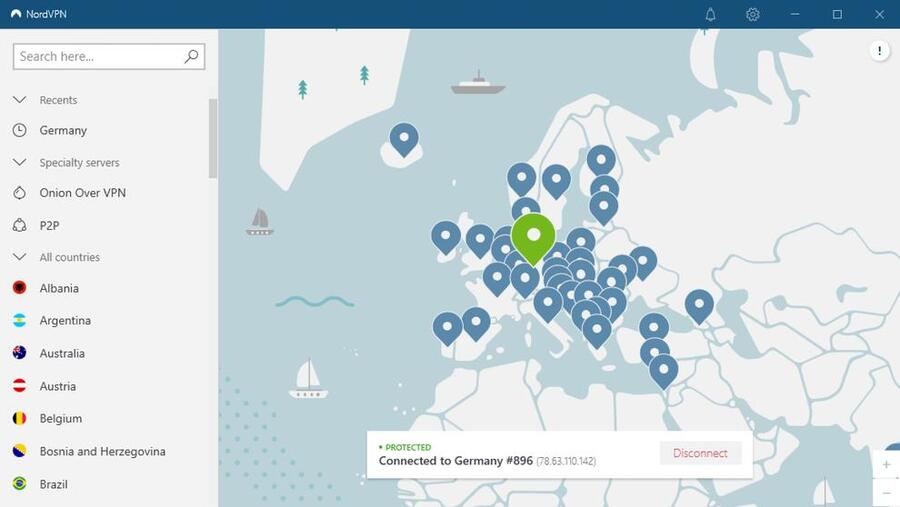 NordVPN is another excellent VPN for Omegle users since it emphasizes security.
It gives you the possibility to talk to foreigners and practice your language skills by changing your geo-location to another country.
NordVPN offers support for OpenVPN with up to 256-bit AES encryption. Thus, your online activity on Omegle will always be private and secure.
Plus, this VPN comes with a reliable ad and malware blocker called CyberSec, trusted Wi-Fi networks, an Internet and app kill switch, along with private and custom DNS.
Plus, if Omegle is rejecting your VPN connection, you can turn on obfuscation mode to make it look like regular HTTPS traffic.
We are aware that some of the NordVPN servers may not work on Omegle. While the app does a good job of staying undetected, certain IPs may be blocked for other reasons.
If another NordVPN user is breaking the rules and regulations of the app, the IP address they use will be blocked. That's why some servers may not work.
If that happens to you, and you get the connecting to server error in Omegle, just switch to a different server and you should be fine.
NordVPN allows up to 6 connections at the same time and features over 5,100 VPN servers in 59 countries.
These are the most incredible NordVPN features:
AES 256-bit encryption
Ad-blocker and malware blocker
5,100 servers in over 50 countries
Trusted Wi-Fi networks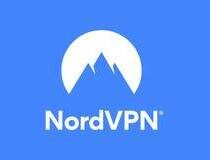 NordVPN
Make your Omegle experience safer by resorting to this trustworthy VPN.
3. ExpressVPN – optimized to surpass strong restrictions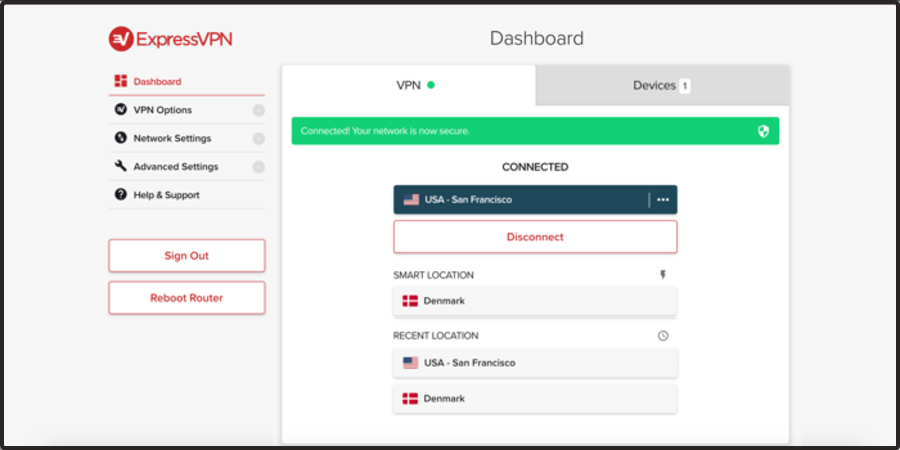 ExpressVPN is a reputable VPN service that can't miss from this list. You can use it to secure your browsing sessions and unblock Omegle from anywhere. It has over 3,000 VPN servers in 94 countries.
You don't have to worry about getting tracked through this VPN since ExpressVPN runs zero-knowledge DNS servers to ensure your online anonymity.
Furthermore, it has exclusive DNS servers, IP leak protection, and a Network Lock (kill switch).
This VPN uses AES-256-bit encryption, which is able to protect all of your personal data, so cyber criminals won't get the chance to ever obtain them.
It's compatible with all popular operating systems and devices, and it permits up to 5 simultaneous connections through the same account.
Like in the case of NordVPN, Omegle has blocked some ExpressVPN servers as well. But the app is capable to bypass restrictions.
Switching servers seems to be the viable option here too. Some users of this VPN also suggest using the live chat support feature and asking them for specific servers that work specifically with Omegle.
Take a look at the most valuable ExpressVPN attributes:
More than 3,000 servers in over 90 countries
Exclusive DNS servers and Network Lock
Compatible with multiple OSs and devices
5 simultaneous connections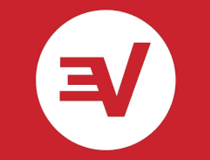 ExpressVPN
Unblock Omegle and ensure your online anonymity by turning to this reliable VPN app.
4. SurfShark – premium VPN features for cheap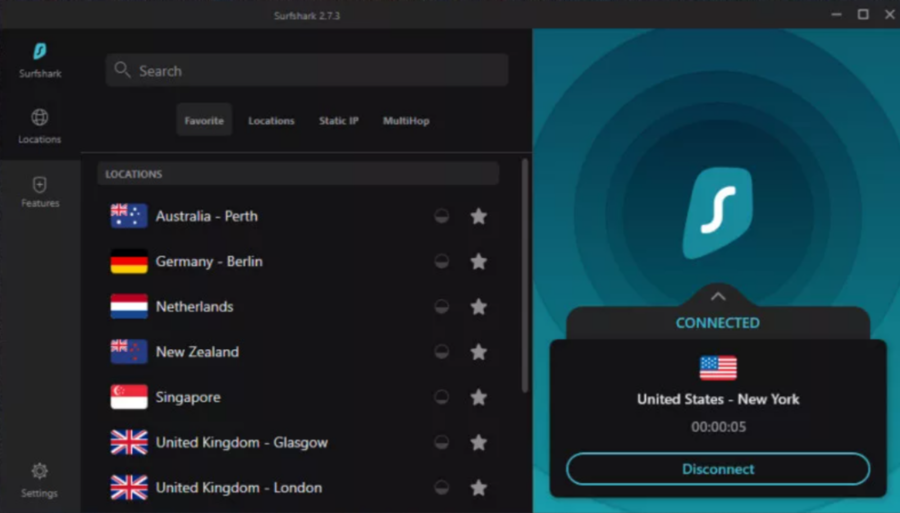 If you're looking for a cheap VPN service with amazing security, shift your attention to Surfshark. It's incredibly popular in the VPN community, thanks to its reliable features and affordable subscription plans.
Surfshark has 3,200+ VPN servers in over 90 countries, private DNS on each server, together with an ad and malware blocker.
So, if you consider using it while running Omegle, you won't have to worry about getting your PC infected or being tracked down by users with malicious intentions.
It supports split-tunneling mode, and Shadowsocks proxy, together with OpenVPN and WireGuard protocols.
To have an optimal Omegle experience, we recommend you use the WireGuard protocols and activate the Camouflage Mode.
Not only is WireGuard extremely fast, but it is also a very secure VPN protocol that ensures your data stays private.
Combined with the Camouflage Mode, which is Surfshark's own obfuscation feature, you'll be able to chat on Omegle without an issue.
The app also has multi-hop VPN connections. These essentially route your traffic through two different VPN servers so your actual location and IP are impossible to detect.
Another very cool thing about this VPN is that it does not limit your simultaneous connections. With one subscription you can secure as many devices as you want.
Check out the main features of SurfShark VPN:
3200 servers located in over 90 countries
Affordable subscription plans
Open VPN and WireGuard protocols
Ad-blocker and malware blocker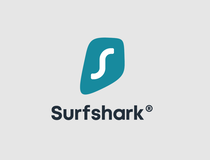 SurfShark
Get this budget-friendly VPN solution to unblock Omegle and protect your privacy fast and easily.
5. CyberGhost VPN – advanced security features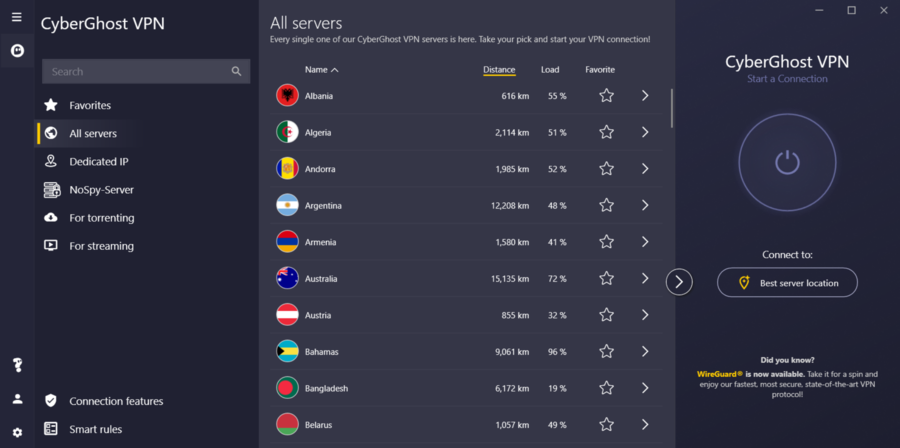 The next best Omegle VPN on our list is CyberGhost VPN because you can try it for free to see if it works. It has an extensive network of servers: more than 6,500 in 89 countries.
You can use CyberGhost VPN to secure your data traffic with OpenVPN and 256-bit encryption, protect your browsing sessions with an ad and malware blocker, and prevent VPN IP leaks using an emergency kill switch.
A Kill switch is essential for a service that has such a rigorous VPN blocking technology. It ensures that if you lose a VPN connection, even for just a few seconds, all traffic data is blocked and you remain anonymous.
Thanks to its strict no-logs policy, CyberGhost won't record any of your online activities. In this matter, there is no way for others to see your Omegle conversations.
The VPN service is compatible with all major operating systems and platforms, including Windows, Linux, and Mac.
CyberGhost has dedicated apps for mobile too. So if you want to use a VPN for Omegle on Android or iOS devices, try this one. It's easy and quick to install and set up.
It also allows 7 simultaneous connections, so it is great if you want to share a secure experience with your family or friends.
Check out these powerful features of CyberGhost:
6,500 servers in over 80 countries
AES 256-bit encryption
Compatible with Windows, Linux, Mac, iOS, Android
Allows 7 simultaneous connections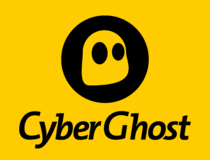 CyberGhost
Get around Omegle blocks and start talking to strangers using this VPN.
Is there any free VPN that works with Omegle?
Free VPNs rarely work with Omegle because they use free and public IP addresses that can be easily identified and blocked.
Besides that, free VPNs usually have fewer configuration settings and a limited number of VPN servers, and there's nothing you can do about that.
Nevertheless, you can still give it a shot. If you want to go with our recommendation, consider Opera VPN, as it is also one of the most popular free solutions among worldwide users.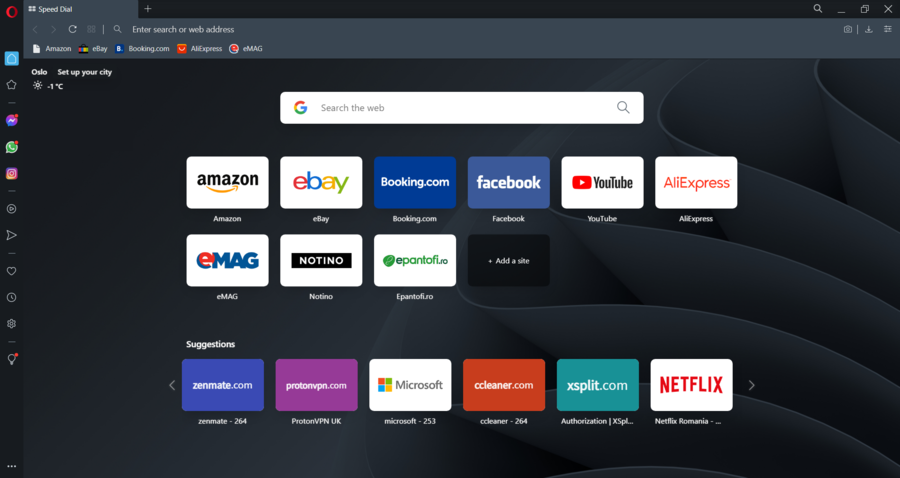 The best characteristic of the Opera VPN is that it doesn't take up space and it works like an Omegle VPN extension.
Plus, it delivers unlimited data and also works well with streaming platforms, such as Netflix.
It's the best browser with a built-in VPN, which you can use at no cost and connect to VPN servers in America, Europe, and Asia.
Our performance experiments showed that the Opera browser VPN works well, being registered a quicker connection time compared to other free VPN services.
However, keep in mind that Opera VPN is able to encrypt only your Opera browser's online traffic. It won't protect other web browsers or stand-alone email clients.
Even if it has some great characteristics, we still think that is best to invest in a VPN that will work perfectly regardless of the conditions under which you use it.
Check out these amazing features of OperaVPN:
Free and safe
It is a built-in VPN that works through the Opera browser
Various servers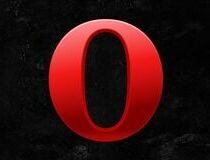 Opera VPN
Try the free VPN of this reliable web browser to bypass the Omegle error.
Is there any good VPN extension for Omegle?
Yes, there are a few. Reputable VPNs do offer browser extensions as well. ExpressVPN has a great extension that bypasses Omegle restrictions. It's available for Firefox and Chrome.
If you want to install a third-party VPN for Omegle to your Opera browser, check Windscribe. It's a reputable VPN and is recommended by many users who access Omegle using Opera.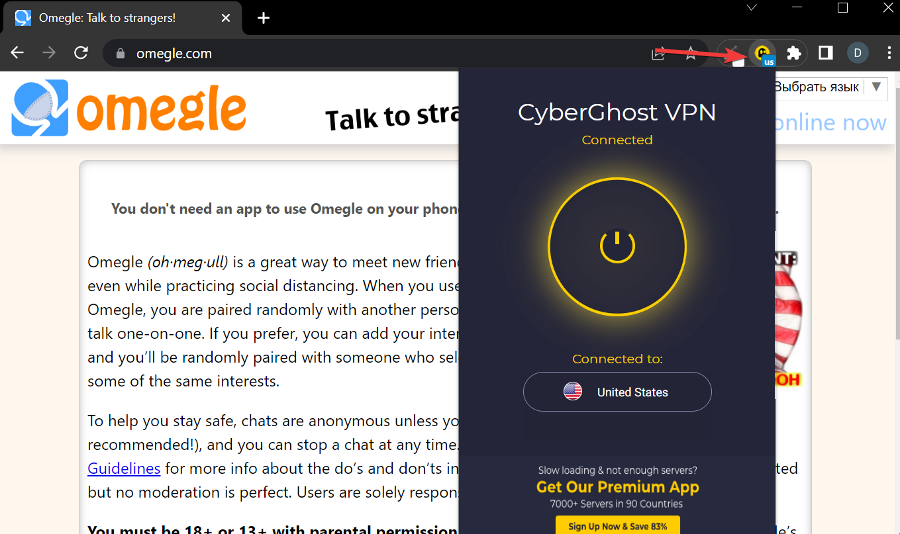 Another good option that is actually free of charge is the CyberGhost extension for Chrome and Firefox. It's simple to use, and you don't even have to create an account. NordVPN also has a good free extension for Chrome.
How to change the server location on Omegle with a VPN?
If you live in an area where Omegle is blocked or want to access the chat from a network that doesn't allow it, connecting to a VPN will grant you permission.
VPN services generally give access to more than just one location. To change your server location, you have two options:
Open your VPN app and let automatically pick a server for you, or browse the server location list and select your favorite location.
After you connect to a virtual location, all your traffic data will be linked to the VPN server. So you will be able to access Omegle using your virtual location, and the platform won't be able to detect your actual IP.
To recap, if you want to use an Omegle VPN, our top recommendations above should do the trick.
And, if you can't decide, we suggest going with Private Internet Access since it's among the most versatile VPN services for Omegle.
Nevertheless, you should keep in mind that Omegle is doing its best to block VPN and proxy servers, so you might encounter some occasional hiccups along the way.
We'd like to hear more from you on this subject so drop us a comment in the section below.