PureVPN has been in the industry for about 15 years. So, it's no surprise that it has built a lengthy list of features and attracted numerous loyal users.
In November, the company introduced its new visual identity and added three more products to its portfolio as a part of its redefined, more customer-centric strategy.
Below, we'll look into how the service performs and if it's worth your time and money.
Let's dive in!
| | | | |
| --- | --- | --- | --- |
| Number of servers | 6500+ | Split tunneling | Yes |
| Speed | 4/5 | Value for money | 4/5 |
| VPN protocols | WireGuard, TCP, UDP, and IKEv2. IPSec on MAc and iOS. | Customer support | Support ticket, live chat |
PureVPN Speed Review
So, how fast is PureVPN?
To find the answer to this question, we tested several server locations and compared the VPN's performance to our benchmark speed. In total, PureVPN has servers from 71+ countries and 89+ locations.
Let's see how PureVPN fared!
Europe
To begin, we picked the closest PureVPN location, which was Serbia. There were no changes in the browsing experience, and the test confirmed only a small drop in speed.

Namely, there was a 6% drop in download speed and a 4.5% drop in upload speed, while the ping decreased by 5 ms.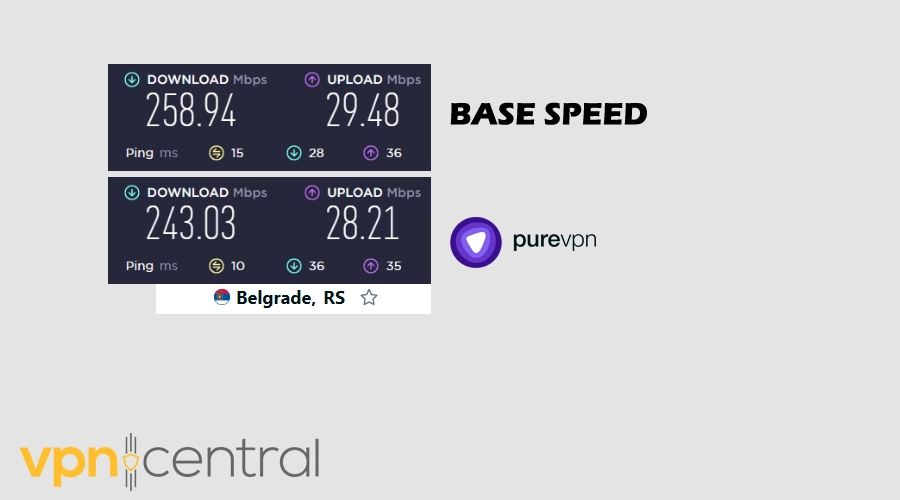 Next, we chose a location that's a bit further away — Austria.
The download speed more than doubled this time. It went up by 113%, reaching 234.68, getting really close to what we get when testing our base speed on a nearby server in Serbia.
There was a small 4.5% decrease in upload speed, while the ping increased by 2 ms.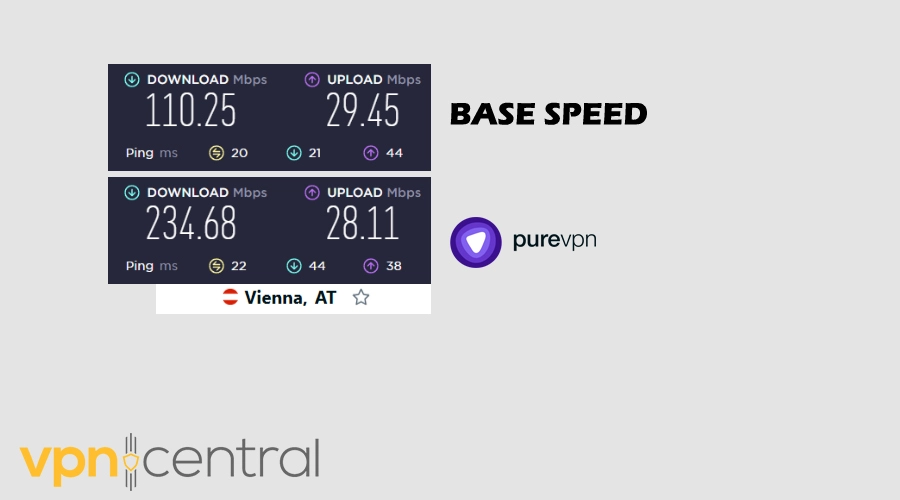 For the third European location, we chose the UK. This time, the download speed suffered a 28.5% drop.
We tested the connection by watching YouTube videos and live-streaming a sporting event and experienced no buffering issues or other problems.
Once again, the upload speed remained close to the original one, seeing only a 7% decrease. In terms of ping, however, the number went up by 9 ms.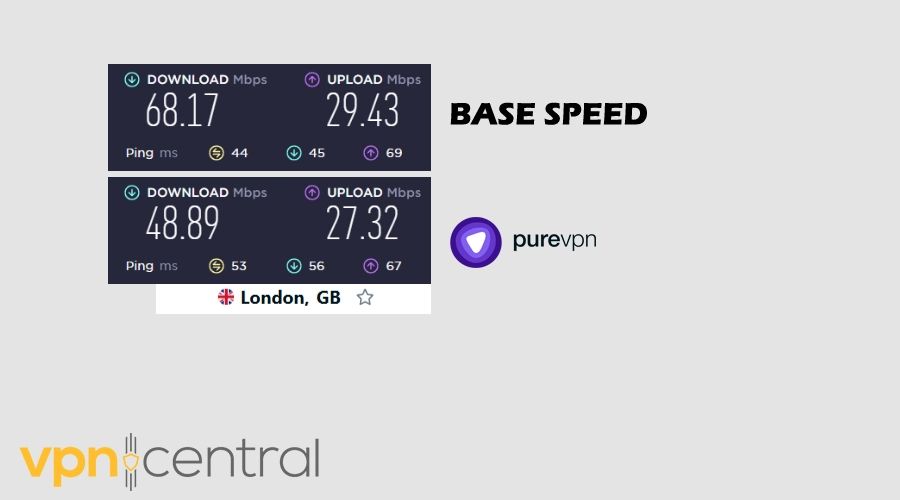 Africa
In the Africa region, we tested two locations.
When connected to a PureVPN server in Egypt, the decrease in download speed was 32%.
That still wasn't enough to significantly impact our browsing and video streaming experience.
The upload speed went down by 72%, and the ping increased by 24 ms in this test.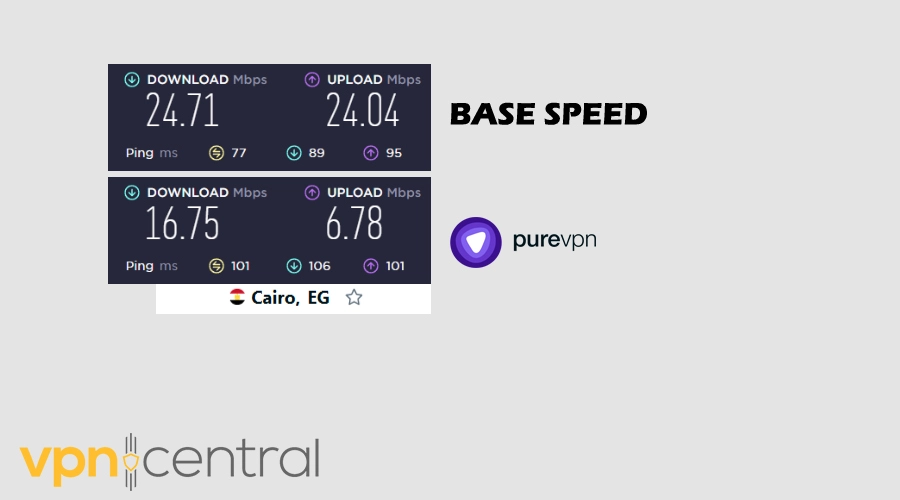 The server we tested in Nigeria showed very little change from what we got with the Egyptian location. Namely, the download speed decreased by 56%, and the upload speed went down by 79.5% compared to the benchmark figures. Finally, the ping increased by 6 ms.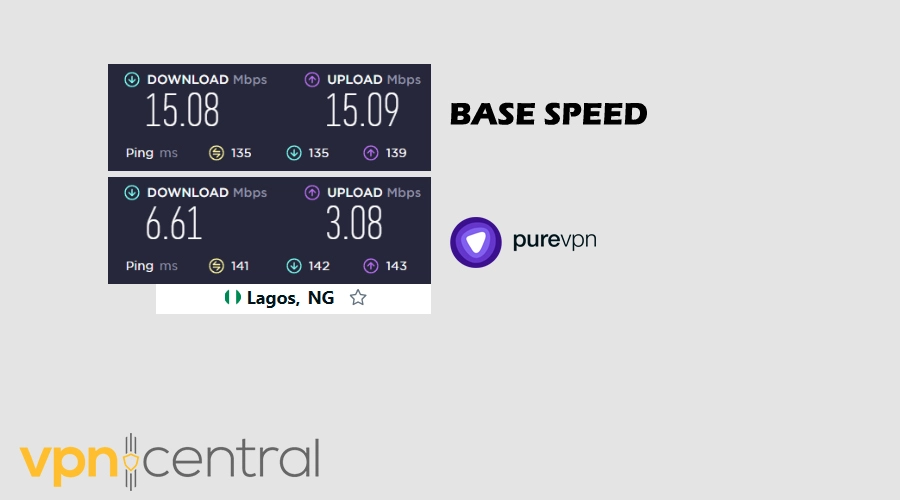 Americas
Next, we compared our speed test results from servers in North and South America to the numbers we got with PureVPN.
The first location was New York in the US, where we witnessed a very small decrease in speed. It went down by 9%, not changing our browsing experience at all.
The upload speed went down by 22%, and the ping only increased by 3 ms.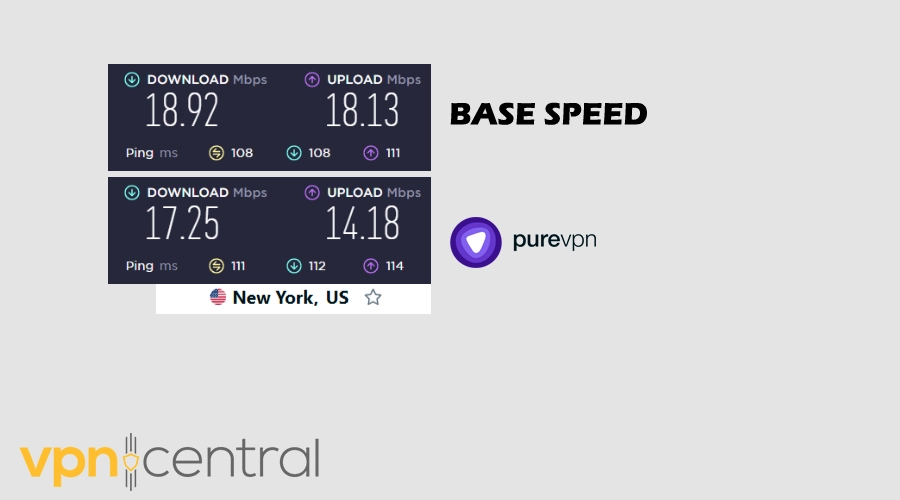 Next on the test was the server in Puerto Rico. The results showed a 32% decrease and a 44% decrease in download and upload speeds, respectively.
Similarly, the ping increase wasn't bad, as it only went up by 7 ms.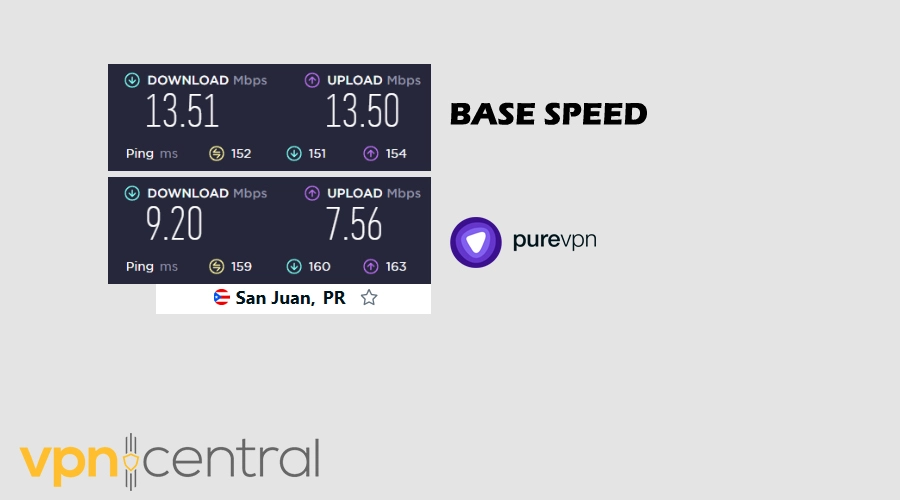 Finally, we tested the server in Argentina. The results were similar to the ones with a New York IP — a 7% drop in download speed and a barely noticeable 3.5% drop in upload speed.
The ping again went up by 7 ms.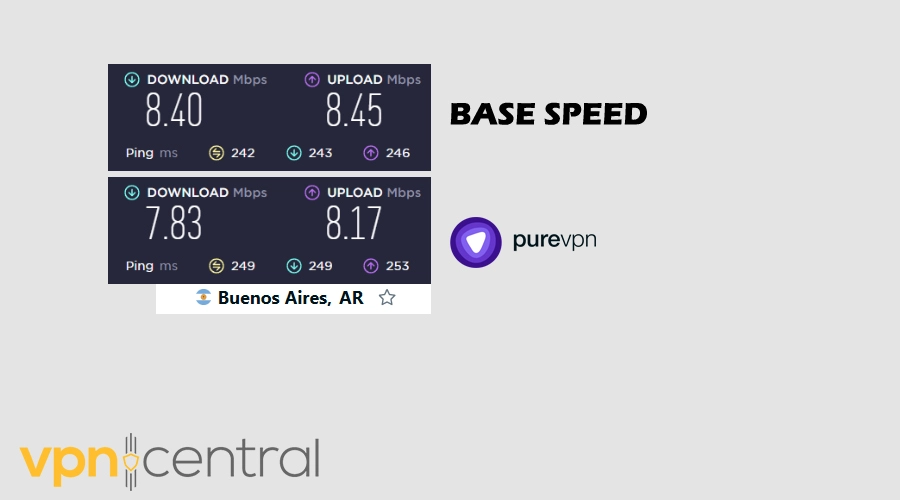 Asia
In the Asian region, I tested two locations — Oman and Vietnam.
The Oman server performed relatively well, with decreases in speed lower than those in Africa and the Americas.
The download speed dropped by 38%, while the decrease in the upload speed was 33%. The ping went up by 14 ms.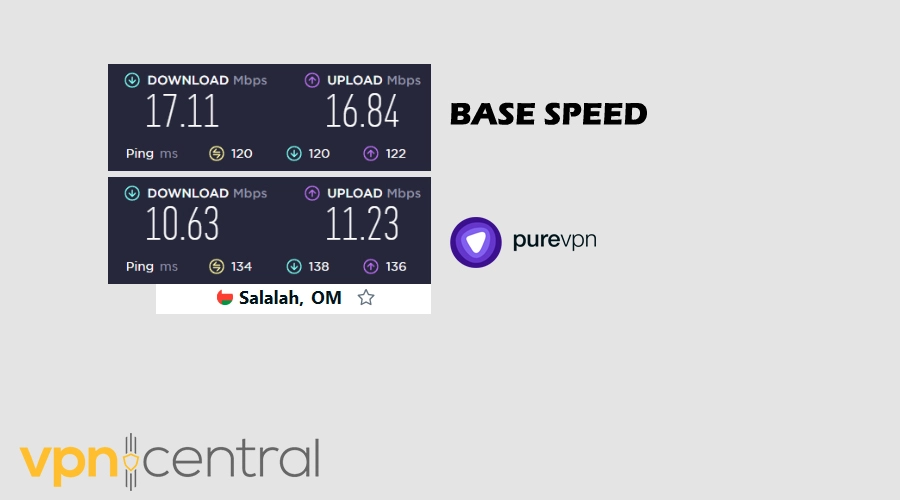 The server in Vietnam also performed well. More specifically, there was a 55% decrease in download speed and a 64.5% loss in upload speed. This time, our ping went up by 24 ms.
Although the distance between the server and our physical locations was big, the decrease in speed didn't have a major impact on our browsing experience.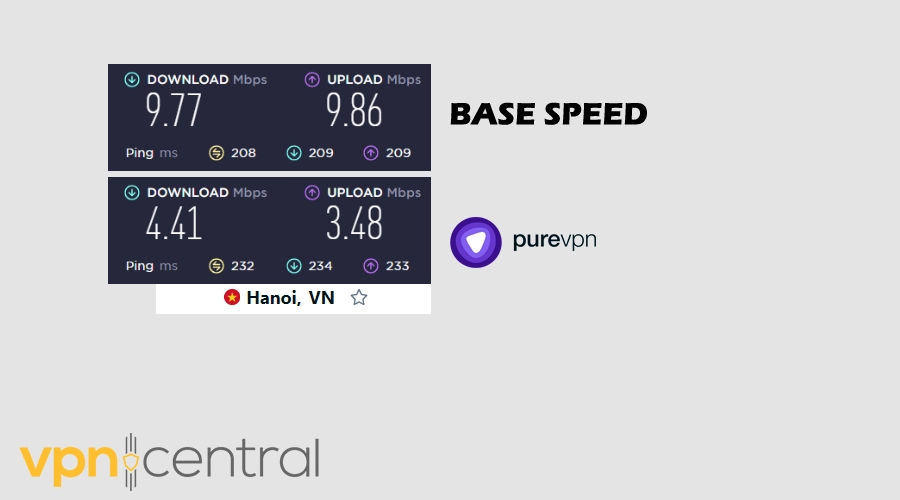 Australia
Our final tests were on servers in Australia and New Zealand.
PureVPN performed very well when we connected to its Perth server, securing an 8% increase in download speed. In the same fashion, our upload speed increased by 3.5%.
The ping also went down by 5 ms.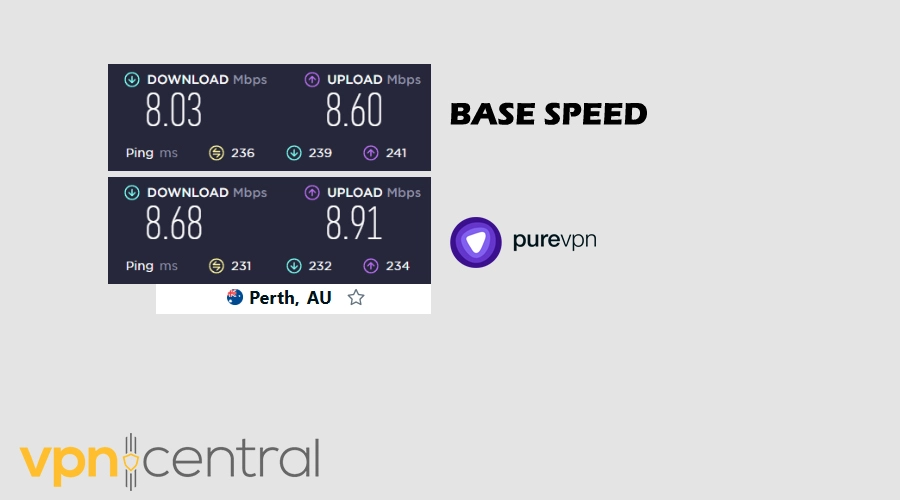 Lastly, we compared the speeds we got when connected to a server in New Zealand. We only experienced an 8.5% decrease in download speed and a 5% decrease in upload speed.
This time, our ping increased by 8 ms.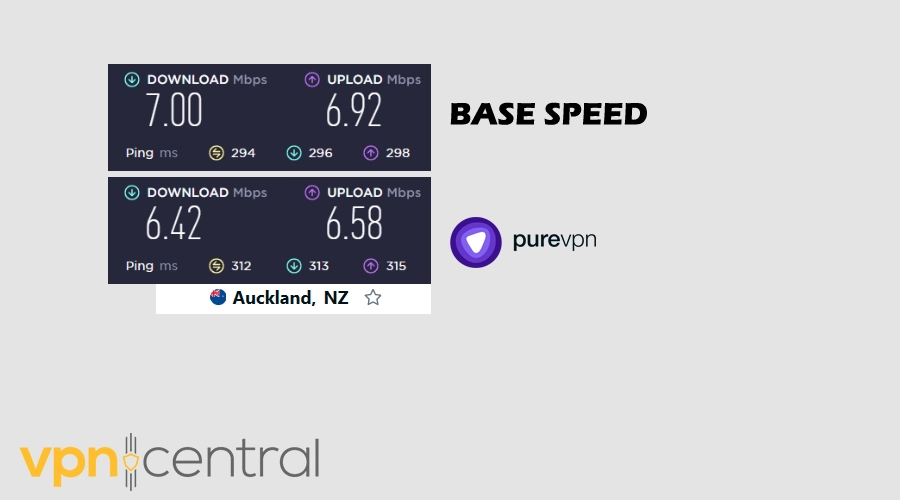 Note: We also tested various other locations to see if there will be any unexpected drops in speed and can confirm that they all work in a similar way to the ones discussed above.
Features
Here's a list of the handy features PureVPN offers.
Kill Switch
A kill switch, or IKS (Internet Kill Switch), is one of the most important features of a VPN.
It ensures that you don't revert to your network in case something goes wrong with your connection to the VPN server. That way, it protects your IP and other information from leaking.
PureVPN's kill switch is automatically enabled when you first install the software.
Split Tunneling
This functionality allows you to choose which application to use with the VPN connection.
You can have parts of your traffic bypass the encrypted tunnel if you don't mind having them associated with your IP.
Currently, PureVPN's split tunneling feature is only available on Windows and Android.
Port forwarding
PureVPN offers port forwarding as a feature you can purchase additionally for less than a dollar a month.
It allows you to route inbound traffic through a specific port and send it to a device on your network.
That is a great way to increase your connection speed and focus all of it on gaming, torrenting, or something else.
Protocols
It's time to look at which protocols PureVPN offers. There is a total of five options to switch between:
IKEv2
TCP
UDP
WireGuard
IPSec (on Mac and iOS)
In the app, you can find a handy automatic protocol selection button that'll ensure you connect to the best option whenever you start the app. You can also change protocols manually with a few clicks of a button.
Obfuscation
Obfuscation hides that you're using a VPN. When you connect to an obfuscated server, it looks like you're normally browsing the Internet.
Therefore, you get all the perks, such as bypassing geo-restrictions and avoiding ISP throttling, without anyone detecting you're using a VPN.
Keep in mind that to obfuscate your traffic, you need to select either TCP or UDP as your protocol. UDP is generally a better option, as it offers better speeds.
Personalized server selection
If you have this feature on, PureVPN will try to connect you to the same VPN servers that worked for you in the past.
That can come in handy if you often hop onto the same location.
Ping values
Another benefit of PureVPN is that you can see every server's ping within the software.
So you know what to expect from each location and can easily identify the one that'll work the best.
PureKeep
Available as an add-on, this feature can take your password game to the next level.
It helps you come up with better combinations and protects them with state-of-the-art encryption.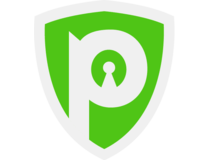 PureVPN
Secure your devices and enjoy a speedy Internet connection with this well-known industry leader.
Is PureVPN safe?
PureVPN is entirely safe to use, and the IP leak tests we ran confirmed this.
We used ipleaks.net on a dozen PureVPN servers and didn't catch a single IP leak.
Here are some examples:
Conclusion
Overall, the research for our PureVPN speed review showed satisfactory results.
Even though the servers' upload and download speed decreased with distance, we were still able to browse the web, watch videos, and livestream without significant interruptions.
However, if you plan to play online games or livestream in HD, it's best to stick to servers close to your physical location.