VPNs have become the go-to solution for achieving online privacy and accessing restricted content.
However, on some occasions, they can be blocked by firewalls, network administrators, or detection tools used by streaming platforms or web services.
This is where obfuscated servers come in. By disguising VPN traffic as normal internet traffic, obfuscated servers make it hard for anyone to detect it.
Additionally, obfuscated servers help in avoiding detection on geo-restricted game servers and streaming services like Netflix, which often block VPN traffic.
So, let's consider why obfuscated servers are important and how they provide enhanced security compared to normal VPN servers.
What is an obfuscated server?
An obfuscated server is a VPN server using an extra layer of encryption to make your VPN traffic virtually impossible to identify and block.
VPN providers use different techniques to disguise their traffic, such as altering the data to make it appear less suspicious to detection systems implemented by certain countries and websites.
For instance, in countries like China, Russia, Iran, UAE, Turkmenistan, Turkey, and Belarus, VPN traffic is often blocked by the government or ISPs using deep packet inspection (DPI) techniques. 
However, by using an obfuscated server, VPN traffic is disguised to appear as regular internet traffic, making it much harder to detect and block.
Obfuscated VPN can also be referred to as:
Stealth VPN
VPN Cloaking
VPN Stealth Mode
Traffic Obfuscation
Cloaking Technology
How do obfuscated servers work?
Obfuscated servers bypass VPN-blocking firewalls by removing all information related to a VPN from the data so that it appears as regular data packets.
VPN providers can obfuscate data by using additional SSL/SSH encryption or scrambling the metadata from the packet header, making it look like regular HTTPS traffic.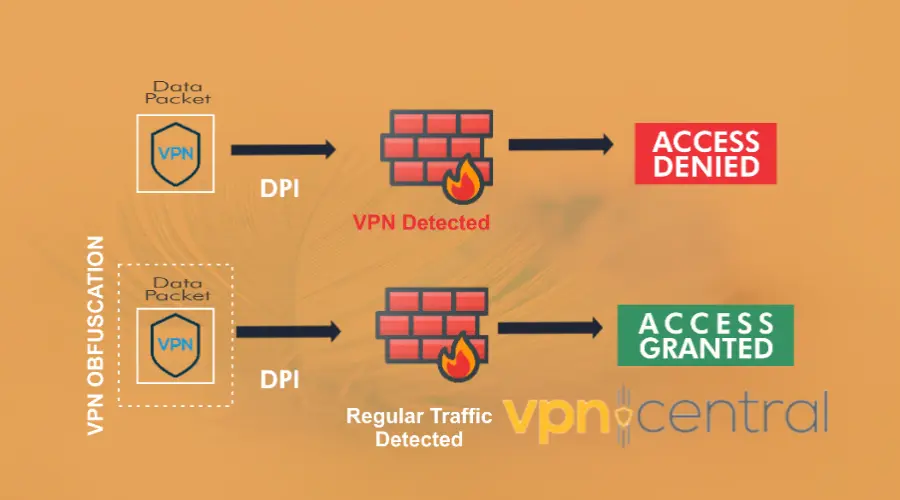 The following provides detailed information on some of the common obfuscated methods and their respective uses:
1. Shadowsocks
This open-source proxy protocol is used to bypass internet censorship in countries like China, where the Great Firewall blocks many websites and services, including popular VPN providers.
Shadowsocks employs the SOCKS5 proxy protocol to disguise encrypted VPN traffic as HTTPS traffic.
Since HTTPS is a widely accepted security protocol, it bypasses VPN blockers and DPIs without raising suspicion.
Shadowsocks can obfuscate OpenVPN and WireGuard protocols.
2. OpenVPN over SSL
This VPN protocol functions in a way as a double VPN. As a result, DPIs cannot penetrate the VPN traffic, and all that they see is standard HTTPS data.
As opposed to that, double VPN routes traffic through two separate VPN servers.
OpenVPN over SSL adds an extra layer of protection by encrypting the VPN traffic twice – first through the VPN protocol and then through SSL encryption.
3. OpenVPN scramble
This uses XOR obfuscation to hide the VPN signature by transforming it into meaningless code, rendering it invisible to Deep Packet Inspection.
This means that even if you are using a VPN, it will look like you're browsing the internet like normal, which makes it harder for anyone to detect and block the VPN.
Furthermore, XOR obfuscation is similar to encryption in that it involves transforming data into a secret code.
However, the main difference is that encryption makes data unreadable except to the intended recipient, while XOR obfuscation disguises data as something else entirely.
Think of it like a disguise: encryption makes data invisible to prying eyes, while XOR obfuscation makes it look like something else so that it can sneak past detection systems.
4. Stunnel
It encrypts VPN traffic to make it appear as regular SSL/TLS traffic. Stunnel works by intercepting and encrypting the traffic from the user's device before forwarding it to the server.
This ensures the traffic remains undetectable to network blocks designed to detect and block VPN traffic.
5. Obfsproxy
Obfsproxy is an advanced OpenVPN obfuscation protocol that increases security by scrambling internet traffic. It uses an obfuscation layer to conceal data from deep packet inspection.
This technique is commonly used on Tor browsers to bypass censorship.
In addition, Obfsproxy's unique and randomized handshake process makes it difficult for network administrators or government agencies to detect and block the VPN traffic.
However, it has both benefits and drawbacks. While it adds an extra layer of online security, it may also raise suspicion and alert the DPI to unusual activity on the server.
Why should you use an obfuscated server?
There are various reasons why you may need to hide that you're using a VPN:
1. Bypass internet censorship and avoid online surveillance
In countries like China, Iran, and Russia, with strict surveillance, censorship, and internet regulations, obfuscation is the only way to bypass VPN blocks and avoid legal trouble.
2. Overcome network restrictions
Your school or workplace may block certain websites or internet services, even in countries where a VPN is legal.
They may also forbid the use of a VPN to bypass their firewall. To avoid this restriction, you'll need to connect to a VPN that employs obfuscation servers.
3. Stream geo-blocked content
Due to copyright agreements, streaming services typically block access to certain content outside of the country they are based.
Though VPNs have been used in the past to bypass these restrictions, some streaming platforms like Netflix and BBC iPlayer have started to detect and block VPN traffic.
Fortunately, you can still access geo-restricted content using VPNs with obfuscated servers.
How to use an obfuscated server
While obfuscated servers provide a valuable feature for online privacy and security, not all VPN providers offer this option.
To use obfuscation, users typically need to access the advanced settings within the VPN app.
The specific steps to connect to an obfuscated server may vary between VPN providers but generally involve selecting the obfuscation protocol and connecting to the server.
The following are steps to connect to obfuscated servers using NordVPN:
Open your VPN app and click the Settings menu in the lower left corner.

In the Settings menu, select Connections.

Disable the Auto-connect settings.

Change the protocol to OpenVPN TCP/UDP.

Go to Advanced Settings and click on the expand icon.

Enable Obfuscated Servers within the Specialty Servers list.

A pop-up window will inform you that the protocol will change to make the obfuscated servers available. Click on Connect.
Note that using obfuscated servers may result in slightly slower connection speeds due to the additional encryption and obfuscation of the data.
---
RELATED:
---
How to use obfuscated servers safely?
Using obfuscated servers can be a great way to bypass internet censorship and enhance online privacy, but using them safely is important. Here are some practical tips:
Only use trustworthy VPN providers

Use obfuscated servers sparingly and only when necessary, as they may be slower and consume more bandwidth than regular servers.

Enable the kill switch feature to ensure your internet traffic is immediately blocked if the VPN connection drops.
Make use of a strong and unique password for your VPN account
Keep your VPN software and operating system updated
Summary
Obfuscated servers make it difficult for network administrators or government agencies to detect and block VPN traffic. This allows you to access the content without fear of being censored.
While obfuscated servers have their benefits, users need to be aware of the potential risks involved in using them.
To use obfuscated servers safely, users should choose a reputable VPN service provider that offers this feature.