Generally, you can't use WireGuard to protect devices that don't natively support VPN clients. Until recently, your safest choice was to use either OpenVPN or IKEv2 configuration files for manual setup.
But as this revolutionary protocol gained mainstream recognition, the number of WireGuard config providers started to grow.
Today, we talk about our five top picks. Let's jump right in!
What are the best WireGuard VPNs for your router?
The best WireGuard VPNs for your router are:
Let's go over what makes each of them special.
1. Surfshark VPN – largest WireGuard-powered VPN server network worldwide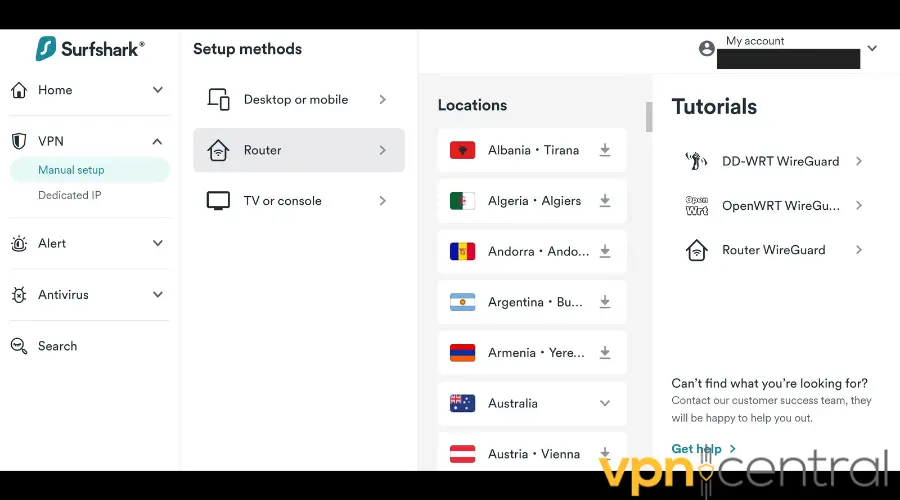 Surfshark is one of the best WireGuard VPNs. Period.
As a router VPN, it provides downloadable WireGuard configs for servers in 99 countries and territories. In other words, it gives you a wealth of options to spoof your location on all your devices.
You can also create WireGuard configs for Surfshark's nearest or fastest server. This can help minimize latency during your VPN sessions.
In terms of setup, Surfshark has a sleek WireGuard config generator. This tool allows you to easily obtain and save key pairs and manage your connections on your account.
Furthermore, if you don't know where to begin, this service provider has simple tutorials you can consult.
When it comes to compatibility, Surfshark advertises that its config files work well with DD-WRT or OpenWRT firmware. But you shouldn't encounter any setup headaches if your VPN router supports WireGuard clients. So, do your homework and Google whether your hardware supports WireGuard before you subscribe.
Other exciting Surfshark VPN features include:
Kill switch
Support for inverse, URL-based, and app-based split tunneling methods
Dynamic MultiHop
No device connection limit
Free trial for seven days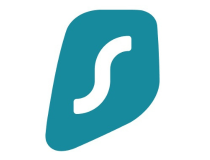 Surfshark
If you want an impossibly vast server network for your WireGuard router, try Surfshark.
2. Proton VPN – most customizable WireGuard configuration files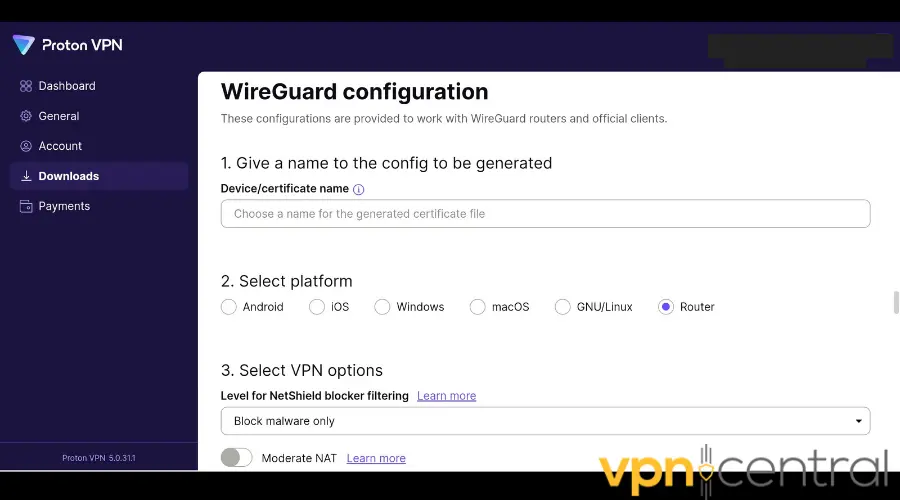 Proton supports manual WireGuard connection and implements this protocol in accordance with its official open-source specifications. So, Proton's config files should work with VPN routers with a built-in WireGuard client.
This service provider is the best WireGuard VPN for your router if you prioritize customization. In addition to the server location, it lets you include four extra VPN features to the files:
VPN Accelerator
NetShield
Moderate network address translation (NAT)
NAT Port Mapping Protocol (NAT-PMP).
Let's cast further light on them, shall we?
VPN Accelerator is a unique Proton feature, which promises better connection stability and up to 400% faster speeds. If you want to maximize this vendor's 1Tbps network capacity, toggling this on will do the trick. Plus, it's the only VPN option available to both free and premium Proton VPN account holders.
Furthermore, NetShield represents Proton's defenses against malicious characters and snoopers. You have the luxury to choose from three filtering levels: no filter, malware only, and malware, ads, and trackers.
Next, Moderate NAT is intended for gaming and peer-to-peer (P2P) networking. It's a step below strict NAT, which makes you less susceptible to correlation attacks. Meanwhile, moderate NAT lets you experience better video-conferencing sessions and Slack connections in exchange for slightly less privacy.
Finally, NAT-PMP is for port forwarding. It's useful for BitTorrent or any other P2P protocol and when playing online games.
Additionally, Proton can generate configs for its standard servers across 65+ countries and territories.
More Proton VPN selling points:
Kill switch
Support for Onion over VPN
IPv6 leak protection
Up to 10 simultaneous logins
Non–Fourteen Eyes country HQ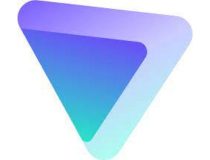 Proton VPN
Proton's advanced options are perfect if you value customization for WireGuard.
3. StrongVPN – the widest range of supported VPN routers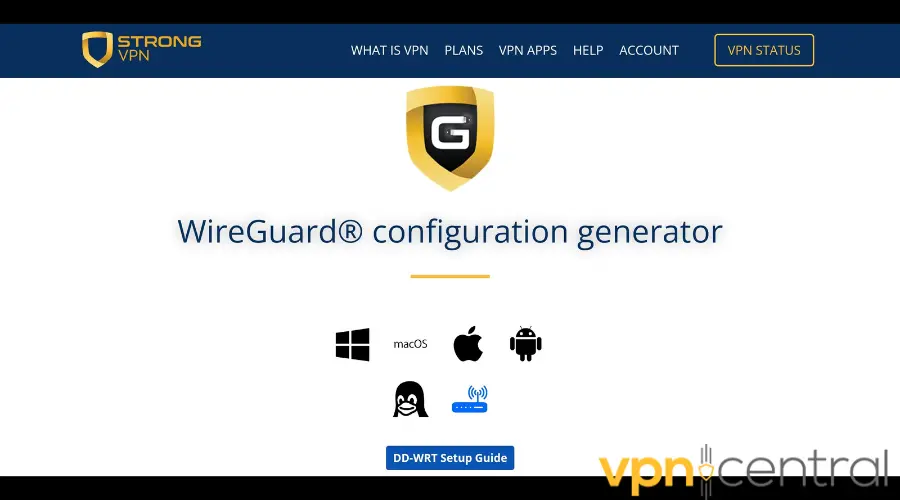 StrongVPN can churn out WireGuard configs for 67 server locations across 42 countries and territories. Its configuration files are optimized for Sabai, DD-WRT, OpenWRT, GLiNet, Tomato, and ASUS routers.
This vendor has also prepared several guides to set up this protocol for different routers. If you can't find the proper tutorial, you can reach out to its approachable help desk for assistance.
This VPN's WireGuard config generator has some latitude in customizing your files, too. Using it, you can:
Export your configs in ZIP
Exclude LAN traffic to prevent WireGuard from tunneling private IPs
Use your own public key
Enter a custom port number.
Unlike other service providers, StrongVPN doesn't make its WireGuard config generator on tap when you log into your account. You'll have to go to its website to launch this tool.
What StrongVPN also offers:
Unmetered server switching
Inverse split tunneling
Untrusted network protection
Up to 12 simultaneous logins
30-day money-back guarantee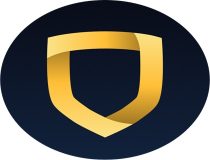 StrongVPN
StrongVPN is your best bet if you're having trouble finding a provider that supports your type of router.
4. VPN Unlimited – most WireGuard configs for streaming and torrenting-optimized servers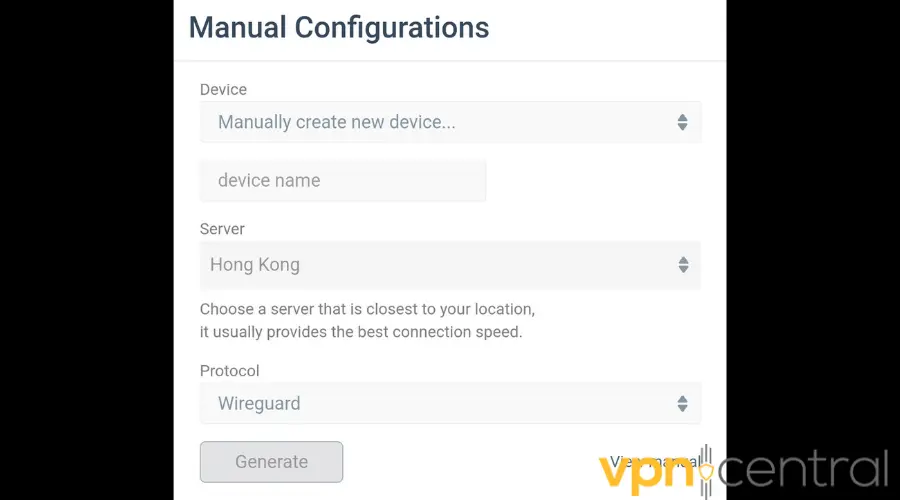 VPN Unlimited by KeepSolid has an intuitive manual VPN configuration file generator that offers WireGuard configs for:
69 standard server locations across 55 countries and territories
Location-specific torrenting (France, Romania, and Ontario, Canada)
9 service-specific streaming server clusters (Amazon Prime Video, BBC iPlayer, Disney+, HBO Now, Hulu, Netflix, Popcornflix, Rai.tv, and Sony Crackle)
2 generic streaming server clusters
1 Italian and British streaming server cluster.
Keep Solid doesn't offer more customization, except for letting you create a new device profile. Still, that's perfect for routers! If you've maxed out your five-device limit, you can make room by deleting one or buying an extra slot.
In terms of tutorials, this VPN vendor has manual WireGuard configuration setup guides for DD-WRT, GLiNet, and OpenWRT.
With VPN Unlimited, you can also expect:
Kill switch
Inverse split tunneling
Untrusted network protection
Personal server and static IP add-ons
Free trial for seven days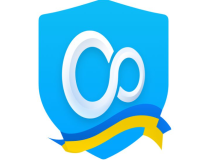 VPN Unlimited
VPN Unlimited has an amazing offer of streaming and torrenting-optimized servers for WireGuard.
5. PureVPN – strongest choice for privacy and cybersecurity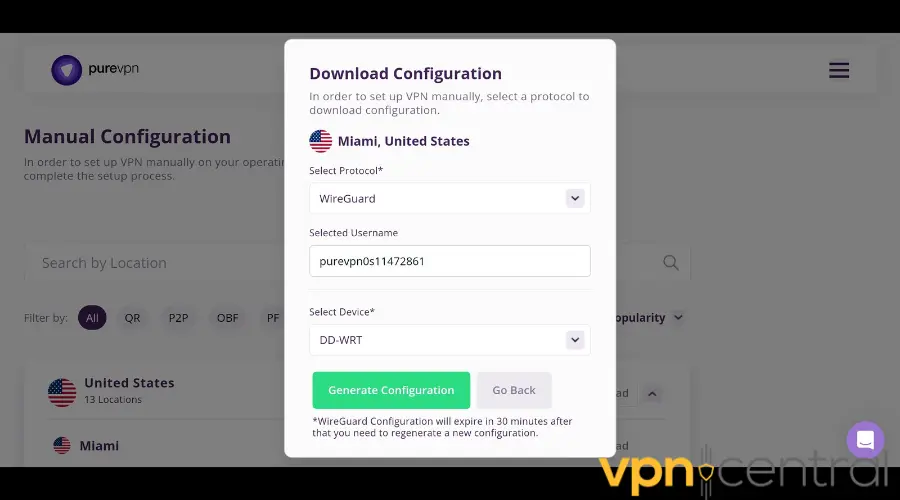 PureVPN has achieved seamless navigability in its config file generator. It has a search function and filters based on popularity, name, and server specialty. That includes quantum-attack resistance (QR), obfuscation (OBF), P2P, and port forwarding (PF).
However, it only supports DD-WRT and Tomato routers. Still, what separates PureVPN from the rest is the exoticness of some of its locations.
For example, it covers Afghanistan, Aruba, Bangladesh, Barbados, Bermuda, the British Virgin Islands, the Cayman Islands, and Oman. What's more, it has the ninth-largest global network by our count.
As of now, you can manually mask your router traffic via WireGuard using IPs from 68 countries and territories. Likewise, the US, Canada, the UK, and Australia have multiple server locations, too.
Here's the caveat, though:
PureVPN's WireGuard configs have a shelf life of 30 minutes. If you don't activate a connection after downloading one within this window, you'll have to create a new one.
PureVPN's other claims to fame:
20Gbps servers
Inverse and app-based split tunneling methods
Up to 10 simultaneous logins
Non–Fourteen Eyes country HQ
$0.99 paid trial for 7 days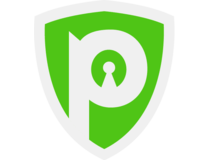 PureVPN
PureVPN is the smartest option for privacy-oriented WireGuard users.
How to set up a WireGuard VPN on your router
Using Surfshark as an example, follow these steps to learn how to set up a WireGuard VPN on your router:
Go to the Surfshark VPN's site to log into your account.

Proceed to "Manual setup" under the VPN tab.

Choose "Router" as your setup method.

Pick "WireGuard" as your protocol.

Select "I don't have a key pair" to generate one.

Name your key pair to easily identify it in your library of connections, then click "Next."

Hit the "Generate a new key pair" button.

Copy and store your public and private keys because you can only see them once.

Click or tap on the "Choose a location" button.

Download the configuration file of any available server location.

Follow Surfshark's setup tutorial for DD-WRT or OpenWRT or any other manual WireGuard configuration instructions on the internet.
Wrap up
At the moment, the best WireGuard VPN services for your router are Surfshark, Proton, StrongVPN, VPN Unlimited, and PureVPN. They all offer amazing customization options fit for both novices and more tech-savvy users.
Additionally, our little guide demonstrates how easy it is to configure WireGuard on your router. So, give it a try and let us know how it turned out in the comments below!