You can run your VPN from your computer, smartphone, or almost any other device that you use to access the internet.
However, with a VPN router, you can cover your entire network in one go.
So, read on to understand what a VPN router is, how to set one up, and what the best models are!
What is a VPN router?
A VPN router allows you to run a VPN from the router itself, and therefore the network that you get from it will already be tunneled through your VPN.
All your devices will consequently be VPN-protected every time you access the internet, and you won't have to worry about forgetting to start your VPN.
Why use a VPN router?
The first benefit of using a router-based VPN is that though configuring the VPN may be a bit technical, once you set it up then you won't be connecting a VPN every time you want to use it.
Secondly, any person who connects to your home network and does something that may draw the attention of the authorities won't raise any alarm.
Still, if your VPN offers limited simultaneous access, you won't have a problem with it since your router will only use a single connection to cover the whole network.
Furthermore, you'll be able to use the VPN on all sorts of devices without limitation. This means that you can access geo-restricted content on your Smart TV, Xbox, Play Station, etc. Basically, all devices that would otherwise have been hard to connect to a VPN.
The downsides of using a VPN router
While there are many benefits of running a router-based VPN, a downside or two are also bound to be there.
The first one is the unavoidable reduction of your total bandwidth. Your whole network will be tunneled through secure and encrypted servers, and therefore you will note a decrease in speed.
However, with a quality VPN with good speeds, your internet will be just fine.
The other problem is that you will most probably have some trouble accessing local resources or information. Search engines customize search results depending on the location of your IP address and since your whole network is masked with a different location, you won't get localized results. You may even be unable to access your local bank.
If not, you may experience some considerable lag when accessing local resources. For example, when connected to a UK Server while you're in the US, your traffic to access local resources will be tunneled all the way to the UK and then back, while it could have just been taken across the country.
However, the benefits of tunneling your entire network through a VPN hugely outweigh the negatives.
Setting up a VPN router
To have a VPN covering the whole network, there are two major things that you have to consider:
Your VPN's capabilities
Your router's capabilities
The main reason for this is that not all VPNs support VPN routers, and not all routers can run a VPN.
Now, if compatibility is taken care of, here's how you can set up a protected network:
Pick a VPN-ready router

Buying a router with a VPN client configured will go a long way toward simplifying everything for you. It will save you the headache of having to deal with DD-WRT flashing.

However, you need to make sure that the router doesn't just have a VPN Server but a VPN Client or VPN Client Mode.

Flash a DD-WRT firmware

This is another option, albeit more involving. It requires you to have the DD-WRT firmware. This firmware is however free and available for a large number of routers. The firmware usually has a VPN Client mode, and so you only need to install it.

You can run the firmware on your router if it's capable, or you can buy one that can be flashed. Flashing may sound a bit scary if you haven't done it before but don't worry, it's entirely safe.

There's a DD-WRT router database that lists compatible routers and so you can confirm your model. Each router has step-by-step instructions that can be followed to accomplish this.

You can also find some pre-flashed routers if you aren't comfortable with flashing one yourself, but the companies that do the task charge a premium price for it, and so flashing it yourself may be a better option.
Why DD-WRT Routers?
Having a DD-WRT is just like running a business-class router. It provides you with some great flexibility that you can't get with regular routers. Here are some advantages of using a DD-WRT Router:
Domain Name System (DNS) Caching helps speed up connection to cached websites.
Advanced QoS (Quality of Service) Controls
With a DD-WRT router, you can change bandwidth allocation settings for different networks.
IPv6 support
Network Storage (NAS)
You can connect USB Drives and Hard Disks as well as Network Printers.
Adjustable Antenna Power. This helps you increase your Wi-Fi's range.
Advanced Performance Analysis. DD-WRT routers have the ability to analyze network performance and bandwidth, then display it in detailed graphs, charts, and statistics.
Best DD-WRT Routers For VPN Connections
We've showed you why you should get yourself a DD-WRT VPN Router. However, choosing the best one can be daunting.
In this section, we'll take you through some of the best DD-WRT routers on the market.
Asus RT-AC5300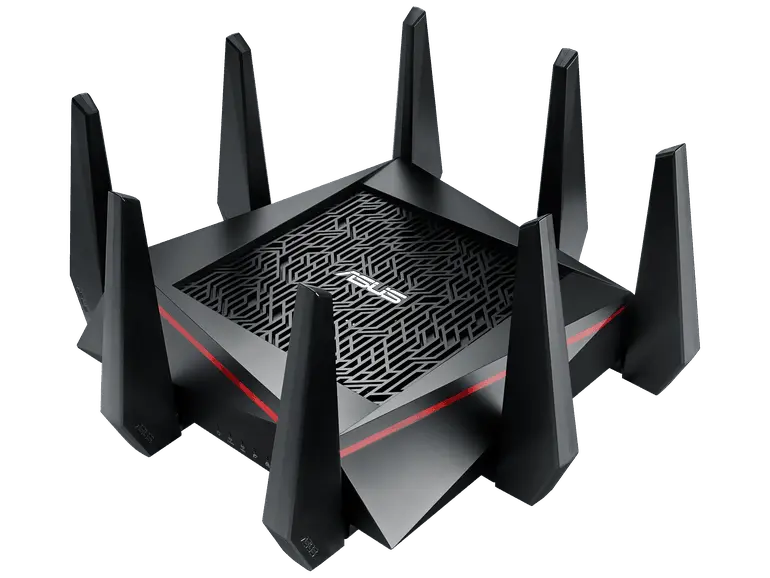 By the look of it, it looks like a robotic alien "facehugger", and its performance reflects that too. This is one of the best Wi-Fi routers that you can get, and giving it a DD-WRT firmware only makes it a beast.
It features a 1.4 GHz processor alongside 8 external antennas which ensure a fantastic range. You can also set up two 5 GHz networks with the MU-MIMO technology which provides dedicated performance.
If you want to stream in HD or don't want your gaming consoles to bring down your bandwidth, then this is the VPN router for you.
Here are its specs in a nutshell:
CPU: 1400MHz dual-core
Ram: 256MB
Flash: 128MB
Antennas: 8 external
USB: USB 2.0, USB 3.0
Transfer Rates: 1000Mbps 2.4GHz, 2x 2167Mbps 5GHz
Linksys WRT3200ACM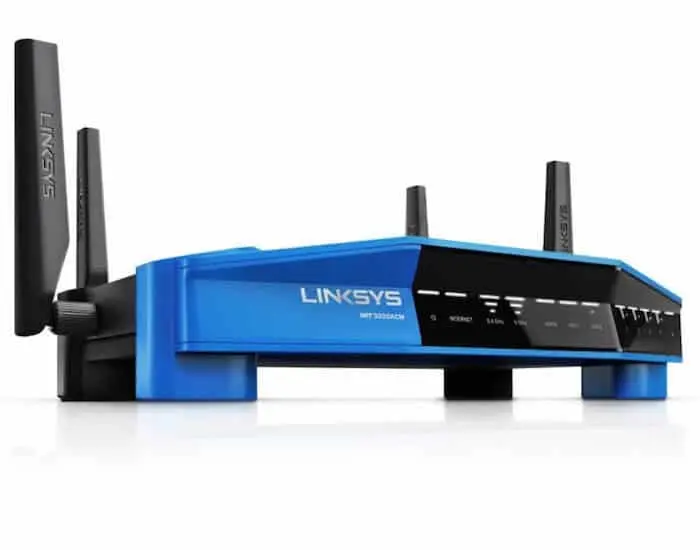 This Linksys device brings the classic WRT54G back and makes it bigger and better. It features Linksys Blue and Black traditional colors with an improved design and 4 antennas.
Additionally, it has the fastest processor in a DD-WRT router. However, what sets it apart is its ability to support 160MHz channels which theoretically doubles your total bandwidth on the 5 GHz band.
It has MU-MIMO technology and is suitable for intensive tasks such as gaming, Ultra HD Streaming, and VPN Use.
Specifications:
CPU: 1.8Ghz dual-core processor
Ram: 512MB
Flash: 256MB
Antennas: 4 external
USB: USB 2.0, USB 3.0
Transfer Rates: 600Mbps (max) 2.4GHz, 2600Mbps 5GHz
The Netgear Nighthawk AC1900 (R7000)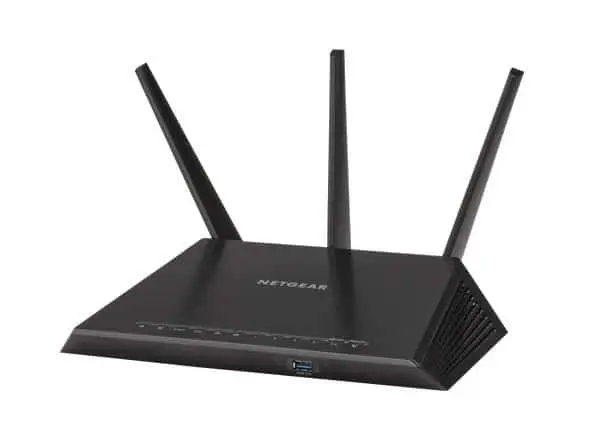 The Netgear Nighthawk R7000 is just as cool as its name suggests. It's a networking centerpiece that has more than enough power and style to make your VPN Wi-Fi business class.
The R7000 is a perfect fit if you want to save a few bucks but still get a premium router. It has 3 removable antennas and a theoretical bandwidth total of 1.9 Gbps with a 3×3 dual-band approach.
Specs:
CPU: 1000MHz dual-core
Ram: 256MB
Flash: 128MB
Antennas: 3 external
USB: USB 2.0, USB 3.0
Transfer Rates: 600Mbps 2.4GHz, 1300Mbps 5GHz
Asus RT-AC56U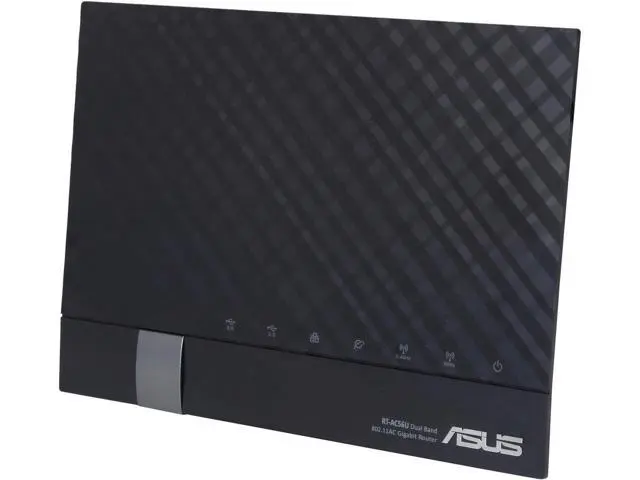 The Asus RT-AC56U is a supercharged 800 MHz Broadcom processor router, and one of the most popular ones for home use. That's because of its high processing power and super performance.
It offers speeds of up to 1200 Mbps across the two bands and utilizes 4 internal high-efficiency antennas. When you install the DD-WRT router to this device, you won't have to worry about buffering when streaming HD videos.
Specifications:
CPU: 800MHz dual-core
Ram: 256MB
Flash: 128MB
Antennas: 3 internal
USB: USB 2.0, USB 3.0
Transfer Rates: 300Mbps 2.4GHz, 867Mbps 5GHz
Linksys WRT1200AC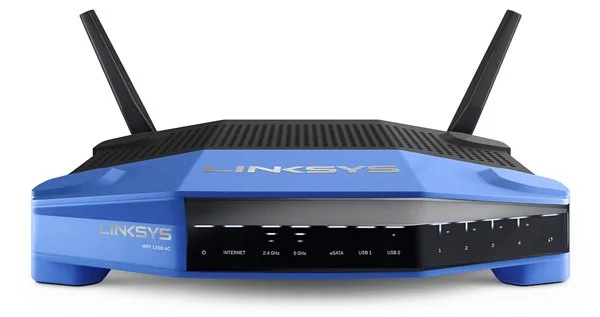 The Linksys WRT1200AC a top-performing router, and an excellent option for home use. It combines quality performance with a good Wi-Fi range.
The router uses a 1.3 GHz Dual-Core Marvell ARM CPU to deliver best-in-class AC1200 speeds. It has 4 Gigabit Ethernet ports which are 10X faster than Fast Ethernet. It also has USB 2.0 and 3.0 ports that can be used to share external storage devices or printers.
Specifications:
CPU: 1.3GHz dual-core processor
Ram: 256MB DDR3 system memory
Flash: 128MB
Antennas: 2 external
USB: USB 2.0, USB 3.0
Transfer Rates: 400Mbps 2.4GHz, 867Mbps 5GHz
Conclusion
The above VPN routers are bound to give you quality performance, and can all be bought at flashrouters.com. However, as mentioned before, their prices are usually highly escalated after pre-flashing, and you'd be better off learning how to do it yourself or finding someone to do it for you.
When you get the router and have a good VPN running in it, you'll have your whole network covered, and won't have to worry about your security and privacy anymore!
---