VPN Unlimited is a VPN service offered by a New York-based company KeepSolid.
It was launched in 2013. According to its team, it was one of a few VPNs, which didn't limit bandwidth or traffic back then.
Today VPN Unlimited is among the ten most recognized out there thanks to its speed, the offering of 1000+ servers worldwide, and relatively low price.
In this piece, we'll review all of VPN Unlimited's features. So if you're not sure if it's a good VPN for your needs, look no further.
VPN Unlimited features
What makes VPN Unlimited stand out? Definitely its features. Below we'll take each one by one so you'll know exactly what to expect from this VPN.
Before even starting, the most important thing to know is that VPN Unlimited is available for:
iOS
Android
macOS
Windows
Linux
Mozilla plugins
Firefox plugins
Google Chrome plugins
Moreover, with one account you can log in and have 5 simultaneous sessions on 5 different devices.
Plus, if you need more, you can install it on your router.
Now let's get down to the nitty-gritty!
Privacy and security
VPN Unlimited offers AES-128 and AES-256 encryption, which are very effective in terms of data protection.
They vary depending on the protocol and operating system. However, both are of the military level and are said to be unbreakable by brute force attacks.
Protocols vary for different platforms too. I was testing the iPhone and Mac versions, which have IKEv1 and IKEv2 set by default.
You can switch to OpenVPN, KeepSolid Wise, or choose a profile installation mode on Mac.
Depending on what protocols your smartphone or laptop supports and which is allowed by the network you connect to, stick to the one that doesn't lower the speed drastically and protects your device better.
I personally went for OpenVPN and KeepSolid Wise.
On Android, Windows, and Linux you won't have other options.
It offers just these two protocols.
On Windows Phone, the app has L2TP/IPsec and PPTP protocols. Google Chrome and Mozilla Firefox plugins offer TLS encryption.
What is KeepSolid Wise?
KeepSolid Wise is an obfuscation feature that disguises VPN traffic as HTTPS traffic.
It uses TCP 443 and UDP 33434 ports with OpenVPN protocol to help you to bypass firewall restrictions and packet shaping control for most environments.
It can be used on your trips to countries, where VPNs are banned. However, this one is unable to avoid being detected by Netflix.
Prices and plans
If you check the VPN Unlimited website, you will see only three plans.
Economy: 1-month plan, which will cost you $9.99.
Professional: one year long, billed $49.99 yearly.
Lifetime offer- you pay $199.99 and get VPN Unlimited for life.
Though if you go to the user's office or check it in the app, it has much more options available.
For instance, if you need a 1-week plan for your vacation, get it for $3.99. 3-month and 3-year plans are also available there.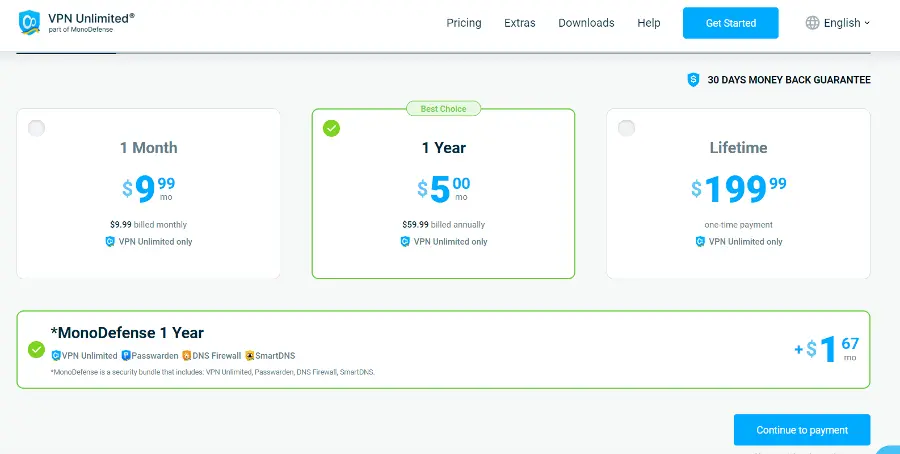 Payment Methods
VPN Unlimited accepts BitCoin as well as gift cards and other standard options, like PayPal or Apple Pay.
Servers
The VPN Unlimited servers are located in over 80 regions.
The number, according to their website, is over 3000.
Moreover, you can send a request for the developer to add a country of your choice if you are not satisfied with the current list.
I found the list pretty decent. The offering includes, but is not limited to the servers in:
Australia
Austria
Belgium
Bulgaria
Brazil
Canada
Cyprus
Denmark
Finland
France
Germany
Hong Kong
Iceland
India
Ireland
Isle of Man
Israel
Italy
Japan
Malaysia
Mexico
Netherlands
New Zealand
Romania
Singapore
South Africa
Sweden
Switzerland
Turkey
United Kingdom
United States.
Torrenting is not allowed on most of these. But it marks data centers that allow legal p2p in the app.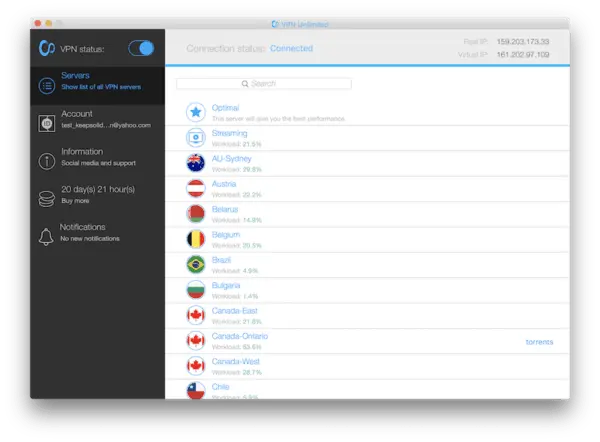 Now let's review VPN Unlimited's privacy policy.
Privacy policy
According to the statement on their website, KeepSolid has no access to your database password or any data stored in your local database on your devices.
It doesn't collect and log any user activities while using any of their VPN services, except the total amount of web traffic for each session and session dates.
KeepSolid also stores encrypted information about the number of connected devices for each account, as the maximum permitted amount is limited.
Some users might think the USA jurisdiction is a disadvantage, but as long as KeepSolid has no logs or information to respond to any query, there is nothing to worry about.
However, due to the invasive surveillance policy in the US and lack of privacy, never let your guard down.
Bandwidth
Bandwidth influences the volume of data that can be transmitted through a server in a fixed amount of time.
The higher the better, of course.
VPN Unlimited does not limit this amount so you can stream and download as much as you want.
User-friendliness
As an avid VPN reviewer and user, I can tell you one thing: VPN Unlimited's apps for macOS and iPhone look really nice.
The setup process is smooth. It offers a quick tutorial, but honestly, the interface is very intuitive and you can skip it all together.
Because when you set up your login and password, all you need to do is to hit a Connect button.
By default, you'll be connected to an optimal server, which is the closest to your location and the less loaded one.
If you need more control over this, just open the list of servers and scroll through it or start typing in the search tab.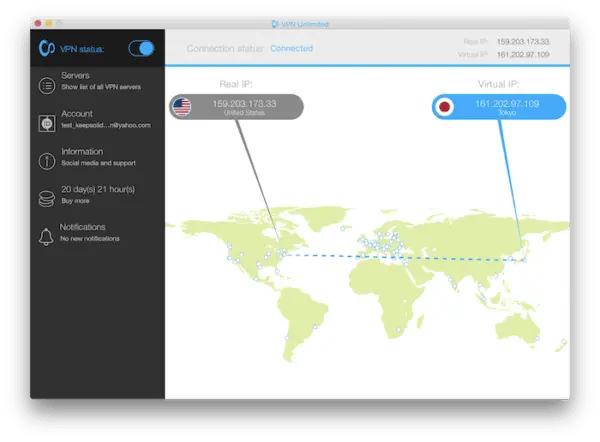 Support service
You can contact their technical support from within the app directly.
This is very convenient for your device, OS version, location, etc. will be added automatically to the message. Though you probably would contact them when your app crashed or didn't connect.
You have a few options: Twitter, Facebook, or email.
It also offers you to browse through their FAQ and Manuals on their website.
VPN Unlimited additional benefits
In addition to the regular set of features, VPN Unlimited offers its users Personal Servers and Personal IP addresses.
Avid gamers and tech-savvy persons will definitely appreciate these. It also has a small Team & Family account offering, which lets an administrator manage the subscription for a team.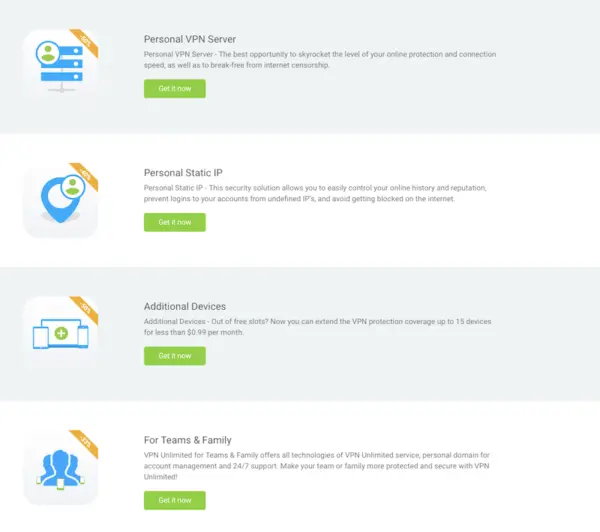 Conclusion
VPN Unlimited has everything you might fancy and a little extra.
It has a simple app for almost all devices you possibly have, a variety of servers and locations, subscription plans on any occasion, and what is more important it protects your privacy without decreasing your connection speed.
We hope this review helped you understand what you get if you subscribe to VPN Unlimited and decide whether or not it's worth it for you.
Nevertheless, if you're still not sure, you can try it out and get a refund in 30 days if you're not satisfied with it.