Because Surfshark managed to establish itself as one of the most popular names in the industry fairly quickly, we'd like to take a deeper look and see exactly what made it succeed.
So today we'll review all of Surfshark VPN's features, pricing, and performance.
Also, we check whether the talks of its premium 24/7 customer support service, as well as a user-oriented approach to its Privacy Policy and design, are valid.
Surfshark VPN pros and cons
Pros ❎
At first glance, Surfshark has it all:
It even has an easy-to-set-up Smart DNS function as well as is the only VPN we've ever tested to support unlimited simultaneous connections.
Cons ❌
Despite being an overall great deal, there are things that need to be improved, and one of them is its speed at peak times.
But we'll get back to this later.
There are even some questions that need to be answered like:
Where is Surfshark based?
What does Surfshark VPN do?
How secure is Shark VPN?
Is it user-friendly?
How much does it cost?
We will get all these questions covered in this review of Surfshark.
All in all, this VPN is a real bargain that is worth a try. And if you decide that it does not stand to your expectations, there's always a 30-day money-back guarantee option to save the day.
This Surfshark review looks into the pros and cons of the service to help you make the right choice.
Features summary
Protocols: OpenVPN (TCP, UDP), IKEv2, Shadowsocks
Encryption: AES-266-GCM
Connection limits: Unlimited
No logs: Yes
Servers: 3200 in over 100 countries
Unblocks Netflix US, UK, Canada, Germany, France, India, Netherlands, Japan, Italy
Unblocks HotStar, BBC iPlayer, Kodi, Sky, DAZN, HBO, Hulu, Hotstar, and many more
Kill switch: Yes
Smart DNS: Yes
Ad blocker: Yes
VPN split tunneling: Yes
Torrent-friendly: Yes
Server switches & data traffic: Unlimited
Double VPN: Yes
Compatible devices: Windows, MacOS, iOS, iPhone, iPad, Android, Apple TV, Android TV, Amazon Fire TV stick, PlayStation, Xbox, Linux, Routers
Customer care: 24/7 live chat (temporarily unavailable), email & contact form
30-day money-back guarantee
The best thing about these features is that all of them are included in every subscription plan.
Knowing the fact that SurfShark allows unlimited simultaneous connections, this is a bargain for anyone.
Plans & prices 💰
The service is among the best VPNs in the industry, but even so, its prices are slightly cheaper than most other top VPNs demand.
Surfshark has three simple and straightforward plans, which are as follows:
1-month plan for $11.95 per month
12-month plan for $5.99 per month (charged annually)
24-month plan for $1.99 per month (charged once every two years)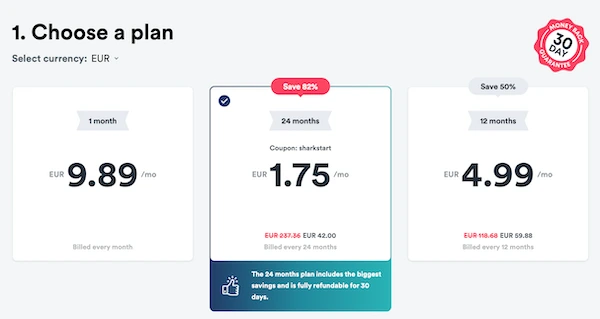 As you can see, the plans are pretty simple to understand. The first one is roughly $12, with no discount. The second one offers a 50% discount on a monthly basis, but it requires you to subscribe for a year. The last one lets you save 83% per month, although you need to commit to it for 24 months.
They all offer the same, and the length of the plans and their prices are the only things that differ.
Free trial
We must also mention in this review that Surfshark VPN does offer a 30-day money-back guarantee which is absolutely reliable.
This is not an official Surfshark free trial.
However, during this period, you may decide to cancel your subscription for whatever reason and the company will refund you.
No questions will be asked and you will get your refund even if the VPN doesn't have any technical problems.
30 days is a sufficient time to test the service from every angle without risking anything.
Is Surfshark VPN good?
You may wonder how good is Surfshark.
In preparation for this review of Surfshark VPN, we tested the service extensively for a period of time and we have been favorably impressed.
Here is a list of what we have found interesting with Surfshark and our brief summary will help you understand how Surfshark VPN is.
Privacy
The core slogan of the company is "Secure Your Digital Life".
The good thing is that it stands to its promise. The owner of the brand (which is a registered trademark) is Surfshark Ltd., a company registered in the British Virgin Islands.
Therefore, Surfshark is officially based in the British Virgin Islands.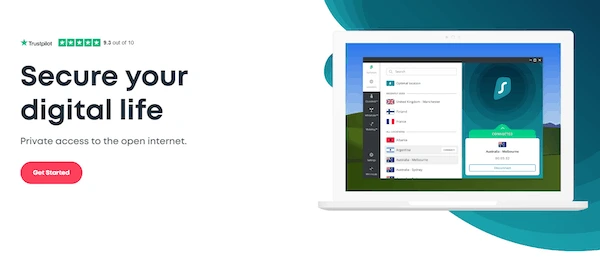 The country is a safe haven for VPN providers as it has no data retention laws. This means that if a company stands true to its No Logs Policy, then you are safe.
We haven't found any information about scandals related to Surfshark and their Warrant canary looks clean, so there is no reason to doubt their claims.
We can affirm that Surfshard is a safe VPN to protect your digital life.

Security and encryption
Encryption is an extremely important part of any VPN, and Surfshark offers the best one in the industry 256-bit AES encryption.
This encryption has never been broken, and it likely won't be for a long time to come.
Basically, when you use encryption, all of your data becomes unreadable to anyone who tries to see what it is you are doing online.
You will never know the difference, as it will all look perfectly normal to you. However, anyone from the outside will only see unreadable content.
Surfshark VPN uses modern security protocols and high-level AES 256 GCM encryption.
On top of that, the fast and stable IKEv2 is a default protocol on all Surfshark apps (except for Linux), but one can choose OpenVPN in the settings of most of the apps.
Somehow Surfshark even managed to implement IKEv2 on the Windows platform, which is a rare case in the industry.
They also offer a very fresh Shadowsocks protocol for Windows users. It's intended to improve user experience in restrictive markets such as China.
That's not all – you should know that Surfshark is one of the very few VPN providers that has gone through an independent auditing process.
Last year Surfshark was audited by the German security company Cure53 which found no cracks in either privacy or security terms.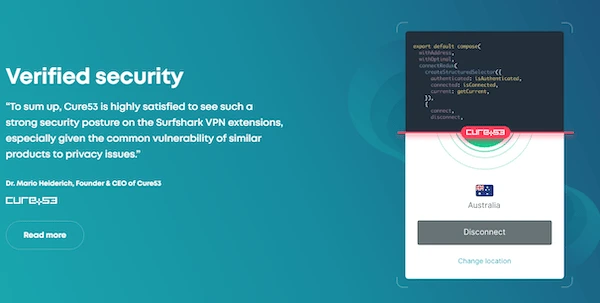 Surfshark VPN protocols review
Also security protocols worth mentioning, such as the best one in the industry OpenVPN. This protocol does something similar to encryption, although in a different way.
While encryption makes your data unreadable, security protocols create secure tunnels for your data to flow through.
The tunnel will protect it from anyone who tries to see it, so all of your online actions will be safe from curious eyes
No logging policy
Surfshark will not store and collect any of your browsing activity or other information.
It will only keep the data you provide during signup, as it needs it in order for payments to be processed. Other than that, everything that you do while using it will be deleted as soon as you disconnect.
This is possible because Surfshark is based in the British Virgin Islands, which is a privacy-friendly region that would not invade your privacy by demanding that the VPN must record your actions.
IP hiding capabilities
The next feature on the list is the ability to hide your IP address.
Your IP is the online address that can be used to identify you. As such, it is imperative that it remains hidden as you browse the web.
Surfshark ensures this whenever you connect to one of its servers. It simply replaces your real IP address by assigning you one of its own. That way, if anyone attempts to track your address, they will see the location of the server you have connected to, instead of your own.
No Borders mode
As a VPN, Surfshark has the ability to help you reach blocked websites no matter where you are in the world. Any restrictions, including geo-restrictions, or censorships introduced by your ISP or a private network you may be connected to, can be bypassed with a No Borders mode.
With it, you can simply connect to a different server and access pretty much anything on the internet.
Camouflage mode
Another layer comes in the form of Surfshark's Camouflage Mode, which is there to ensure that your VPN-protected traffic would not stand out from the normal internet traffic.
As such, it will still keep you safe, but to any potential observer, it will look perfectly normal, at least until they try to view it.
This is a great feature for avoiding suspicion from your network provider, who will never know that you are keeping yourself extra safe.
Smart DNS
Strangely, there are few VPN providers which offer an easy-to-use Smart DNS feature. Surfshark goes the extra mile with this and provides Smart DNS functionality to all its users.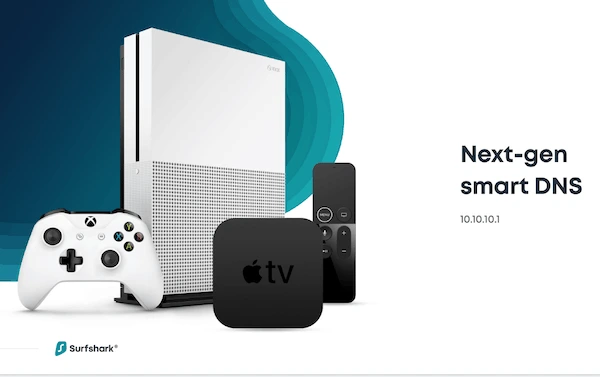 This feature is handy for those who want to stream Netflix content on such devices as PlayStation, Xbox, Apple TV, other gaming consoles, and smart TVs which do not support VPN.
Surfshark Smart DNS is straightforward to activate. Just go to the official website, then log in to your account, and enable the feature. Simple as that.

Private DNS and leak protection
Surfshark can keep you safe in many different ways, one of which is Private DNS and Leak Protection. Basically, this is a feature that is available on each server, as every one of them has private DNS and leak protection enabled. If you use an IPv4 stack, you will be perfectly safe from your data leaking. Also, we should note that this is only one layer of security offered by this VPN.
CleanWeb – Ad & malware blocker
Today, a great VPN must have an ad blocker.
Surfshark has one which is named CleanWeb™. This feature is unique as it works on a DNS level, and is therefore undetectable by websites that do not tolerate ad blockers.
Also, CleanWeb blocks malware, trackers, and phishing attempts which adds to improved online security.
Additionally, Surfshark's ad blocker is beneficial if you have a limited mobile data plan.
By blocking ads and banners, it can help you save up to 40% of mobile data per month (of course, this depends on your browsing habits). This is a savior for those who use mobile roaming while traveling.
Kill switch
But this is not the only good news for torrent fans. Surfshark has a Kill Switch on all its apps.
The switch cuts your internet connection if for some reason VPN connection drops, and in this way prevents you from any exposure.
Also, the software uses uncrackable AES 256 encryption and offers modern security protocols such as OpenVPN and IKEv2.
Split tunneling
Torrenters and P2P fans know that Split Tunneling is a lovely addition to a VPN service. Surfshark calls this feature Whitelister.
It allows you to choose apps that do not need to be routed via a VPN tunnel. This is useful when using banking or other applications which simply don't work while a VPN is on.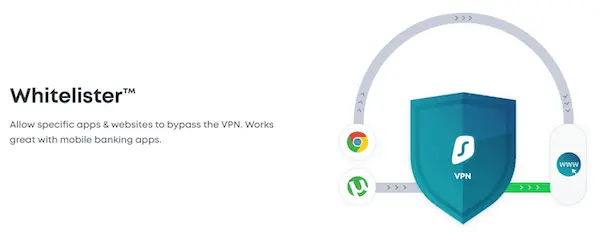 Surf Shark went the extra mile and expanded split tunneling functionality beyond apps. You can also whitelist specific URL addresses.
MultiHop as double VPN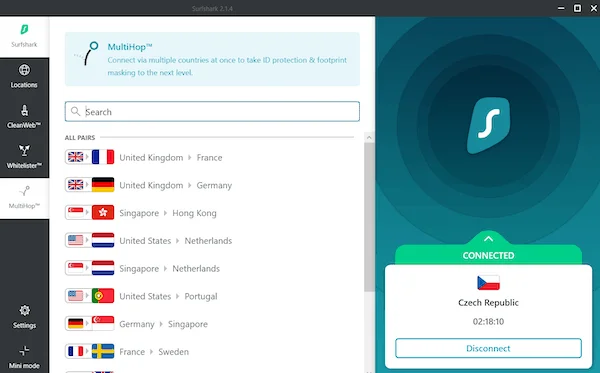 Those who seek extra security features will like the MultiHop feature. It is basically a Double VPN that routes your traffic through two different VPN servers.
A good thing with MultiHop is that Shark VPN has specific routes optimized for this so that you do not lose much speed.
Compatibility
The most talked-about feature of Surfshark is that it allows unlimited simultaneous connections. This means that you can use one account to connect as many devices as you wish. It is a bargain no other VPN offers.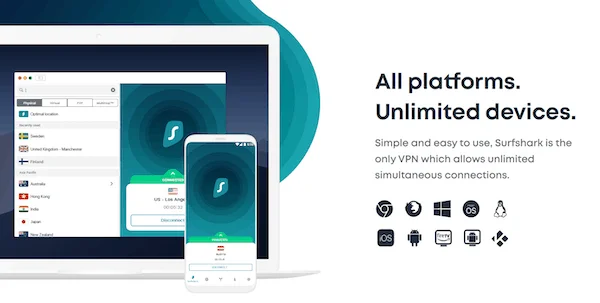 To deliver on this promise, Surfshark has developed applications for a variety of platforms and operating systems. These include;
macOS
iOS
Windows
Android
Linux
Android TV
Amazon Fire TV stick
Chrome
Firefox extensions
PlayStation
Xbox
Apple TV
and more…
Does Surfshark VPN work with Netflix?
Yes. Surfshark works perfectly ith Netflix.
During the review process, we were able to access 9 different Netflix libraries by connecting to Surfshark VPN's international servers.
That's more than the 8 libraries they promote on the site, and the tool may be able to unlock even beyond that.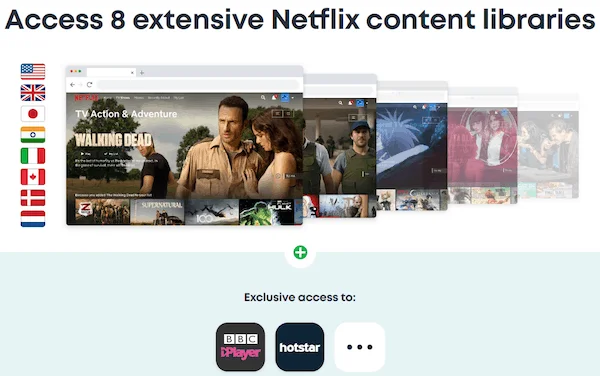 With Surfshark Netflix you can enjoy not only USA Netflix but also the ones of the;
United States
United Kingdom
Italy
The Netherlands
France
Germany
Japan
India
Canada.
Also, you will access:
BBC iPlayer
DAZN
Hotstar India
Rai Play Italia
Sky
Is Surfshark good for torrenting & P2P?
Our review wouldn't be complete without mentioning how the VPN handles torrenting and P2P.
You may probably know that not every VPN provider supports torrenting at no extra cost.
Surfshark allows torrenting & P2P activities without any limits and even take additional measures to ensure the safety of its users.
Torrenting is allowed on all Surfshark servers. As an extra security measure in some countries, your P2P traffic will be routed through optimized servers in the nearest torrent-friendly location.
Does Surfshark work in China?
Absolutely, Surfshark can be used from anywhere, including China.
The service already has a massive number of servers, and it recently added even more of them. In fact, China's blocking procedures were one of the main reasons for this.
The VPN also has testers located inside the country, who continuously check for issues, and report them if there is anything that needs fixing.
China has been improving its Firewall, and not a lot of VPNs can still serve its Chinese customers reliably. However, Surfshark is one of the few exceptions, and it does its job as professionally as always.
Speed test
Apart from impeccable privacy and security, speed is the most important factor of any VPN service to guarantee the best user experience.
Although Surfshark has a comparatively small server network of 800+ servers, it does an excellent job to optimize the performance.
To make our review comprehensive, we performed several speed tests at different times of the day, and they all showed decent results.
Just to put everything into place, here is a speed test result without the VPN activated.

For the first test, we chose Surfshark's Quick Connect feature which, presumably, determines the optimally located server, meaning the one which guarantees the best download and upload speeds as well as the lowest latency.
The "Quick Connect" connected us to the closest server available from Surfshark's network, and the result was very good.
Although the latency has increased by more than four times, the download and upload speed drops were minimal.
A 13% drop in download speed will not impair your browsing experience.
We performed the same test at the same location at different times of the day. There were no notable fluctuations, which shows how stable this VPN is.

For another speed test, we chose a location manually. This time it was a faraway location in another continent. It was evening time in that part of the world, so we tested Surfshark during peak time usage.
While performing this test, our original download speed dropped by 24% while the upload speed was around 45% lower.
Naturally, due to a distance of several thousand kilometers, the latency increased dramatically, but this happens with all the VPN providers.
Also, let's not forget it was a peak time there.

To sum up the performance of Surfshark speed-wise, it is difficult to give it anything but good grades.
Most of the VPNs perform worse, thus taking into account Surfshark's low server network, we should give applause.
The speeds will definitely be enough to stream your favorite TV show from another part of the world.
How to use Surfshark VPN
One of the many great things about Surfshark is that it is very user-friendly. This makes it easy to use, even for first-time VPN users.
Even the installation and setup processes themselves are incredibly quick, and anyone can complete them within minutes.
Signup and download the app.

As a new VPN user, you would be required to visit Surfshark's website and sign up for an account. Alternatively, if you already did that, simply log in with your account, and choose an app for the device/system you wish to use Surfshark VPN on.

After downloading the app, simply start the installation process, and the VPN will guide you through it on its own. There are no intricate details to point out here, and it is all very straightforward. The same can be said about the setup, once the installation is complete.
Even so, for your convenience, we have created a quick guide, just in case there is something that we may have missed, and that could be considered unclear to a first-time user.

Select setup language

The first step will be to select the setup language. The default language is US English, although you can change it to any of the offered languages that might be a better fit for you.

Choose the installation location.

Next, you will have to choose where on your device you wish for the software to be stored. The install will require only around 32MB of space, but still, make sure that you have enough before continuing.


Run the software

Next, run the software for the installation to complete.


Start using Surfshark.

Activate Surfshark and start to surf the Internet in total privacy and security. You may notice right away that the UI is very small and simple to use. This is intentional so that there would not be too many distractions for new users that would confuse them or intimidate them.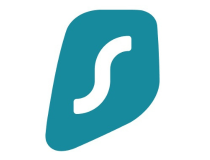 Surfshark
Protect your privacy, unblock restricted content and get unlimited connections for all devices!
Customer Support 24/7
We've noticed a tendency that only those VPN providers who really care about their users offer 24/7 live customer support service. Surfshark is one of them.

With a 9.1 review rating on Trustpilot, it's one of the very few VPNs to shine so brightly in the eyes of their users.
Although the number of reviews is quite small, that's still a substantial number for such a new service. The reviews talk for themselves:
We got in contact with customer support during the days we were preparing our Shark VPN review. We can confirm that the support offered is very good and efficient. You can reach their customer support via live chat on their website, send an email, and reach them out via Twitter, Facebook or Instagram..
Surfshark VPN review – conclusions
Surfshark is a very new and promising VPN provider. It was challenging to find a crack in it – tight privacy protection, advanced security, satisfying speed, an extensive list of features, and finally – smooth design.
This VPN service truly delivers on what it promises, and when this comes with the best price in the industry – one is ready to forgive small cons.
Surf Shark is a service to try if you use torrenting services such as uTorrent, as well as if you plan on going to China or other restrictive countries.
If you simply want to try Surfshark – get it via Google Play or Apple Store, as these platforms offer a 7-day free trial period. Get it there and try on any other platform.
If a week is not enough for you, don't worry. There's always a 30-day money-back guarantee period to get your money back, but actually, you'll probably decide to stay with Surfshark.