Using VPN protection can be mandatory for your online behaviour and the safety of your digital life. So, you have to choose a VPN software that fulfils your expectations and gives reliable support.
First, a great VPN tool must cover all digital privacy concerns regarding your sensitive data and encrypt your connection from cyber threats that would try to break your VPN security.
Also, it is important to mention that a good VPN tool will allow you to test it before buying. This is why it is important to search for VPNs with long trial periods (take your time to test them) and crystal-clear no-log and privacy policies.
Yes, it is that serious as a VPN security breach may leave your data without any protection layers against all kinds of threats.
After that, you might take the informed decision to buy a plan and start using a full version of a VPN.
But what if you discover that your paid VPN doesn't meet your requirements? The first thought might be a refund.
This is why we fully covered this subject and gathered significant data about 20 VPNs refund policies and customer support in this regard.
You will discover the entire process of refunding each VPN we bought. Plus, crisp details regarding the refund waiting time, actions required from the support teams, response time, and so on.
Note: We created this guide to inform the users about the waiting response time and money "back-in-bank" and the user experience for 20 industry-leading VPNs that have:
the biggest server parks
best support (what they claim)
widest media coverage
biggest client bases
How we test VPN refund policies
As a start, every VPN service has different regulations and procedures for the refund process. Thus, you follow different steps in order to obtain a refund for your account.
We followed a practical methodology for this report and that consisted of certain stages until the refunding was done.
Therefore, this is the logical sequence of our refunding process with most of the included VPN tools.
➞ We bought a subscription for each of the 20 VPNs with a 1-month payment

➞ Downloaded the desktop application on the PC

➞ Searched for the refund options

➞ Contacted the VPN support team to request a refund.

➞ Confirmed the email received afterward.
How to get a VPN refund
To give you an example, for ExpressVPN you have a promised 30 days money-back guarantee and you can easily get a refund.
In order to proceed with the refund, you need to login into your ExpressVPN account and start a live chat with a support agent.
Thus, it's possible to obtain the cancellation of your subscription in about 10 minutes in the live chat.
The agent will inform you that the refund time will take 5-7 business days and you'll get a notification email when it's received.
So this is how it works for the ExpressVPN tool, but is it that efficient for all major VPN services on the market?
Furthermore, we present the main steps we had to follow in order to start the refund process.
VPNs with the easiest refund procedure
Here you will find out about the most efficient and effortless refunding processes with our VPNs.
For instance, VyprVPN, Surfshark, or CyberGhost are among the VPN companies that returned our payment VERY FAST without other promotions or inquiries.
This is our rating for the best VPN services with the most efficient refund policy:
➡ CyberGhost, Surfshark, VyprVPN, AtlasVPN, Hide.me – Extremely easy

➡ ProtonVPN, Avira Phantom VPN, ExpressVPN PrivateVPN – Efficient service

➡ PIA, Zen Mate VPN, HideMyAss, TorGuard VPN, Windscribe – Neutral service

➡ StrongVPN, NordVPN – Not efficient service
➡ TunnelBear, PureVPN, HideIP VPN – Unpleasant experience
Every VPN service has a dashboard that you can use to reach the support team. In the support section, we could either start a live support chat or send a request to activate the refund.
So let's dive deeper into this matter to find out about the experience with every VPN software and their refund policy for monthly subscriptions that we have bought and tested.
Best VPNs refund policy in real-time tests
The following section will exactly describe the refund procedure and the waiting time until the payment was returned to our bank account.
Hence, below you will find the detailed refund process for each included VPN and the conversation with customer agents for the companies we contacted regarding the refund.
| | | | |
| --- | --- | --- | --- |
| VPN name | The real period in days for a refund | The official refund processing time | Money-back guarantee period |
| ExpressVPN | *Reversal payment | 3-5 business days | 30 days |
| VyprVPN | 1 business day | 7-10 business days | 30 days |
| SurfShark | 1 business day | 7-10 business days | 30 days |
| CyberGhost | 1 business day | 5-10 business days | 45 days |
| Hide.ME | 1 business day | 5-10 business days | 30 days |
| Bitdefender VPN | 1 business day | 3-5 business days | 30 days |
| AtlasVPN | 1 business day | 5-10 business days | 30 days |
| PIA (Private Internet Access) | 2 days | 5-10 business days | 30 days |
| ProtonVPN | 2 days | 10 business days | 30 days |
| HideMyAss | 2 days | 5-10 business days | 30 days |
| Avira Phantom VPN | 2 days | 5-10 business days | 30 days |
| PrivateVPN | 3 days | 5 business days | 30 days |
| Windscribe | 3 days | 3 days | 3 days |
| NordVPN | 8 days | 5-10 business days | 30 days |
| TorGuard VPN | 10 days | 5-7 business days | 7 days |
| HideIP VPN | 30 days | 5-10 business days | 30 days |
| PureVPN | 5 days | 5-10 business days | 30 days |
| TunnelBear | 5 days | N/A | N/A |
| StrongVPN | Still not received | 5- 7 business days | 30 days |
Note: some refunds are still in the process and we will update the table as soon as they arrive in the bank account.
In the following section, you can take useful data about the refund process with each of the presented VPNs, and see their rules and actions without any disguise.
Now, let's see how the selected VPNs responded from a one-to-one perspective:
The subscription to ExpressVPN can be withdrawn only using the live chat and they guarantee you a refund. Plus, the support team may ask about the reasons you require a refund, making sure you're satisfied with the service.
Firstly, we had some issues receiving the refund back in our account due to bank limitations. After we asked what went wrong, the support agent confirmed they voided the account and canceled it as the payment didn't push through.
The reversal payment note from the table means that ExpressVPN returned our money back as soon as they voided the failed transaction.
We can say they put the client first and don't block your money even if there are transaction issues on the bank end.
Hence, that does not make Express VPN less secure and trustworthy and we recommend its long-term usage.
In the first place, we had to open a ticket on the VyprVPN support webpage and wait for a response via email.
Later, we could contact them via support chat and wait for the refund confirmation from their billing team.
Nonetheless, we received the refund back in our account incredibly fast and without other problems. The waiting time for the money to arrive was much faster than the official refund time.
So if it's a great choice for you to consider, you can check more technical details in our VyprVPN review.
Firstly, the contact with Surfshark service was on the live chat and we had to respond to satisfaction queries regarding the product.
After giving the answer, the support approved the refund instantly. It's worth mentioning that you don't need to offer other financial information to get the refund approved.
Hence, the processing time for the invested money got beyond our expectations, and received the refund in 1 day.
The refunding process with this VPN was quite simple due to the quick help of the support team. We initiated the refund via chat support and received an email confirmation once it was approved.
In addition, you need to provide the reference number from the invoice on the chat and start the refund for your account.
CyberGhost is also a prompt VPN service in terms of returning the refund to your account and giving the money back in 1 business day.
The VPN service from Hide.me can be easily canceled using the support chat. So we directly reached the company via chat and required a refund.
Thereafter, the support agent will ask about your email account and open a ticket for you.
You will also receive a confirmation email with the details about the refund once the billing team approves your request. We found this as being a pleasant experience, plus we found that Hide.me is one of the VPNs that can be used without registration, which is nice.
Getting a refund from Bitdefender VPN service involves a few actions on their support webpage. You can choose the live chat help and require a refund directly from the support team.
Thus, they only require your registered email address to locate your account and then you're all set. They inform you about the confirmation email and no other actions are needed.
In addition, the support agent reported that a refund processing time is up to 10 business days, depending on the issuing party.
AtlasVPN can allow you a refund directly from chat support and you're required to provide your email account.
So, we requested the refund in the chat and got a reply with the reason for canceling the subscription. After responding, we could proceed with the refund without problems.
Firstly, this VPN service accepts refund requests only via a support ticket with a form with your account details.
After the request, we got an email from PIA requiring the reasons for a refund plus other features and promotions. We could only begin with the refund after giving an explanation.
We recommend you check also PIA's features and technical specs to be sure this is the service you will choose to protect you from now on.
It's possible to require a refund from ProtonVPN in different ways, using the chat or opening a ticket. We were able to easily proceed with the refund via chat.
After this, the support agent provides you with the necessary information on how to downgrade your subscription with quick instructions.
It was an easy process and all that was left to do is to wait for the money to enter our bank account. You can find more useful info about this provider in this in-depth Proton VPN review.
HideMyAss VPN offers the opportunity to require your refund via chat support. However, we were not able to reach the support team in order to require a refund.
After you complete the account information in the live chat, you only get the message that someone will contact you as soon as possible.
So, the good news is that we had our money back in 2 days without any processing troubles or checking from our end.
With Avira Phantom VPN is quite straightforward to receive a refund for your paid VPN service. It's possible to contact the support team and start the refund process.
Additionally, you also need to reply to an email in order to confirm the refund. We replied to them on that matter and wait for a clarification response.
However, the chat session was interrupted before we had the chance to reply with the confirmation code sent by email.
With the PrivateVPN service, it's possible to require a refund via chat support as well. More exactly, you can use the chat in order to ask for a refund.
The support agent can seize your request but proceed with the refund only from the registered email account.
Windscribe VPN is a reliable service and it has a large server network. Firstly when we tried to sign up, we couldn't complete the payment and get the subscription.
Afterward, another credit card wasn't accepted for the payment but we could resume setting up the account in the end.
You should also be aware that you can only receive the refund for Windscribe with a request within 3 days of use.
With NordVPN you have to contact the support team using email, which is difficult to find on their website. We received a prompt answer that required the reasons for leaving.
After offering the response, we couldn't proceed with the refund and they replied with other promotions and verifying questions.
It's also stated that you can use the live chat to require a refund, but actually, the Live chat button did not work on their support website. However, their refund support does not reflect the fact that they are among the leaders in the market with tons of great features.
TorGuard VPN has a user-friendly procedure regarding the refund. You can request a refund for your subscription by accessing the support webpage.
After you complete the required information like registered email, name, or subject, you can send the request to the responsible department.
In addition, the ticket and its status are saved in the account so it's possible to track it anytime to see when the refund is processed.
In the first place, you can require a refund for PureVPN directly by contacting the support team via chat. The support team will respond fast and ask for your registered email address to proceed with the refund.
After they check your account email, they confirmed a request and send it to their billing team. Then, you should receive a confirmation email that approves the refund.
However, after waiting a significant time we didn't receive the money in our bank account. When we contacted the support team again, they claimed there is no request completed with the registered email.
In addition to that, after we canceled the subscription for their VPN service, they extended our expiring account for 2 months for free to keep us as their client.
We could proceed with the refund via live chat and get in touch with a customer representative fast. After this, they ask you to offer the registered email and invoice number to approve the refund.
Furthermore, the support agent informed us the account was canceled and refunded. In any case, we didn't receive the money back in due time.
Hence, the support team responded that we have to check with our bank as they refunded our payment when we first required it.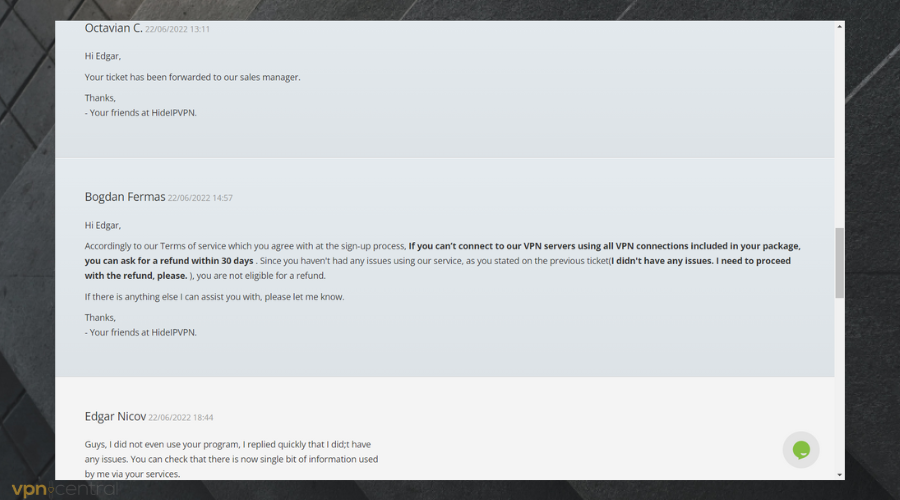 You can easily contact the HideIP VPN company on the support chat and discuss the refund. Unfortunately, we couldn't proceed with the refund via chat and needed to send a ticket.
As you can see, getting the money back was impossible unless we had some issues with the product.
After long and redundant conversations about getting the refund back, they finally accepted it after we presented another reason.
Hence, you may encounter some troubles regarding their so-called money-back guarantee period.
You can require a refund from TunnelBear VPN service rapidly by contacting the support team. So, it's likely to contact the Support Bears and open a ticket in order to proceed with the refund.
Afterward, they confirm to reach you on the registered email and follow up with the refunding method.
That was not the case for TunnelBear, and we had to cancel our subscription without having the following response about our refund.
As a result, we didn't receive our refund back after multiple tickets were sent to their support website. However, you can check its tech specs and features before deciding whether it is a good privacy solution to purchase.
Conclusion
In the end, we had immediate feedback regarding the refund procedure and the support teams replied quite fast. Excepting a few VPN services that ask multiple questions, the requests don't take too much time.
As a wrap-up, there are a few takeaways you should be aware of about the VPN tools and their refund procedure.
It's possible to request a refund for almost any VPN service we mentioned in this article. The only annoying elements may be specific cases like NordVPN or PIA where you're asked way too many questions about the cancellation reasons.
Plus, we encountered multiple cases from the VPN companies where you're not able to start the refund with live chat support. This option is available for just a few companies like Surfshark, ExpressVPN, ProtonVPN, StrongVPN, and so on.