HMA VPN is the oldest and one of the most popular VPN services on the market.
With the recent release of the new version 5, the company has introduced a redesigned app that comes with some impressive features like IP Shuffle, Lightning Connect, and a brand-new server location list.
User-friendliness has always been a trademark of HideMyAss VPN, but now it is even easier to use than before.
The company has even confirmed the free trial version. You can now try HideMyAss for free and test its functionalities risk-free.
What we like about HMA VPN (and what we don't)
There are a few things that make HMA one of the most appreciated VPNs on the market.
The connection speed is excellent. We used HideMyAss VPN to stream several shows and we never experienced buffering or annoying interruptions.
The client is a high selling point. It's not intimidating. Even the Android and iOS apps are well-designed and easy to use.
This was always the case with HMA, but it is especially relevant now, with the new version 5 of the software. With it, you can control your HMA VPN connection with just a few clicks.
Inexperienced users should have no trouble with this client as it makes using the VPN as easy as it can possibly be.
If you are an experienced user, earlier versions will let you set your VPN connection as you like, as well, but the new one does it even better, and it is more instinctive.
Of course, as with any other VPN provider, HMA has some downsides.
Customer support is good but not excellent.
The Live Chat is not available 24/7 but only from 9 am to 11 pm UTC. When live chat is not available, you can leave a message and somebody will respond to you as soon as available.
The response time is quick, but we still miss the time when the live-chat was working 24/7.
Overall, HideMyAss is a multipurpose and highly-efficient VPN that can meet the needs of the vast majority of users.
Major features
Before getting into all the details of HMA VPN features and security standards, let's see a list of the main highlights this VPN provider offers:
Unmatched server network
Unlimited traffic
Unlimited Server switch
P2P and BitTorrent allowed
Great Performances
Excellent encryption algorithm
A completely redesigned app, based on user feedback
Android app
iOS app
Compatible with all OS
IP refresher
Kill Switch
Smart App Kill Switch
Less logging
Split Tunneling
Speed test
Faster servers
Affordable price
Hidemyass Proxy List
5 simultaneous login
30-day money-back guarantee
Free HMA web proxy
Our HMA VPN review will get into these details, and we'll test them to see how this provider performs.
Does HideMyAss unlock the US Netflix library?
The situation with Netflix is a bit complicated, as the streaming service and many VPNs are at a constant war regarding IP addresses.
VPNs keep coming up with new workarounds, and Netflix continues to block them. Overall, the answer would be yes, HMA VPN unlocks the Netflix US library. However, when Netflix makes a move, you might have to spend some time finding a server that works properly.
By connecting to the USA NY Liberty Island server, you can now unlock Netflix USA.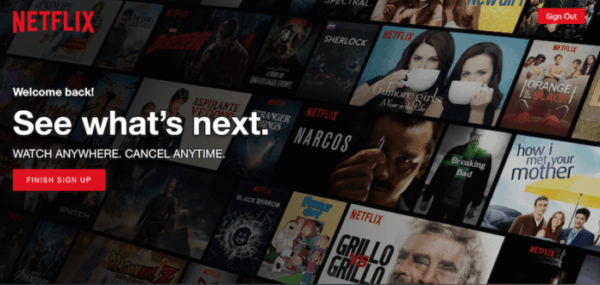 Besides Netflix, Hide My Ass VPN works perfectly at unlocking any other geo-restricted content. However, keep in mind that It may have problems unblocking BBC iPlayer.
Thanks to the many countries where you can find available servers, there is practically no website that you cannot unblock.
Just connect to the country where the website is originally from, and the magic will happen. You'll appear as if you were connecting from inside the country, and the website will allow you full access to its content.
HMA VPN Review – Pros & Cons
It's relatively easy to fall in love with this VPN provider.
Inexperienced users often go for the friendly interface while advanced customers can enjoy the new features that come with it.
Privacy & Security
The Donkey VPN supports all the major VPN protocols. You can consult our VPN protocols guide on how they work and the level of security they guarantee.
The company was planning for some new changes and it introduced some important improvements.
Adding these changes is something that has been long time coming, and HMA VPN finally introduced them with V5 of their app. There are two big major changes:
1. HMA no longer collects user IP addresses
Since the latest update, the company had anonymized the last octet of every IP address tied to their servers. So, for example, if your original IP address looked like this: 92.145.233.343; the new change will make it look something like this: 92.145.233.000. In other words, the final string of numbers will be different, and it will no longer point directly to you.
If you were wondering why the company didn't simply stop logging IP addresses completely, there is a reason behind it.
The information that the company collects now still gives it a rough indication of the demand in different regions. It needs this to plan the deployment of new servers, updates, and make other similar changes. This is valuable information that can help the company improve its service.
Many other VPNs do the same, without revealing it. HideMyAss, instead, has decided to be fully transparent of the data it collects, which already makes it more trustworthy.
2. HMA Is Now 100% no-Logs VPN
You may be pleased to know that HMA VPN has revolutionized its policy and is now a 100% no-logs VPN.
This update is great news for most users that are in love with this straightforward VPN but couldn't use it safely for torrenting, or other sensitive tasks were total anonymity is required.
From now on, you can use HideMyAss without putting your privacy at risk. Finally, the company has aligned itself to the top competitors in the market like ExpressVPN, CyberGhost, or NordVPN.
Encryption protocol
HideMyAss protects all your data using OpenVPN with algorithms 3DES, AES 256, RC5, and 256 bit.
This is a strong encryption protocol that hides your sensitive data from any third parties either if they are government agencies, hackers, cybercriminals, or else.
Once your data is encrypted, it will be transformed into an unreadable code. Even if someone intercepts it, it will be totally useless because they'll be unable to read it.
Military organizations use the same type of encryption because it's difficult to break.
Therefore your digital life is entirely safe and you can browse the net worry-free.
Server's network
First of all, HideMyAss has one of the most fantastic server networks in the industry. Once you subscribe to any one of its plans, you'll have access to an incredible network of over 1000+ servers located in 290+ locations.
The servers are distributed in more than 190 countries and have at their disposal more than 2.900+ IP addresses.
These numbers are pretty impressive and unmatched in the industry. The network keeps growing almost on a monthly base.
To begin with, this is good news since such a wide net of server gives you incredible flexibility and you can totally enjoy what a VPN connection is for.
Whether you're traveling or you want to access any website around the globe, HMA always has a server in the country you need. Just pick a server in that location, and you will appear like connecting from that part of the world.
With this simple operation, you can access geo-restricted websites, avoid censorship, hide your IP address, and get full access to your digital freedom.
Price & plans
Like almost any other VPN provider, there are three different subscriptions to HMA PRO VPN.
Each plan is all-inclusive. The most convenient plan is the one-year subscription with an economical 45% off the regular price.
If you go for the one-year subscription, you will enjoy your VPN for just $6.99 per month.
Considering all the features included and the performances of this VPN, this is an excellent price. Hardly ever you can find another provider offering you the same quality for such a low price.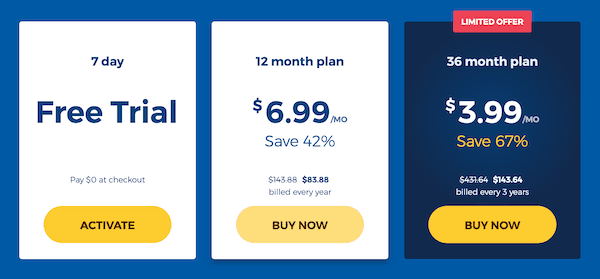 You can rely on the 30-day money-back guarantee policy HideMyAss offers to test the service. That's enough time to decide if you're happy with it or not.
Just be careful because conditions apply to this policy. You can request a refund only if:
your bandwidth usage is less than 10GB (the total of upload and download activity through the VPN)
you have not exceeded 100 sessions (the number of times you have connected to the service)
you have not previously claimed a refund (e.g. for another account)
refund policy doesn't apply to orders on Google Play and Apple iTunes Store
If you stay within these conditions, you can trust the guarantee offered by the company. You can test the service risk-free.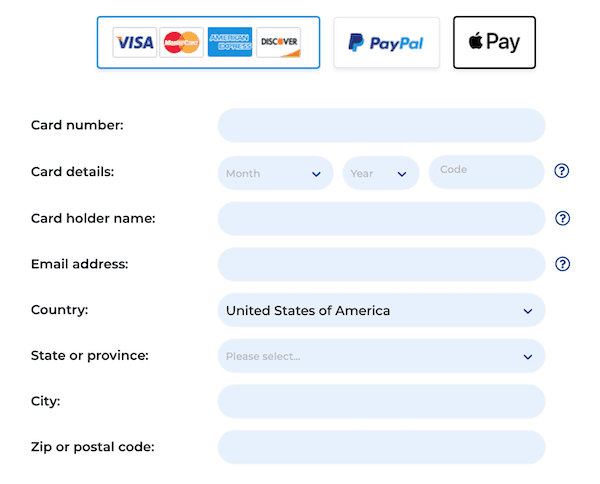 The payment methods available are:
Visa
MasterCard
American Express
Discover
PayPal
Apple Pay
Bitcoin is not among the options.
We would be very happy to see Bitcoin payment implemented in the future. That would add an extra layer of security for subscribers that need to be totally anonymous.
If you wish to use cryptocurrency for your subscription, here is a list of the main VPNs accepting Bitcoin.
HideMyAss free trial
Besides the money-back guarantee, there is a free trial is available.
The HideMyAss VPN free trial allows you to access all the features of HMA Pro VPN for a period of 30 days. You don't have to pay anything at the checkout.
More features
In their recent updates, HMA has introduced a number of features that were only available in the v5 client. In this section, we will discuss the features available in the HMA v5 client only. We have listed all of them under the specific client's details.
Kill switch
The Kill Switch is one of the most important features of a top VPN. The feature works by discontinuing your internet connection whenever you lose connection to a VPN server.
This happens whenever you're changing servers, or when your VPN disconnects on its own for whatever reason.
This is quite important as it prevents you from getting exposed at that specific moment when you don't have your privacy jacket on. Your ISP can, therefore, be able to tell what you were doing online when connected to the VPN.
The Kill Switch has recently had an important update which is now system-wide for MAC and iOS. Whilst before you'd need to apply it to a specific app or browser, now it protects all your internet activity by default if the network connection drops.
IP shuffle
This is another feature that was previously only available to the older client. The feature was previously known as a Scheduled IP address.
IP Shuffle makes it harder for people to track your location by periodically randomizing your IP address.
When you enable it, you will get a new IP address after a specific duration, such that nobody can track your online activities.
However, it is recommended to use this feature alongside the Kill Switch feature. This is because, during the change of IP address, you may get exposed by mistake.
P2P and BitTorrent
If you love torrenting, then this is definitely good news for you. HMA has servers that are dedicated to offering users file-sharing services.
Mostly, these servers are in regions that don't have very strict copyright and data retention policies.
However, HMA is a little tricky when it comes to torrenting. They state that although HMA! Pro VPN does support Torrent as this is a legitimate technology for sharing data over the Internet, we do not support the use of Torrent to share copyrighted material illegally. If you use our VPN service for such activity, you will probably cause us to receive DMCA notices from the copyright holders, who monitor Torrent trackers.
In such a case, they forward those DMCA notices to you. If you continually infringe copyrights through torrenting, your account may end up being discontinued. It's therefore important to stay on the right side of the law.
HMA compatibility
HideMyAss has wide support for various devices. You will have an Android app, an iOS app as well as apps for the following platforms:
Windows
Mac
Linux
Android
iOS
DDWRT Router
Nevertheless, the most common devices are fully supported with arguably the best VPN clients in the market. You can connect up to 5 of these devices simultaneously, using the same account. This will let you secure your whole family.
If you configure the VPN on a router or buy an HMA pre-configured one, you will be able to use the connection on devices that do not natively support VPNs like gaming consoles and some smart TVs.
HMA web proxy
As a bonus service to all users, HMA provides a free web proxy to all users. This is a service that helps you access blocked websites as well as appear anonymous. It does this by spoofing your IP address to display another one from HMA servers and its pool of IP addresses.
However, though your traffic is still routed through an HMA server, no encryption occurs with a proxy. This means that your connection is not secure and can be intercepted, your ISP can still track you, and some notorious websites (especially streaming services) can't be unblocked. For the whole package, you will have to go for the VPN service.
Speed test
We performed the speed test for our HideMyAss review from Europe, and the results have been kind of interesting.
As you can see from the screenshots below, the overall speed has always been good. The difference in speed with or without VPN was just minor.
It was surprising to see that while connecting to servers in the USA, performances were still excellent. Despite the long distance, the difference in speed was insignificant or, in some case, even better than servers closer to our location.
Speed without VPN connection active

While connected to a server in the USA

Performance while connected to a server in London UK

Performance while connected to a server in the Netherlands

In the event of speed problems, we've found pretty unique the functionality that emulates the servers of some countries without connecting to the location itself.
It sounds a bit confusing, but it is pretty simple.
For instance, if you are connecting from Australia but you need an IP address in the USA, you can log in to a server in Sidney that will make appear like you're connecting from USA.
In this way, you will have the US IP address you need, but the connection will be faster since you are connecting to a server closer to your location.
This functionality is available only for a few countries, mainly USA and the UK.
During the speed test, we checked even for IP leaks, and we never had one.
The new HMA VPN website
The website has a fresh look and is very easy to navigate. On the homepage, you will find a few straightforward and well-organized information that gives you an overall view of the services available.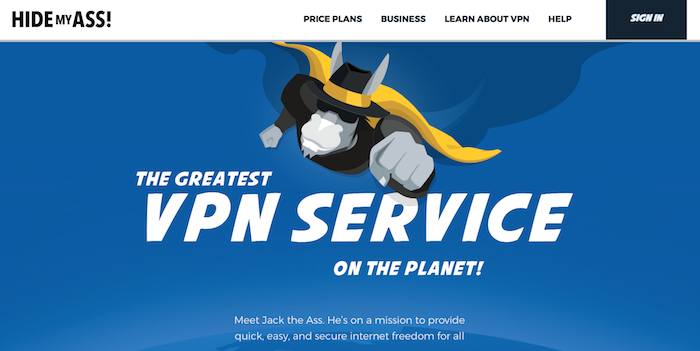 Signing up and software download
The process to sign up is very simple and straightforward:
Select the plan you would like to subscribe.
Select the payment you prefer.
Proceed with the payment.
Open your account page.
Under the section Software & Help you'll find the list of all the software available (Windows, Mac, iOS, Android, Linux.)
Download the software for your operating system (or you can even install it on routers to protect all your devices.)
You are ready to surf the net in total protection.
Alternatively, you can find the software download area even on the Homepage by clicking on the top menu Download VPN.
HMA client
The company has recently released a new version of its client. The Donkey VPN has always been a user-friendly VPN provider, but the new software version 5 has taken the usability to a higher level.
The software is amazingly simple.
It is of great help if you are inexperienced. However, even if you are an advanced user, you will appreciate its practicality.
HMA VPN had sent thousands of surveys and spent hundreds of hours researching how it could improve its app with the help of its users. It also turned to users of competitor products and those who never used a VPN to try and figure out how to make a simple, user-friendly app.
As a result, it introduced a number of changes, including:
1) No More Location Mode and Freedom Mode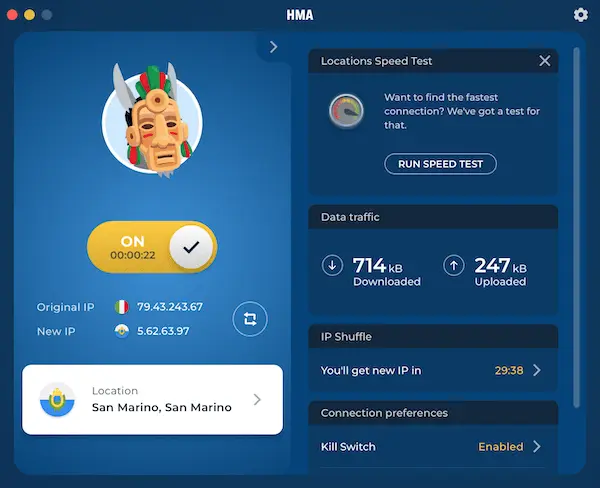 Activating HMA is simpler than ever due to the fact that the developers have eliminated the three modes that were used in previous versions. That was a good decision since the difference between 'freedom mode" and "location mode" wasn't clear enough and it generated some confusion among users.
HMA listened to its users' feedback and got rid of "freedom mode" and "location mode." They have been replaced by a single switch that will ensure your privacy.
Simply tap it in the center of the dashboard, and that's it. A great step toward user-friendliness!
2) Instant Mode was rebranded into Lightning Connect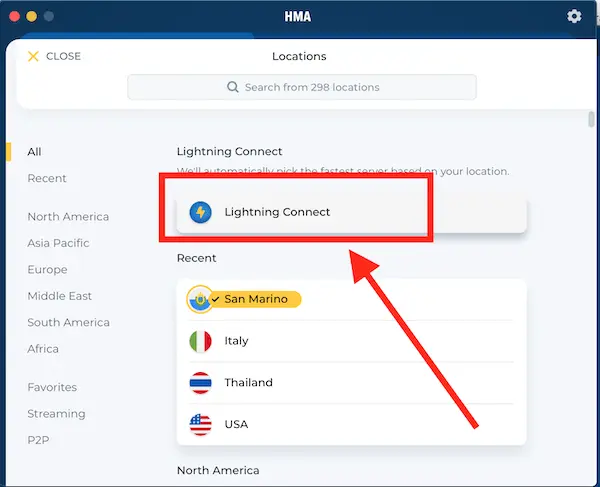 The most useful of the modes by far was the one called Instant Mode. Its purpose was to find the fastest server based on the user's location.
Now, it is rebranded into Lightning Connect, and it is located at the top of the server list. It will be activated as soon as the VPN is turned on, provided that you didn't select a specific location before connecting.
3) A Completely New Location List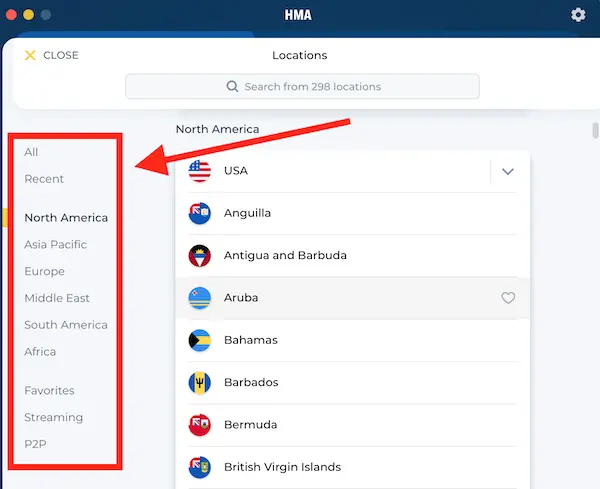 While we are on the topic of locations, long time fans probably know that there was always a massive amount of locations to choose from in the past. However, listing them alphabetically was probably not the most efficient approach to offering these locations. It was distracting and time-consuming for users to sort through such a massive list, which is why HMA decided to make a change.
The new design brings numerous benefits in terms of usability, such as:
Countries are organized by continents.
Selecting a country provides the user with the fastest location in that country.
City-level locations are placed in dropdowns under the selected country.
All P2P and specialty streaming servers and locations that users mark as favorite will be accessible on the side for their convenience.
With these changes, it will be much simpler to find the location you need, and only those that are relevant will appear. This saves you from having to search for the best one on a long list of servers.
4) Simplifying the app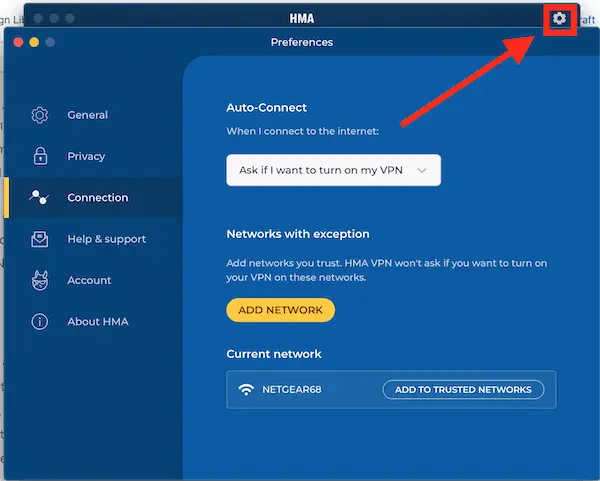 Last, but not least, HMA V5 clients now offers a very useful side panel. The new side panel that will highlight and explain all advanced settings, while also giving you quick access to them. You'll be able to instantly find features like split tunneling, kill switch, as well as auto-connect, among others.
Not only that, but HMA VPN now also delivers some useful privacy tips and insights. These will be priceless for new users who are still trying to get used to using a VPN and learning of its capabilities.
You can unlock the side panel simply by clicking on the More button on the top right of the dashboard if you use it on Windows or Mac. If you use Android or iOS, tap on Advanced at the bottom. You will reveal the side panel and even get the ability to engage with different cards and dismiss them if you want them gone.
HideMyAss VPN client version 2
If you want to have total control and enjoy your VPN connection to the full, you need to download and install version 2 of the software.
This is the most comprehensive version. Through this software, you can customize your VPN connection any way you like. It really allows you to enjoy the full potential of HideMyAss.
However, this version is better suited for experienced users. Otherwise, you just have to play with it for a while and you'll master all the features in no time.
The Client Version 2comes with several interesting functionalities among which you can find:
IP Address Settings: From here you can manage your assigned IP address. You can either change it manually or schedule a change. You can decide, for instance, to change your IP address at regular intervals automatically. This feature will greatly enhance your security and will make you totally untraceable. You will experience a short period disconnection every time the software changes your IP address. The IP checker instead is a handy tool to make sure your real IP is hidden, and you are not the victim of an IP leak.
Secure IP Binding (Kill Switch): We love this functionality. From this window, you can set a list of applications that cannot connect to the Internet unless the HMA VPN is active. IP binding prevents accidental information leaks. For instance, if you have applications that update automatically. The update could start at a time when the VPN is off, and so your data remains unprotected. IP binding will prevent that not allowing the application to go online unless the VPN is active.
Speed Guide: Are you looking for the best performing servers? The speed guide will help you in finding them. You can choose between a Ping test, Express test or a Full test. For the first two, the test will take just a few seconds. The last one is more accurate and comprehensive, but it takes a while for it to end. You can only perform the speed test when you disconnect from the VPN.
Customer support
Customer support is good. It is available through;
Live Chat (only from 9am to 11pm UTC)
Email
Ticket support.
We tried to get in contact through the live chat to see how efficient it is. To our total surprise, we got in touch with an agent in less than a minute.
We repeated the experiment several times at different hours, and we always got a response within a few minutes.
This is definitely efficient customer support and a big plus for a VPN provider. However, to make customer support truly spotless, we advise HMA VPN to restore the 24/7 chat as it used to have in the past.
Either when asking for general information or technical help, the customer service was always knowledgeable and helpful. They were able to assist us in real-time and to address our issue promptly.
Having good customer support is important for a VPN provider.
After all, we are talking about your security, and if you experience any problem with your VPN, you cannot wait for days to have your problem solved.
Do we recommend HideMyAss VPN?
YES!!
HMA VPN has become one of the most popular VPN providers on the market for good reasons. Our review confirms that its good reputation is well deserved.
We really like its user-friendliness.
The software is incredibly simple to use and especially the new client version 5 makes managing the VPN connection a breeze.
Alternatively, the old version 2 of the software is still easy to use but gives you access to a lot of functionality to enjoy the service to the full.
HMA VPN now stores a lot less of your logs, and all the data gets deleted after 30 days. However, if you love torrent and P2P and this is the main reason why you are considering a VPN connection, this is not the right service for you.
In any case, if your use of a VPN is entirely legal (as it should be!) this privacy issue is not a problem at all.
All in all, the donkey VPN is an excellent VPN service.
The incredible number of servers around the globe makes this provider a very flexible VPN. With so many servers and IP addresses available, any geo-restricted content can be accessed.
HideMyAss once again proves to be one of the best VPNs on the market and an excellent choice for the vast majority of users. It combines amazing flexibility and user-friendliness for a superior user experience.
---