PureVPN has its headquarters in the British Virgin Islands, a country that protects citizens' privacy.
It has a large server network with 6,500+ VPN servers in 88+ locations in 70+ countries.
So it should work great on platforms like Netflix, Hulu, or BBC.
PureVPN is GZ Systems' brainchild and was first launched on a small scale in 2007.
The results of this contained experiment turned out to be much better than expected, which led to its worldwide release in the same year with just 2 servers.
Now it's a full-fledged service with a huge user base.
So let's see how it works and what it offers.
Pure VPN Features
While appearing to be just another VPN provider, PureVPN has a myriad of features for you to look forward to, out of which the prominent ones are:
6,500+ VPN servers in 78+ countries– practically unlimited servers to connect to. They can switch between these servers as many times as they want. Doing so helps users outdo geo-restrictions and remain anonymous and protected at all times.
High-performance apps. PureVPN apps are available on all platforms and OS, like iOS, Mac, Windows, and Android. They ensure a smooth, trusted, and hassle-free experience.
10 devices simultaneously – and if that is not enough, you can manually set it up on almost all brands of routers, including and not limited to Netgear, TP-Link, Linksys, and more.
The best VPN protocols – like OpenVPN, PPTP, L2TP, SSTP, IKEv2, Stealth, and more; offer different levels of security and speed to appeal to different users, regardless of where they are located and the industry they are serving.
AES 256-bit encryption.– users get protection from many kinds of cyber threats with AES 256-bit military-grade encryption that comes bundled with the service by default.
PureVPN is not just your everyday VPN service. There are several other features that will keep users coming back for more, and that is a fact.
Secure remote access
Features like Internet Kill Switch and 256-bit encryption make PureVPN a must-have for individuals and businesses that are all about enhancing online privacy and security.
But that is not all.
With secure remote access, business-minded individuals and businesses can expand their horizons and prevent data breaches and/or loss of data.
Access to confidential information will be limited to those that need to have it in the first place.
Businesses and individuals can gain access to specific networks, the kind that is not open to everyone.
Businesses can also use it as a tool that restricts access.
Split tunneling
Split tunneling lets you pick which applications use VPNs and which don't.
So only traffic routed through the VPN remains confidential and invisible.
The feature will come in particularly handy for users who want only a certain portion of their online activities to be invisible to anyone.
For instance, you may want to watch YouTube avoiding continuing to browse the internet securely.
Moreover, thanks to PureVPN's split tunneling, users can go about doing tasks like making online purchases or streaming their favorite content without compromising on bandwidth speed.
At the same time, they can keep browsing locally on safe sites that don't necessarily need VPN security.
Virtual router
PureVPN's virtual router will come as a sigh of relief for those that wish to secure up to 10 other devices using the app itself.
How it works is that it can turn your desktop or laptop into a virtual router, to which other devices can connect.
Compatibility
Apart from the platforms mentioned above, PureVPN is compatible with other devices, including and not limited to:
Gaming consoles
SmartTVs
Roku TV
Privacy and security
Before assessing PureVPN's overall privacy and security capabilities, it is worth noting that the service provider has covered all its tracks, for itself and its users too.
PureVPN has clearly stated that it does not share, rent or sell user information. Furthermore, it does not keep logs either, which adds another security layer altogether.
PureVPN boasts about providing users "complete internet freedom", and it successfully does so by offering the following features and add-ons:
256-bit encryption
With top-of-the-line military-grade encryption protecting users and their data from falling into the wrong hands, it is impossible for users to ever fall victim to cyber-attacks ever again.
What is even more interesting is the fact that 256-bit encryption is impossible to crack.
Governments and military agencies use it, which explains just how secure it is.
OpenVPN
PureVPN offers support for the OpenVPN protocol too.
The reason we took this protocol separately is that it's one of the best, offering maximum speed and security.
If that is not enough, it gives users greater control over routes of communication and is best suited in internet censorship-heavy countries.
Multiple protocols
The latest connectivity and security protocols are available for users to benefit from.
Each VPN protocol offers a different experience and is meant to serve different users depending on the device being used.
Dedicated IP
For people that want greater control, a dedicated IP is just what they need.
The add-on allows users to manage their own security and privacy, but only as long as they know what they are doing and are tech-savvy enough to pull it off.
Internet kill switch
The kill switch acts as an ever-vigilant fail-safe lieutenant, ensuring your online privacy and security remain intact when all else fails.
If for any reason, the VPN disconnects, the killswitch will block access to the internet to prevent leaks.
You may surely enjoy this feature. For instance, for P2P and BitTorrent download if you live your computer unattended for many hours. Just in case the VPN drops, you will still be safe.
DDoS protection
Taking into account the increase in the number of DDoS attacks, PureVPN also offers DDoS protection, which is a welcomed addition.
The add-on defeats the most complex of DDoS attacks, all the while enhancing overall security by leaps and bounds.
The dedicated DDoS-protected IPs offered by PureVPN originate from Canada, the US, the Netherlands, and France, whereas the usual dedicated IPs are from the US, the UK, Canada, Singapore, Germany, Malta, Hong Kong, and Australia.
NAT firewall
The add-on is meant to enhance online security by leaps and bounds.
After configuring a NAT firewall, it will serve as an extra security layer, which protects users from hackers being able to exploit loopholes, which would otherwise go ignored.
The protection works at the server end, as a proactive measure, blocking any unwarranted traffic and data packets from reaching the end user's device or system.
80,000+ IPs to choose from
Users are empowered to switch between PureVPN's 80,000+ IPs.
By switching to any one of these IPs, your IP address will be masked from hackers, cybercriminals, third parties, and even your very own internet service provider.
WiFi Security
There are countless free Wi-Fi hotspots popping up across the globe, but not all of them are secure.
Most of these WiFi hotspots serve as breeding grounds for nefarious crimes and the breach of privacy.
So much so, they are also used by marketers to collect data without your authorization.
Fortunately, with PureVPN you get Wi-Fi security as well, which means you can connect to any Wi-Fi hotspot and not have to worry about being exploited or hacked ever again.
Since all your data packing to and fro the Wi-Fi hotspot is encrypted at all times, you can rest assured that no one will be able to sneak in the middle of your communications ever again.
No third-party involvement
PureVPN's network is managed by its own team of experienced technicians, network security specialists, and online security experts, rather than anyone else.
Any and all aspects of the service provider are dealt with in-house, meaning there is no third-party involvement whatsoever.
Since there is no involvement or intervention of third parties, there is no chance of your identity being revealed and/or your data being compromised, especially since PureVPN has a zero-log policy too.
Automatic protocol selection
Non-tech-savvy users usually end up making mistakes, and VPN service providers offer no contingencies to prevent such mistakes from blowing out of proportion.
What really takes the cake with PureVPN is its effort to understand the end-user, which clearly shows with its automatic protocol selection feature.
The feature is always enabled and is set in place to prevent a catastrophe from taking place. It automatically switches between protocols to protect users that are not tech-savvy.
Does PureVPN log my data?
PureVPN is the only KPMG-certified VPN. Moreover, it is on an Always-On audit structure.
Therefore, the auditor can check PureVPN at any time.
This is a guarantee that PureVPN doesn't maintain any log of your activity.
How much does PureVPN cost?
Users will be pleased to know they have three different PureVPN plans to choose from: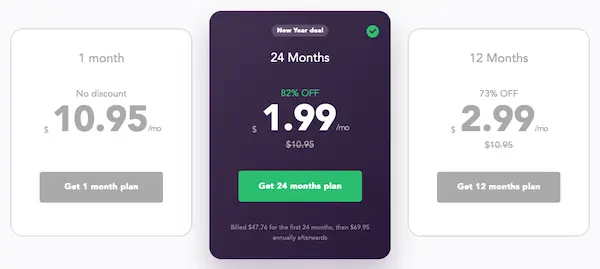 Looking at the bigger picture, you will come to realize that the users will generally benefit from the 2-year plan, as it offers greater savings and is not all that expensive either, especially when compared to the monthly plan.
On the other hand, if you are not entirely satisfied, the fact the service comes with a 31-day money-back guarantee should put you at ease.
For refunds, you can email or contact customer support to cancel your subscription, at any time within 31 days of purchase of a PureVPN subscription.
Sign up process
One of the best things about PureVPN is that it makes the whole experience a breeze, whether the user is signing up or switching between servers, it is all as easy as 1-2-3.
When it comes to signing up, it is easy for those who are not tech-savvy. To do so, here is what needs to be done:
Visit the PureVPN Order Page.
Select the appropriate plan that best fits your requirements
Select from one of the many payment methods available
Input your name and email and click Pay and complete the payment process.
You will receive your credentials via email.
Download PureVPN's client, which can be accessed from the VPN apps section, located on the site.
Choose from either PureVPN's Windows, Mac, iOS, Android, or Router client. Install the client, once downloaded.
Upon completion of installation, access the app.
Enter your credentials, after which you will be directed to the welcome page, where you can connect to a server of your choosing to start browsing securely and anonymously.
Upon closer inspection of PureVPN's website, it is easy to navigate through, with all the required menus for users to get the information they need such as;
getting a subscription
technical support
downloading necessary apps
login to the member's area
PureVPN apps overview
An in-depth analysis of the apps comes to show they have been designed with the end user in mind.
Each app is not only well crafted, for their respective platform, but it gives users greater control of PureVPN's services and features. Whether you are a casual or tech-savvy user, each app will serve your purpose well.
App for Windows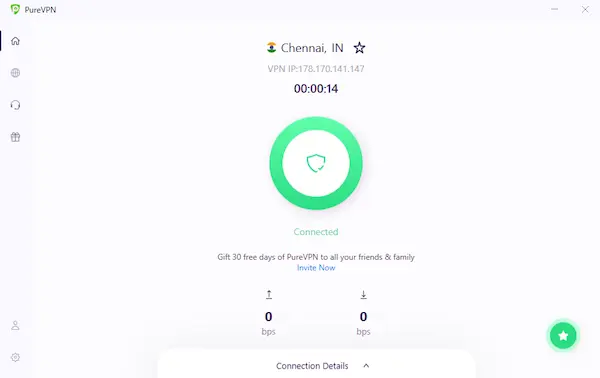 The PureVPN Windows app is supported across any and all devices that run Windows OS. It comes with;
Intuitive interface
Support ticket integration
VPN Hotspot
Dedicated IP connection and IP release mechanism
Automatic Protocol Selection
Troubleshooting mechanism
Connection details section
But that is not all, as it offers support for manual and auto protocol selection, dedicated IP, Internet Kill Switch, and 256-bit military-grade encryption as well.
App for Mac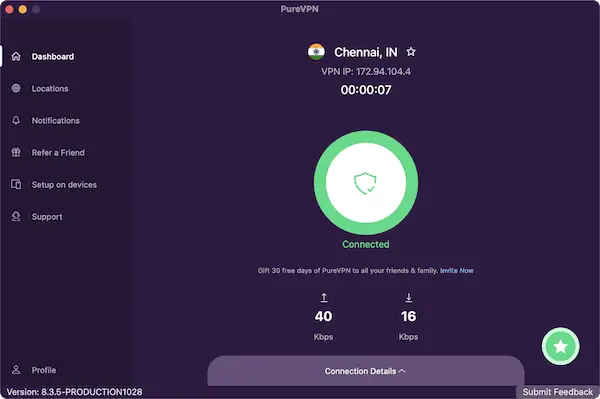 The updated PureVPN Mac app finally comes with support for the IPSec protocol too. It comes packed with the same features as its Windows counterpart.
It comes with:
Protocol IKEv2
Dark/Light Themes
Connection Details section
Improved dedicated IP connection and IP release mechanism
Improved Automatic Protocol Selection
Server Switching Mechanism
Troubleshooting mechanism
Server Switching Mechanism
Connection Details section
App for Android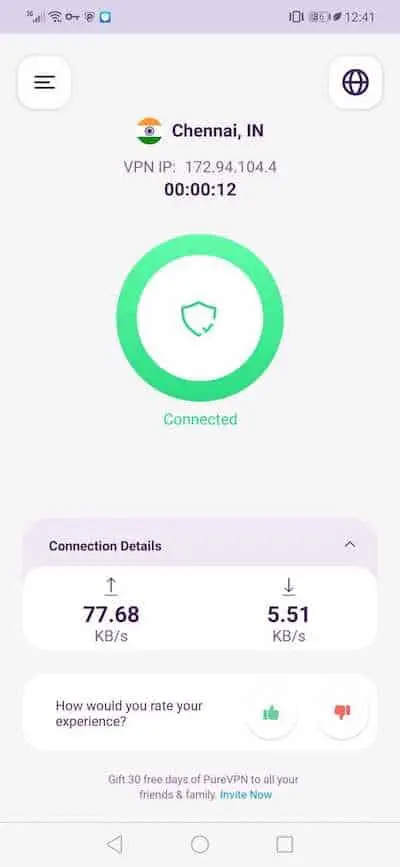 The Android app is just as jam-packed as its desktop counterparts. However, it is a bit different in terms of functionality.
The app is much more integrated and makes it easier for users to interact with the app and make their queries known right away.
It takes maximum advantage of the portability of the Android platform, offering an experience unlike any other.
It comes with:
Recently Connected locations
Troubleshooting mechanism
Personalized & Predictable Recommended Location
Connection Details section
Server Switching Mechanism
Request a Location from the app
Auto Redial on disconnect (Always-on)
App for iOS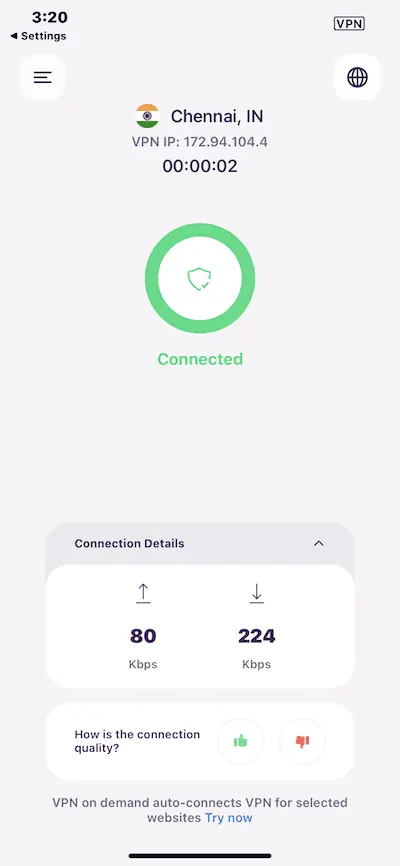 The iOS app is not that different from the Android app. Just like the case with PureVPN's Mac and Windows apps, the iOS and Android apps too are more or less the same; which is not really all that bad. It comes with:
Improved Automatic Protocol Selection
Recently Connected locations
Troubleshooting mechanism
Connection Details section
Dark/Light Themes
Protocol: OpenVPN
iPad Optimized Interface
Server Switching Mechanism
Pure VPN Review – Speed Test
After conducting performance and speed tests while connected to PureVPN, it was clearly evident that the service provider is not taking any chances whatsoever, and does manage to provide exceptional speeds.
US & UK server speed without VPN
Location: Texas, U.S.

Location: Oxford, England

US & UK Server Speed with PureVPN
Location: Los Angeles, U.S.

Location: Manchester, England

After connecting to PureVPN's servers, we noticed a considerable drop in ping, but not on all the servers.
The upload speeds more or less remained the same, which is not necessarily a bad thing.
Download speeds also dropped. But that's not surprising. Consider that the traffic goes through the process of encryption and decryption before for maximum online security.
However, the good news is that the download speeds do not fluctuate, and is enough to meet your requirements, which might or might not necessarily be the case with the other VPN service providers out there.
All in all, the speeds are good on all server locations. If you want to see how PureVPN performs on, even more, serves from different regions, check our dedicated PureVPN speed review.
PureVPN customer support efficiency
It is really rare to come across a VPN service that offers different venues for customer support, and PureVPN is one of those services that are able to do so beautifully.
Users can choose to contact customer support via;
email
live chat support
forums
FAQs.
But that is not all, as users are free to submit support tickets for abuse complaints, billing issues, and tech support.
Apart from forums and FAQs, which already provide detailed answers to queries related to software, tech, and payment, live customer support is one of the best in the industry.
The team is live 24/7, with 0 bots involved.
PureVPN Review (The Verdict)
Now the real question is whether or not PureVPN is worth your time and money.
There is no denying the fact that PureVPN sets itself apart from the rest of the crowd with the countless features it is offering. In fact, it even manages to offer exclusive features never seen before.
Taking into account how the service provider has been in the industry for a long, it has amassed valuable experience which allows it to stay ahead of the curve.
PureVPN pays attention to details, which normally go unnoticed by other VPN providers, thus giving a competitive edge.
In terms of privacy and security, it does not disappoint.
The features and add-ons do a lot for your security, ensuring protection on all fronts.
The service is perfect for those that are on a budget, and it does not require you to make any compromises. There are discounts and promotions going on every now and then, making it an even more rewarding experience for users to sign up with PureVPN.
There is basically no reason why you should not get PureVPN, as the pros outweigh the cons.
At the same time, PureVPN caters to a larger target audience. Be it businesses, torrents, TV, and movie fanatics; there is something for everyone.
Depending on what type of user you are, you will enjoy a different experience altogether. Simply put, using PureVPN will prove to be an entirely different experience for everyone.
As amazing as PureVPN is, it is not without its cons. The apps are undoubtedly easy to use, but glitches do turn up with each new update.
But then again, they deal swiftly with any and all issues and glitches.
Some users complain about the fact that refunds take about a month.
However, it is nothing to worry about, as PureVPN does follow through on its promises, including those related to refunds and its money-back guarantee.
All in all, PureVPN manages to outdo its competition and has enough to keep users coming back for more each time. Rest assured; there is no other VPN provider offering so much at such an affordable cost, which is more the reason for you to consider signing up for it right away.