From time to time the VPN network connection drops and the device goes back to the public IP address assigned by the Internet Service Provider (ISP).
This brings the risk of the user's activities being exposed.
It is even worse when the user doesn't notice if or when this happened.
For this reason, most of the worth-mentioning VPNs add the internet kill switch VPN feature to their service to counter this problem.
Later we will look at how it works and some of the best VPN services that offer it.
What is a VPN kill switch?
When activated, the kill switch uses the administrator privileges to automatically cut off the internet connection immediately if the VPN disconnects.
It ensures that your IP address is never uncovered.
In simple terms, it is intended to prevent sending and receiving traffic in case the VPN connection accidentally cuts off.
This keeps a user safe from snooping and IP leaks.
Why use a kill switch?
Even the most reliable VPN services will sometimes experience server-down moments.
It comes last in the line of security to ensure that your IP address is never uncovered or you never transmit packets of unencrypted data.
It is therefore important to choose a VPN service that has an Internet kill switch feature.
Although most users don't need such levels of security, it is important to have an alternative for users for whom security is a major concern.
How a kill switch works
It can be compared to a spy that continuously observes your network connection for any change in bandwidth, status, or IP address.
If the kill switch notices any change (it could be a drop in the VPN connection), it immediately cuts off your internet connection until the VPN connection is restored or you shut down the VPN.
The reaction is usually virtually instant, to prevent your device from defaulting to the public IP address assigned by the Internet provider.
Types of kill switches
There are different ways in which this feature can operate. Let's take one at a time and see how they work.
System-level
A system-level kill switch is the simplest and the most popular type.
When it is enabled, it absolutely blocks the internet connection to the entire computer until the VPN connection is restored or resetting the network adapter.
Usually, it is a brute-force technique with a little finesse. It' s very effective at avoiding IP leaks.
Enabling it is generally easy, as it only entails selecting a check box in the VPN.
Here's an example on how to do it using Private Internet Access: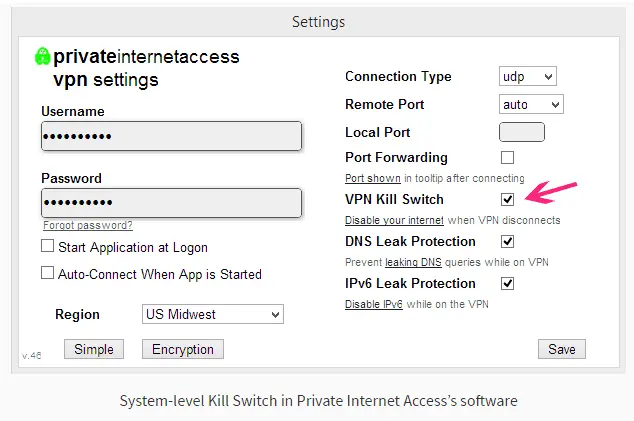 VPN services with a system-level killswitch
Application level
Application level kill switch allows you to choose the specific applications you want to kill.
The way I see it, it is more flexible compared to the system-level kill switch because it allows the user more control over how the switch operates.
The common applications/programs that you may want to close include:
Web browsers – Google Chrome, Mozilla Firefox, Opera Mini, etc
Gmail app
Skype
Torrent Client (Bit torrent, uTorrent, Vuze)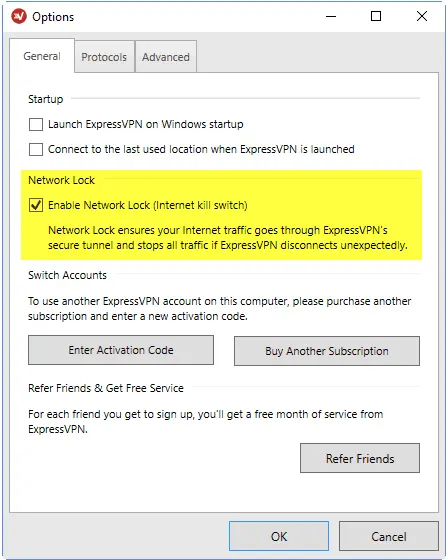 VPN services with an application-level kill switch
Resetting a kill switch
When users don't know how a kill switch works they tend to send complaints to the VPN service providers.
Most users don't understand the things they ought to do to restore their internet connection.
For you to regain connection you should take one of the following steps:
Restore connection to the VPN
Reset the DHCP settings for the Network adapter.
Reset your DHCP
Resetting your DHCP settings is easy. You can achieve that by following these simple steps:
Right-click the network/WiFi icon in the system tray and run the troubleshooter.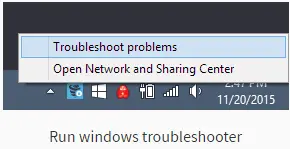 When the troubleshooter returns a Cannot Reach DHCP gateway message, click fix and it will automatically reset.
Is an Internet kill switch VPN automatic?
It is not always that a kill switch is automatic.
To enable kill switches for most VPNs you might need to go to the app settings and enable the feature.
For instance, the IPVanish VPN allows users to customize the kill switch feature.
On top of activating and deactivating the kill switch feature, it allows you to choose whether the connection should be restored automatically and whether the VPN should change the IP periodically.
Do I need a kill switch?
Whether to activate a kill switch or not is a personal decision to make.
It all depends on the reason you bought a VPN in the first place.
If security is a major concern to you and you may never want to uncover your IP address, it is important to always activate the internet killswitch VPN when accessing the internet.
When a kill switch is a must
There are few types of users that absolutely need to use a killswitch if they want to stay safe online. These include:
Torrent users
People who need to remain anonymous (Like activists)
People holding confidential documents
On the other hand, people using VPN to unblock geo-restrictions should be less troubled.
Does my VPN have an inbuilt Kill Switch?
Having in mind that different providers have different names for the kill-switch feature, it is quite a task to figure out whether yours has it or not.
You can find out by going through the VPN's reviews or FAQs.
Also, VPNs advertise the feature in diverse ways; the good thing is that we have put together a list of the top VPNs with the Internet kill-switch feature.
Top VPNs with a kill switch
ExpressVPN is one of the most popular VPNs in the market. It is known for its excellent security services.
To ensure that customers are always happy with the service they keep no logs of user activities.
It also equipped its software with a Network Lock (Internet Kill Switch) that shuts the internet connection when the VPN server goes down.
Below is the ExpressVPN general settings tab.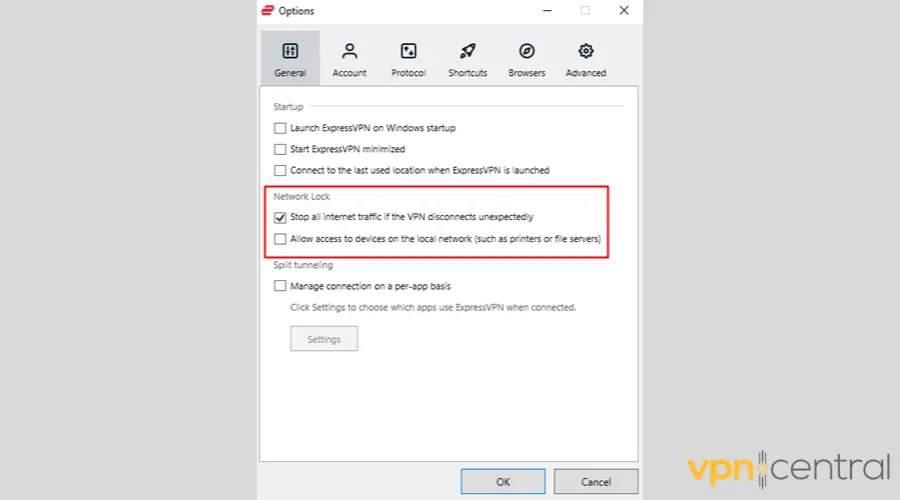 By default, the Network Lock is enabled but a user is also allowed the freedom to deactivate it. It ensures that all the traffic goes through the VPN tunnel. The Network Lock works perfectly well.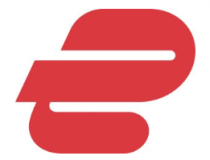 ExpressVPN
Activate Network Lock and remain completely anonymous in any situation!
Private Internet Access, also known as PIA is one of the top VPN services to incorporate a kill switch feature to its software. They were also able to support it on both Windows and Mac OS.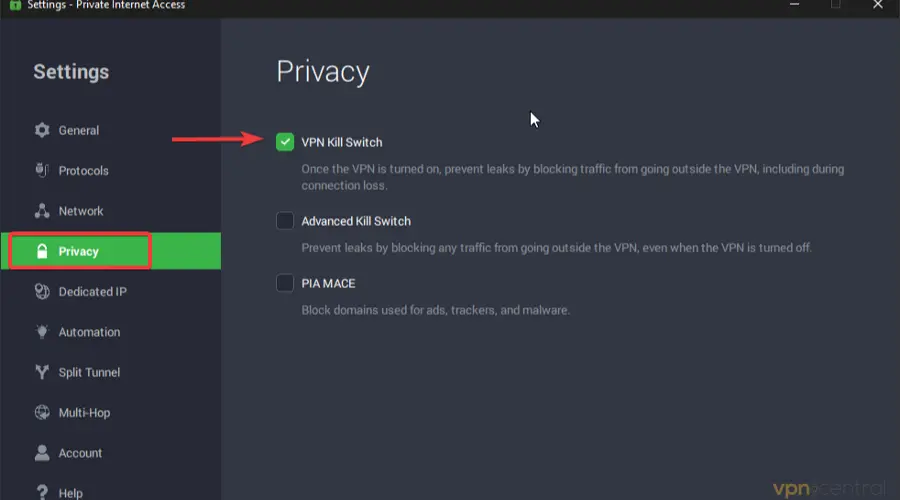 PIA also boast their service with an inbuilt DNS leak protection. And on top of that have a strictly no-logs guarantee and more advanced security features.
Moreover, it has an Encryption and Authentication setting screen. This allows the user to set the type of encryption, authentication, and handshake depending on the security needs.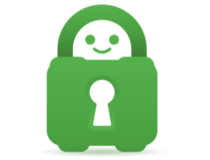 Private Internet Access
Use PIA's strong kill switch to make sure none of your private data leaks.
IPVanish is one of the top Known VPN services available.
Besides being the fastest VPN service user privacy is a priority. To start with it doesn't log user activities.
It also has a kill-switch feature in its software for both Windows and Mac clients.
As shown above, IPVanish has a feature of changing the IP address periodically at a set interval of time. Also, it is possible to set a different port so that to use TCP rather than UDP.
Note: for better performance stick to the OpenVPN UDP.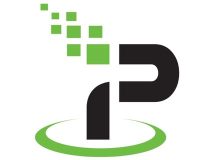 IPVanish
Set up IPVanish for a secure, fast, and untraceable connection with a powerful kill switch.
PureVPN is one of the best VPNs. Its service majorly focuses on user security.
The kill switch feature is at the moment in beta and all users have free access. You can find it in Preferences>Advanced options.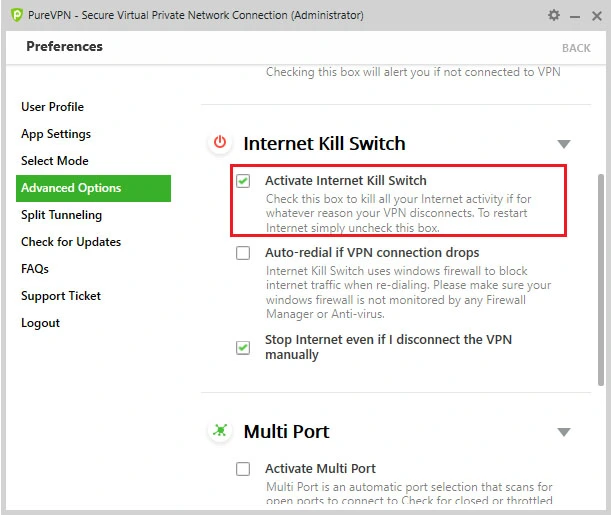 PureVPN also offers additional features to improve its security levels. These features include the NAT firewall and the dedicated IP feature.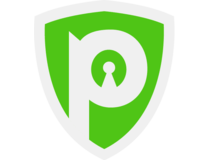 PureVPN
Protect your Internet connection using one of the most reliable VPNs on the market!
Summary
By this point, you are well aware of how this feature works and also the alternatives available out there.
You should, therefore be able to ensure that all your connections are secure.

It is also very crucial to note that low VPN connections are not the only cause of IP leaks. DNS leaks are also very common where a website unintentionally directly to an unintended DNS server.