Originating from Panama, NordVPN is one of the most popular VPN providers out there and today we'll review it and truly put it to the test.
It has a huge customer base of over 12 million users across the world.
Founded by four childhood pals, NordVPN has been preferred by internet users globally for the array of features and services it provides.
The VPN started with a mission to create a control-free, accessible Internet that is free from any surveillance and restrictions. The company has been able to achieve this goal by incorporating a robust technology infrastructure, smart pricing, and a wide variety of features.
So, are you wondering what the actual features are, how good the provider really is, how fast it is, and what kind of data security it provides?
You've found the right place! In this article, we'll talk about it in great detail and review the various aspects of this top VPN provider.
We'll also discuss its benefits and drawbacks, the company, its features, the customer support services provided, and much more!
Read our article to know about the subscription plans offered and its app. If you're looking for a VPN, you need to know these aspects to make your choice, so let's begin!
Pros and cons of NordVPN
NordVPN comes with a mixed bag of features! While some of them are amazing and rank above all of the VPN's competitors, others lack the punch and act as drawbacks.
Let's have a look at the various pros and cons to understand it more clearly!
Pros
NordVPN's location: Located in Panama, the VPN provider enjoys a lot of benefits in terms of legality. Its location allows the company to guarantee that the users' information is secure. This means that the company can never be made legally liable to share its users' data.
Access Netflix: The VPN allows its users to stream the famous OTT platform. You can watch your favorite shows and movies from the streaming platform's foreign servers.
Does not log files: It has a zero-logs policy. Its obscure servers ensure that you can evade censorship without any surveillance agency or ISP tracking your log files.
Raving Mobile NordVPN app reviews: its mobile app has garnered rave reviews from its users. It scores a whopping 4.5 out of 5 stars on Google Play Store and Apple App Store. NordVPN has also received generally favorable reviews from its audience online.
Cons
Unchanging IPs: As a user, you get the same, static IP address any time you use the VPN while other users also use the address.
No split tunneling: It also lacks the ability to work along with a public network. This means that you cannot use it along with a public network at the same time.
Unsatisfactory customer support: Many users have raised the issue of not being able to connect with customer support.
NordVPN safety
Now, let us explore how trustworthy the service is:
Who is behind NordVPN?
NordVPN launched in 2012 in Panama, a country known for its lenient data laws. The company's location protects it from any form of international surveillance issues. This allows it to protect the users' data from any legal obligations.
The company boasts a large network of around 5066 servers in 59 countries, as stated on its website. It enjoys a global presence with its large network, considering how important internet speed is in the use of VPNs.
Because of its large and close link of servers, we find it a great candidate for your VPN requirements. But, do its features really stand out? Let's have a look at the features.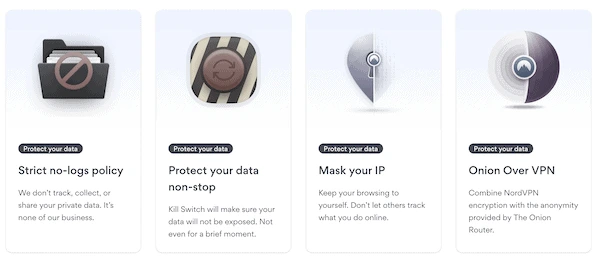 NordVPN offers a wide variety of technical features, a majority of what you'd expect from a VPN. However, the VPN also offers features like OpenVPN support, a kill switch, and DNS leak protection for stronger encryption and identity protection of its users.
In addition, it hosts unique features like dual data encryption, multi-layered security, protection from malware, ads, phishing, etc. It also comes with CyberSec technology, P2P support, and a no-logging policy all thanks to the data laws in Panama.
Furthermore, it provides the feature of NordLynx, available on Linux and iOS, which is a high-speed protocol. The feature which is based on WireGuard technology is available in a handful of countries. However, the company plans to extend it across its entire network and global client range in the future.
The VPN provider now also offers a feature of automatic reconnection in case you disconnect from the service and forget to reconnect.
It will be automatically reconnected after a few minutes, allowing you to seamlessly perform your tasks. NordVPN additionally provides an option to switch off this feature if you feel that your device is overloading because of it.
In summary, this VPN guarantees features like:
Kill Switch
Access to Netflix
Torrent Downloading
Anonymous IP Address
Double Layered Encryption, and much more
Does NordVPN log my data?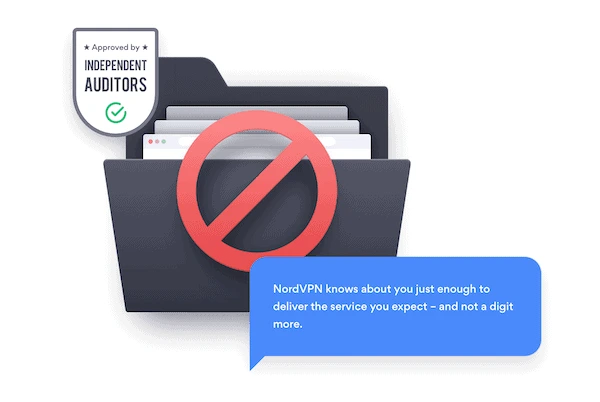 No, the company has a no-logging policy. This means that it does not track its users when they use it, for what they use it, what users download, the user's IP address, or the users' servers.
NordVPN kill switch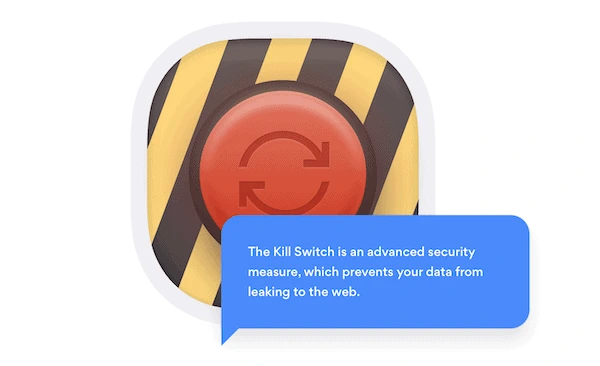 A Kill Switch is a feature that locks the internet network of the user in case the VPN connection drops. Any application using the VPN automatically shuts down. NordVPN not only has the kill switch features but boasts two kill switches.
One switch closes the internet access when the user is not connected to the VPN, and the other closes/kills the applications using the VPN when the connection is terminated.
However, the iOS app only disables internet access and does not shut down mobile applications.
Tunneling offered by NordVPN
One of the drawbacks is that split tunneling is not available. This means that a user cannot use the VPN along with a public network. Once the user enters the VPN network, they can only function on a private network.
Can I watch Netflix with NordVPN?
We found binge-watching our favorite shows and movies on Netflix effortless with Nord VPN. We streamed content using it on Windows, Linux, and iOS and found that the VPN was able to bypass the stringent blocks.
Using Netflix with the VPN via mobile phone, laptop, or tablet operating on Android or iOS, smart TVs, and other streaming devices is also hassle-free.
Nord VPN has the SmartPlay feature that enables it to dodge blocks and allows you to safely stream content that is unavailable in your country.
With a combination of DNS and VPN technology, it also works well with OTT platforms such as Hulu, Amazon Prime Video, HBO GO, Hotstar, Apple TV, and Disney+.
NordVPN encryption algorithm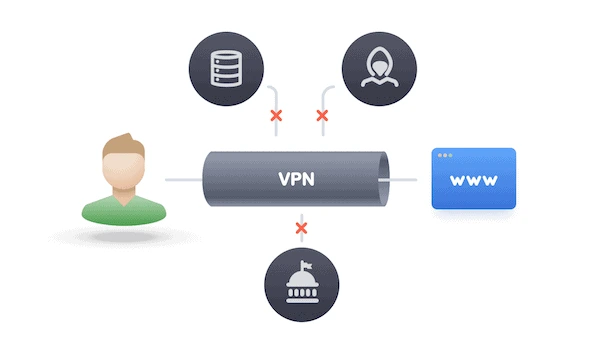 Data encryption is the process that converts your data into code that can be seen or accessed only by users who are authorized by you to do so.
Data privacy and protection top the priority list whenever we assess any VPN. When it comes to NordVPN, we found it to be a strong contender in this area with its robust IKev2/IPsec support.
The VPN uses AES with 256-bit keys which ensures that an attacker can't breach your data even if someone is able to breach your one session. The service follows the following protocols for data encryption
IKEv2/ IPsec
The VPN uses Next Generation Encryption (NGE) with IKev2/IPsec to ensure that the connection is uninterrupted and that the VPN gets reconnected in case your internet network disconnects. IKev2/IPsec uses cryptographic algorithms to enhance data security and ensure a more stable connection.
SHA2-384
Secure Hash Algorithm or SHA is a group of cryptographic functions that keeps user data safe. Simply, a hash is a unique and permanent string of data that prevents anyone from identifying the original data and duplicating it.
The VPN uses SHA2-384 to encrypt and authenticate the data, which ensures that the right recipient is able to receive the data.
PFS
Perfect Forward Secrecy is another data encryption tool that ensures that your encryption system means that your encryption system routinely alters the keys used for encrypting and decrypting your data.
This happens every time you load an encrypted page, ensuring continuous encryption of your information.
Double VPN

This VPN provider also scores high for its data encryption due to its double VPN feature. Double VPN ensures dual encryption of your data, routing it to two servers instead of one.
Also known as VPN server chaining, your traffic is encrypted on your device and transferred to a remote server. From there, the traffic is again encrypted to ensure the dual security of your data.
The only drawback of a double VPN is that your internet speed will reduce to a significant extent. Double VPN is, therefore, suitable only for people who face higher censorship and data limitations in their country.
NordVPN protocols
VPN protocols can affect a VPN's speed, security, and weaknesses. Let's have a look at its protocols:
TLS
Transport Layer Security (TLS) is a protocol that authenticates, safeguards, and incorporates data between two applications. TLS is a popular security protocol for web browsers and other applications.
It is used by applications that need data exchange over a network to ensure that data is transferred securely from one end to another.
OpenVPN TCP
OpenVPN is a highly popular and safe protocol used by a majority of VPN providers. TCP (Transmission Control Protocol) transfers your data over the web from your device to a remote web server.
This ensures that your data transfer is 100% and no data packets are lost in translation.
OpenVPN UDP
UDP (User Datagram Protocol) also transfers data in the form of small data packets, ensuring that your data is transferred at a faster speed.
However, OpenVPN UDP does not ensure a 100% transfer, and your data may get lost or jumbled up during the transfer. The VPN provider allows you to choose between TCP and UDP as per your preference.
Testing NordVPN
We conducted thorough tests to assess the VPN on different benchmarks. Here's what we found:
Speed test
Download and upload speed, along with network and data stability are critical when you assess any VPN. The speed can vary with a person's location, internet service provider, server, and even the device on which you use the VPN.
This is our connection speed without the VPN active. We were connected to a WiFi network, and the connection speed wasn't great at all in the first place.

At first, we connected to a server nearby.

As you can see, we experienced just a minor drop in speed.
This is instead the test using a server many miles away from where we are.



We tested the VPN connecting to three different areas around the globe. Apart from the server in Brazil, the performances didn't drop significantly. Considering the distance from our original location, we were happy with this result.
Let's see now what happened when we connect to a Double VPN server.

In this case, we could see the effect of two VPN servers working together. The double encryption took its toll on the speed. However, the connection was still fast enough to stream content without any buffering.
This is instead the speed test using an Onion over VPN server.

That was, as expected, the most disappointing test during our NordVPN evaluation. TOR is slow by itself, and combined with a VPN, the performance is even worse.
The speed dropped to the point that we experienced buffering watching the YouTube video and even page reload didn't work at times. Onion over VPN can only be used if you need to consult a web page without downloading any content.
Even though Onion over VPN may be a handy feature, we still believe that it would be a better idea to connect to TOR without using the VPN.
DNS leak test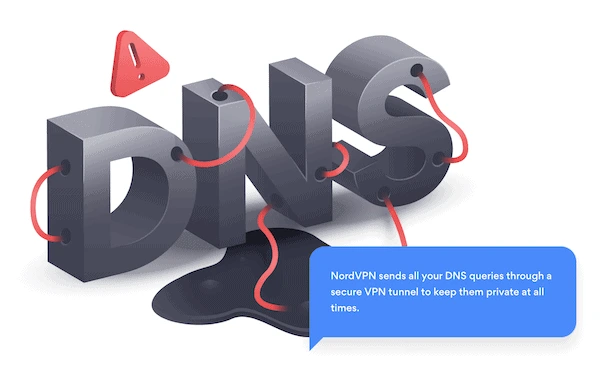 DNS (Domain Name Server) is the website address you type or click on when you want to visit a website. For instance, the DNS for Facebook is facebook.com.
A DNS leak test analyzes the level of security and anonymity maintained while visiting a website in a VPN tunnel. NordVPN also passed the DNS leak test as there were no DNS leaks on macOS or Windows.
WebRTC leak test
WebRTC is an open-source project that enables real-time communication of audio, video, and data between browsers.
Such leaks affect Google Chrome, Mozilla Firefox, Microsoft Edge, and Opera, affecting the speed during live streaming, file sharing, and video conferencing on the browser.
The WebRTC leak test assesses if a user's private IP address is visible to the websites or not. Here also, Nord VPN passed our benchmarks as there were no WebRTC leaks on Windows or Macbook.
NordVPN subscription
NordVPN has a straightforward pricing structure, with four simple plans. You can shell out $11.95 per month with a monthly payment plan or a $6.99 plan if you opt for a yearly plan.
Not only this, the VPN further offers a discount for two-year and three-year plans, with discounted rates of $4.99 (58% discount) and $3.99 (70% discount) respectively.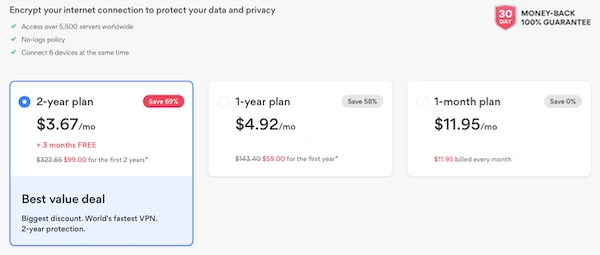 With a sharing feature, you can use it on six devices on different protocols with a single description, making a long-term plan your best option to save some extra bucks!
Manual configurations
In our tests, we found that the VPN works smoothly on a long list of devices operating on Windows, iOS, Android, macOS, Linux, Router, Proxy, and NAS.
Which browsers does it support?
The service has extensions for Chrome, Firefox as well as Opera, ut a Safari one is not yet available.
NordVPN customer support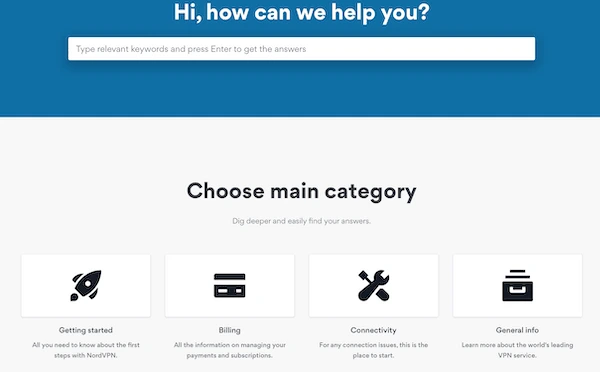 Connecting with the customer support of any VPN provider makes it seem like a daunting task to get your connection issues or other troubles resolved!
Add to this the additional costs sometimes levied by the service provider, you may want to discard the service altogether. Keeping these parameters in mind, let's have a look at customer support services.
Features
NordVPN provides an option of 24*7, 365-day email support, and live-chat assistance. We were really impressed with the online knowledge bank offered by the VPN with detailed FAQs, QnAs, and troubleshooting manuals.
Customer support ratings
The company's Internet Privacy & Security Software has garnered a rating of 3.8 on Amazon, which is quite a good rating considering most of the users have varied experiences using a VPN.
The VPN provider was able to score a rating of 4.5 out of 5 on TrustPilot, with a majority of positive reviews.
However, many of the negative NordVPN reviews highlighted the obstacles users face in connecting with customer support and getting help in a timely manner.
The NordVPN app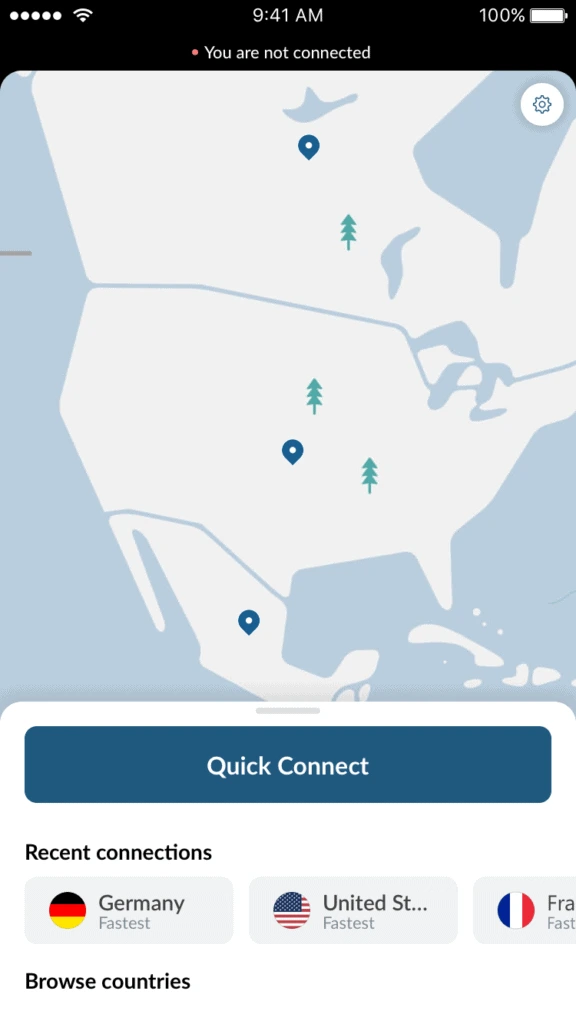 To use it on your mobile phone or tablet, you need to download the NordVPN app. To our joy, the app was available on both Apple and Google Play Stores, with highly positive reviews from mobile users.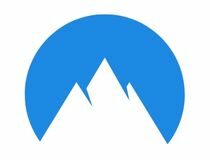 NordVPN
Benefit from heightened privacy and advanced security features with NordVPN.
NordVPN Vs. Surfshark VPN
NordVPN is a much larger company than Surfshark VPN – the latter only has a smaller choice of servers compared to the greater competitor.
While Surfshark also offers a kill switch, it overtakes it in one aspect – it provides split tunneling which is not available in NordVPN.
Situated in the British Virgin Islands, Surfshark VPN also enjoys protection from international surveillance and also allows torrenting. Moreover, Surfshark allows streaming on Netflix as well, rendering it a good option for binge-watchers.
NordVPN Review – Verdict
In our assessment and thorough testing, this VPN turned out to be a terrific VPN provider with a wide variety of features and a few drawbacks.
It is one of the most popular VPNs in the world, holding a massive audience and loyal customers.
However, different people look for different features in a VPN, and therefore, we recommend Nord VPN to you if you're looking for the following features in your VPN provider:
Protection from international surveillance: its location in Panama plays a huge role in its popularity since it is free from any international surveillance alliances.
Streaming on Netflix and various other OTTs: Another great feature that allows you to freely stream your favorite shows and movies without geoblocking.
Torrenting: High-speed downloading without any hiccups
Double-VPN: Dual encryption protection with two servers.
High user ratings: Millions of Apple and Android users love the NordVPN app
However, you may want to avoid it if you do not want to deal with the following:
Lack of split tunneling: It does not provide split tunneling, so it is not the right fit for you if you switch between public and private servers.
Customer support services: NordVPN has received unfavorable reviews when it comes to its customer support.
---