ExpressVPN – Our top-rated VPN service – here's how it achieved that ranking.
VPNcentral's Verdict for ExpressVPN Review:
| ExpressVPN PROS | ExpressVPN CONS |
| --- | --- |
| 30-Day Money Back Guarantee | Slightly More Expensive Than Competitors |
| High-Speed Connection | |
| No Logs | |
| P2P, BitTorrent Download Allowed | |
| User-Friendly | |
| Excellent Servers Network | |
| 24/7 Live Chat | |
| Smart DNS Included | |
| Kills Switch | |
| 5 Devices With One Subscription | |
ExpressVPN is one of the most popular VPN providers in the industry. The success of this VPN rests on a superb performance and the company's customer-friendly policy which will now be analyzed in our ExpressVPN review.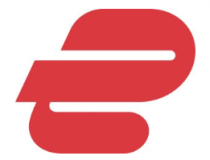 ExpressVPN
Get the best speed, outstanding privacy features, and access to remote locations with ExpressVPN!
It is in the British Virgin Islands where the law doesn't require VPN providers to keep a record of your traffic.

An excellent 24/7 customer support, a super-fast connection with excellent download speeds, one of the best encryption algorithms on the market, and a user-friendly app all contribute to highly satisfied clients. Additionally, the strict 'no-logs' policy enhances your online security. Moreover, you can use ExpressVPN to watch Netflix from all around the world, and no wonder it is part of our list of best Netflix VPNs.
The 30-day money-back guarantee makes it very easy to have an ExpressVPN free trial.
Thanks to the coupon for our readers, you can benefit from a 12+3 special promotion. That gives you the chance to buy one of the best VPNs on the market at the economical price of $6.67/month, saving 49% on the regular price.
We have analyzed all the features of ExpressVPN and performed many tests. In this ExpressVPN review, we will dive into all these details.
ExpressVPN review – main features
Protocols: OpenVPN (TCP, UDP), L2TP-IPSec, PPTP
Encryption: Military-grade 256-bit AES
No-Logs: Yes
Servers: 3000+ servers in 160 cities across 94 Nations (and keeps expanding)
Server Switches: Unlimited
Smart DNS: Yes
Speed Test: Yes
Data Traffic: Unlimited
VPN Split Tunneling: Yes
Compatible Devices: Windows, Mac, iOS, iPhone, iPad, iPod, Android, Apple TV, Kindle Fire, PlayStation, Xbox, Linux, Router
Customer Care: 24/7 through live chat, email or contact form
Login: Up to 5 devices simultaneous connections or use the router app to protect all the devices in your home with 1 subscription
Works With: Netflix, BBC I Player, Hulu, Kodi, Torrenting, HBO, Sky, and other streaming services
When you subscribe to any plan, you receive plenty of features that make ExpressVPN highly flexible and efficient.
First of all, the company has over 3000 servers in 160 cities distributed across 94 nations on 5 continents. ExpressVPN server network continues to expand so you may expect to see these figures grow in the future. Interestingly, they have servers even in Africa which is unusual among VPN providers.
Having a vast network of servers at your disposal is a critical factor when selecting a VPN service. If you need a VPN to access geo-restricted websites, it's especially good to have a wide selection of countries to connect through to disguise your IP address.
Even better, ExpressVPN is one of the few VPN providers that you can use to watch Netflix. As of now, it still works with Netflix, unlike other major providers that have been banned. Of course, you should always make sure there is a server available in the particular country you need to access your favorite website.
With such a wide range of servers, Hotstar, Hulu, BBC iPlayer, Spotify, and many other geo-blocked services can be easily accessed even if you're not in the countries they originate from.
In a while, we will explain in our ExpressVPN review how to watch Netflix with ExpressVPN
ExpressVPN – latest updates
It is always exciting to see new features pop up in the VPN industry. ExpressVPN has been listening closely and responding with many high-quality additions over time, making them one of our top contenders for best overall service.
In just one year, they have released a number of appealing new features that will be sure to keep you coming back for more!
Parallel Connections – This feature is only available on iOS for now, but other platforms are in development as well.
Easier to cancel your subscription from within the iOS app.
Some features have been removed from ExpressVPN's apps; the speed test, IKEv2, and L2TP support on Windows.
The Threat Manager protects you from malware and trackers while also blocking ads. It's available on iOS, Mac & Linux – with other platforms in development!
ExpressVPN – pricing
One of the major complaints we hear about ExpressVPN is about the price, not the service. As you will discover reading our ExpressVPN review, there are good reasons for the price difference compared to other providers.
TRUE! ExpressVPN is more expensive than other top VPN services like CyberGhost, NordVPN, and Hide My Ass. (Read ExpressVPN vs CyberGhost, NordVPN vs ExpressVPN)
However, it may be well worth it to pay for such a small difference if you consider the quality of the encryption and the many free add-ons.
The free Smart DNS service alone is worth the small difference in price, as it will protect your DNS queries.
An ExpressVPN monthly subscription starts at $12.95 per month. However, using the special offer for our readers you can save 49% if you subscribe for one year. That will drop the price to only $6.67 per month.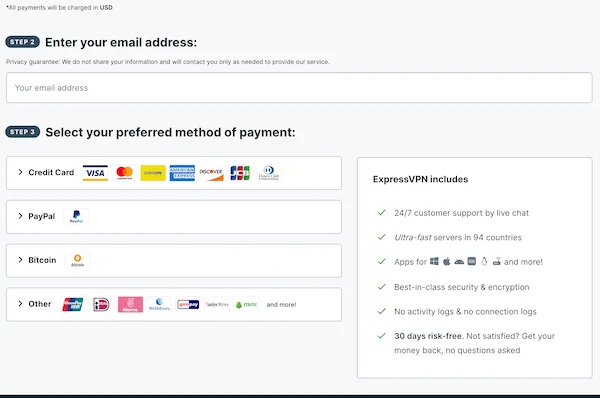 The payment is pretty easy and convenient. You can choose from many payment methods including PayPal and Bank Transfer.
If online privacy is vital to you (you're searching for a VPN service, after all) you can even select the Bitcoin payment. The new digital currency will make even your subscription anonymous.
After you become an ExpressVPN client, you can earn 30 days of free service every time you refer a friend. If your friend subscribes, both of you will get this reward.
You can't really count on lots of free services unless you have a very long list of friends, but it's better than nothing.
Is ExpressVPN safe? Privacy and logging
ExpressVPN is among the provisions that apply a strict 'no-log' policy, which means enhanced security and privacy for you.
The company uses AES (Advanced Encryption Standard) with 256-bit keys (AES 256). This is the standard that the U.S. government uses and even security experts worldwide adopt AES 256 to protect classified information.
When you connect through a VPN, the strong encryption algorithm hides your traffic and neither your ISP (Internet Service Provider) nor government agencies can see it.
The only one who knows what you're doing online is your VPN service provider.
Now, many VPN providers must keep a record of your activity to comply with local laws. If for some reason, like copyright infringement, there is an investigation into your activity, the authorities may force the VPN provider to give access to your record.
This is not the case for ExpressVPN since they do not store any data at all. For instance, when in 2017 Jamal Khashoggi was murdered in Istanbul, ExpressVPN has been involved in the investigation.
However, investigators didn't find any personal data since the company doesn't store it.
In the event of an investigation, ExpressVPN has no record at all to show the authorities. A 'no-log' VPN provider makes your surfing totally anonymous.
Several VPN protocols are supported by ExpressVPN:
OpenVPN (TCP, UDP)
L2TP-IPSec
PPTP
The PPTP protocol is, of course, highly insecure, but if you need it, you have this option.
The best thing you can do is always also use the Open VPN protocol, which guarantees the best protection.
In terms of logins, ExpressVPN does store some minimal logs that can be used to identify when you connect to their servers – this includes the date/time stamp as well as which server choice was made.
Without any other identifying data like traffic reports from websites visited during this time frame, it would not be possible for them to link actions taken online directly back to an individual user who utilized ExpressVPN services.
ExpressVPN is based in the privacy-friendly British Virgin Islands (BVI), just like the competitor Surfshark. The BVI has no laws requiring companies there to submit data.
The positive aspects don't stop at its location; ExpressVPN keeps absolutely none Personally Identifiable Data (PID), meaning nothing such as user names/passwords will ever be handed over should they fall under public scrutiny again online.
ExpressVPN – Smart DNS
This handy feature comes for free when you subscribe to any plan.
A Smart DNS service resolves your IP address to a destination that you specify whenever you make your DNS queries. Using the Smart DNS service, you can still geo-spoof websites but the traffic is not encrypted. Since your data doesn't go through encryption, the Internet speed will be faster.
Keep in mind, however, that when using the Smart DNS service, your activity is visible and not protected.
The Smart DNS is useful on devices that do not support VPN software and have dynamic IPs like Apple TV, Play Station, and Xbox.
Without a Smart DNS, it may be difficult for the device to access certain services when the dynamic IP changes. The Smart DNS gets around the problem of tracking any change in your IP address by redirecting it to a hostname that never changes.
In doing so, the Smart DNS avoids any blocks. With a Smart DNS, you can enjoy the full potential of your media streaming device, and have your DNS queries always go through.
You cannot set the Smart DNS through the user interface.
You have to log in to your account on the ExpressVPN website and click 'DNS Settings' on the top menu.
Scroll down the page and refer to the section titled 'Dynamic DNS Registration'. If you don't know what to do, click on 'learn more', and you'll find a series of easy-to-follow tutorials that will guide you through the process. If something goes wrong or the next step is not clear, don't panic. Just use the live-chat function, and a customer service rep will help you set up the Smart DNS feature.
Is ExpressVPN legit?
ExpressVPN provider is one of the fastest VPN services in the industry. On their homepage, they claim to be 'the fastest VPN on earth' and this is kind of accurate.
As you'll see later on, after conducting several speed tests we can confirm that the company claim is reliable. ExpressVPN is a super-fast and well-performing VPN connection.
You can use ExpressVPN to stream movies or torrenting without problems (BitTorrent and P2P are supported.)
Thanks to the speed test, you can always check in advance the performance of the server you are selecting. This is a handy function especially when you have to choose a server far from your location.
Is ExpressVPN fast?
During our ExpressVPN review, we performed our own speed test from a computer located in Europe. This is the result of connecting without the VPN active:

After that, we connected to a server located in Europe not far from our location. The speed dropped a bit but the performance was still very good. The ping didn't change much and was still quite fast.

Finally, we connected to a server located in the U.S. We used the speed test function to find the server with the best performance. The result clearly shows how distance has a significant impact on the connection. The ping in particular increased dramatically.

In any case, it is evident that ExpressVPN offers excellent performance and has proved to be a very fast VPN connection.
Can you use ExpressVPN for streaming?
ExpressVPN is particularly suitable for viewing live-streaming content. This is for several reasons.
It guarantees a very high connection and download speeds which turns into a very fluid view.
It works perfectly to unlock sites around the world giving you the possibility to access an unlimited amount of live streaming content.
Many live-streaming sites contain copyrighted material. ExpressVPN allows you to access this type of material safely as it totally protects your true identity by making you untraceable.
There's a good chance that if you want access to streaming content from Netflix, , Hotstar, BBC iPlayer, or Amazon Prime then ExpressVPN will help make sure it becomes available in your location.
With such openly declared capabilities on the company's website there can't really be any arguing with what they offer here – alluded to as these services are just some examples among many others unlocking potential customers onto their platform.
ExpressVPN is a great choice for those who want to watch their favorite shows and movies on Netflix. With many servers, the streaming service will always be unblocked!
ExpressVPN is a powerful Amazon Prime VPN, and we found it to be very effective at getting access throughout our tests. BBC iPlayer also worked well when using this service – they had no problems with their stream on 5 different occasions!
As an added bonus there's MediaStreamer–a neat little feature that lets users switch location via internet connection so you can watch geo-blocked content without having any trouble on nonsupporting devices such as Smart TVs or game consoles.
ExpressVPN for torrenting
ExpressVPN supports:
unlimited torrenting,
P2P file sharing
BitTorrent.
Not only will you be able to download unlimited content but you will do it in total security.
It is well known that torrenting is a risky activity that can have unpleasant legal consequences. In this ExpressVPN review, we strongly recommend you perform these operations while always having an active VPN.
In this regard, ExpressVPN is ideal not only for its speed performance, which makes it possible to download content exactly as if the VPN were not active. More importantly, it has all protections you need to hide your identity and avoid receiving fines or legal notifications when downloading torrents.
These protections include:
Super secure and protected military encryption algorithm
Kill Switch that instantly deactivates your Internet connection in case the VPN stops working
Advanced VPN protocols, such as OpenVPN, that secure your navigation.
You can also set the VPN Split Tunneling on any compatible router. Its purpose is to select which of the connected devices you want to protect using the VPN and which ones can access the Internet unprotected.
Transmitting all your data through a VPN may consume all your allotted bandwidth. So, if some of your data is not sensitive, you may decide to access it on an unprotected device.
As a result, your internet speed will still be fast enough to enjoy torrenting. VPN Split Tunneling will help you to manage all your devices in just a few clicks.
How to install ExpressVPN?
ExpressVPN is one of the easiest VPNs to use.
When you sign up, you will be requested only your email address (apart from your payment details of course). If you want to further protect your online privacy, you can use a disposable email address.
Once you complete the payment process, you will be redirected to the download page where you can install the VPN software on your device.
On this page, you will see the activation code you must use during the installation. You have to copy and paste it when requested later on.
From the list of devices, choose the one where you want to install the software. After you have selected the device, click the download button and you're done. The process couldn't be easier.
ExpressVPN guarantees a great user experience. Version 7.0 of the app features a new look and new functionalities.
As it happens with any new release by ExpressVPN, the tests we performed have revealed improved performances.
Moreover, the software is available in several languages for both versions, ExpressVPN Android and ExpressVPN iOs. The same option is unfortunately not available yet for the desktop version.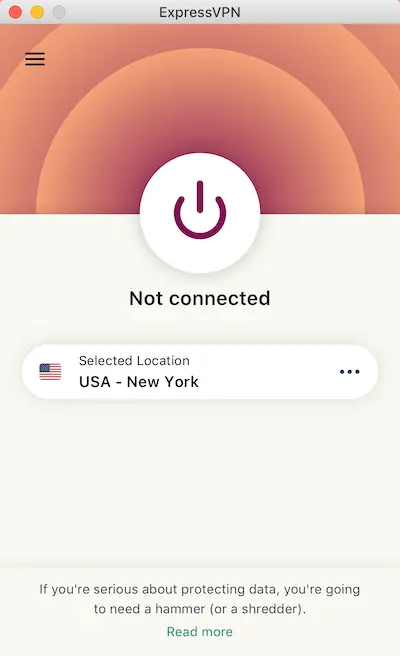 As you open the app, you'll see a big button. Click it, and in seconds your protection is on. Turning on your computer is possibly more complicated than activating the VPN.
The design may slightly differ depending on whether you use Mac or Windows, but the layout is very similar in both versions.
Though simple, the client gives you total control of your VPN connection.
As you activate the VPN, you can see the 'shortcuts bar' that displays a series of applications. This is part of the new feature and it gives you one-click access to your favorite app. You can customize which apps you want in the bar from the menu preferences > shortcuts.
As you start the app, the software automatically shows you the best-performing VPN server close to your location. This option may be fine for you. However, if you need to mask your IP address and simulate that you are connecting from a different region, you need to change the ExpressVPN location.
You can choose any VPN server of your choice in seconds.
If you click 'Choose Location', you can choose the VPN server manually. You will see a list of recommended VPN servers or, alternatively, if you're not happy with that selection, the menu 'All' will open the complete list of servers around the world. You can manually select the one you want.
To make your life easier, you can even save servers in your 'favorites' list for future reference.
ExpressVPN – desktop apps
ExpressVPN is a reliable VPN service that provides you with all of the features necessary to stay safe on desktop apps.
With an intuitive interface, easy-to use settings page and huge On/Off button for beginners who just want protection without hassle – ExpressVPN has it handled!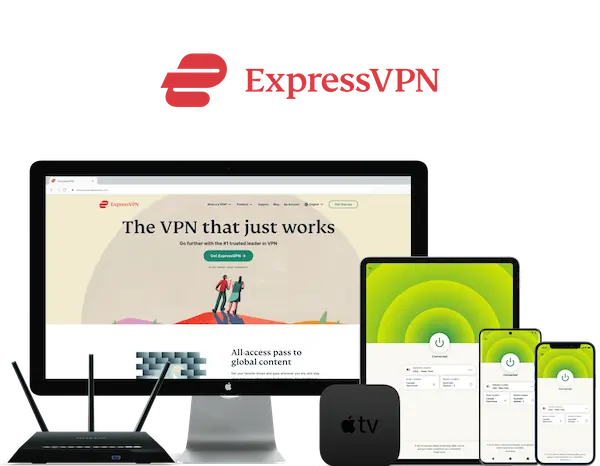 Clicking on a location will bring up an interactive map and list of available servers. You can choose between favorites, as well as view your two most recent choices in the tray icon if you have it open or via the menu bar for Mac users without opening any apps!
This is where you can adjust your settings to get a better understanding of what information the ExpressVPN service will send and receive. You have protocols such as Lightway, OpenVPN UDP or TCP for IP traffic; IKEv2 on Mac – Windows support has been dropped but there's still split tunneling which allows users to select which apps route through their virtual networks safely!
The Mac app is more advanced than the Windows version with support for new features like Threat Protection, which blocks ads and trackers while also blocking malware-infected sites. Unfortunately, split tunneling isn't available on macOS but overall both apps are simple to use as well making them feel premium even though they're not priced that way!
ExpressVPN – mobile apps
You can use the mobile versions of the ExpressVPN app to prevent your personal information from being leaked online. The iOS and Android apps work in a very similar way – just enter your login details into either one, accept some permissions when prompted for them, and you're good!
With all these interesting extras like IP address checkers, leak testers, and a WebRTC leak tester available on both platforms we think it's worth checking out what they have going on before trusting anyone else with my data.
iOS is a little more limited than Android when it comes to features, but the option for automatic reconnection makes up for most of these limitations. On iOS, you don't get split tunneling or a kill switch.
ExpressVPN's mobile apps are powerful, well-designed, and simple to use.
Unlike some other providers who give marginally more in-depth options but lose out on customization or functionality such as choosing your own DNS servers; the Express VPN provider has kept things lightweight without compromising any important features with their sleek-looking app which can be used quickly even if you don't know how networking works!
ExpressVPN – browser extensions
Each subscription of ExpressVPN includes browser extensions for;
The ExpressVPN extension for Safari is not available yet but hopefully, we will see it released soon.
Once you have an active ExpressVPN subscription and you have downloaded the app on your device, you can install the browser extension directly from the app. Just click on the top left menu and select 'Preferences' and then on 'Browsers'.
When you install ExpressVPN on Chrome or Firefox, you have quick access to the VPN service directly from the browser's navigation bar.
All you have to do is to click on the VPN icon on the bar to activate the protection quickly and easily. Through the same icon, you can even check the status of the VPN or switch server. For this ExpressVPN review, we tested all the browser extensions, and they work just fine and save you some time.
ExpressVPN – customer support
Our ExpressVPN review wouldn't be complete if we didn't mention customer service.
The quality of customer support is critical when you use a VPN connection.
If you're doing something important and suddenly experience a problem, it is vital to receive the support you need quickly.
We contacted ExpressVPN customer care several times asking for assistance and we've used the live-chat function. The response has always been a few seconds and a couple of minutes.
So ExpressVPN is there to help you if you have any questions about how to use the VPN apps. They have also provided dedicated setup guides and FAQ articles.
The representatives have always been helpful and knowledgeable. For that reason, we rate the ExpressVPN customer service very highly.
ExpressVPN review – final verdict
ExpressVPN is one of the most renowned VPN service providers.
What stands out with this ExpressVPN is that it has a broad range of access to servers worldwide, making it suitable for a user looking for worldwide access.
That's our ExpressVPN review. With its superb service, top-tier speeds, and features that are hard to come by these days – especially at this price point- we think you should consider it one of the best VPN services out there today!
---