RynVPN is a relative newcomer to the VPN scene, but it has already made a big splash in the market.
Created by a Singapore-based company in 2020, the VPN is advertised as having good speed, impressive security, and geo-unblocking capabilities.
Is that true? Well, that's why we decided to put these claims to the test. We'll closely review Ryn VPN's features and capabilities to see what it really offers.
Before we go into the nitty-gritty, here's a short overview of what Ryn VPN offers.
| | | | |
| --- | --- | --- | --- |
| Number of servers | 1000+ | Support | Email 24/7 live WhatsApp chat |
| VPN protocols | UDP, TCP, IKEv2, and IPsec | User-friendliness | 8/10 |
| Speed rating | 6/10 | Minimal price | Free |
| Operating systems | Android and iOS | Split tunneling | No |
| Kill switch | Automatic | Number of connections | 1 |
Features
RynVPN may not include all the advanced features like double-hopping or split tunneling that some VPNs offer.
However, it provides the essentials for a VPN, including a secure and safe browsing experience and the ability to bypass geo-restrictions to access websites and apps.
So, let's take a closer look at Ryn VPN's features and how they perform.
Servers
Server locations play a crucial role in allowing you to access content from around the world.
RynVPN offers 1000+ servers in 35 different countries, providing you with a wide range of options when accessing content from a specific location.
Moreover, they don't have any connection limits, not even on the free plan.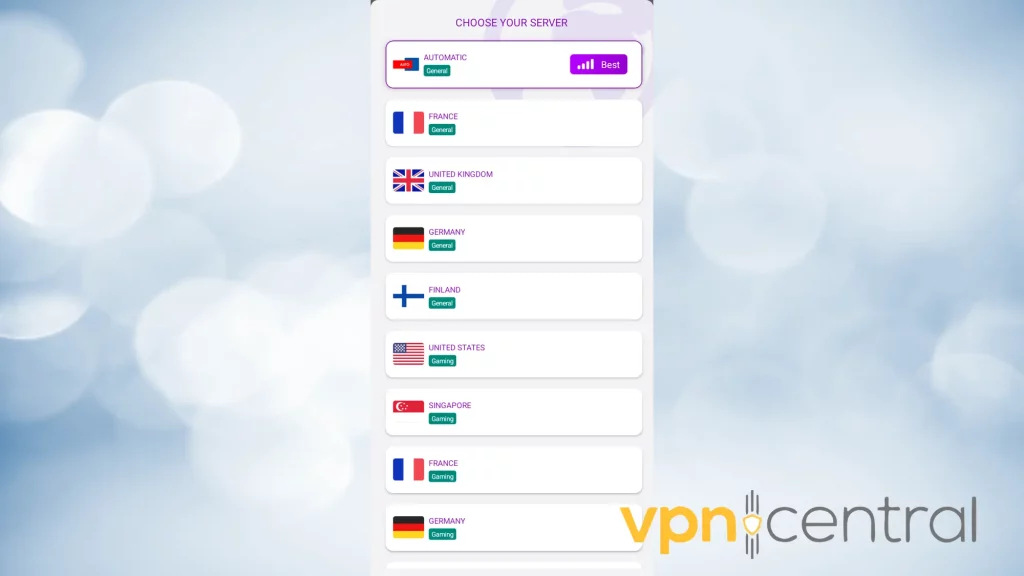 This feature is not only useful for accessing geo-restricted content but also reduces the chances of network congestion, which means you can enjoy a smooth and fast browsing experience.
We've tested the effectiveness of RynVPN's servers, and you can be sure to get a connection within seconds.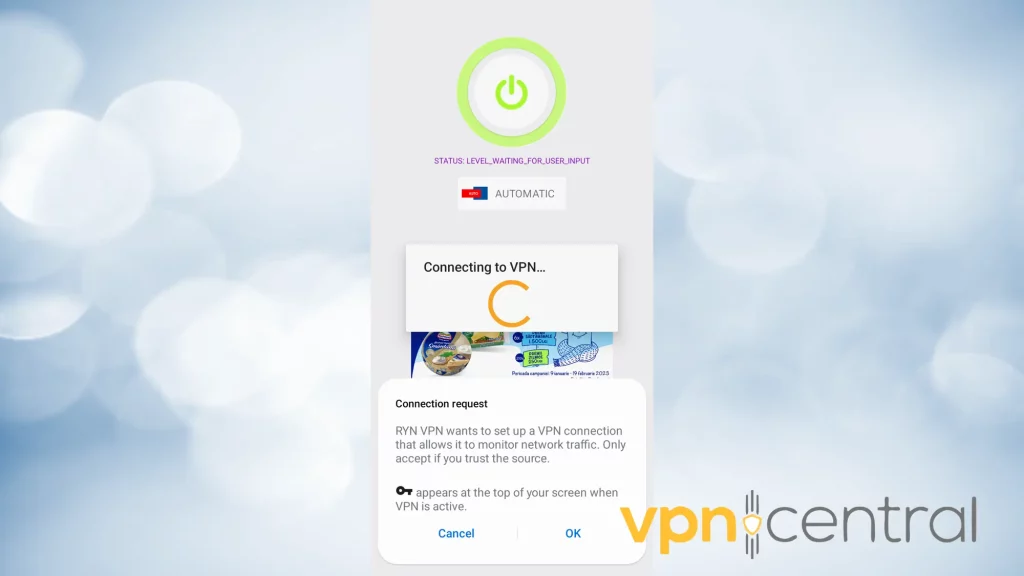 Also, you can choose your server based on your activity, or you can let Ryn VPN decide for you and pick the Automatic option.
For example, there are specialty servers for streaming and gaming.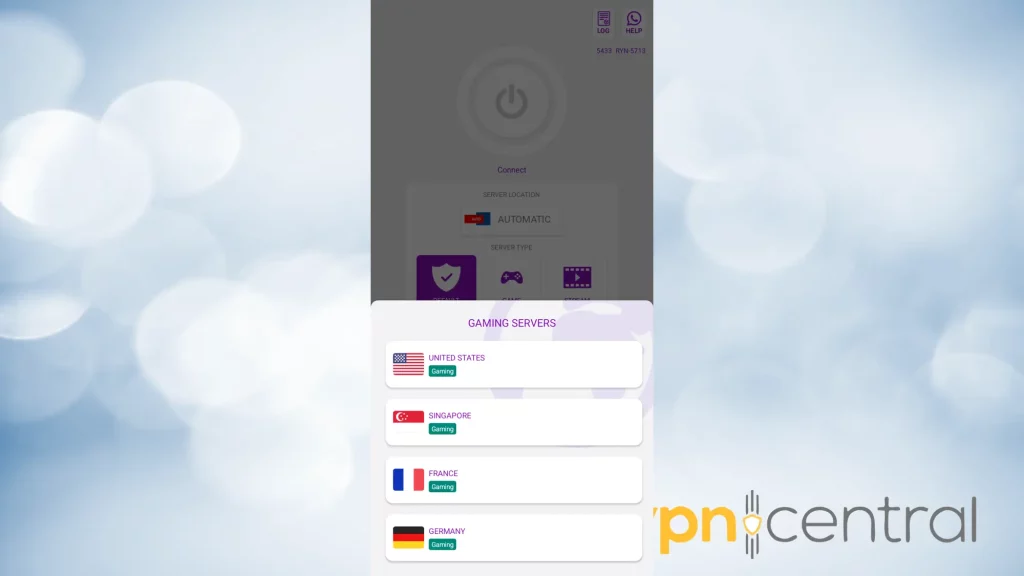 The gaming servers are optimized for speed and should help reduce ping and lag. Plus they should let you access geo-locked games like Candy Crush from unavailable countries.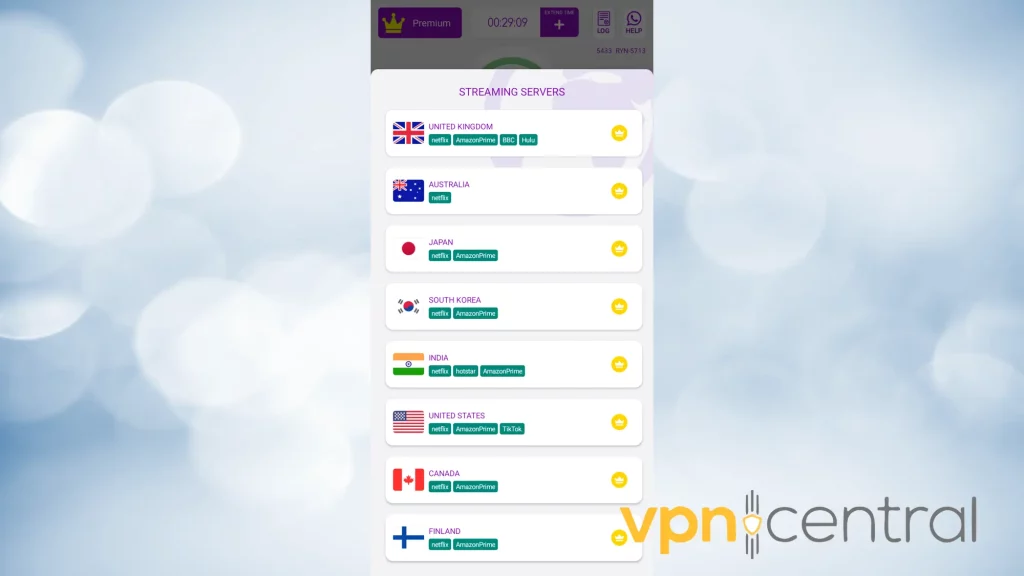 The streaming-optimized servers are supposed to help with buffering and bypass strict geo-blocks and anti-VPN detection on platforms like Netflix and Hulu.
However, you will have to subscribe to the paid plan to access the streaming servers.
Availability
Ryn VPN is supported worldwide, including in countries that restrict access or block other VPN services such as the UAE and Turkey.
While other VPNs are blocked in this region Ryn VPN is available for download and works without restrictions.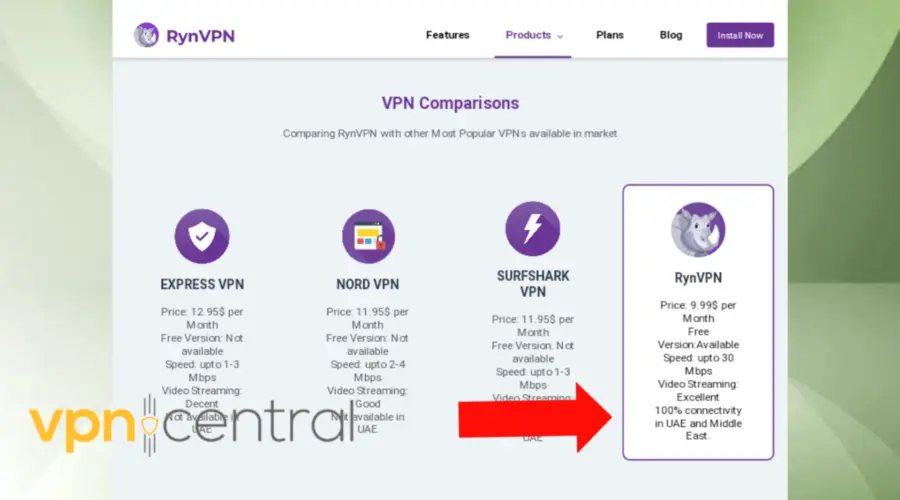 But RynVPN doesn't have servers in those locations, so you can't stream shows or access any content from that part of the world.
Support
Whether you have a question about your account or need help troubleshooting a connection issue, a VPN with 24/7 support will be your best bet.
We tested this with Ryn VPN's support team, and here's what we got.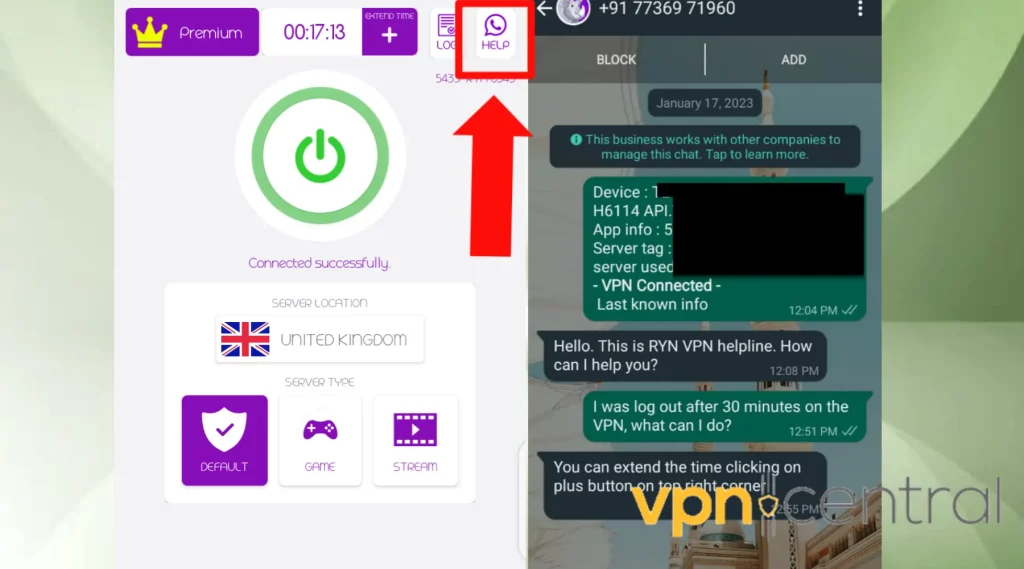 As shown in the screenshot, when you press the support button in the main UI, you're directed to WhatsApp.
Ryn VPN generates an automatic message that shows some of your data, including your real ISP and device name, and this may be a privacy/security concern.
Granted, you have the option not to send it and start the conversation fresh with your question.
When it comes strictly to support, they are responsive and helpful.
Compatible devices
Ryn VPN is built for mobile devices. It has dedicated apps for Android and iOS.
It works with the following versions:
| | |
| --- | --- |
| Android | Lollipop, Marshmallow, Nougat, Oreo, Pie & Android 10 |
| iOS | OS 10, 11, 12, 13 & 14. |
It's easy to download and set up. Just go to the Play Store or Appstore and download it.
The app will sync with your Apple or Google Account and if you decide to go for the premium version you'll have to use Google Pay or Apple Pay.
Military-grade encryption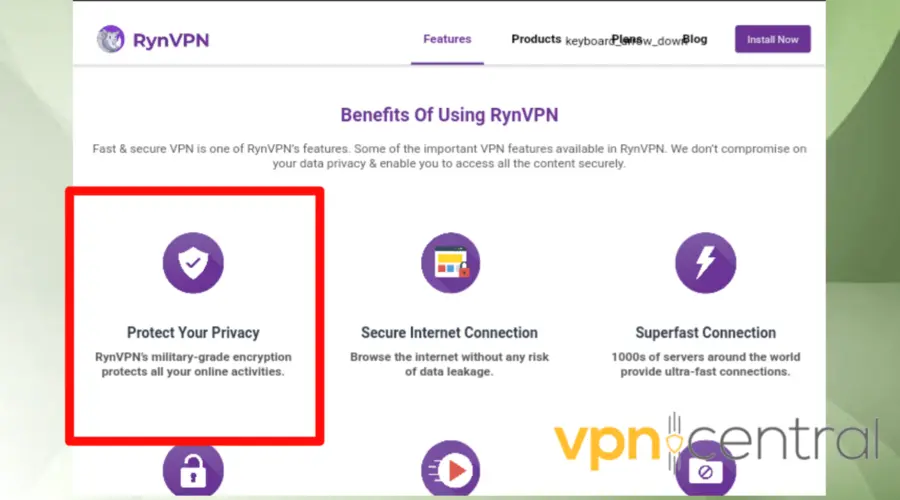 On its website, RynVPN claims to have military-grade encryption.
But they didn't mention the exact type of encryption algorithm, just stated military-grade, a term generally used when referring to AES-256-bit encryption.
This algorithm uses a cryptographic key to transform plain text and data into indecipherable and unreadable text.
AES encryption with a key length of 256 bits is the most secure of the three available options (128, 192, and 256 bits).
This is one of the best encryption algorithms, highly praised by security experts. In this regard, Ryn VPN gets a big plus.
Ryn VPN speed
Speed is incredibly crucial for any online activity like streaming, gaming, downloading, and using the internet. It's crucial we test out how Ryn VPN performs in terms of speed if we want to offer a well-rounded review.
Having a VPN with good speed will help on limited mobile data plans, and stop ISP throttling. You can enjoy a seamless and uninterrupted browsing experience.
On paper, Ryn VPN claims it offers lightning-fast download speeds of up to 30 Mbps.
Now that is extremely variable and depends on the speed rates you have without a VPN. The country of your VPN server is also relevant when it comes to speed. So we tested out a few options.
Here's what we got:
→ Download speed without VPN: 12.24Mbps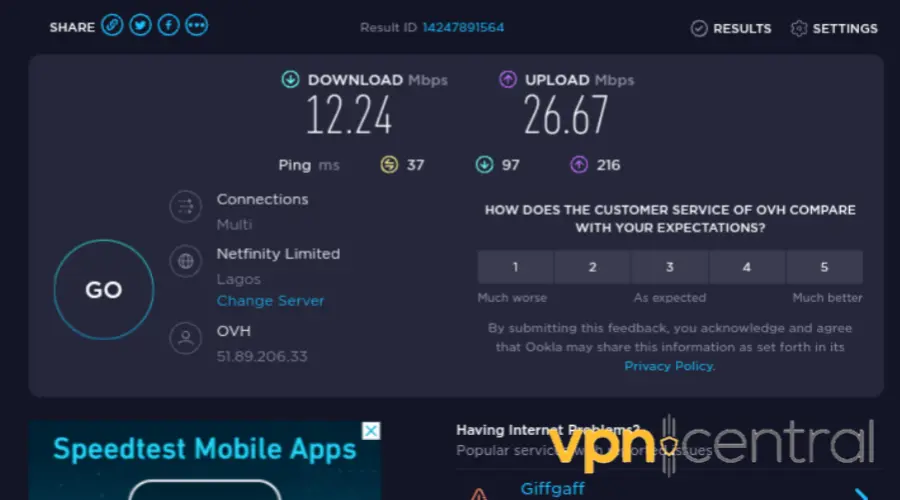 → First, we connected to the server in the US.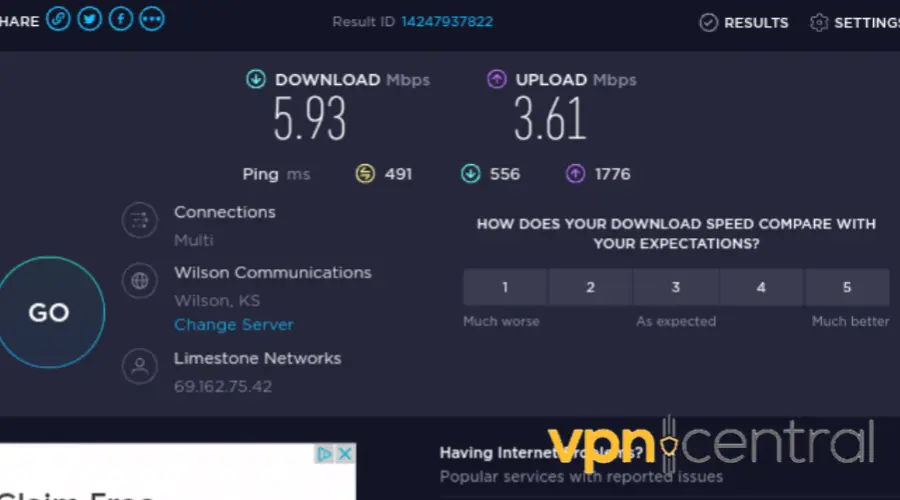 We got 5.93 Mbps for the US server. That's a surprisingly drastic download speed decrease — 51.55%.
That can be due to server congestion but also because of the distance between the VPN server and our actual location.
→ To see if the location is a factor here, we also checked the speed on the Ryn VPN German server.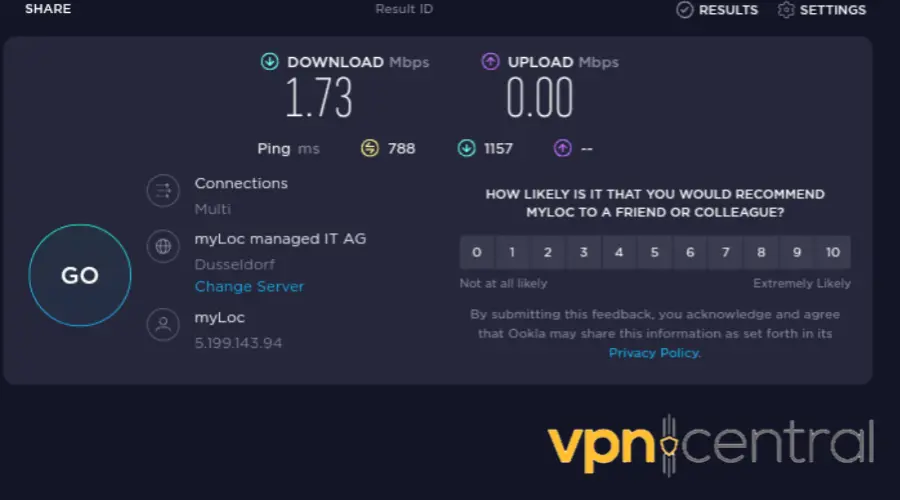 We got 1.73 Mbps. Compared to starting speed, that's a surprisingly drastic download speed decrease of 85.87%.
→ We also checked the Internet speed on the UK server and it did not get better.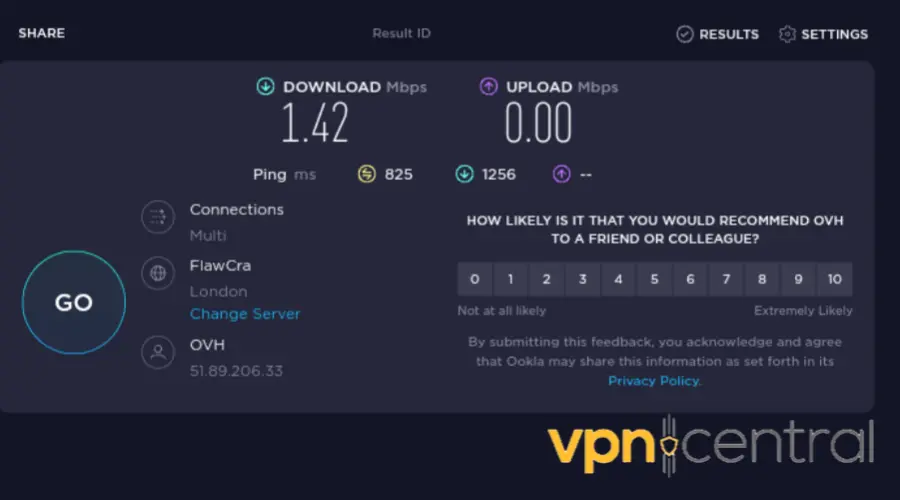 The UK server had a 1.42Mbps (88.40% decrease). That was far lower than industry standards of 10-20%.
When we did the test, we didn't have a great connection, to begin with (under 20 Mbps). But what's important here is to notice how the speed is affected after you connect to a VPN server.
Note that it's normal for VPNs to slow down the connection a little bit.
That being said, the speed drops on Ryn VPN's servers were drastic.
Keep in mind that Ryn VPN is designed for mobile devices, and if you don't plan to carry out extremely demanding tasks, it could work fine.
Automatic kill-switch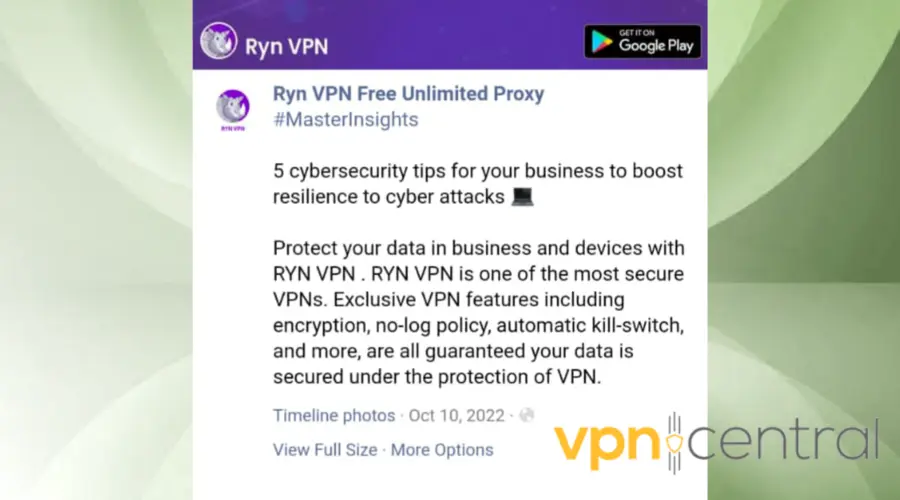 A kill switch is a feature that terminates Internet connectivity if the VPN connection is lost. This is to prevent the user's IP address and other sensitive information from being exposed.
Unfortunately, Ryn VPN Kill-switch can not be turned off or on. It automatically activates when you disconnect.
We tested it by suddenly switching to another VPN server. The kill switch reacted accordingly and dropped our connection until it was able to reconnect to another server.
Protocols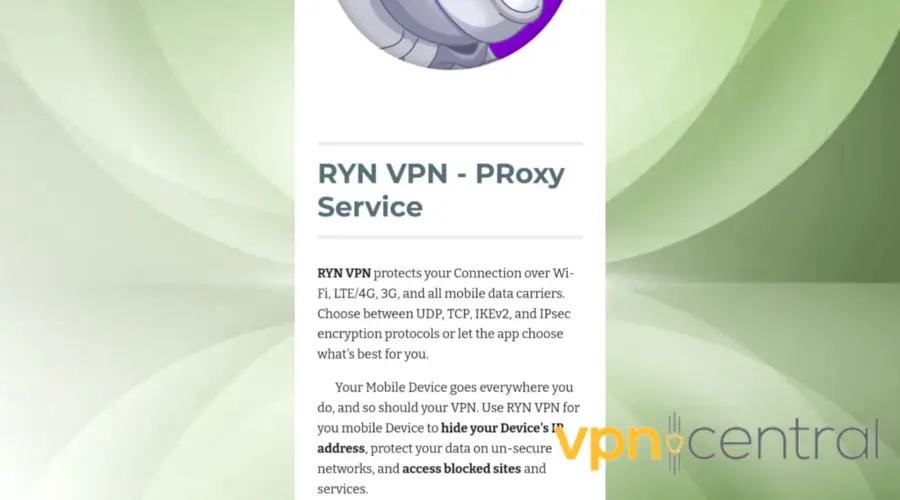 An effective VPN protocol keeps you safe and secure, no matter how you choose to connect. Whether you're using Wi-Fi, LTE/4G, 3G, or any other mobile data carrier.
According to their Facebook page, Ryn VPN has a variety of VPN protocols to choose from, including UDP, TCP, IKEv2, and IPsec.
However, there was no place to change protocols manually. Apparently, it decides which protocol is the best for you, based on your IP.
Privacy
When it comes to privacy, the Ryn VPN team claims they don't collect any user data:
We do not collect logs of your activity, including no logging of browsing history, traffic destination, data content, or DNS queries.

We also never store connection logs, meaning no logs of your IP address, your outgoing VPN IP address, connection timestamp, or session duration.
That being said, Ryn VPN falls under the jurisdiction of Singapore, let's review what that really means.
It isn't a part of surveillance alliances like the Five Eyes, Nine Eyes, and Fourteen Eyes. However, the country has some data retention laws.
It is legal there to request user data from applications and Internet services if they serve as the means of carrying out a police investigation.
What this means is that if the authorities requested Ryn VPN to log some user data or offer the data they have from a specific customer, they will have to comply.
It's not a huge concern. As long as you don't use VPN for illegal activities there's not much to worry about.
Is Ryn VPN safe?
VPN vulnerabilities, such as DNS, WebRTC, and IPv6 leaks, are common and often found in free or lower-tier services.
These leaks can reveal your IP and DNS addresses, making your VPN ineffective.
In order to determine how well Ryn VPN handles these vulnerabilities, we conducted a test on ipleak.net.
The results of the IP leak tests in this Ryn VPN review show that it's completely leak-free when connected to its server.
➡️ IP Leak Test before RynVPN connection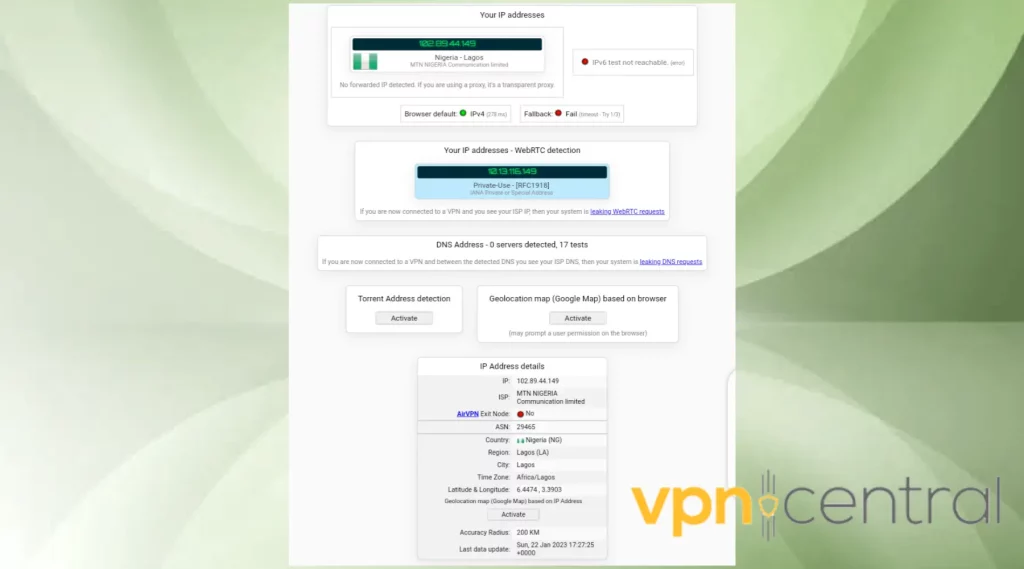 ➡️ IP Leak test after RynVPN connection.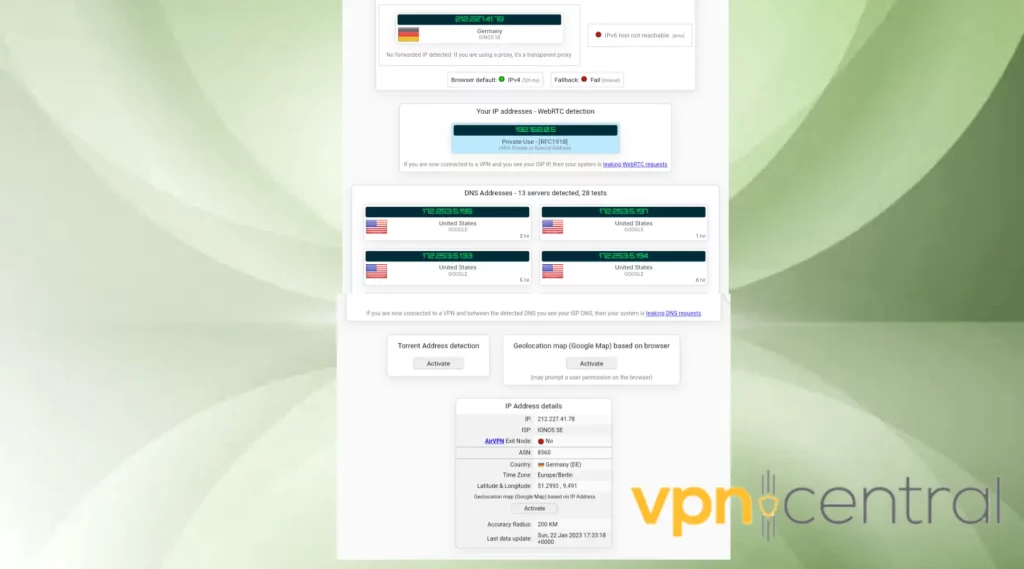 As you can see, the data registered by the test shows the VPN server's information. We can conclude that Ryn VPN actually conceals your IP and doesn't leak data.
Is it good for streaming and torrenting?
If you frequently stream series or download large files using torrents, it's important to have a VPN that excels in these areas.
Torrenting
Ryn VPN is not good for torrenting, but it's not really supposed to be, given it's a mobile VPN.
The VPN doesn't have specialized servers for torrenting or P2P support.
Streaming
Streaming platforms become more adept at detecting and blocking VPNs, making it increasingly difficult for many providers to unblock their content.
So we decided to see if Ryn VPN is able to bypass those VPN blocks.
We connected to a US streaming server (premium version), then launched the platform.
As you can see, it worked great. We were directed to the Netflix US homepage.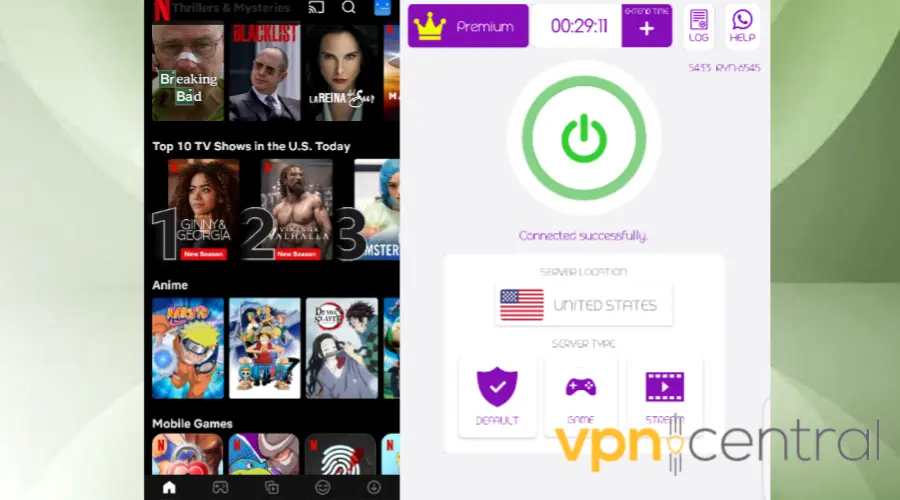 However, our testing of Ryn VPNs revealed that the free version doesn't work with Netflix.
So, if your main objective for using a RynVPN is streaming, consider a paid subscription. The premium plans offer dedicated support to unlock restricted content on Hotstar and Netflix.
Ryn VPN pricing
Ryn VPN is not entirely free. While a free version is available, it is limited in terms of server number.
You have the option to benefit from some premium features for 30 minutes if you agree to watch an ad.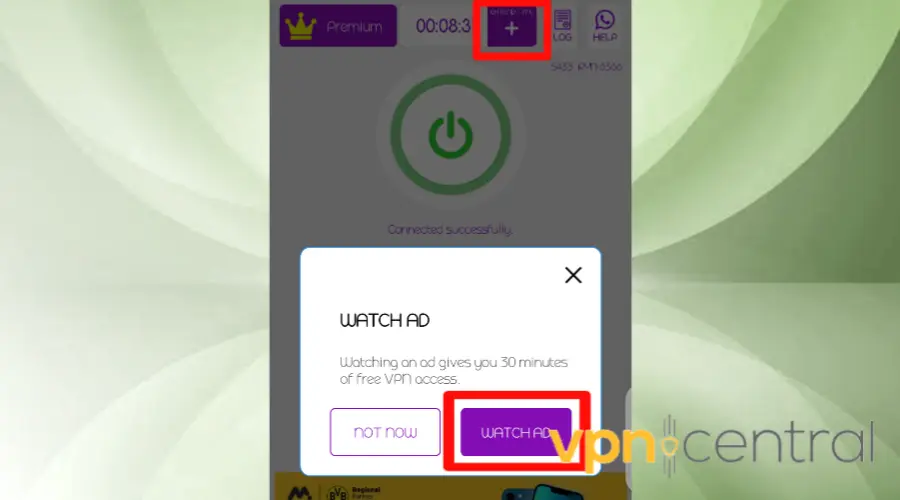 However, you can get a paid version that displays no ad, plus access to streaming platforms like Netflix and Hotstar for as low as $9.99/month.
Here's the list of RynVPN paid plans:
Basic – $9.99 / month
Standard – $25.17 / 3 months
Premium – $39.96 / 6 months
Moreso, they offer a 3-day refund and a 7-day free trial.
Conclusion
Overall, this Ryn VPN review findings are a bit of a mixed bag.
On the one hand, it boasts impressive security features such as top-of-the-line military-grade encryption and specialty servers that can actually unlock streaming apps.
But on the other hand, compared to other VPN clients, it has fewer servers and doesn't really shine in terms of speed.
However, as far as free VPNs go, it offers more options and it doesn't have usage limits. If your main goal is to keep browsing data safe on your mobile, then Ryn VPN should suffice.
We hope this Ryn VPN review helped you understand what this service includes and whether it's worth a shot or not.