AceVPN is an advanced VPN service that's gaining much popularity worldwide. AceVPN owes much of its success to its user-friendly strategy.
Besides their open-source apps, they have introduced unique and secure encryption algorithms, a quick connection, and 24X7 customer support.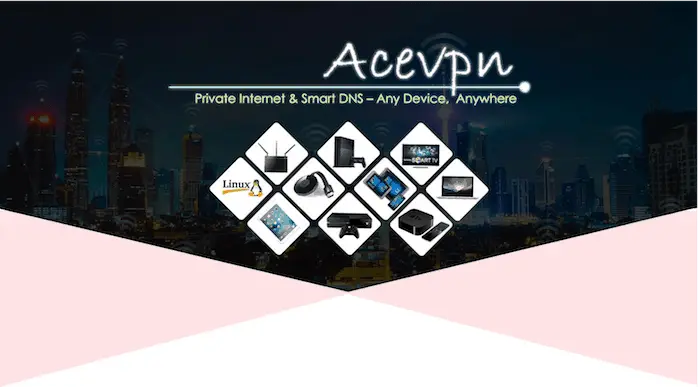 The online privacy and anonymity of a user get enhanced by their 'no–logs' policy.
This all sounds great, but let's review AceVPN to see if it lives up to its claims.
AceVPN overview
Ahead of all other things, this VPN service network has its presence felt over 50 locations in over 25 countries.
AceVPN's server network continues to expand in all continents simultaneously. With this kind of efficiency and flexibility, you may enjoy a number of features after subscribing to a plan that suits your needs.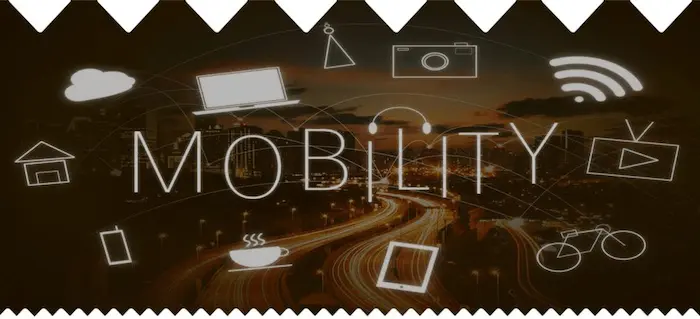 It often feels difficult for you to choose a VPN service over another, especially when you have a huge network of servers to deal with.
For those of you that wish to gain access to geo-restricted websites, it's good to choose from the long list of countries and hide your IP address at the same time.
AceVPN features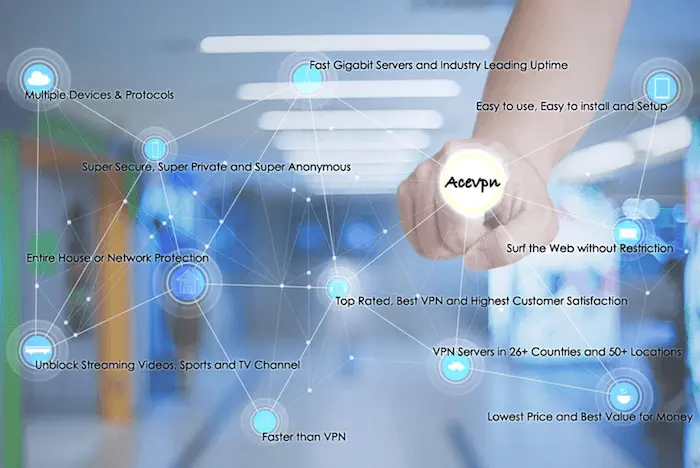 Surfing without restriction
Your IP address remains hidden throughout the entire period for which you use the AceVPN services.
Websense and other online filtering and web monitoring applications won't be able to track your participation in sites like LinkedIn, Twitter, Skype, and Facebook.
Apart from this, you may even check out a few video streaming sites, Instant Messengers, and TV channels without any risk of being hacked.
Multiple devices and protocols
AceVPN bundles both VPN and smart DNS with their plans. All major devices and operating systems are supported including;
iPhone
iPad
Android
Linux
Routers
Mac
Gaming consoles
Windows
Apart from OpenVPN, this service even supports, IKEv2, Stealth VPN, PPTP, L2TP, and IPSEC.
Faster unblocking of TV channels and streaming of videos
Ace VPN is your destination if you really wish to explore BBC, HULU, IPLAYER, NETFLIX, and other major services that are geo-restricted.
AceVPN facilitates smooth access to your choicest sites in HD across a host of nations.
With intelligent routing, the speed of internet never gets slackened. The pace remains the same regardless of whether you're connecting to PCs, gaming consoles, and Smart TVs.
Lowest pricing and real value for money plans
They strive to keep their subscription plans inexpensive without curtailing the real advantages of using a VPN service. You may opt for this service by paying a mere $0.13 per day or $3.89 a month.
You may check out with others around and see for yourself if you actually anyone providing these services at such a lower rate.
7-day money-back guarantee
AceVPN doesn't believe in hiding facts or charging users unnecessarily. You may simply begin using their services by downloading their app from your smartphone app store.
The REAL BIG THING is that you can use this service for a full 7-day trial period and opt for a money-back.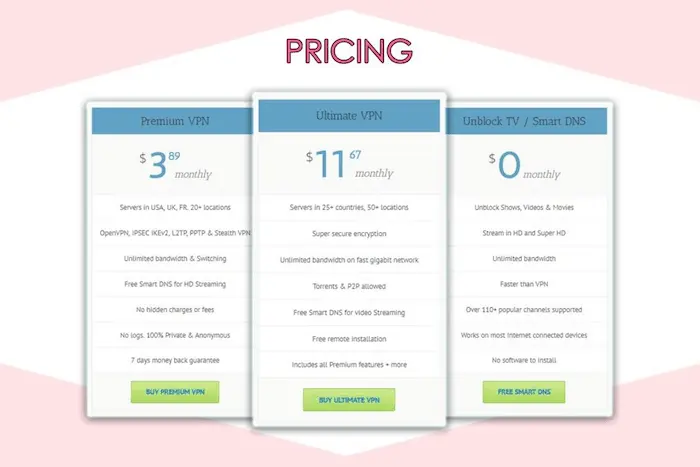 Easy payment methods
AceVPN provides for some easy payment solutions to users. You may opt for transactions via PayPal, Credit cards, and Checks.
Alternatively, you may even choose to pay anonymously for their services through the Bitcoin payment wallets.
Their friend referral offer comes with a free VPN and Smart DNS service for an entire month. It helps facilitate the streaming of videos for your favorite sites and channels besides unblocking your TV for free.
Assured anonymity, privacy, and security
Enjoy anonymous surfing with a 'no–log' system. The authorities won't gain any record of your web surfing during the course of an investigation.
Much of your communication privacy and security is assured with the help of military-grade encryption. Both the internal and external sources of the network are monitored for threats.
VPN servers covering 50+ locations in over 26+ nations
Server numbers and locations are essential assets of any VPN.
Let's review AceVPN's network of servers to see what it offers.
AceVPN servers are currently serving over 26 countries through over 50 different locations. You may avail unrestricted switching between them besides exploring them for long durations.
Be it some of the most popular blocked websites or geographically restricted websites, you'll gain smooth access to your favorite content like Pandora, Sky, Zattoo, BBC, iPlayer, Pluzz, Hulu, Canalsat, Netflix, WhatsApp, and Facebook.

Faster Gigabit servers and longer uptime
Ace VPN boasts its services on a high-speed Gigabit network, optimized routing, and modern data centers that host their servers.
Real-time optimization is guaranteed regardless of your latency, speed, and location. You'll enjoy customer support 24×7 besides enjoying 99.9% uptime.
User-friendly and easy-to-install features
AceVPN lays its focus on raising the level of satisfaction for customers. Enjoy guaranteed satisfaction or get your money back.
AceVPN doesn't indulge in bad practices. You'll only need to share your email address besides your payment details while signing up.
You may put a disposable email address at that time. The configuration needs are minimal and it doesn't need any unique configuration while working with firewalls.
It plays safe even when Deep Packet Inspection is used for blocking VPN protocols.
Traffic that's not trustworthy are blocked with advanced firewalls to keep the network and user PCs secured.
AceVPN Review – a final word
This VPN service provider has been in business for a while. They have even succeeded in matching the global trends with years of expertise. Besides being one of the safest VPN services, they have becomes one of the major players n this industry.
Even for those of you that are fond of Torrent, AceVPN representatives are always there to suggest ways and extend their service.
We hope this AceVPN review helped you decide whether or not this client is suitable for you.
---