Windscribe is a VPN service based in Ontario, Canada.
Having started its full operations in April 2016, you can rightly say that the company has a lot of catching up to do in terms of brand recognition and user base.
However, within the short time, it has been in operation, Windscribe VPN has generated some solid press due to its innovative features and focus on internet privacy.
The Windscribe offer includes:
An ad-blocker
Kill switch
Chrome extension
Unlimited connections
A free version
Secure Hotspot
Proxy Gateway
Windscribe VPN is ready to take on the world. Continue reading this Windscribe VPN review to know more about this fresher.
Pricing & plans
During our Windscribe VPN review, we established that the VPN has a simple pricing structure. The pricing includes three plans:
The Free Account (10GB of data, if you confirm your email address, otherwise you get just 2GB)
The Monthly Plan
The Yearly Plan
→ The Monthly Plan goes for $9 a month
→ The Yearly Plan goes for $69 which ends up being $5.75/per month
You can notice that with the yearly plan, you will be able to save about a 2-month payment.
Though their pricing isn't the cheapest in the market, the VPN providers work hard to make sure that you get great value for every penny.
Considering all the features offered and that this is a VPN that works just as advertised, then it is worth your money.
The free plan
Thanks to the free account, you can test the functionality of Windscribe VPN before making a purchase. This already shows the amount of trust the providers have in their service.
However, opting for the free plan means that you will have to do with some compromises. One of the key differences between the Free plan and the Pro Version is that the former has a 2 GB data limit (extended to 10 GB if you confirm your email) while the Pro version has no data limits at all.
Again, the free trial gives you access to a limited number of servers, unlike the Pro version. With the Free VPN, you'll only be able to use only a few servers.
The servers are located in 11 countries: US, Canada, France, Germany, Hong Kong, UK, Luxembourg, Netherlands, Switzerland, Norway, Romania
Note, however, that applying for the free VPN plan OpenVPN configs is not available.
However, Windscribe VPN's free plan goes further with some features that you won't easily find for free from other providers. You will be able to get ad-blocking via a browser add-on, and even P2P support.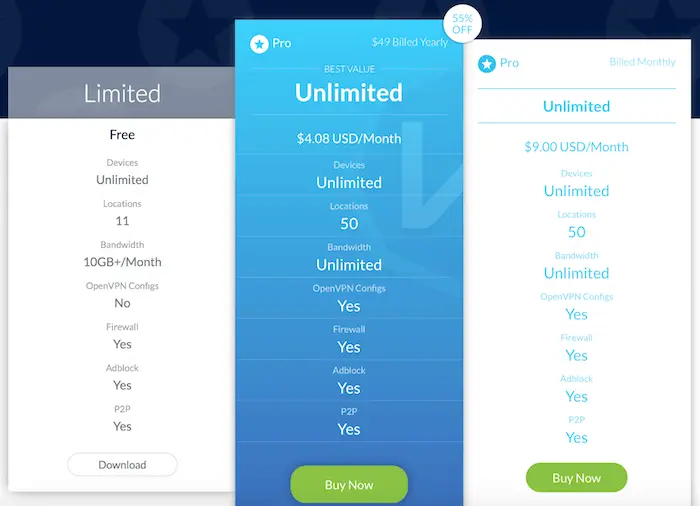 Our Windscribe VPN review also finds out that whatever plan you go for, including the free one, you have unlimited simultaneous connections.
Anyway, Windscribe does not permit you to resell the service.
In any case, you can still take advantage of this and share it with your family, to keep everybody secure.
Windscribe VPN payment options
Windscribe VPN makes your payments easy by accepting all leading credit cards and debit cards.
These include Visa, MasterCard, and American Express. During this Windscribe VPN review, we also found out that the VPN also accepts Bitcoin to facilitate anonymous payments, which is a great point.
Other third-party payments like PayPal and Paymentwall are also supported.
The latter accepts 150 payment methods globally.

Features
Servers
Windscribe VPN offers you hundreds of servers in 50 different countries. The server network is large enough to give you the online freedom you are looking for.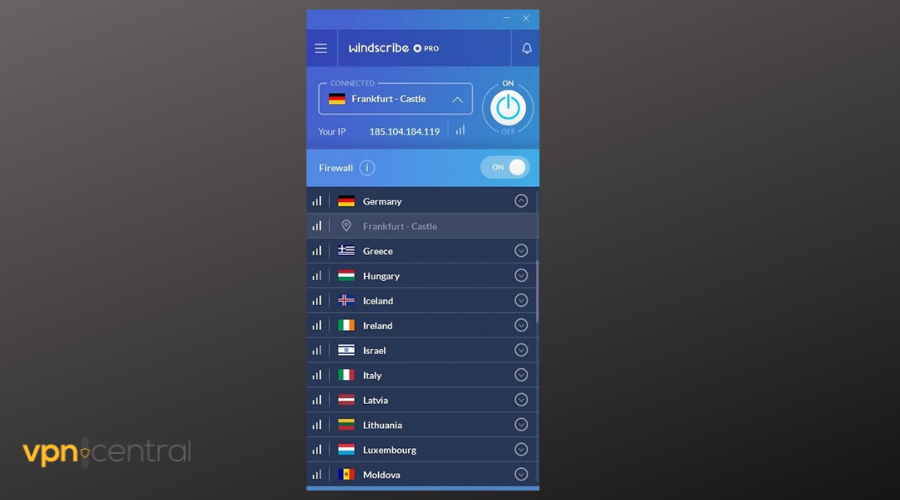 However, you should remember that the servers available will depend on your package. With the free package, you can only access limited servers.
One other thing we noticed is that Windscribe VPN permits P2P on all its servers, and users will be updated in case of any changes.
Privacy
From our Windscribe VPN review, we can state that Windscribe does quite well in terms of keeping your privacy in check.
The provider is also quite transparent regarding their logging policies.
On their Website, they clearly state that they log your sign-up information, but only for tracking purposes.
They, however, do not log your ISP, assigned IP, activity log, or any other metadata apart from your bandwidth usage for a 30-day period (e.g., 600 Mb).
They further explain that data is deleted after a month, and is only kept to enforce free tier limitations and prevent abuse. A timestamp of your activity may also be stored to weed out inactive accounts.
Other data that Windscribe VPN stores are the amount of data transferred, the time of connection details, the OpenVPN username, and the location.
This type of data expires within 3 minutes of session termination and is therefore not much of a concern. It is stored for the same reasons of enforcing free plan limitations and also preventing the abuse of their free service.
After all, we have found the level of security provided very good.
Security
From our Windscribe VPN review, we also find out that the VPN employs the latest technology to secure your data.
Data encryption is handled using AES 256 with SGA 512 for data authentication and a hefty RSA 4096 handshaking.
Although the VPN does not offer the biggest versatility regarding available protocols, it offers you the best and the most used protocol, OpenVPN.
This VPN is very secure, and therefore you won't have to worry about your security issues.
Even with a VPN that offers the most protocol, you'll just end up using OpenVPN for almost every connection.
You can also establish a secure connection using the UDP mode, and in case you are having trouble with it, the VPN will automatically shift to TCP. UDP is much faster, but TCP is much more secure.
Windscribe VPN also offers a Stealth Mode that is very useful for people living in or visiting highly censored countries like China and Korea.
This enables you to bypass most restrictions that would otherwise detect a VPN connection and block you.
Windscribe VPN also blocks IPv6 requests at the client level and has DNS leak protection included, in addition to a Kill Switch, a feature we'll discuss further in the Windscribe client section.
All these are meant to boost your security while using the VPN.
P2P/Torrenting
During this Windscribe VPN review, we noted that the provider is quite open when it comes to torrenting. Surprisingly, P2P is permitted on all its servers, and not just a select few.
Also, there are no torrenting or bandwidth restrictions imposed, unless you are operating on the free VPN plan.
With the Pro version, you can download or share torrents as much as you want, without worrying about being banned.
Windscribe VPN protects your torrenting activities by offering you a high level of encryption and security features.
Device compatibility
Windscribe is highly compatible. It works on almost all leading platforms, including Mac, Windows, and Linux. It also works on Android and iOS.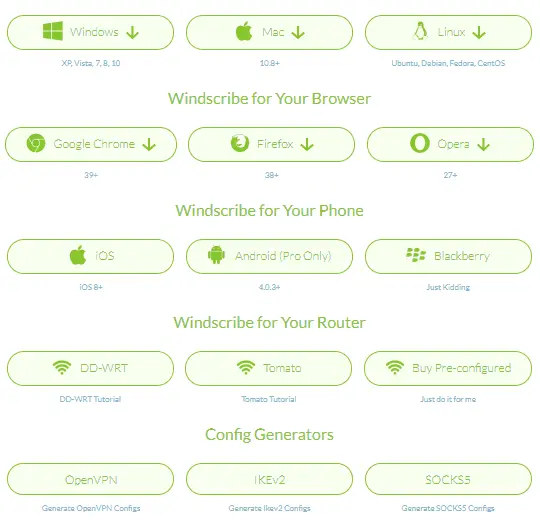 Apart from these, Windscribe VPN also offers Chrome, Firebox, and Opera extensions that can be used to instantly unblock thousands of blocked sites, with just a single click.
Double hop feature
Windscribe VPN also offers you the double-hop feature on a number of servers.
With a double-hop VPN, your traffic is routed through 2 servers that are located in different jurisdictions.
Such a connection offers significantly high levels of anonymity, privacy, and security, as one would need sophisticated timing attacks to have a chance with traffic that is streaming from multiple locations in different jurisdictions at the same time.
Windscribe Windflix to unblock Netflix
All you have to do is to connect to the Windflix location in the browser extension and you will magically have access to any Netflix Library including Netflix US.
This is a great feature when you are outside your country. Despite being miles away you can enjoy all your favorite shows or movies exactly as if you were on your sofa.
It comes as a surprise that even users with a free account can benefit from Windflix.
Getting started on Windscribe VPN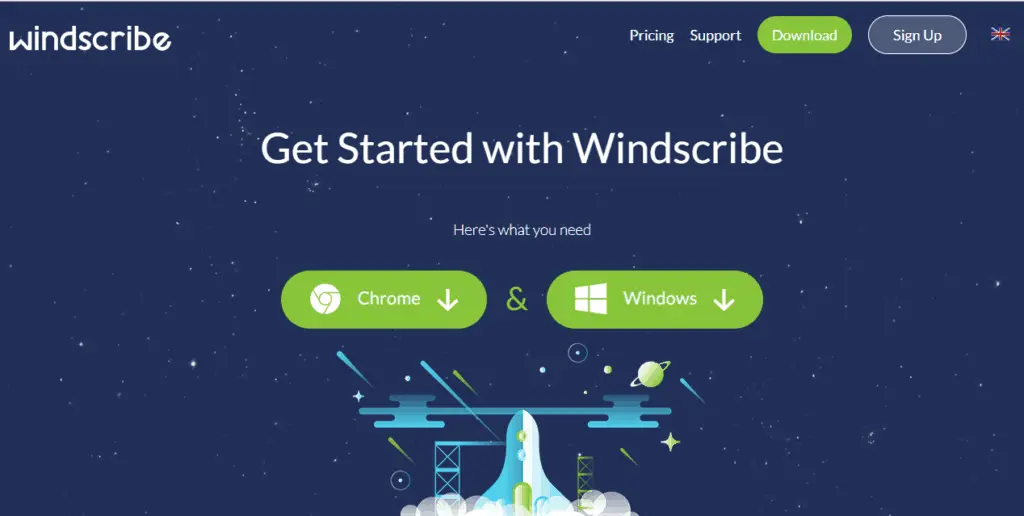 Signing up
To sign up with Windscribe VPN, navigate to the Homepage. On the right-hand side, you will see a sign-up option. After clicking that option, you will be required to select a plan of your choice.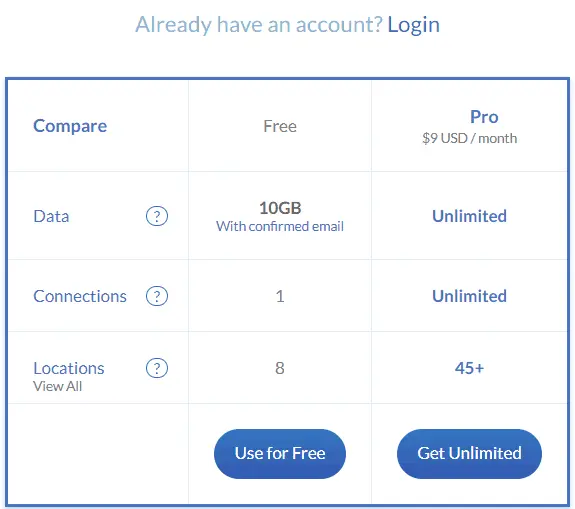 You will then be required to choose a username, password, and an optional email.
If you choose not to provide your email address, then you will not be able to recover your password in case you forget it.
It's therefore advisable to use an email address if subscribing to a Pro version, especially the annual one.
If you have chosen the unlimited version, you will be given the option to choose between the monthly and the yearly one. You can also enter a voucher if you have one.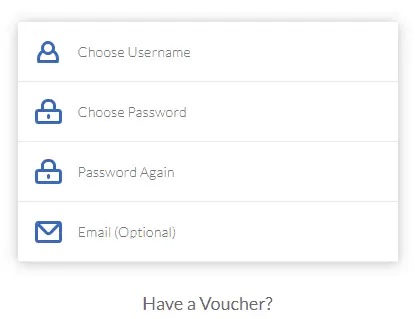 After that, you can then choose your preferred mode of payment and complete the process.
Windscribe VPN client review
As a part of this Windscribe VPN review, we decided to test the VPN's Windows app and the Google Chrome Browser Extension.
The client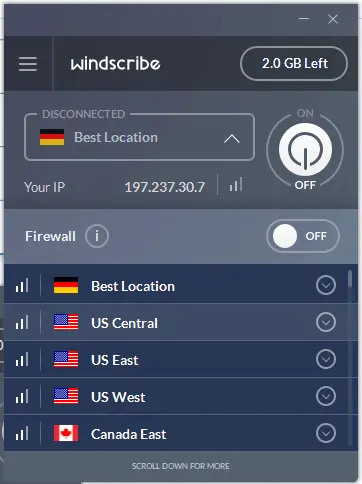 Windscribe VPN's Windows client is quite simple and stylish.
It doesn't have too many needless additions but rather has the most important functions organized in a great manner.
The huge on/off toggle button easily connects to your server of choice.
These servers can be selected using the drop-down menu on the left side of the button. After connecting to a server, the client's theme color changes from dark gray to sky blue.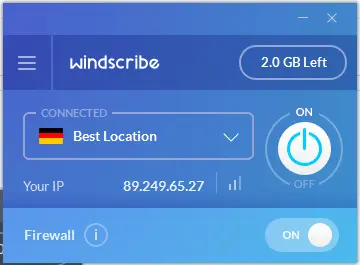 Down below is the Firewall button, and Windscribe explains it very well in their FAQ section
There is also a menu button on the right top side represented by three horizontal white lines. Clicking on them opens a list of options that will offer you no problem in knowing the function of each.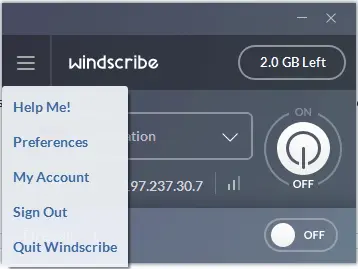 One of the options in that list is 'Preferences'.
This is the most comprehensive feature there, and it helps you customize your client.
It provides you with 4 options;
General
Connection
Proxy
Debug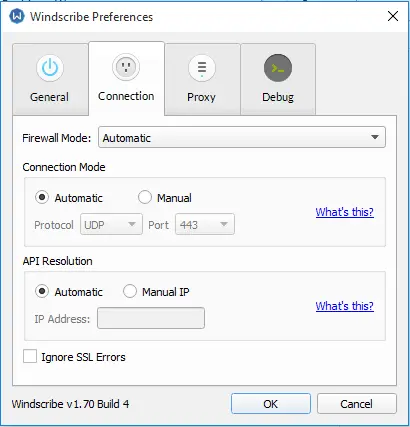 The general section is quite straightforward and so we won't give it much thought in this Windscribe review.
However, the Connection tab gives you some options that might require you to have some prior knowledge.
There is a Firewall Mode

There is then the Connection Mode

And the API Resolution option

The Proxy option will only be used if you are using a connection that has a proxy, while the Debug option will be used to see your logs.
New features of Windscribe VPN client
The company keeps improving its service on a monthly basis and we were pleased to see two brand-new features implemented in the Windscribe Desktop app.
Secure hotspot
Windscribe Secure Hotspot works only for Windows and allows you to create secure WiFi on your computer.
This functionality is very useful if you want to connect and protect internet-connected devices that are not supported by Windscribe.
Or you may provide a secure connection to your friends without having them install Windscribe on their devices.
Proxy gateway
Proxy Gateway works both on Mac and Windows and allows you to create an HTTP or SOCKS5 proxy server on your computer.
Thanks to this option you can configure any device that supports proxy servers to take advantage of your secure connection.
Windscribe VPN browser extension review
The Windscribe Chrome extension almost looks identical to the Desktop Version.
Though it is also somehow similar in functioning, it has some special features, and therefore Windscribe recommends that you have both.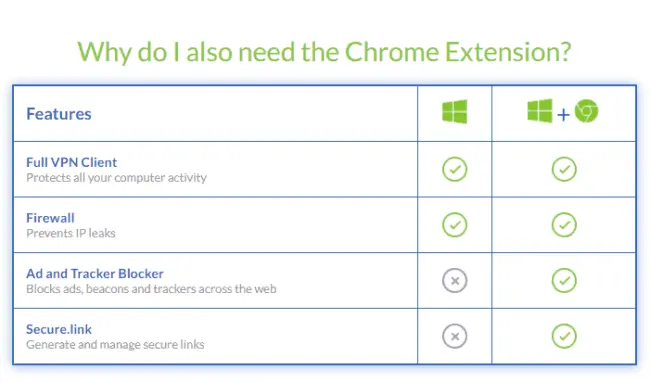 When connecting, you'll see the Cruise Control feature. This feature automatically selects the best server, according to your location and network speed.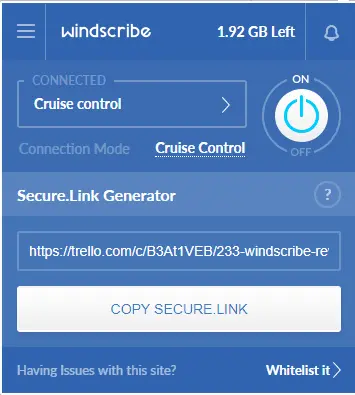 However, the most notable feature here is the Secure.Link generator.
This feature operates as both a privacy awareness tool and a marketing tool.
It will show you the extent of a website's extent of tracking you (using Cookies, APIs, etc.), while also suggesting a problem-solving option in the form of Windscribe VPN.
Regarding marketing, if you send the secure link to a friend who then subscribes to a pro version, then you get 50% of the earnings back.
In the Preferences Privacy Settings, option, you can set the Extension to work as you wish.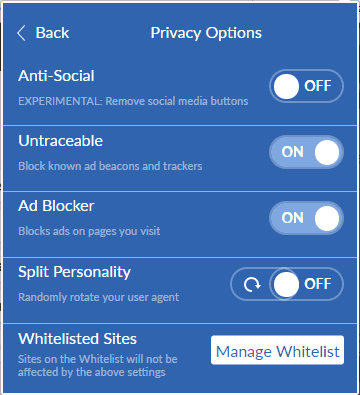 Windscribe VPN speed test
This Windscribe VPN review rates the VPN's speeds as good.
You can easily stream HD movies using Windscribe VPN with not much of a bother. The following impressive speeds were recorded when connected to the service.

However, you should note that when you use the Double-hop feature we explained earlier in the review, you will sacrifice speeds but double your security.
Windscribe VPN support Review

From our Windscribe review, we can say that this VPN has quite an active support system.
They however do not provide a live chat, because they are against having 3rd party services on their website, something which they believe can compromise the privacy of visitors/ potential customers on their website.
However, they try to make up for that with the many options available for client assistance.
In case you need any assistance, you can email the company.
On the Support page, there are three more types of support.
Set Up Guides
FAQ Support
Ticket Support
The Set-Up guide section provides you with step-by-step instructions that help configure Windscribe VPN on various platforms and devices. With these, you can learn how to configure the VPN;
Windows
Mac
Ubuntu
Android
Windows Mobile
iOS
Chrome
Opera
Firefox
DD-WRT
Asus
Tomato
Torrent clients.
Clicking the FAQ option takes you to a page filled with various questions that can help you get the answers you are looking for. If the support you are seeking can't be provided there, you can always opt for the Ticket Support System or send an email, in which case you will get assistance within 4-5 hours.
Windscribe VPN Pros & Cons
Pros
Modern UI
Excellent Free plan
Supports DoubleVPN
Superb extension with Ad/Tracker Blocking
Unlimited Simultaneous Connections
Cons
Conclusion
From our Windscribe VPN review, we can conclude that this is quite a solid provider.
The Windows client works seamlessly with the Chrome Browser to offer you excellent protection while doing your activities online.
Overall, it's a solid VPN provider that can keep you safe.