Can't watch your favorite show because Chromecast isn't working with your VPN? You're not alone, many other people face this challenge.
When this happens, you either get a No Cast Devices Found error because it can't locate the device you're casting from or a Video Not Available in Your Region error on geo-locked content.
Worry not! We'll delve into the common reasons Chromecast may not work with a VPN and practical solutions to help you get back to seamless streaming in no time.
Why is Chromecast having issues with your VPN?
Some streaming apps may actively block VPNs to enforce their content licensing agreements.
Therefore, using a VPN to access services on such apps may trigger streaming service blocks, which will impact Chromecast's ability to work with VPN.
Nevertheless, here are other reasons you might encounter Chromecast not working with VPN:
Due to region restrictions, you cannot stream content if your VPN is not connected to a supported server location.
Bandwidth limitations on your VPN can lead to buffering and connection problems.
If your VPN is on the device you're casting from, Chromecast will not work with the VPN if connected to a different network source.
You are using a VPN server blacklisted by one of your Chromecast apps. This happens even with reputable VPNs, some people report NordVPN not working on Chromecast.
The VPN uses an outdated tunneling protocol, such as PPTP, that reveals your actual location due to IP leaks.
An unstable or slow internet connection will affect your VPN's performance, and Chromecast won't be able to connect to the server.
That's a lot of possible issues! However, worry not. We have several tested methods to fix Chromecast not working with VPN, regardless of the cause.
How to fix Chromecast not working with a VPN?
1. Change the VPN server
Switching to a different server will give you a new IP and grant you access to the content you're trying to view on the streaming app installed on Chromecast.
Follow these steps to change to another server on the VPN from the device you're casting from
Launch your VPN app.
Use the search option to choose another server.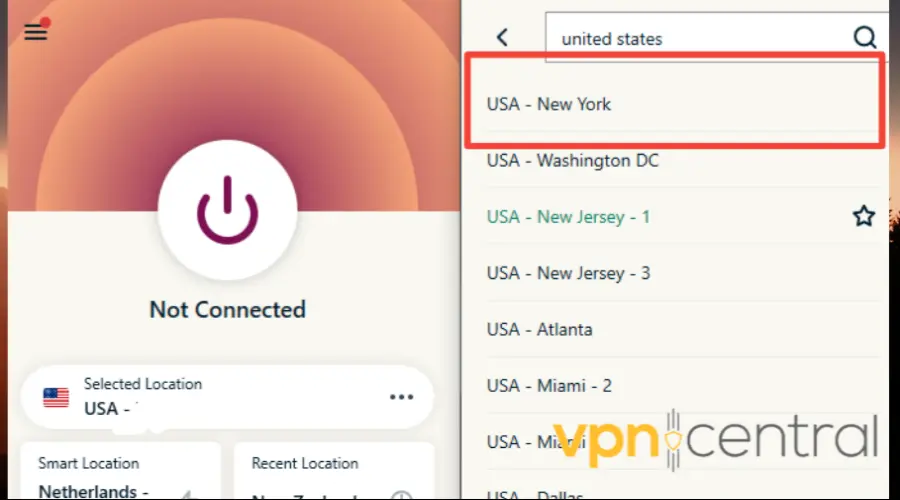 Select the server and connect.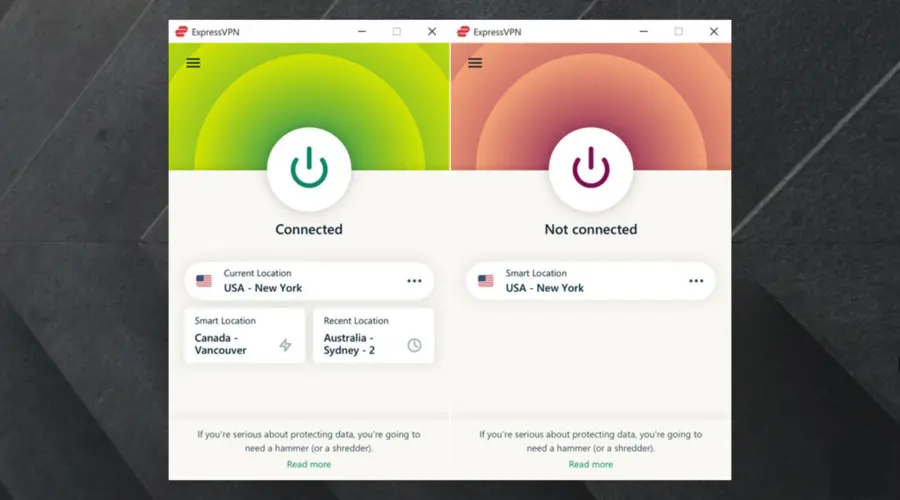 Once connected, plug in your Chromecast and start streaming.
If you use a new version of Chromecast and have your VPN installed directly on it, you can do the same from the Chromecast menu. Just navigate to your VPN app and change the server.
For the best experience, it's best to use a good VPN for streaming that allows you to switch between servers as much as you need without limitations.
2. Add VPN to your router
Being connected to 2 different networks can be why your VPN is not working with Chromecast.
For example, your phone might be connected to your mobile data network while your Chromecast is connected to your home router.
Additionally, even on the same network, the connection may fail because the VPN may be recognized as a different network.
If you're experiencing issues with your VPN and Chromecast due to being connected to multiple networks, installing a VPN on your router may be a good solution.
Now, how you install a VPN on the router is different for every model and VPN service. However, the main idea is the same. Below is an example of how to setup a VPN on a Linksys WRT3200ACM router.
Subscribe and sign up on the VPN provider's website.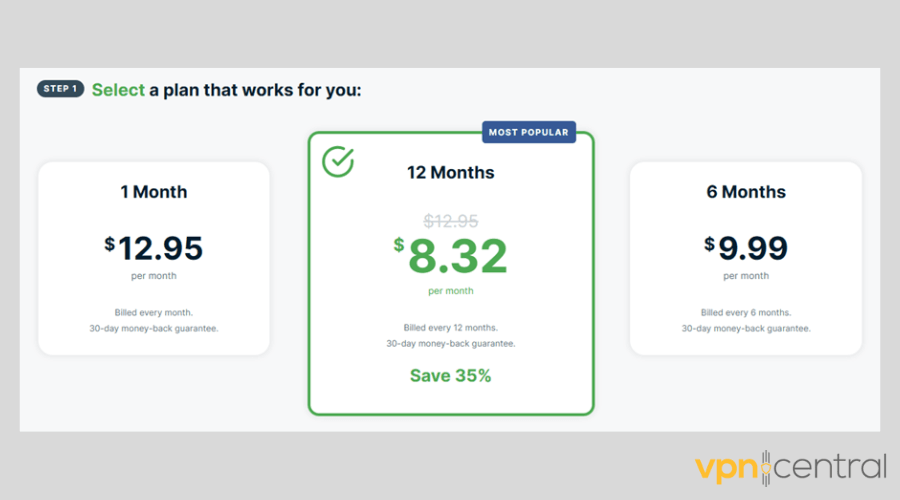 Select Router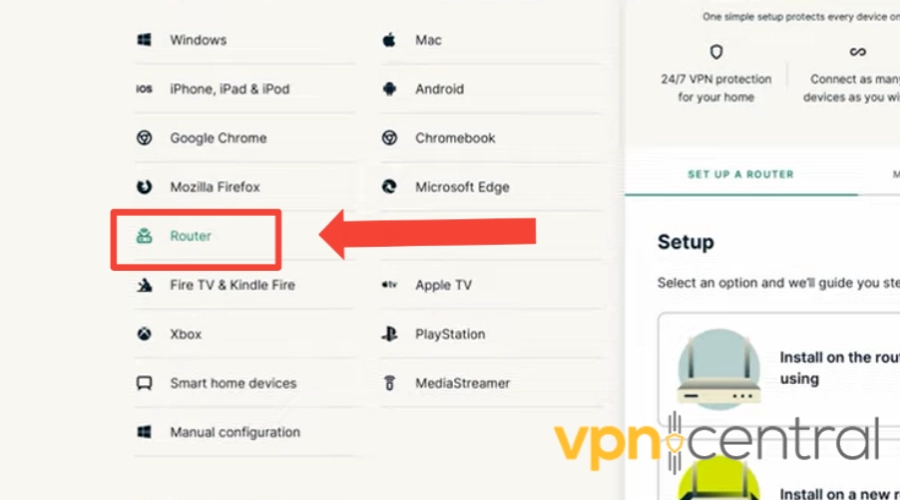 Under 'Manual Config', select your router model to download its configuration. Remember to copy the activation code provided!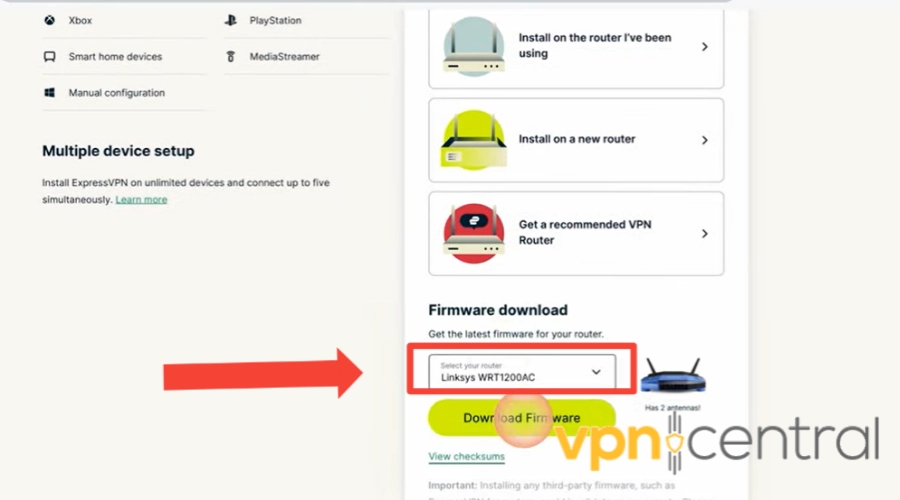 Log in to your router's admin panel.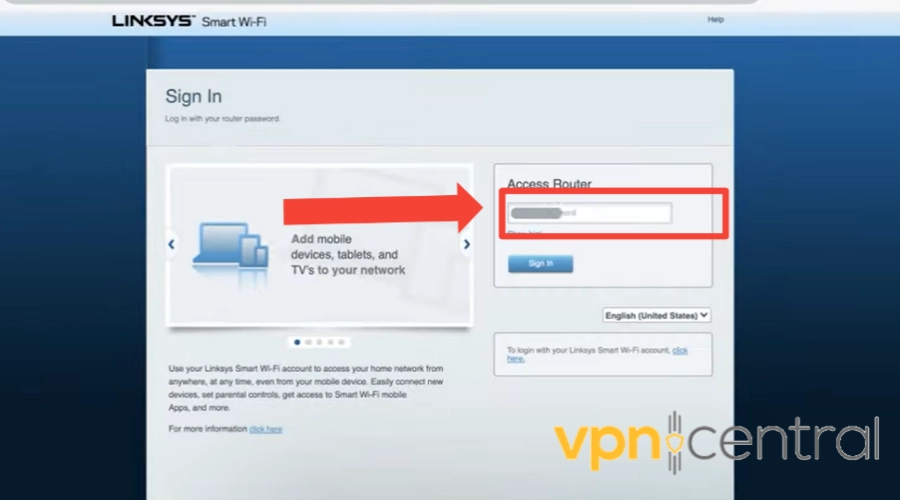 On the router's admin panel, select Connectivity.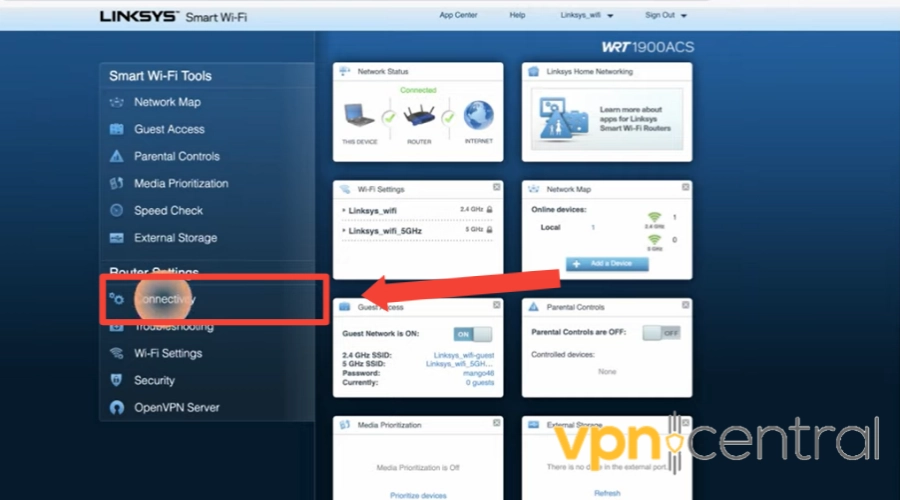 Under the Router Firmware Update, upload the firmware you downloaded.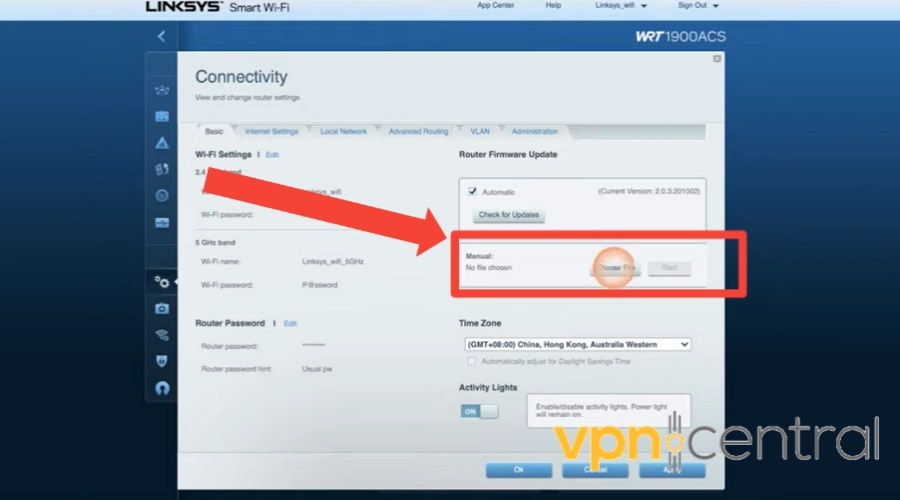 Click Start and follow the prompts to reboot your router.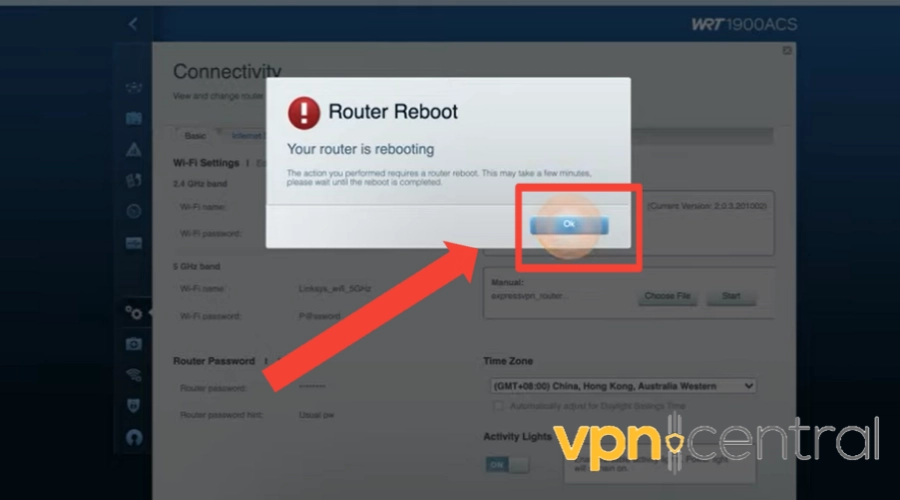 Once the reboot is complete, go to the provider's router's website to get started.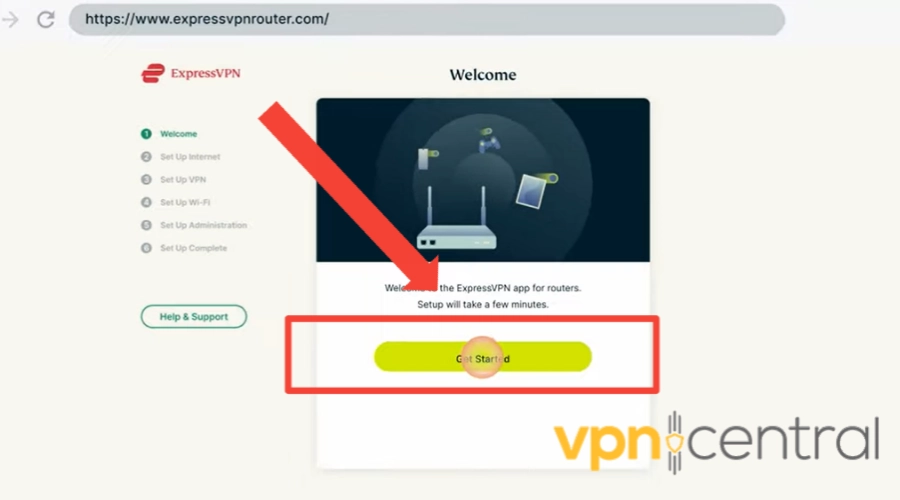 Enter your credentials and follow the instructions that follow.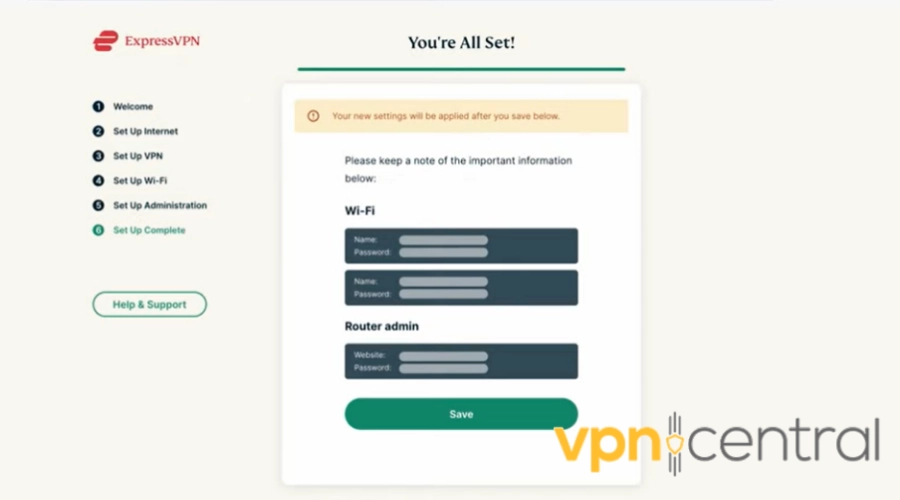 Save and connect your router to the VPN.
Connect your Chromecast, phone, or PC to the router via WiFi or Ethernet cable.
Launch your Chromecast and start streaming.
3. Change your VPN provider
If none of the above fixes work, you should change your VPN as a last resort.
We will recommend ExpressVPN because of its many unblocking servers and its compatibility with many router models.
To use VPN on Chromecast, you have 2 options: either install it on the casting device, which will work for all versions of Chromecast, or install the VPN directly to Google TV, if you have a new version of Chromecast.
Here's how to do it, step-by-step.
Install & setup VPN on the casting device
Here is how to change your VPN provider from the device your Chromecast is connected to, if you're using an older version or not using the in-app VPN in Chromecast:
Subscribe and download the ExpressVPN app on the device you're hosting from.

Follow the instructions to install.

Log in with your credentials.

Use the Search bar to find an available server and select it to connect. In this case, we choose Australia.

Then try using your Chromecast. It should work no problem.
Install VPN on Google TV (the latest version of Chromecast)
Follow this instruction to set up ExpressVPN on Chromecast with Google TV:
Hold the Google Assistant button on your remote and say, "Install ExpressVPN."
Select Install. The VPN app will now download and install, which might take a few minutes.
Select Open.
Login with the credentials provided after subscription.
Click OK to confirm the connection request.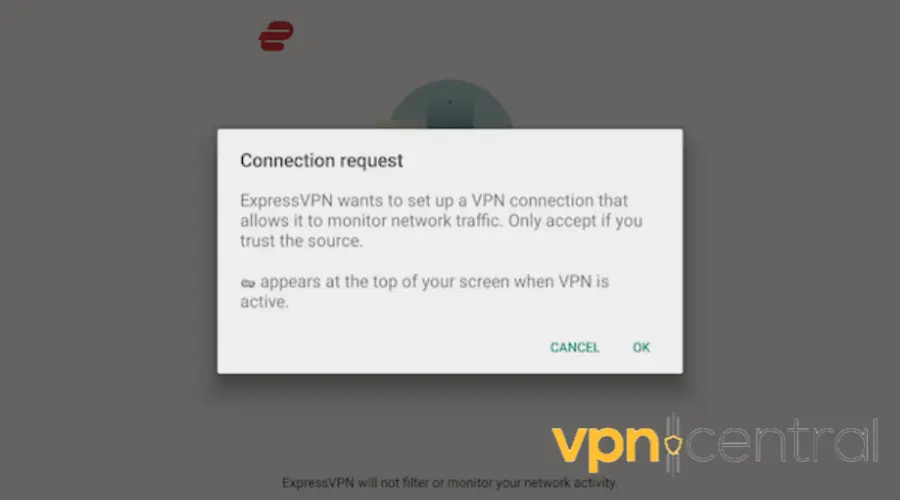 Connect to a VPN server where the content you want to unblock is available.
Open the app to access the content and start streaming.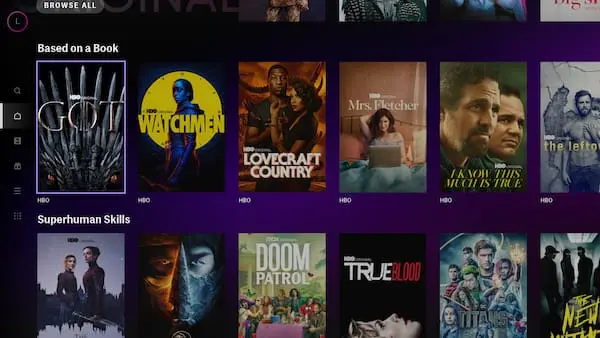 That's it. Now you should be able to cast anything you want with your VPN connection.
With ExpressVPN, you can unlock international content on Netflix, HBO Max, BBC iPlayer, and other geo-locked streaming services.
We used ExpressVPN to unlock international content on Netflix, HBO Max, BBC iPlayer, and Disney+, just to name a few. We can guarantee its claims of being streaming-optimized are 100% true.
It's easy to use fast and buffer-free when you stream content.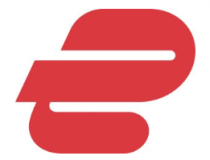 ExpressVPN
Use ExpressVPN for an error-free and enjoyable streaming experience on Chromecast!
Wrap up
If you experience issues with your Chromecast not working with VPN, you can solve them quickly.
A common issue is having Chromecast connected to a router and a device on a different network due to a VPN.
To fix this, set up a VPN connection on your home router.
Other potential issues could be the wrong VPN configuration or outdated devices. If these solutions don't work, upgrading to a more reliable VPN provider may be necessary.
FAQ
How do I open VPN on Chromecast?
Chromecast old models don't have an in-built VPN client, but you can connect to a VPN by setting it up on your router or using a VPN-enabled hotspot on your casting device and Chromecast. 
This will enable all devices on your network, including Chromecast, to use the VPN connection.
However, you can install a VPN directly on Chromecast with Google TV, the latest released model of Chromecast.
Why is my Chromecast not connecting?
There can be several reasons your Chromecast is not connecting, such as a weak WiFi signal, network configuration issues, outdated firmware or app versions, or interference from other electronic devices. 
You can troubleshoot your network and update the Chromecast and app firmware to resolve the issue.
Does Chromecast block VPNs?
No, Chromecast devices do not actively block VPNs.
However, depending on your network's and VPN's configuration, you may or may not experience issues when using Chromecast with a VPN enabled.