Using a mobile device and cellular data plan as a Wi-Fi hotspot is increasingly popular, especially with 4G and 5G speeds rivaling traditional broadband. In fact, many providers now offer mobile broadband plans that include a SIM-supporting router.
But what happens when you can't connect to a VPN when using mobile hotspot Wi-Fi?
Let's explore the most common reasons why this happens and how you can easily fix the problem.
Why you can't connect to VPN when using a mobile hotspot
You'd think that once you have set up your mobile hotspot and connected to it with your device, your VPN would work like with any other Wi-Fi network.
However, because of the way mobile data works, you could run into these problems:
4G and 5G incompatibilities
Both 4G and 5G can cause VPN connection issues because of the way they handle IPs. These technologies are also more likely to use IPv6, which is known to cause leaks and other issues with VPNs.
Blocked ports
Some VPN protocols use specific ports to establish a connection, and these ports might be blocked by your mobile network provider or your device's firewall.
Incorrect VPN configuration on the device
In some cases, the default VPN settings on your device aren't configured correctly for a mobile hotspot.
Network restrictions
Some mobile networks restrict VPN connections, so you might need to use a different network or try advanced obfuscation methods to hide VPN usage.
How to fix the issue?
There are several ways you can ensure your device can use a VPN while connected to a mobile hotspot. Since it's not always clear what the problem is, you should work through each of the following.
Note: These fixes apply to using a VPN on a device connected to a mobile hotspot. It isn't possible for the device supplying the hotspot to share its own VPN connection.
1. Restart both devices
Sometimes, if you set up a new hotspot and connect to it without restarting both devices, previous caches can get in the way.
Begin by restarting the mobile hotspot and then the device you wish to connect via a VPN, and everything should fall into place for a clean connection.
2. Switch to 3G
Due to 5G and 4G incompatibilities, switching your hotspot to 3G is a common way to get the VPN working.
On Android, go to Settings > Mobile network > Mobile data > Preferred network mode. You can then check the 3G only option.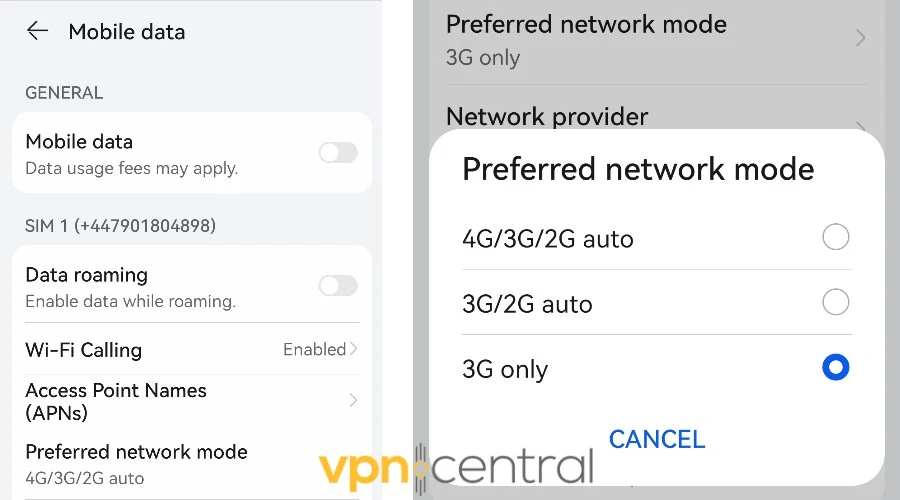 On iOS, go to Settings > Mobile Data > Mobile Data Options > Voice & Data. You can then select 3G.
3. Disable IPv6
To stop the IPv6 internet protocol interfering with your VPN on Android:
Go to Settings > Mobile network > Mobile data > Access Point Names. Next, tap the info icon and locate APN protocol. Tap it and select IPv4 only.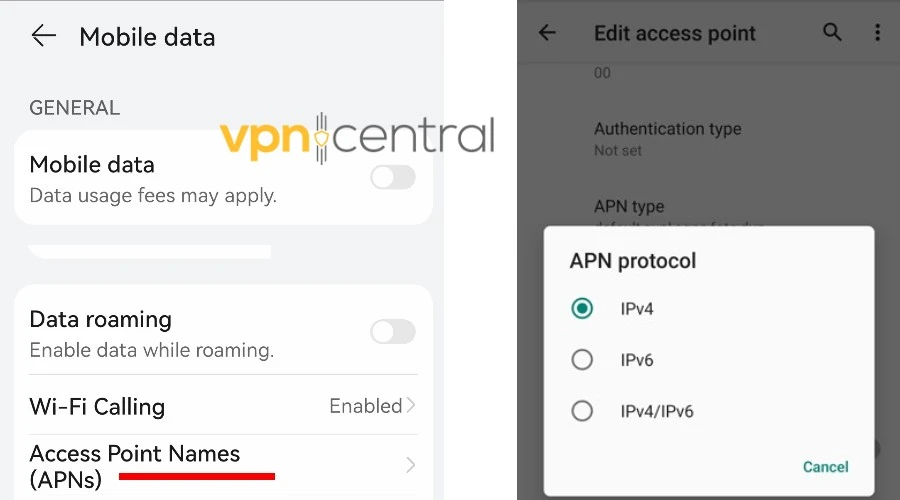 This setting is not available on iOS, but it's also not a problem if using 3G.
4. Check ports
Many mobile providers stick to port 443 for secure web browsing. Therefore, it is important to check if your VPN app is using the same one.
Open the app and go to the connection or protocol area of the settings. The OpenVPN protocol usually supports TCP or UDP protocols on ports 443 or 1194. Make sure 443 is selected.
WireGuard also commonly supports 443. However, IPSec and IKEv2 use UDP port 500, so its best not to select these two protocols.
5. Use stealth or obfuscation
If you have a strict mobile network provider, you may need to further hide the fact you're using a VPN. Many good VPNs offer specialized protocols or servers. Look out for stealth or obfuscation options.
These mask all your internet activity as regular web browsing and some even send dummy traffic to throw your cellular provider off the scent.
6. Change VPN provider
If all else fails and your current VPN doesn't have any advanced options, it may be time to find a better one.
Check out our top one-month VPN and one-year VPN subscriptions. These provide fast and reliable servers, advanced features, and great value for money.
Summary
When you can't connect to VPN when using mobile hotspot devices, a few simple fixes can get things working.
While switching to 3G is the most common solution, disabling IPv6, checking your ports, and changing some of the VPN settings can also help.
Found another fix? Let us know in the comments below!