Mobile hotspots and VPNs are two ways you can connect devices to the internet. However, each has its own different purpose.
A VPN hides a user's IP address and hides traffic by channeling it through an encrypted tunnel.
This ensures all your information is secured using an encryption algorithm that scrambles your data, making it useless to hackers.
On the other hand, we can compare a mobile hotspot, although usually personal, to a router through which you can connect to the internet using an internet-enabled device.
Many people use it in the absence of public Wi-Fi.
So, in a VPN vs mobile hotspot comparison, which one is better and for what? Read on to find out.
VPN vs mobile hotspot – what are the differences?
Although both terms have something to do with the internet, a VPN is way different from a mobile hotspot.
A VPN provides users with a new IP address, making them appear in another location without tracking from the ISPs.
On the other hand, a mobile hotspot serves like a router and is prone to tracking. However, hotspot technologies do offer security and encryption, to a certain degree.
Below are a few factors to help you understand the differences between both tools:
1. Security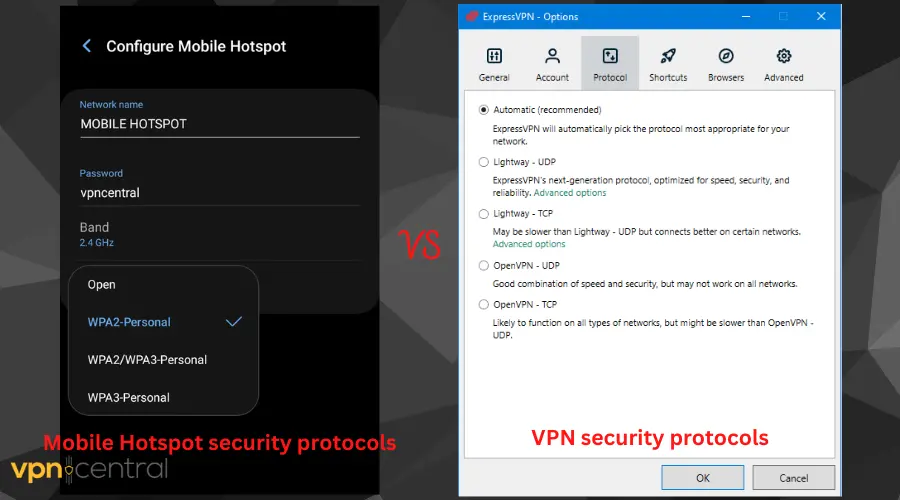 VPNs tunnel your data through their servers using protocols like OpenVPN, IPSec, IKEv2, WireGuard, and more.
They also use encryption algorithms (AES 256-bit in most cases) to ensure your data is unreadable.
In contrast, mobile hotspots use protocols like WEP (Wired Equivalent Privacy), WPA (Wi-Fi Protected Access), WPA2, and WPA3 to encrypt your internet connection.
However, only WPA2 and WPA3 use military-grade AES 256-bit encryption. So, if your hotspot does not have these protocols, your connection will still be vulnerable to hacks.
One drawback with mobile hotspots is that it sends all your internet requests through your cellular data. This makes it easier for trackers and prying eyes to monitor your activities.
But you still have some form of protection when using mobile hotspots, more so than you'd have on public networks.
For example, you'll be safer if you connect your laptop to your phone's hotspot than if you use an unknown WiFi at a cafe.
Therefore, both VPNs and mobile hotspots are better than public WiFi.
2. Speed
Most VPN providers now employ numerous techniques and protocols for high connection speed, one of which is the WireGuard protocol.
They also invest in high-quality servers that can reach impressive speeds.
Still, you may experience drops in speeds when connected to a VPN server. This is because several factors like distance to the connected server, ping, and latency affect the internet speed.
On the other hand, a mobile hotspot uses cellular (mobile) data to connect directly to the internet. This means that you can expect faster speeds, as long as your carrier is fast.
We tested our internet speed when connected to a VPN vs when connected to a mobile hotspot, and this is what we got: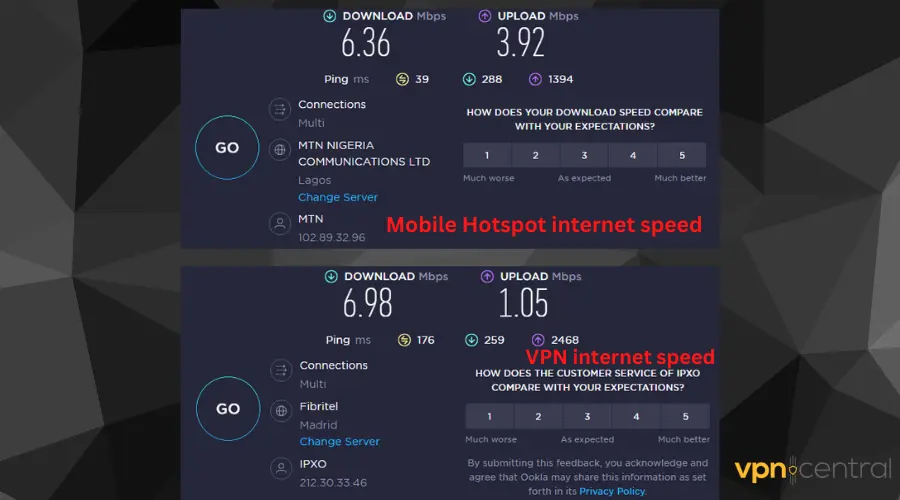 It's worth noting the internet speed on the network wasn't great, to begin with. So the VPN didn't have a negative impact where the speed would drastically decrease.
However, most times, cellular data is not so impressive, and thus, the difference in speed between a mobile hotspot and a VPN is almost negligible in many cases.
3. Cost
A VPN subscription can cost any amount from $2 per month, and some cost even lesser for a month while some are free.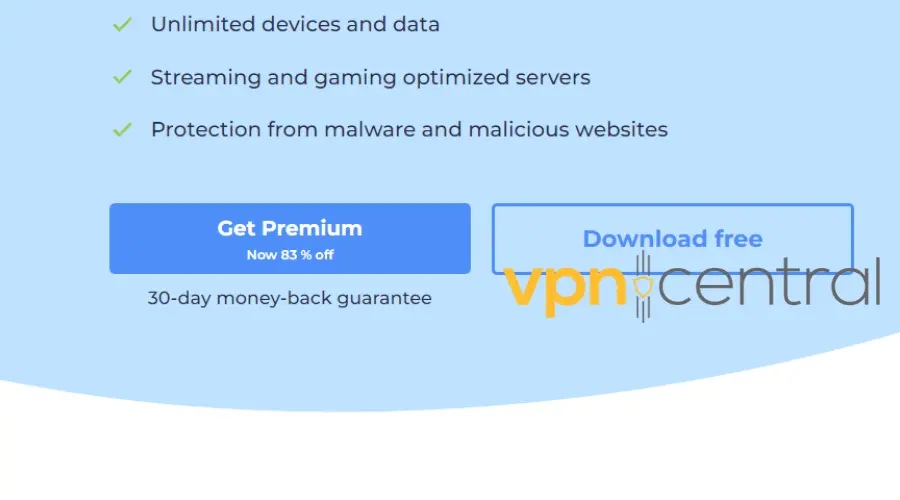 In contrast, a mobile hotspot uses cellular data that require payment upfront. It is easy to exhaust this data really fast and this may cause multiple top-ups throughout the month.
However, you can save some money on data subscriptions if you use an unlimited data plan.
A VPN subscription is usually cost-effective for the level of device security it offers across multiple devices. However, you still need a network to connect to for the VPN to work.
Although a mobile hotspot can connect to multiple devices as well, it can quickly result in a fast battery drain and cellular data exhaustion.
4. User experience
Considering the ease of use, VPNs give a better user experience overall.
Although it can take some time and effort to set up the native VPN feature on most devices like an iPhone or Windows PCs.
Most VPN providers have easy-to-use apps for different devices that take zero effort to make work. All you have to do is install, launch, and connect to a server.
In comparison, you don't have such convenience when configuring your mobile hotspot. It requires your personal settings like choosing a password and selecting your preferred security protocol.
This process is difficult to navigate on some mobile phone models as it is not a plug-and-play feature like VPN apps.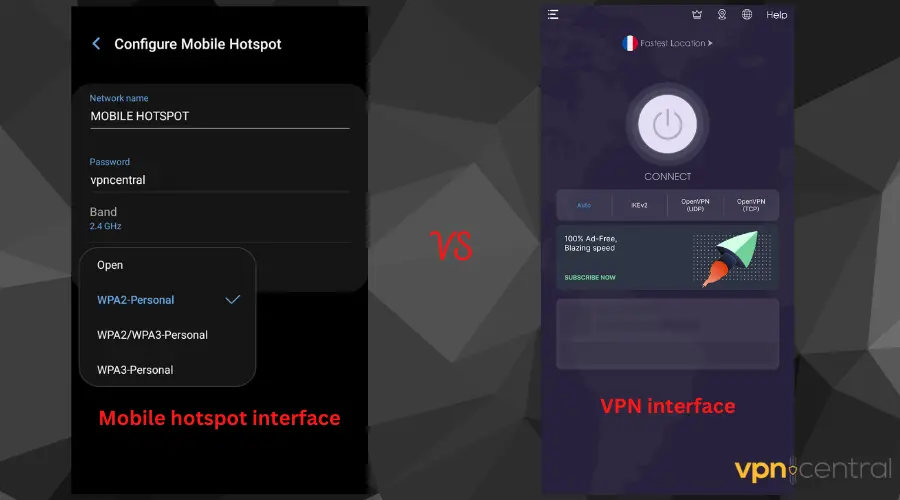 In addition, mobile hotspots require you to be in close proximity to the connected devices to get any form of connection.
Overall, VPN connections are less likely to be at risk of hacking and prying eyes from unauthorized third parties than plain mobile hotspot networks due to the encryption and other security features in place.
On the other hand, plain mobile hotspot users can still suffer from data breaches and have their privacy compromised if they ever get attacked.
If hackers attack their ISP, they can suffer from the compromise of sensitive information including bank details.
Which one should you go for?
Now that you know the differences between a VPN and a mobile hotspot, you may be confused about which one to choose.
Once connected to a VPN server, it safely protects all your data, traffic, and information using encrypted tunnels.
A mobile hotspot on the other hand channels all your traffic through the tunnels belonging to your internet service provider, making all your internet and browsing activities traceable.
However, there are ways to configure it to make it more secure but VPNs still offer better security and privacy.
If you're a constant internet user, using a mobile hotspot is arguably the most convenient way to stay connected always. Although you're at risk of being intercepted once your connection is unprotected.
Would you compromise your online safety for convenience?
Hence, it's important to use a VPN in addition to the mobile hotspot to secure your mobile device serving as a router.
Using a VPN ensures all your browsing activity remains private. As a result, most VPNs have security features like the kill switch that prevents leaks when drops in connection happen.
Also, VPNs use military-grade encryption which is near unbreakable for hackers. Even if they were to crack it, it'd take them a lifetime of endless work.
Subscribing to a premium VPN assures you of heightened online security, super-fast connection speeds, and an overall amazing online experience.
The best option would be to use both. If you need a quick way to share your internet between devices, enabling VPN over it will ensure the best security.
Conclusion
Although mobile hotspots are a fast and convenient way to connect to the internet, you can do it the safer and faster way with a VPN.
With a VPN, your internet activities stay private and you can rest assured that no one can track or steal your data.
FAQ
What does a VPN not protect you from when using a hotspot?
Although a VPN protects you from prying eyes on the internet, it doesn't protect your device from some threats like malware, spyware, and phishing attempts.
If you need protection from these, use antivirus software and be wary of clicking suspicious links on insecure websites.
Does a VPN bypass the hotspot limit?
No. A mobile hotspot uses cellular data (unlike a VPN which can also use wifi). Once the data gets exhausted, they both stop working.
Should I use VPN with a personal hotspot?
Yes.
Although this doesn't fully protect you from hackers, using a VPN together with a personal hotspot ensures your data is secured against traffic tracking.