If you've decided to use a VPN over WiFi, congratulations! It means that you're aware of the benefits of using a virtual private network solution.
A VPN comes with numerous pros, like spoofing your IP address and changing your geolocation. You can use it to visit websites that are otherwise blocked, defeat government censorship, and even bypass VPN detection.
However, a VPN connection is only as strong as an Internet connection. Otherwise, it will often drop and you will not be able to take advantage of its protection.
How does a VPN work: Can a VPN work without WiFi?
A VPN can work without WiFi only if there's an alternative Internet connection active, such as Ethernet or a mobile data plan. VPN doesn't give you WiFi.
If you're wondering if you can use a VPN without an Internet connection, the answer is no. A virtual private network service cannot replace an Internet connection.
As mentioned, if you can't connect to a VPN on public WiFi, you can switch to mobile data, but there's no way to use VPN without Internet.
The way it works is that the VPN encrypts every packet of data transferred over the existing Internet connection, in order to ensure your online privacy and security.
Does VPN work on cellular data?
Yes, a VPN works on cellular data. In fact, it works on any kind of Internet connection. You just have to fire up the VPN client, select a VPN server, and connect.
However, if you plan to use a VPN on cellular data, keep in mind that it will eat up more resources than your regular Internet connection. That's because VPN encryption requires more processing power.
If your cellular data plan is limited and if you keep the VPN on at all times, you could quickly end up with zero bandwidth left.
Does VPN work on WiFi? How does it affect the connection?
VPN does work with WiFi. As long as the connection is good, it will work on any network, be it your home router, a mobile hotspot, or public WiFi. It typically affects connection security and speed.
It's actually recommended to use a VPN to connect to a public, unprotected WiFi hotspot because it encrypts your traffic to fend off any hacker interceptions.
Even if a cyber-criminal runs a man-in-the-middle attack to get hold of your sensitive data, they will only obtain scrambled information that cannot be deciphered.
Moreover, supposing you use a good VPN service, it can increase and stabilize your connection speed. This can contribute to better gaming, torrenting, and streaming.
Do I need to connect to WiFi before VPN?
Yes, you must connect to the WiFi or use any other means to establish an Internet connection before using the VPN.
If you try to use the VPN first, the connection will not be successful. The VPN client will either throw an error or retry the connection.
If your WiFi gets disconnected on a VPN connection, your Internet connection may not be stable enough.
How can I use free WiFi with VPN?
Pick a reliable VPN and install it. For public WiFi, we use ExpressVPN. Just signup and download the app for your device.


Note: It's best you use a trusted network to signup for the VPN before actually using the free WiFi. That's because you need to enter personal information when you sign up.

Download and install ExpressVPN on your device.

If you used a different connection up until this point, it is now safe to connect to the free public WiFi.
Launch ExpressVPN.

Connect to a VPN server in a smart location.

You can now safely navigate the Internet.
Is ExpressVPN working when connected to Wi-Fi?
Yes, ExpressVPN works great on Wifi. In fact, we used ExpressVPN in our example above because it's the best VPN for WiFi to ensure data protection on vulnerable hotspots.
To make sure it's a valid option, we tested it on a free WiFi network. It performed at high speeds, without any slowdown in different locations.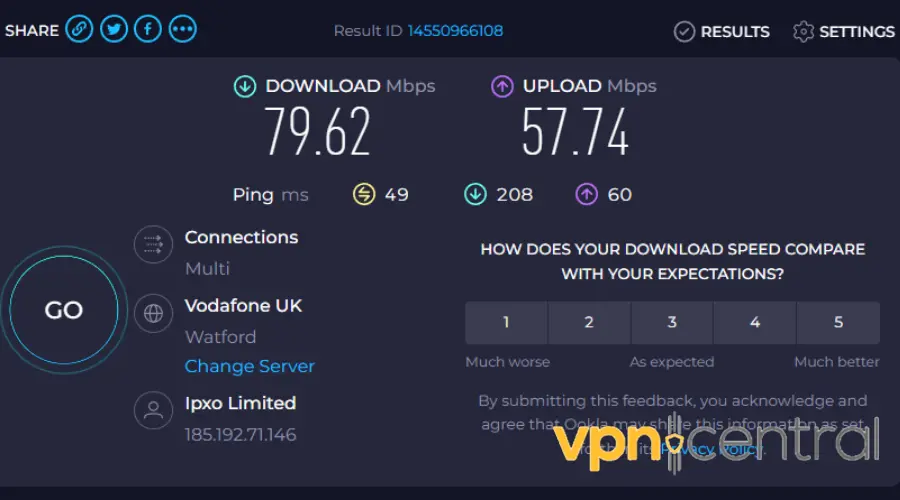 Speaking of server locations, ExpressVPN lets you connect to more than 3,000 VPN servers spread across 90+ countries. It can defend your home router from hackers and DDoS attacks easily.
To shield your data, it uses Lightway and OpenVPN tunneling protocols with up to 256-bit military-grade encryption to ensure the best possible security.
Moreover, it maintains a strict 0 logs policy and offers exclusive DNS servers and DNS leak protection.
In our experience, ExpressVPN is a great option to unlock all streaming platforms including Netflix, Hulu, Disney+, and Amazon Prime.
It is compatible with all major platforms and includes a MediaStreamer for devices that do not natively support VPNs.
How to use VPN when the internet is blocked?
You have to troubleshoot the internet problem. If you get a Your internet access is blocked message when you connect, or the connection is simply down, you will not be able to use your VPN.
Most commonly, this is caused by buggy routers. It can also happen because your firewall or antivirus is stopping the connection or you forgot to pay your internet subscription.
In most cases, rebooting your device and checking your network status will solve the problem. If the issue persists, contact your ISP.
In conclusion, you can use a VPN without WiFi, as long as you have another way to connect to the Internet, such as Ethernet or through a mobile data plan.
Furthermore, you can use a VPN over free WiFi in order to redirect your entire network traffic through the VPN and protect your device from cyber-criminals.