If you're on a limited data plan or having trouble with bandwidth throttling, you'll want to keep a close eye on your data. Unfortunately, VPNs can consume quite a bit of it.
So, how much data does a VPN use per hour? We did a series of tests with ten VPN services to find out.
Namely, we browsed YouTube, Twitter, and Tumblr with each provider for one hour, using the same connection settings.
Other things we'll discuss are the factors that impact VPN data consumption and methods to minimize it.
Let's jump right into it!
How much data does a VPN use per hour?
On average, a VPN uses 469.8 MB per hour. That's a 15.14% increase compared to our starting value of 408 MB.
To arrive at this number, we did a series of tests with ten popular VPN providers.
We performed the same activities for each test: 20 minutes of YouTube, 20 minutes of Twitter, and 20 minutes of Tumblr.
First, following our plan of activities, we measured our normal data use without a VPN. It was 408 MB for one hour.
After that, we cleared our cookies and cache for those websites and began testing.
We used the same VPN protocol, OpenVPN UDP, and connected to the same location, the Netherlands, to ensure that the results are legitimate.
You can check them out in the table below.
As you can see, the percentage increase ranges from 7.84% to 23.03%.
We calculated the average value by adding up all the data use results and dividing it by ten. As it turns out, on average, we spent 469.8 MB per hour with a VPN.
Factors that affect VPN data usage
With a VPN, your data consumption will significantly increase, as every web page visit, video, and download add up.
It'll encrypt your data packets, which creates some overhead. By most estimates, the entire process adds up to 5-15% more data usage. Our final result also falls within this range.
Here's why.
Normally, you send and receive data on the Internet in the form of packets, each containing a limited amount.
It also keeps the information about where your payload is coming from, where it's going, and what IP version is used. That takes up space.
But, with a VPN, each data packet is encrypted and wrapped in another packet while it's rerouted to the VPN server. That takes up even more space.
Additionally, during encryption packets can be split up and consume even more data.
On top of that, several factors can affect your VPN's data consumption.
Encryption strength, for starters. AES encryption has three different key sizes that determine its security level.
AES-128 is the weakest but quickest and lightest encryption standard.
AES-192 is harder to crack since it uses a 192-bit key length.
AES-256 is practically untouchable and employs a 256-bit key length.
Additionally, your connection type will also have an effect since some tunneling protocols are more data-heavy than others.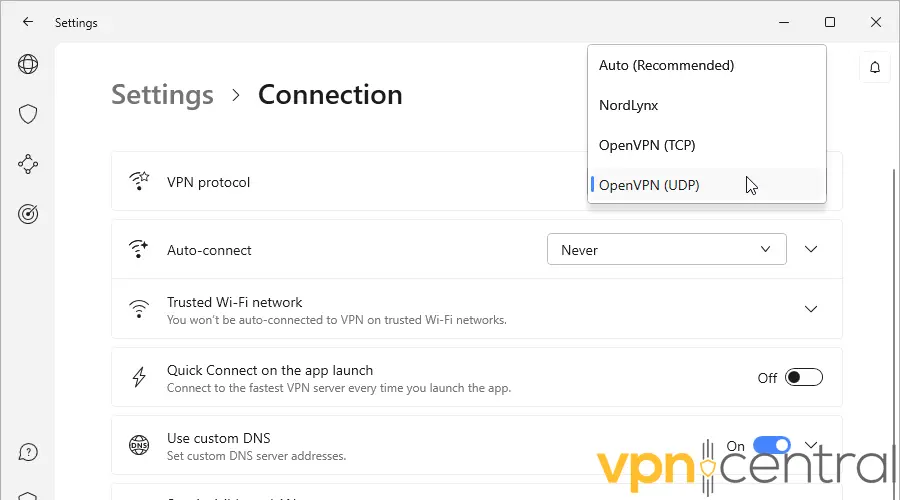 Overall, OpenVPN UDP and TCP consume the most data, while PPTP, IKEv2/IPSec, and WireGuard are more efficient.
But you should avoid PPTP due to outdated security and lack of compatibility with 256-bit encryption keys.
Finally, your VPN server location also plays a role. Connecting to distant servers creates a larger overhead because your data packets need to travel longer and encryption will take more time.
So, always connect to the closest possible servers to conserve your data and reduce latency.
How to minimize VPN data usage?
Is your VPN eating up all your data? Here are some strategies to evade that.
Turn off your VPN when you don't need it.

Maybe that's easier said than done, but you'll need to decide when you really have to use your VPN and prioritize those scenarios.

So, if you mainly rely on it for privacy, you can disable it when visiting streaming services.

Try split tunneling

This feature lets you divide your traffic and apps into those you want to encrypt and those you want to keep outside your VPN's tunnel.

It's perfect if you don't want to keep switching your VPN off just to conserve data. Unfortunately, not all providers support it. 

Choose the right VPN protocol

We've already discussed the weaknesses and strengths of certain tunneling protocols.

We recommend IKEv2/IPSec for mobile users because it's stable on all networks.

Alternatively, computer users can conserve data without sacrificing security or speed with WireGuard.

Connect to the closest locations

As mentioned earlier, you should try connecting to VPN servers closer to you.

Many VPNs have features that will automatically do that for you, like Smart Location or Quick Connect.

Enable compression

Some VPN services let you compress images and other elements to reduce your internet usage.

If available, it's probably enabled by default in your Settings, but you should still double-check.

Avoid free VPNs


As tempting as they sound, free VPNs will often eat up even more of your data because of ads and pop-ups.

So, try to steer clear of them and subscribe to legitimate services.
How to monitor your VPN data usage?
Additionally, another good way to minimize overhead is to regularly keep track of your data.
For basic results on a PC, you can use Windows' default data monitor.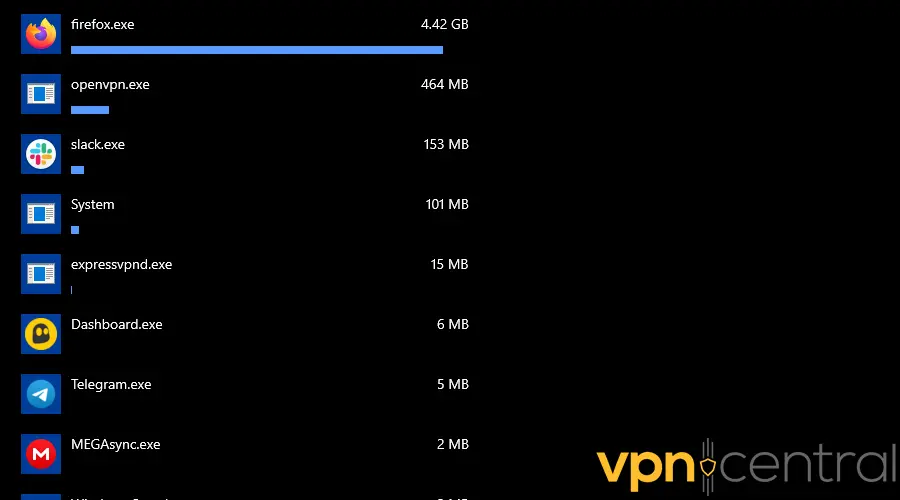 It displays which apps have used up most of your bandwidth in the last 30 days. You can also reset the limit and keep track in real-time.
For a more in-depth approach, try GlassWire. It's a free app that specializes in data monitoring, available for Android and PC.
It ranks apps based on how much data they're spending and lets you block or whitelist them. You can track daily, monthly, and yearly usage.
It also allows you to set a data usage limit or alerts for your data plan.
Conclusion
So, how much data does a VPN use per hour?
Our findings indicate that, on average, a VPN spends 469.8 MB per hour. Our starting value was 408 MB, so it's a 15.14% increase.
On top of that, your choice of VPN protocols, server location, and encryption strength will determine how much data you're using.
But you can optimize your VPN with split tunneling, compression, and the right connection settings.
Let us know how our tips worked out for you!