ProtonVPN is a VPN service that is attracting more and more attention each day which is why we'll review it and see if it's worth it.
This was to be expected when ProtonMail, the company's first product enjoyed such widespread success.
People were confident that the VPN solution in the form of ProtonVPN would be just as good, and they haven't been disappointed.
In ProtonVPN you have a service that offers some of the most secure connections using their Secure Core servers, great connection speeds, and an overall satisfying VPN usage experience.
This Swiss-based VPN has been increasing its user base at a great pace, which prompted us to find out the cause behind it.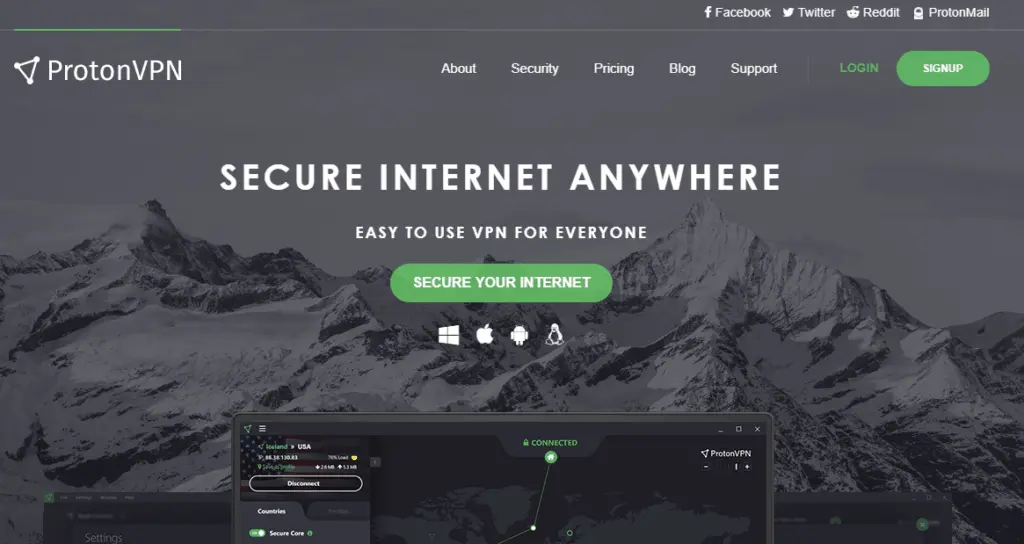 But if you're not sure, who can blame you? With so many services on the market, it's only normal to assume that one isn't as good as it claims.
That's why we're here. This ProtonVPN review will go over all the features and thoroughly test it so you can have an idea if this VPN fits your needs or not.
Main features
Pricing and plans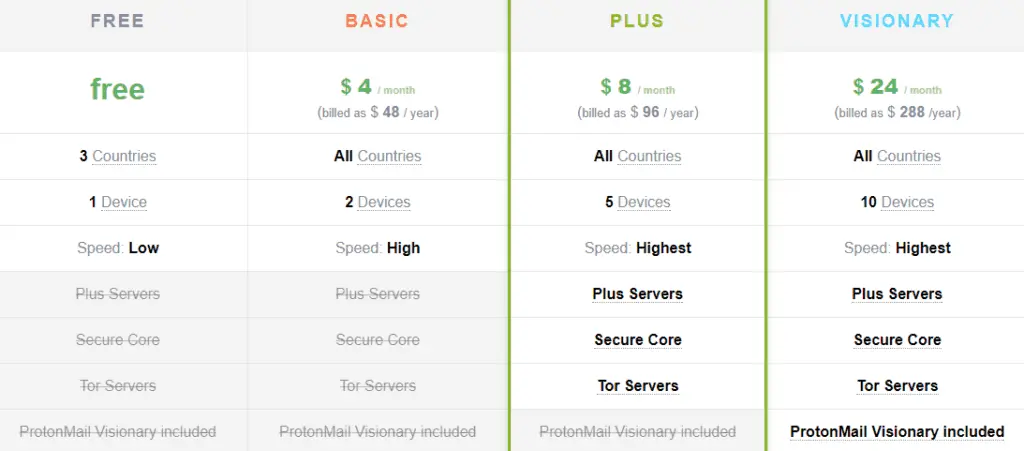 ProtonVPN offers 4 different plans to users.
Free – As the name suggests, it is a free plan, but as you would expect, there are a number of restrictions placed on the usage. You can only connect to servers from 3 countries, can use 1 simultaneous connection, cannot use P2P, have low-speed connections, and do not have access to Plus, Secure Core, or Tor servers.
Basic – With this package, you get good connection speeds and can access all servers that ProtonVPN has under its name. You can use 2 simultaneous connections as well. But when it comes to Secure Core, Plus, and Tor servers, they are still not accessible. At euro 4 per month, this is a decent package.
Plus – This is arguably the plan most users go for. For euro 8 per month, you get access to all servers as well as Tor, Secure Core, and Plus servers. These servers provide lightning-quick You can have 5 simultaneous connections as well
Visionary – If you are willing to shell out euro 24 per month, you get all the benefits of the Plus package as well as access to the globally popular ProtonMail service. ProtonMail Visionary is included in this package, and you can even use 10 simultaneous connections
Free trial money-back guarantee
The free package which ProtonVPN offers does not have any limit on how long you can use it, but if you think about it, it leaves a lot of questions unanswered.
Plus it has server limitations. Nevertheless, it still is one of the best free options on the market.
However, when you do download the VPN client for Windows with the free package, ProtonVPN surprises you by giving you a 7-day free trial of the Plus package.
This gives you ample opportunity to test the service and opt for the Plus or Visionary package should you like the service.
Along with the surprise 7-day free trial of the Plus service within the Windows VPN client, you also have a 30-day money-back guarantee with ProtonVPN.
Now, money-back guarantees that stretch for that long a period are unheard of, and it shows just how confident ProtonVPN are with its work.
Payment options
When you subscribe to a paid package with ProtonVPN, you will see that there are only two payment options in the form of credit card payments and PayPal.
However, you can also make payments in the form of Bitcoins. To do so, you have to donate bitcoins to the service as an individual, and they will be automatically credited to your ProtonVPN account.
Servers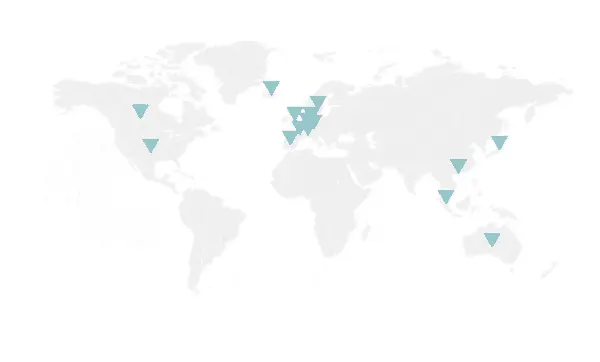 ProtonVPN is a new name in the VPN industry, and that fact is highlighted when you see their server count and global coverage.
They have global server coverage and let you switch between them in case one doesn't work.
However, these servers are really well scattered to cover almost the entire globe. Wherever you are, there is a ProtonVPN server near you.
The slight frown that you might have on your face when you learn about their server count and global presence will be wiped off the moment you connect to a ProtonVPN server.
Their servers offer some of the best connection speeds we have seen.
Testing with UK and US servers, we were pleasantly surprised to see just how good their connection speeds were.
If you use the service from within Europe, the connection speeds will leave you dumbfounded, since they are blazing fast.
Testing it against IP and DNS leaks returned promising results as well. However, ProtonVPN did fail the WebRTC leaks test.
A big requirement from VPNs today is if they can help users unblock and access Netflix USA.
Although Netflix is available in more than 200 countries now, the video library in other parts comes nowhere near the content that is available to American users.
People are, therefore, always on the lookout to access Netflix USA.
Things are made even worse with Netflix going on its own crusade against VPN users, blocking VPN IPs actively.
If configured correctly, ProtonVPN will give you easy access to Netflix USA.
You might be able to see the library and the US version of the website, but when you try to stream content, the infamous Netflix error message will sting you really badly.
Privacy and security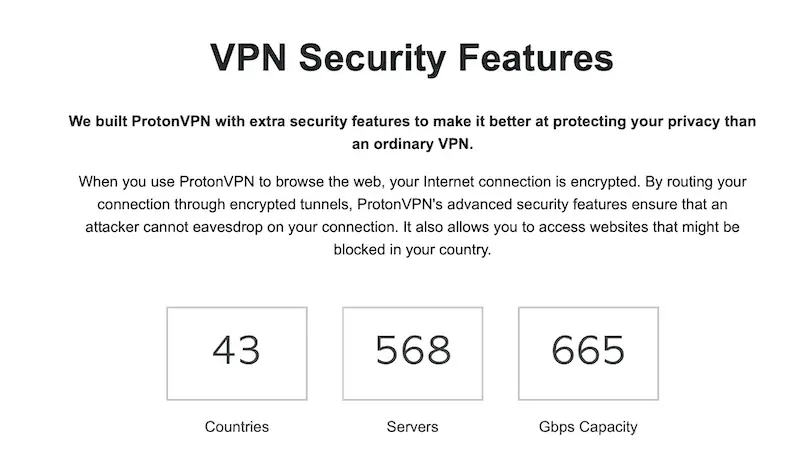 All VPN services aim towards providing users privacy and security on the internet, with the main focus on user privacy and anonymity.
But ProtonVPN is different in that regard since it puts the security of users before privacy.
Logs policy
ProtonVPN maintains a strict no-logs policy. We were almost sure of it before we even checked the privacy policy.
It is a product of the same people who produced ProtonMail, an encrypted e-mail service.
There is nothing recorded about your online activity or data usage when you are connected to a ProtonVPN server.
The only thing that is recorded is the connection timestamp. But it clarifies that this is to keep track of how many devices run at the same time. Apart from this, nothing is recorded.
The fact that ProtonVPN is based in Switzerland means it does not have to worry about data retention laws either.
There's nothing the VPN service has on you. Also, there is no pressure on it to record or share this information with third parties.
VPN protocol and encryption
A lot of people gauge the quality of a VPN service by the number of VPN protocols a VPN supports.
Such people will be surprised to see that ProtonVPN supports just one protocol, which is OpenVPN.
But the fact that it only supports OpenVPN shows how serious ProtonVPN is about protecting your privacy.
The website clearly mentions that no ProtonVPN server supports PPTP or L2TP/IPSec despite those servers being cheaper to maintain.
As for encryption, you have AES 256-bit protection, which is one of the best to date.
Usage experience

VPN clients
ProtonVPN offers a VPN client only for Windows at the moment.
A MacOS client is soon to be out.
However, you can set up ProtonVPN on a number of other devices and operating systems.
These include Linux, Android, iOS, routers, etc.
There are detailed step-by-step setup guides to get ProtonVPN up and running on other devices.
The Windows client that ProtonVPN offers is one of the best you will see.
Everything about the client feels just right. Whether it is looks, features, or performance; everything is of high quality.
The dark-colored client has a pretty neat interface. The home screen shows you all the important statistics and allows you to switch servers.
You can toggle secure connections with a button right on the home screen. And even use custom profiles or choose random or fastest VPN servers. Other features are neatly tucked in Settings.
Customer support
Customer support service is an important judging criterion for any VPN service.
While ProtonVPN seems a bit off in this regard with no provision of live chat support, there is a detailed and well-updated FAQ section that can answer most of the questions first-time VPN users come up with.
In case you don't find an answer there, you can always contact support by submitting an online ticket or contacting the support staff via email.
You are sure to hear from them in a short time.
Since all their personnel have a background in IT, the responses are always detailed and to the point and will help you resolve your issue quite easily.
Other features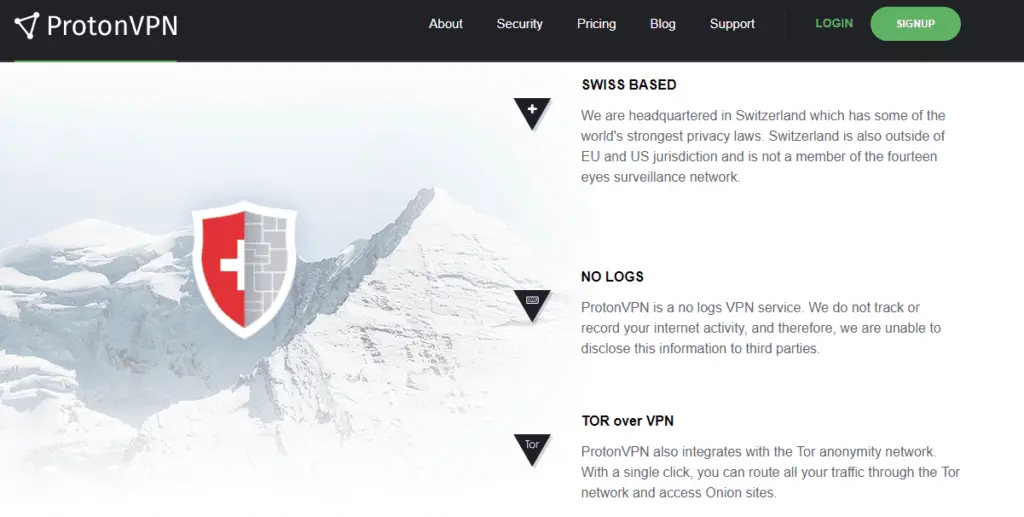 Kill switch
The internet kill switch is a common feature in VPNs today.
It disconnects you from the internet in case your VPN connection drops unexpectedly. Since connection drops can happen in any VPN service, the internet kill switch is an important feature.
Also, it helps you download content without having to worry about your activity being spied on. Even if your connection drops, no one will know your download activity, since you will be disconnected from the internet.
Secure core servers (double VPN)
ProtonVPN offers extra protection to users in the form of Secure Core servers.
These are special servers in Switzerland, Sweden, and Iceland that look to add an extra layer of protection to your connection. So basically you reach the target website after going through two VPN servers.
The secure core servers prevent network attacks and help you stay protected at all times.
The best part of this feature is that your connection speeds do not suffer as such. So it's added protection at no loss of connection speed.
Tor support
When you use the Tor browser while connected to a ProtonVPN server, you can use the built-in support that ProtonVPN offers for Tor.
There are certain dedicated Tor servers that make it safer for you to browse the internet using Tor.
There's always the possibility of someone using the exit nodes to target you in one way or another. But with the help of ProtonVPN's built-in Tor support, you don't have to worry about that.
P2P
P2P is a useful service for users all over the world. Although it is purely legal, there are issues when you download copyrighted material through the P2P service.
This is why many countries ban P2P or torrent websites. A lot of VPNs do not support P2P, but ProtonVPN does. You can use P2P on most of the servers under ProtonVPN.
With VPN protection, no one can see your real IP address, meaning no one in the peer pool can know your identity and spy on your torrent activity.
There's also no way for your ISP to throttle your bandwidth, or for the authorities to take action against you for downloading copyrighted content since they won't be able to see your torrent activity.
The verdict
We conclude our review by stating that ProtonVPN is one of the most promising names in the industry at the moment.
Everyone is surprised by the performance of ProtonVPN.
Even though there are obvious issues to address, like the lack of VPN clients, a small number of servers, and no live chat, it's a case of weighing the positives against the negatives.
The fact that such discouraging factors are quickly brushed aside in the case of ProtonVPN shows how well it is doing with the things it provides.
The connection speeds it offers are unbelievable, even when you use the double encryption of Secure Core servers. The built-in support for Tor helps you browse the dark web securely.
The no-logs policy and Swiss base keep your online activity private, and the P2P support an astounding 60-day money-back guarantee to make you fall in love with the service on the very first day.