SBS offers a lot of fun movies and entertaining live TV programs ranging from NITV to SBS Food and lots more.
The website however is only available to viewers and residents in Australia.
People abroad only get an error message as shown in the image below.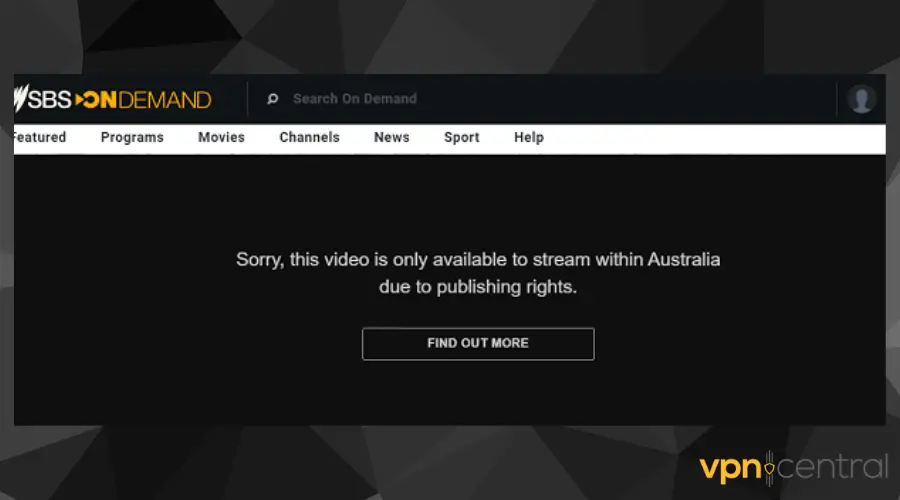 It's normal then to bypass the geo-block using location-spoofing tools, but even so, there are so many complaints about SBS not working with VPN.
Not to worry, there are a few tested ways to fix this error and get back to watching your preferred content in no time.
Now, let's get to business.
Is SBS not working with VPN? Try this!
It's a fact:
A VPN bypasses geo-restrictions by masking your actual location and replacing it with one that belongs to the VPN server you connect to.
Therefore, If SBS is not working with your VPN, below are a few fixes you can try:
Change the server

Your inability to connect to the SBS website may be from the Australian server you're connected to.

Let's face it:

Geo-restricted streaming platforms have mechanisms that block VPN connections to enforce their blocks. This involves blacklisting all the IP addresses associated with a blocked server.

Therefore, to change your server, follow the steps below:

1. Open the VPN app and disconnect from the Australian server you were connected to.

2. Search for another server in Australia and connect.

3. Navigate to the SBS website and try again.


Clear the cookies and the Cache


The cookies you accept whenever you visit various websites have details of your actual location which could be causing connection issues to the SBS website.

Clearing your cache and cookies removes any previously stored information about you such that your previous IP address will be hidden from the SBS website.

Here's how to clear cookies and cache in Chrome (works pretty much the same for Firefox, Opera, Edge, and other mainstream browsers):

1. Open your browser's menu and click Settings.
2. Select Privacy and Security and select Clear browsing data.
3. Choose the duration of cookies and cache to clear and tick the appropriate boxes.

4. Click Clear data to finish the process.

Reinstall the VPN software

There's no harm in starting over right? Especially when it assures you of a fresh and error-free experience.

Reinstalling your VPN software ensures that you have the latest version. It also reset the app's configuration and gets rid of bugs caused due to faulty installation.

To apply this fix:
1. Launch your phone or PC and navigate to the settings tab.
2. Select your VPN app and delete it entirely.

Restart your internet-enabled device before reinstalling the app.

To reinstall:

1. Visit the provider's official website to purchase the software.
2. Download the software to your device.

3. Launch the app and connect to an Australian server.
4. Check if the issue is fixed.


Check for IP or DNS leak


IPv6 leaks, DNS leaks, and WebRTC leaks are security vulnerabilities that expose your true information to websites even when you're using a VPN.

So, if you're experiencing difficulties connecting to the SBS website with a VPN, it's advised that you run a leak test.
Here's how to test for leaks:

1. Visit Browserleaks.com and run a standard test without an active VPN connection.

2. Note the IP address shown in the results.
3. Now connect to a VPN server and run the test the second time.

4. Compare the IP address shown in the two tests. If they are the same, it means your VPN has a leak.
5. If there are leaks, navigate to your VPN's settings and toggle on the IP and DNS leak protection tab.

However, in a situation where your VPN provider doesn't offer this feature, it's in your best interest to choose a provider that does.

Contact the VPN support team

You should consider contacting the provider's support team if you've exhausted all the above suggestions and the issue still persists.

Many VPN service providers have a responsive support team you can contact either by email or live chat so they can handle your complaints especially if the connection issue is a technical one.

Change your VPN provider

If all else fails, changing your provider is your best bet to get rid of all issues with getting SBS to work outside Australia.

ExpressVPN comes in handy as our top recommendation for this in case you're looking to change to a more premium provider that has a reputation for being arguably the best option available.

Follow these steps to get ExpressVPN:

1. Visit ExpressVPN's official website and pick a subscription plan.

2. Download and install the software to your device

3. Launch the app and connect to an Australian server
4. Ensure the connection is stable before going to the SBS website to log in or create an account so you can watch any of the series you prefer.
The truth is:
It's only normal for free VPN providers to struggle with replacing blocked servers or providing the best security features.
They don't make enough money to invest in better infrastructure to protect you, which means you're more likely going to get poor service while also exposing your data to be logged and sold.
To avoid all these issues, it's recommended that you choose a reliable provider that offers premium security features and strong unblocking abilities.
This will ensure that you have access at all times to content from any location in the world.
Alongside this, opt for a provider that has a huge server network and tons of IP addresses to avoid limitations due to server blocks.
Does SBS block VPNs?
Yes, SBS blocks the use of VPNs.
Since SBS is an Australian website that's only accessible from any location within Australia, it is bound by copyright and licensing laws that restrict its content from being shared or accessed from outside Australia.
Fans of this website however adopted the use of VPNs to watch its fun content which could cause legal issues for SBS based on the laws binding it.
This is why the website blocks any IP address it suspects to be that of a VPN else it faces legal consequences for your actions.
How does SBS detect my VPN?
Oftentimes, geo-restricted websites, including SBS analyze the internet traffic accessing their websites to detect whether it's coming via the ISP or through a VPN tunnel.
These websites often use network management tools like DPI (Deep Packet Inspection) to inspect the data being transmitted in every user's traffic.
They also compare each user's IP address with their list of detected VPN IP addresses and proxy servers.
Once the website gets a positive match on the list of detected VPN or proxy server IP addresses, it automatically blocks that user from accessing its content.
Also, owing to the fact that there are no VPNs with an unlimited number of IP addresses, it's easy to quickly exhaust the ones they have.
This means that a huge number of people might have to use the same IP address, either at the same time or not, to access the website.
This explains how SBS can detect and block your VPN.
Best VPNs for SBS
What VPN services can you trust for the best experience with SBS? See our top 3 recommendations below:
1. ExpressVPN – Best VPN for unblocking SBS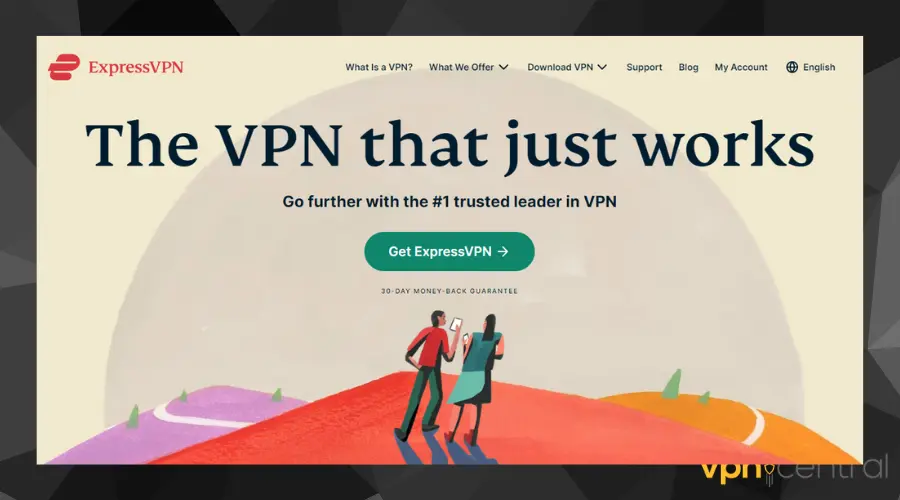 For buffer-free streaming on SBS, choose ExpressVPN.
In addition to being the best VPN on the market, it has over 3000 servers in 94 countries, allowing you unmatched location flexibility depending on your needs.
It has a kill switch that prevents leaks when your connection suddenly breaks, and it uses 256-bit AES encryption coupled with WebRTC, DNS, and IPv6 leak protection.
✅ Pros:
Unblocks Netflix, Amazon Prime Video, Hulu, Disney+ and lots more
Super fast streaming on SBS
Military-grade encryption
Effective customer support via live chat
No logs policy
Has apps for Windows, Android, Mac, Linux, and iOS
Browser extensions are available for Firefox and Chrome
❌ Cons:
No labels for streaming servers
Pricey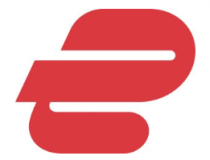 ExpressVPN
Enjoy unlimited access to SBS by using this reliable VPN for streaming!
2. CyberGhost – Reliable speeds for streaming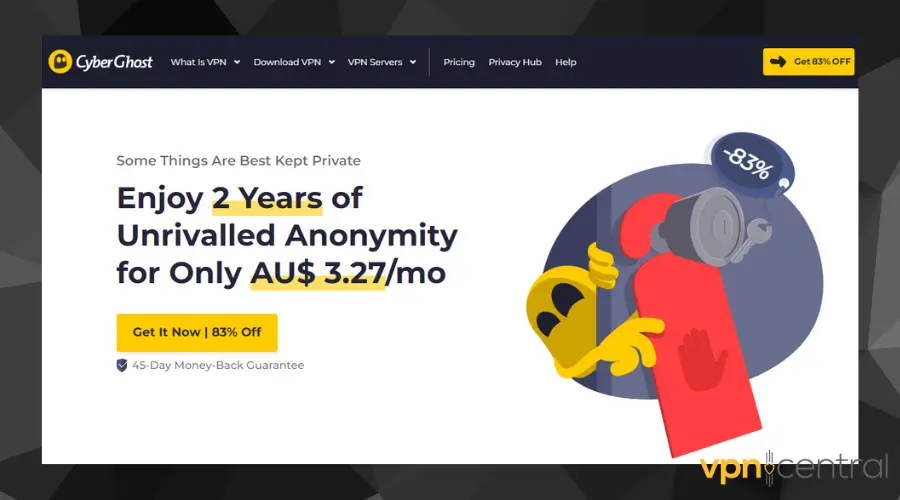 CyberGhost has one of the largest server networks numbering over 9103 spread across 91 countries of the world.
Its servers are speedy and have no bandwidth restriction which makes it great for streaming.
In addition to its strong unblocking features, it also uses AES 256-bit encryption and has a kill switch designed to cut off your internet when the VPN connection drops, with IPv6 and DNS leak protection.
✅ Pros:
Huge server network
150 servers in Australia
Fast and unlimited bandwidth suitable for streaming
No logs policy
Allows connection on 7 devices simultaneously
45-day money-back guarantee.
Suitable for use on iOS, Android TV, Windows, Mac, Linux, and lots more
NoSpy servers for intense anonymity
❌ Cons:
Not available in countries like UAE or China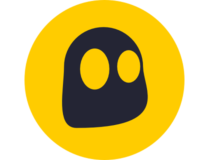 CyberGhost
Watch SBS shows restriction-free using CyberGhost's geo-unlocking features!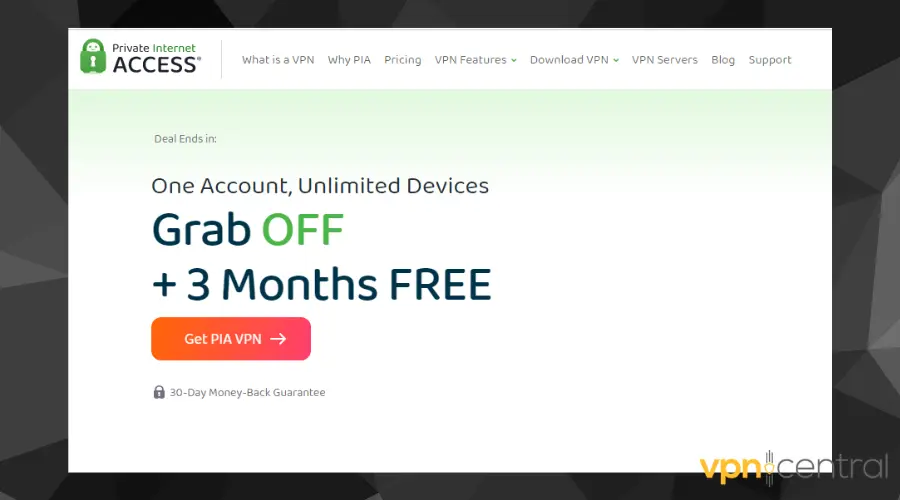 PIA is another great VPN you can use for SBS.
With over 69 servers in Australia alone, it works well in unblocking SBS from any location.
It uses the industry standard 256-bit AES encryption and also has a WireGuard protocol for speedy and secure connections.
✅ Pros:
Fast connection speed suitable for streaming
Compatible with Android, iOS, Mac, Linux, MacOS, and others
Unlimited simultaneous device connections
Over 69 servers in Australia
No logs policy
Data leak protection
30-day money-back guarantee
❌ Cons:
Not-so-impressive streaming quality on some servers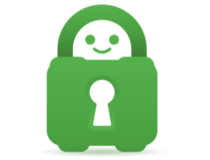 Private Internet Access
Unlock SBS in no time with this easy to use and reliable VPN!
What can you watch on SBS from anywhere with a good VPN?
Here are a few shows available on SBS:
| | | |
| --- | --- | --- |
| The Dark Heart | Nine Perfect Strangers | Safe Home |
| Wallander | Hope | House of Promises |
| Bank Robbers | Lost Boys | Freezing Embrace |
| Rat Hunters | Alone Australia | Rogue Heroes |
Conclusion
Using a free VPN doesn't guarantee you an enjoyable experience as your IP address is easily identified by the website which is why you should choose a premium VPN.
On the other hand, premium VPNs provide you with a new IP address once you gets blacklisted by a website.
In summary, if you've been unable to access the SBS website outside Australia with your VPN, the above-mentioned fixes are guaranteed to help you fix that.