Unless you've been living under a rock, it's likely you've come across Surfshark while browsing the web. Having launched in 2018, it's one of the most well-known VPN providers on the market.
These Surfshark statistics take a closer look at the company's growth, unique cyber-security features, and user base. Let's jump right in!
Eye-opening Surfshark statistics
If you thought you knew everything about Surfshark, these stats might surprise you:
The Android app has over 10 million downloads on Google Play.
The company's website ranks third in the VPN industry based on visits.
In 2022 Surfshark merged with Nord Security, resulting in a $1.6 billion valuation.
China searches for this service more than any other country.
Surfshark received 4,400 data subject requests in 2021.
Growth-related Surfshark stats
How popular is this service and where does it fit into the rest of the VPN marketplace? Let's have a look:
1. 31% of all netizens have used VPNs.
Source: [Surfshark]
Surfshark commissioned research that suggests a staggering 1.6 billion people use VPNs. This is roughly 31% of internet users or a fifth of the global population.
Additionally, 34.6% of them choose paid premium services rather than free ones.
2. Surfshark averaged 5.8 million visitors over the past three months.
Source: [SimilarWeb]
The website had 5.5 million visitors in February, 6.2 million in March, and 5.7 million in April. These figures represent direct desktop and mobile visits, rather than active VPN users. Still, it gives insight into the company's popularity.
3. The Surfshark website ranks third in the VPN industry based on visits.
Source: [SimilarWeb]
By comparison, ProtonVPN is the closest competitor with 4.5 million visitors in April. Meanwhile, ExpressVPN takes the second spot with 9.5 million. Finally, NordVPN is the industry leader with 14 million.
4. The Surfshark app has over 10 million downloads on Google Play.
Sources: [Google Play, Apple Store]
The Android version has over 10 million downloads and 75,000 mostly positive reviews. Although the Apple App Store doesn't give download numbers, it has amassed over 35,000 mostly positive reviews.
5. In 2021 Surfshark brought in $7.11 million in revenue from app installs.
Source: [EarthWeb, SensorTower]
Estimates indicate that more than 7 million installs have generated $7.11 million in revenue for Surfshark in 2021. Recent estimates suggest $200,000 was made in the last month.
6. The popularity of the term "Surfshark" peaked in March 2022.
Source: [Google Trends]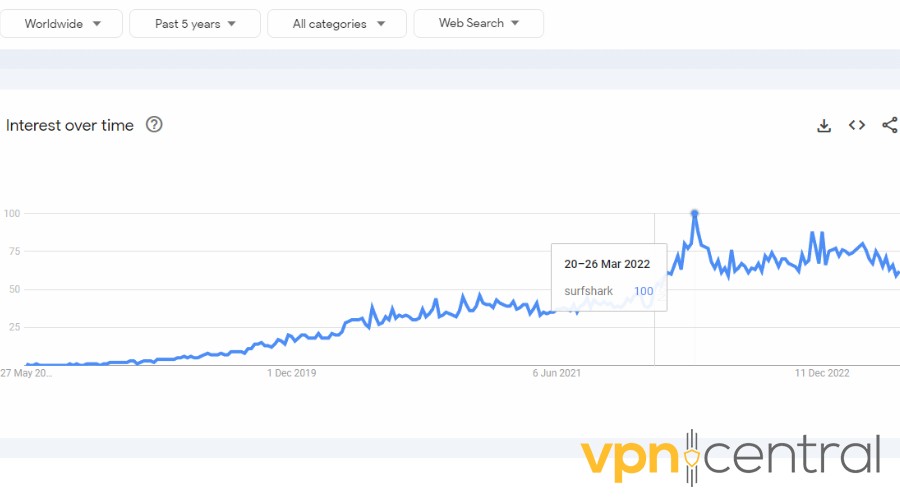 Surfshark was the most popular in the period between 20-26 March 2022, according to Google search data. This may have been due to its financial merger with Nord Security.
7. Surfshark received 4,400 data subject requests in 2021.
Source: [Surfshark Annual Report]
One of Surfshark's newest services is Incogni. It automates personal data removal from 60+ people search sites and 120 other data brokers. Users made 4,400 requests on Incogni in 2021.
Background Surfshark facts and stats
From humble beginnings to Unicorn status, these facts give more background on the company's journey.
8. Vytautas Kaziukonis founded Surfshark and launched its first VPN app in 2018.
Sources: [Surfshark About Us, HackerNoon]
In 2018, Surfshark released a full set of apps on Windows, macOS, Android, iOS, and even Fire TV. The German cyber security experts Cure53 audited the Chrome and Firefox extensions first. It concluded the results should "position the product in a very good light."
9. Surfshark was one of the first ten VPNs to receive approval from the independent IT-Security Institute AV-TEST.
Source: [AV-TEST]
AV-TEST is an independent organization that tests and certifies security software. In October 2019, Surfshark was one of the first ten VPN providers to be evaluated. It's also regularly certified due to its additional antivirus and ad-blocking features.
It fell below the industry average for 0-day malware attack protection when it was last tested in December 2022. However, it detected 100% of "widespread and prevalent malware discovered in the last 4 weeks."
10. The number of countries Surfshark has servers in increased by 57% between 2021 and 2022.
Source: [WaybackMachine]
Surfshark has one of the fastest-growing VPN server infrastructures. In 2021 it had servers in 65 countries, growing to 100 by 2022. This is a 57% increase.
In total, it has 3,200 individual servers, not counting virtual ones.
11. In 2022 Surfshark merged with Nord Security, resulting in a $1.6 billion valuation.
Source: [Surfshark About Us]
After merging with Nord Security in the first quarter of 2022, Surfshark raised $100 million of outside capital. The new Unicorn company was valued at $1.6 billion.
Both companies still remain operationally independent, though. Surfshark has headquarters in the Netherlands under founder and CEO, Vytautas Kaziukonis.
12. 58% of Surfshark's employees are men.
Source: [Surfshark Annual Report]
Although its website might skew heavily male, the employee gender ratio is more balanced. As of 2021, 58% of its 200+ employees are male compared to 42% female.
13. Surfshark's no-logs policy was independently verified in January.
Source: [CNET]
A no-logs policy is a benchmark for a good VPN provider. Still, it can be difficult to tell when the term is being used legitimately or as marketing jargon. In Surfshark's case, its policy has been independently verified by the auditing firm Deloitte.
Surfshark demographics statistics
These stats explore the demographics that make up Surfshark's user base. Let's zoom in!
14. China searches for Surfshark more than any other country.
Source: [Google Trends]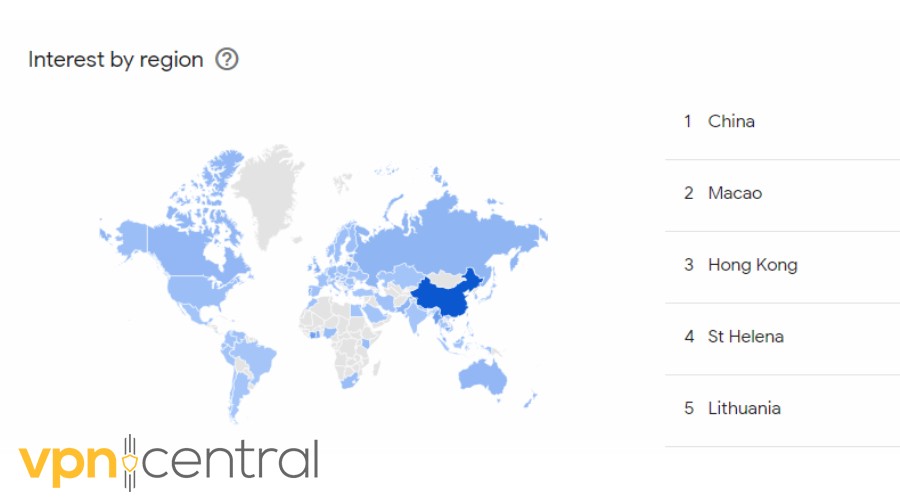 Based on Google Trends data from the past 5 years, Chinese netizens are generating the most searches for Surfshark. This is no surprise considering the sheer population size and its heavy state censorship of the internet.
It's followed by Macao, Hong Kong, St Helena, and Lithuania.
15. The US, UK, and Hong Kong are among the most used server locations in Surfshark.
Source: [Surfshark Annual Report]
The 10 locations where users connect the most are:
The United States
United Kingdom
Hong Kong
Canada
France
Germany
Netherlands
Italy
Spain
Australia.
16. Over 76% of Surfshark visitors are male.
Source: [SimilarWeb, Surfshark Annual Report]
The vast majority of visitors to Surfshark on desktop and mobile are men. Comparatively, 23.59% are female. Interestingly, this contrasts the general VPN use survey, where respondents were 54% male and 46% female.
This suggests Surfshark itself may be a more appealing brand to men.
17. Stretford in the UK is second only to Shanghai in Surfshark trends.
Source: [Google Trends]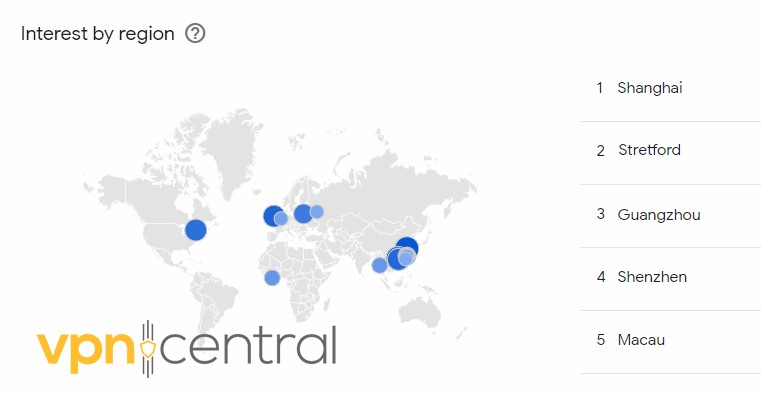 When filtered by city, Stretford in Manchester is second in Google searches for Surfshark.
But why would a random town in England have such interest in a VPN? Most likely, it's because of the company's sponsorship of the Stretford Paddock football club.
Surfshark research hub stats
Surfshark conducts its own research into cybersecurity, internet censorship, and other digital trends. Here's what it recently found.
18. Israel has the highest quality of 'digital life' (DQL).
Source: [Digital Quality of Life Index]
DQL is based on 5 pillars, including internet affordability and quality, electronic infrastructure, security, and the government.
Israel comes out on top, followed by Denmark, Germany, France, and Sweden. The United States is 12th in the rankings.
19. Over 5.8 billion people have been deprived of the open internet.
Source: [Internet Shutdown Tracker]
Surfshark partners with NetBlocks to track governments around the world that censor the internet. So far, a total of 5.8 billion users have been blocked from the internet in some fashion. This is spread across the governments in 77 countries.
20. More than 16 billion personal digital accounts have been breached since 2004.
Source: [Global Data Breach]
Surfshark compiles statistics on known personal data breaches since 2004. As of writing, cybercriminals have copied, transmitted, and stolen from a total of 16,284,828,554 accounts.
Wrap up
These Surfshark statistics demonstrate the company's huge reach. Despite the numbers, it's still a relatively young company with room to grow.
It continues to expand its VPN infrastructure, introduce new features, and conduct fascinating internet research.
Now along with Nord, it's a promising outlook for the brand in the years ahead.
Sources: