TunnelBear, a popular VPN service, has gained recognition for its user-friendly interface, strong security measures, and commitment to user privacy.
In this article, we delve into the statistics surrounding TunnelBear, including its user base, typical demographics, and other relevant figures that shed light on its market presence and growth.
Astonishing TunnelBear statistics
TunnelBear has 5000+ servers in over 40 locations across the world.
It has an estimated annual revenue of $7.6 million per year.
TunnelBear's Android app has an average rating of 4.4 stars out of 5 on the Google Play Store, based on user reviews.
The US searches for this service more than any other country
The provider has completed five annual audits
It has a user base of over 45 million users.
General TunnelBear statistics
TunnelBear boasts a considerable user base, with millions of users worldwide.
The service attracts a diverse range of people, including privacy-conscious individuals, professionals, and even organizations seeking enhanced online security.
While precise user statistics are proprietary information, TunnelBear's increasing popularity suggests a steadily growing user base.
1. Server network: over 5,000 servers in 47+ countries
(Source: TunnelBear)
Tunnelbear's server network spans 40+ server locations in over 40 countries of the world.
These allow users to tunnel to just about anywhere in the world so long they're connected to the internet.
They have servers in countries like the Netherlands, the United States, the UK, Canada, Nigeria, and many others.
2. User base: over 25 million users worldwide
(Source: TunnelBear)
As of 6th of November 2018, TunnelBear boasts over 25 million users that have connected to their service worldwide.
This user base has grown significantly from 0 at the time of creation to that large number.
The provision of its free version of the app made many to try its service for online privacy and security.
Significantly, this statistics made TunnelBear one of the fast growing VPNs in existence.
3. TunnelBear completed its fifth annual audit in 2022
(Source: TunnelBear)
This affirms its dedication to enhancing security and privacy measures.
The audit highlighted improved encryption protocols, strict data retention policies, and advanced vulnerability management systems.
TunnelBear's infrastructure resilience was reinforced with investments in redundant servers and disaster recovery mechanisms.
Compliance with industry standards and regulations was confirmed, emphasizing responsible data handling practices.
This milestone further solidified TunnelBear's position as a trusted VPN provider committed to user trust, transparency, and continuous improvement.
4. TunnelBear Inc. transitioned to TunnelBear LLC in six months
(Source: TunnelBear)
In a swift transition, TunnelBear Inc. successfully restructured itself as TunnelBear LLC within six months in 2018.
This transition marked a significant milestone in the company's evolution after McAfee acquired it.
The shift allowed the organization to streamline operations and adapt to changing market dynamics more effectively.
By undertaking this transition, TunnelBear demonstrated its commitment to agile business practices and ability to navigate corporate transformations efficiently.
The move to TunnelBear LLC laid the foundation for continued growth and success in the VPN industry.
5. Workforce: TunnelBear has a of 56 employees.
(Source: Growjo, TunnelBear)
This indicates the human resources dedicated to various aspects of TunnelBear's operations, including customer support, software development, marketing, and other key functions.
Their key personnel are called Bears, for instance, their product manager is called Obi-Wan KenoBear.
The number of employees can influence the company's capacity to handle tasks, deliver services, and support its user base effectively.
TunnelBear's estimated revenue per employee is $135,161 per year.
TunnelBear user and demographic statistics
Analyzing the demographic breakdown of TunnelBear users can provide insights into its global reach and popularity.
Please note that these results may fluctuate over time.
6. Over time, the United States has demonstrated the most interest in TunnelBear, with 10.56% of the website's total traffic.
(Source: SimilarWeb)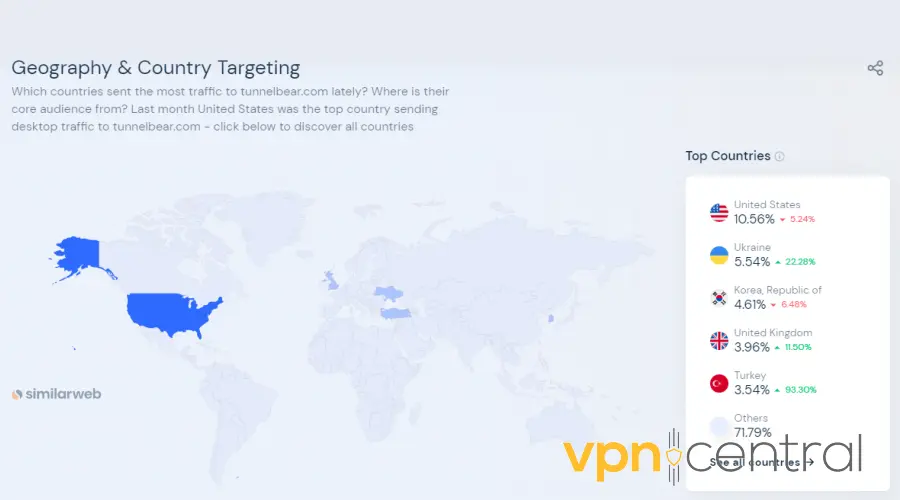 When considering all-time global web searches, Americans have demonstrated the highest interest.
They account for 10.56% of global traffic as a whole.
Over half of the US share, or 5.54% of the total share, was held by Ukraine in second place.
Korea, the United Kingdom, and Turkey each have 4.61%, 3.96%, and 3.54%.
7. 6.187 million people visited TunnelBear's website on average in 2023.
(Source: SimilarWeb)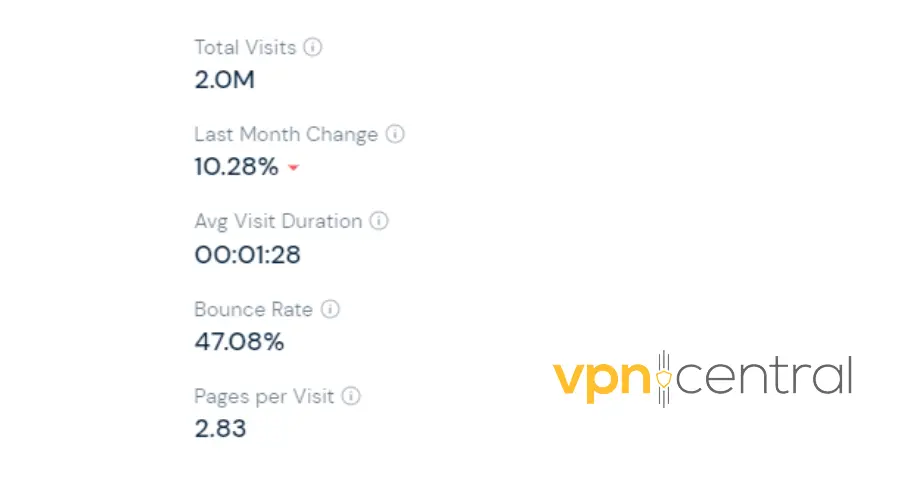 According to Similarweb, 6.187 million visitors used TunnelBear from March to May 2023. This amounts to roughly 2.062 million monthly visits and approx. 515,500 weekly visits.
This estimate is actually a reduction from the previous month by approximately 10.28%.
These TunnelBear statistics might be factored into the low publicity reach of the VPN compared to other popular VPNs like NordVPN.
8. In May 2023, TunnelBear's website ranked 34,246 globally and 45,403 in the US.
(Source: SimilarWeb)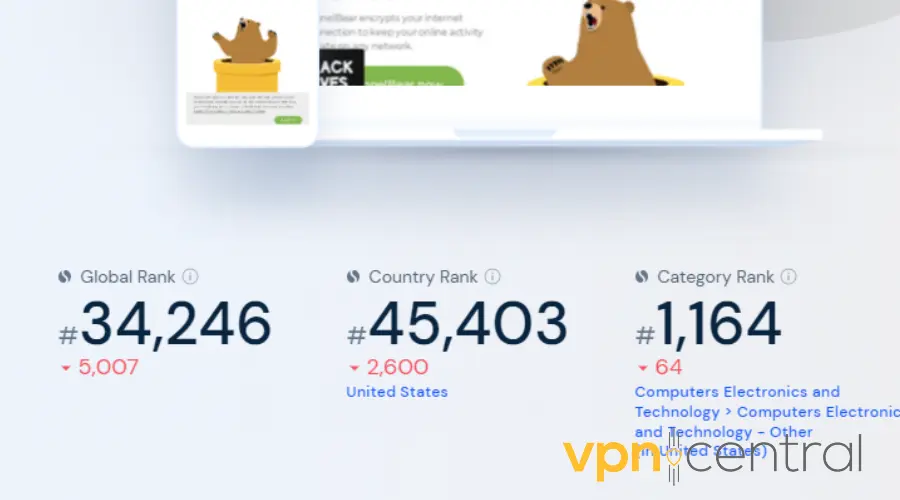 With a global traffic rating of 34,246, TunnelBear is presently just somewhat less well-liked than the food delivery service Uber Eats!
The platform comes in at position 4475 in the US, just below SignUpGenius but ahead of OfferUp.com.
9. The 25 to 34 age group makes up the bulk of TunnelBear's customer base.
(Source: SimilarWeb)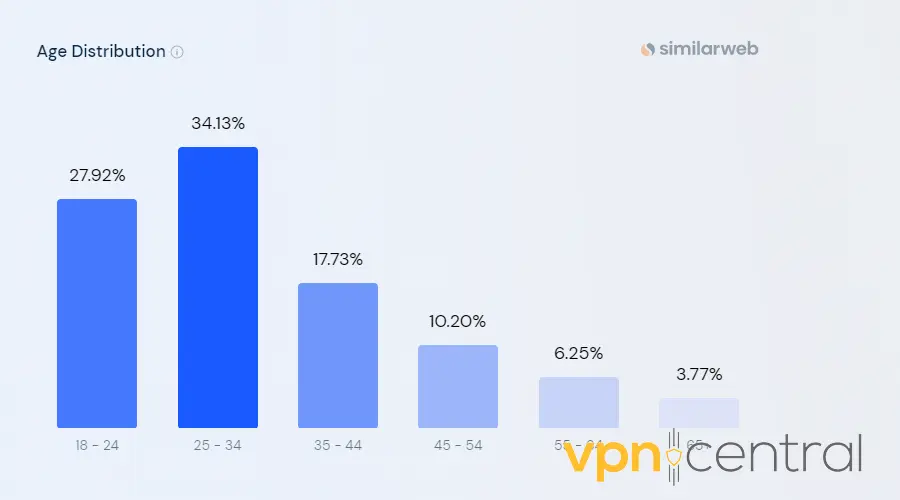 The demographics of an audience can show what audiences make up a site's current market share. The greatest age range of visitors to tunnelbear.com is between 25 and 34 years old.
Significantly, 34.13% of the traffic to TunnelBear comes from them. However, this stat is closely followed by users between 18 and 24, which accounts for 27.92% of the total traffic.
As users become older, the numbers decrease, coming to:
For the 35 to 44 age group, 17.73%
10.20% for 45 to 54
6.25% for 55 to 64
3.77% for those over 65
10. 48% of visitors to TunnelBear's website are men, making them the dominating gender.
(Source: SimilarWeb)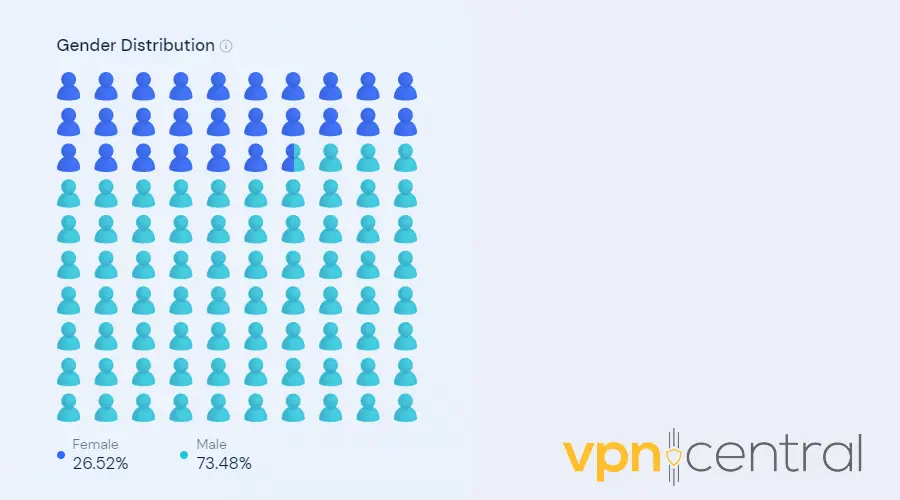 According to TunnelBear data and statistics, the female viewership is much less than the male audience, at 26.52%.
Comparable similar websites' statistics, such as NordVPN, likewise consistently reflect male domination.
It's also essential to consider that these figures may vary over time and can be influenced by various factors such as marketing strategies, target audience, and regional demographics.
11. The average time spent on the TunnelBear website is one minute and 35 seconds.
(Source: SimilarWeb)
This statistic indicates that visitors to the TunnelBear website only stay there briefly.
Interestingly, visitors also see about three pages (2.90 pages) on average every session.
However, American visitors stay on the website longer, with an average visit lasting three minutes and ten seconds.
Visitors typically spend a relatively short amount of time browsing through the website's content, indicating efficient navigation or concise presentation of information.
Revenue and company statistics:
Exact revenue figures for TunnelBear may not be readily accessible, as private companies often keep this information confidential.
However, as a leading VPN service, TunnelBear's revenue is expected to reflect its substantial user base and market presence.
Also, it maintains a relatively small team of dedicated employees and has offices located primarily in Canada, where the company was founded.
Here are a few stats on generated revenue.
12. TunnelBear's estimated worth of its website is $1,866,400
(Source: WorthOfTheWeb)
TunnelBear is a private company and doesn't release revenue reports. Combining estimated daily, monthly, and annual revenue creates an overall TunnelBear valuation of over $1.866 million.
Estimating traffic and ad revenue averages, the platform's revenue reaches at least:
$1,162 per day
$34,860 per month
$418,320 per year
How does TunnelBear make money?
TunnelBear makes money from subscription fees users pay to access their service. They also make money from traffic generated to their website.
13. TunnelBear VPN app has over 10 million downloads on Google Play
(Source: AppBrain, Google Play)
TunnelBear, LLC launched the app on the 10th of October, 2012, and has since then had over 10,000,000 downloads.
With a rating count of 305,000, it has an average rating of 4.4.
Chiefly, the majority of the reviews were from Smartphone users – 288,000. This was followed by Tablet users contributing 16,000 reviews and Chromebook users with 498 reviews.
Albeit, only 18 Android TV users gave reviews about the app.
However, its sister app, RememBear Password Manager, has total downloads of over 100,000 and an average rating of 4.04.
14. On App Store, the TunnelBear app is the 161st Top free app in the Productivity category.
(Source: App Store)
Being ranked within the top 200 free apps in a specific category on the App Store is a noteworthy achievement, considering the vast number of apps available.
TunnelBear has gained recognition and trust from iOS users looking for a VPN solution that enhances their productivity and supports their online privacy needs.
In addition, the app is available in 12 different languages, such as English, Arabic, French, Turkish, Spanish, etc.
The availability of multiple language options also extends TunnelBear's reach to regions where English may not be widely spoken or understood.
It allows users to access and utilize the app's features without language barriers, fostering a sense of inclusiveness regardless of their linguistic background.
15. TunnelBear's estimated annual revenue is $ 7.6 million per year
(Source: Growjo)
As of May 2023, the provider is projected to generate an estimated annual revenue of $7.6 million.
Evidently, it indicates the amount of money TunnelBear anticipates receiving from its services, subscriptions, and other revenue streams over a year.
The estimated revenue serves as a financial metric to gauge the company's performance and growth potential.
However, this is also subject to fluctuations based on market conditions, demand, and competition.
Jaw-dropping TunnelBear facts
16. TunnelBear was founded in 2011
(Source: Crunchbase)
It was created by Daniel Kaldor and Ryan Dochuk in 2011 and is headquartered in Toronto, Canada.
Since its establishment, TunnelBear has emerged as a notable player in the VPN industry, offering secure and user-friendly solutions for online privacy and data protection.
In addition, it has one of the best VPN deals for all users.
17. Perks and Benefits at TunnelBear
(Source: Flexjobs)
Employees at TunnelBear are affectionately referred to as Bears.
Generally, as a company that values employee well-being and satisfaction, TunnelBear provides numerous perks and benefits to its workforce.
Perks at TunnelBear include a comprehensive benefits plan, the freedom to choose computers and accessories, and fun activities like movie nights and ping-pong matches.
Additionally, TunnelBear ensures that its office is stocked with a wide variety of snacks and creates a bike-friendly environment for those who prefer cycling.
However, one of the most significant advantages of working at TunnelBear is the opportunity for a flexible work schedule.
This flexibility allows employees to tailor their work hours to accommodate personal commitments, therefore, increasing work-life balance and overall job satisfaction.
18. In March 2018, McAfee acquired TunnelBear
(Source: TunnelBear Blog)
In March 2018, global cybersecurity company McAfee acquired the six and half-year-old TunnelBear.
This brought together TunnelBear's user-friendly VPN services and McAfee's cybersecurity capabilities.
Specifically, the aim was to enhance McAfee's product portfolio and expand its VPN offerings.
The acquisition highlighted the increasing significance of VPN technologies in cybersecurity and aimed to provide comprehensive protection for users' online activities.
Wrap Up
TunnelBear has established itself as a prominent VPN service with a significant user base.
While precise user statistics, revenue figures, and internal company information may not be openly available, certainly, the popularity and positive reception of TunnelBear suggest a thriving and successful operation.
Its appeal to users of varying profiles and its commitment to privacy and security contribute to its growing global presence in the VPN market.
Sources:
---