The 4G data in India is probably cheaper than anywhere else in the world. By mid-2018 India had over 500 million users using the Internet from their mobile.
Combine that with the low-cost mid-range 4G smartphones, and you have the second most populist country with access to high-speed Internet consuming digital content like never before.
While the access to cheaper high-speed Internet has been boon for content creators on YouTube and online streaming services such as Hotstar, Netflix, and Amazon Prime, the conservative government has banned access to some categories of websites one of which is adult sites.
Virtual Private Networks (VPN) can help you bypass any restrictions imposed by your government or by a service provider for region-restricted content.
There are tons of free VPN options available, but most of them are easily trackable and do not offer the security features offered by other premium VPNs.
In this article, we take a look at the best VPN for India that can help you browse safely and assist you in bypassing the Internet.
How we chose the best VPN for India?
If you're not sure what to look for when choosing a VPN for India, make sure you verify the aspects listed below. If you carefully read and follow them, you'll surely get a tool that will fit all of your needs:
✅ First, because what you really need is anonymity, and to be protected from any cyber attack, you'll need a powerful VPN, that provides strong encryption tools and protocols.
✅ You should also check the compatible devices and platforms. The best VPN should be able to connect with all of the major devices (PCs, TVs, smartphones, and so on)
✅ If you're a beginner, find a VPN that offers a user-friendly interface, so it would be easier for you to access and navigate through it.
✅ Make sure the solution you go for includes a money-back guarantee, just in case you're not satisfied with its capabilities.
In addition, it is paramount to check if the VPN can unblock high-end restrictions imposed by specific websites or even by the government regarding web content in India.
What are the best VPN services for India?
1. ExpressVPN – No web restrictions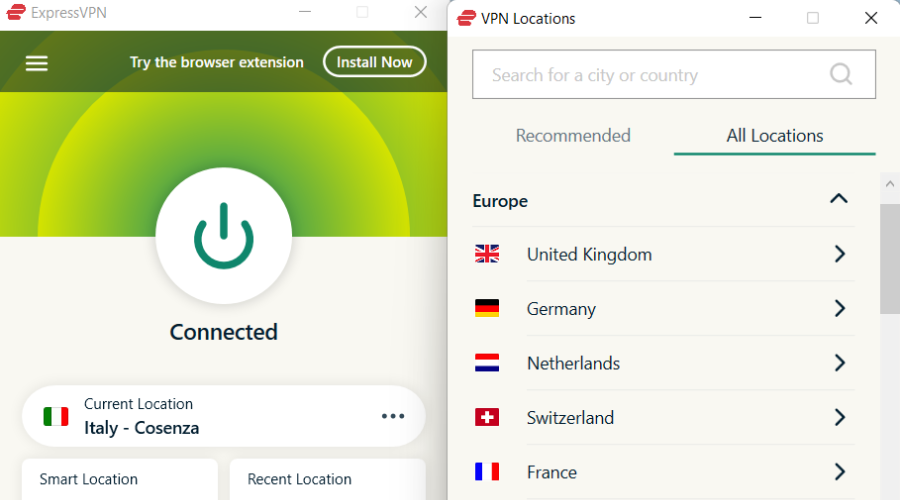 ExpressVPN offers all support to connect online for securing your navigation and accessing content from India without geo-blocking.
With this VPN, you have advanced privacy due to verified servers in 94 different regions, with multiple protocols for any type of need.
You also benefit from unlimited bandwidth and high-speed connection to navigate any services from India without region-blocked results.
It includes strong encryption with AES-256bit and private DNS for each server. More, you benefit from TrustedServer technology for access to free content with a high-speed connection.
Besides that, there is ISP throttling and government limitations blocking tools that can help you see unblocked content from many countries.
This ideal VPN also comes with speed test instruments so you can test your network and take advantage of supersonic browsing.
Lastly, it supports multiple platforms such as Windows and Mac devices, mobile systems, tablets, or routers.
ExpressVPN main features:
Access to blocked websites worldwide
DNS leak protection
AES-256 encryption

TrustedServer technology

Split tunneling benefit
Network kill switch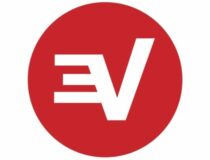 ExpressVPN
Connect to Indian servers in seconds and access geo-blocked content in 1 click with this secured VPN.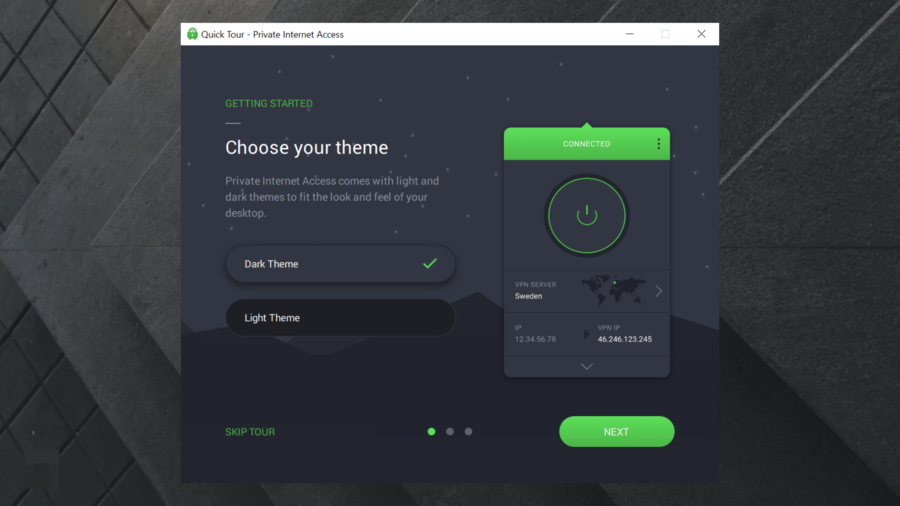 Private Internet Access offers a good ratio between costs and connection speeds coupled with great features.
With over 3200 servers located in 46 countries, you'll surely be able to find an available option for any activity you need.
It features a very simple and easy-to-use Windows client and offers exactly what you need to unblock restricted content and bypass online censorship.
Developed by a privacy-focused company (Kape Technologies), it offers protection against IP and DNS leaks.
This means that there are no chances of another service finding out your real IP or detecting that you might be using a VPN and blocking your connection.
The key features that PIA offers and which make it such a great choice:
DNS-based ad blocker called MACE to get rid of advertising and load pages faster

Port Forwarding to optimize P2P performance
A Kill-switch to prevent web traffic when the VPN connection is down
10 devices that can be simultaneously connected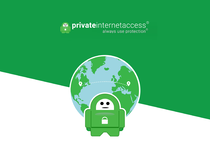 Private Internet Access
Unblock censorship filters in India with the help of this great VPN service!
3. SurfShark – Advanced VPN privacy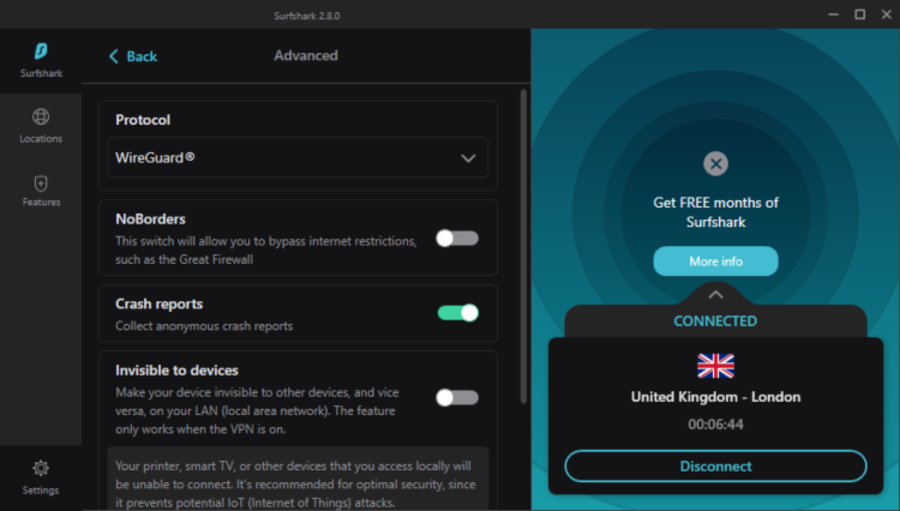 SurfShark is another great option you can use to bypass restrictions and censorship in India, as it does an amazing job when it comes to avoiding government surveillance.
For the best speeds, you can choose either from one of the local servers in India or from the other 3200+ servers across 65 countries.
With this tool, you'll be able to access all social media and the most popular streaming platforms, like Netflix, HBO Mas, Disney+, or Hulu.
Plus, with just one subscription, you can protect all your family's devices. SurfShark has no limit on the number of simultaneous connections, so you can stay secure at all times.
Do not forget that if you're not satisfied with its capabilities, manufacturers offer a 30-day money-back guarantee.
Take a look at the list of SurfShark's key features:
More than 3000 servers in over 60 countries
Unblocks social media and streaming apps
No limit of simultaneous connections
30-day money-back guarantee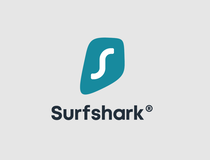 SurfShark
Looking for a VPN that works perfectly with India? Try SurfShark
4. CyberGhost – Bypass blocked websites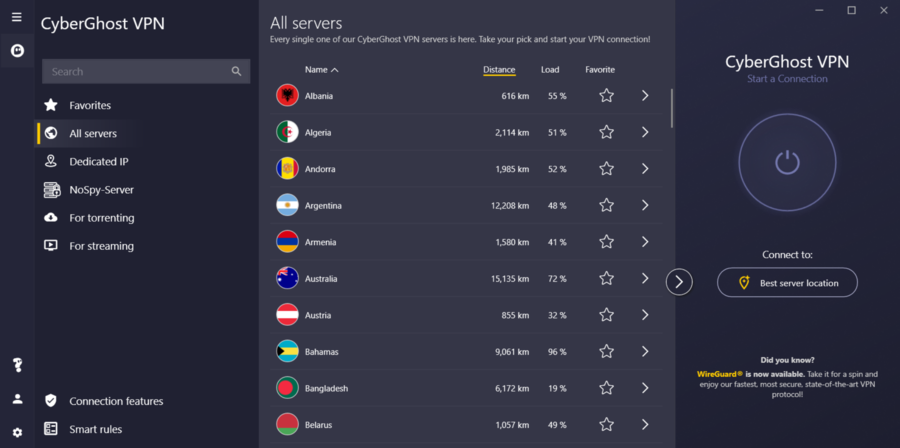 CyberGhost has one of the largest user bases in the VPN market. It offers top-notch security features, good speed, and access to region-restricted content with ease.
The user interface of CyberGhost is modern-looking. And the users can select from 269 servers located in 59 countries.
CyberGhost comes with all the essential features including IP hiding, Killswitch, multi-platform support, access to a fast server, and supports torrenting.
CyberGhost, part of Kape Technologies, is located outside Romania which is a positive point concerning privacy. It comes with a strict no-logging policy, and no leaks were detected during our test.
This VPN is compatible with the TOR browser for that extra layer of protection. You can also access the geo-restricted content on Netflix and other services.
If you want to download torrent, CyberGhost offers Torrent Anonymously features to download torrents from untraceable sources.
CyberGhost support multiple platforms which means you can use it on smartphone and computers at the same time and connect up to seven devices simultaneously regardless of the plan.
Check out what CyberGhost has the best to offer:
Kill Switch
Multi-platform support
No-logging policy
Torrent Anonymously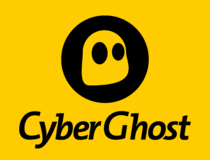 CyberGhost
Looking for a VPN solution that won't give you headaches while using it in India? Check out this VPN.
5. IPVanish – Ideal for unblocking content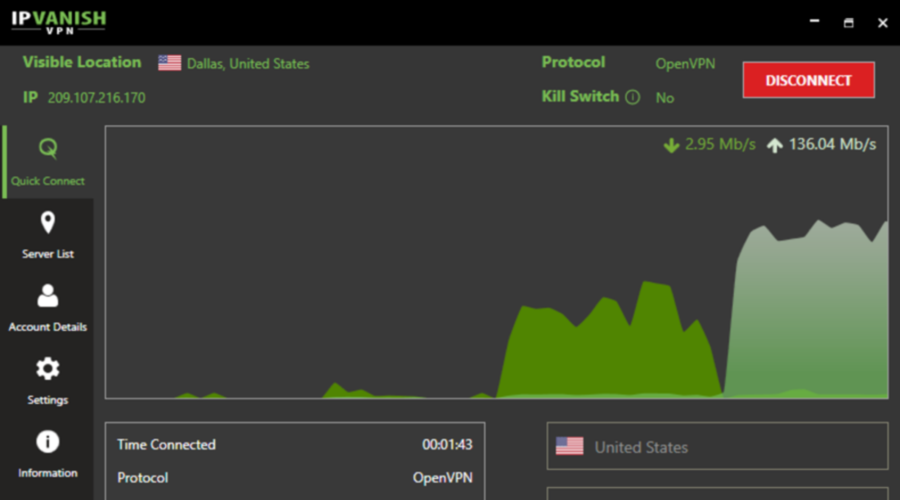 From bypassing internet censorship to unblocking region-restricted content, IPVanish offers everything that you need to browse the web safely without leaving any traces of your internet sessions.
IPVanish, owned by StackPath, LLC, is a US-based service that might ring some bells, but it has a strict no-logging policy, and no IP leak detection makes it a trustworthy service.
The company has over 1000 servers in 60 countries and works with computers and mobile devices with respective apps. It also supports major VPN protocols and allows torrent downloading using any torrent client.
We tested IPVanish using a 100 Mbps connection, and the results varied depending on the server used.
For EU & UK servers IPVanish offers 81Mbps download, and 25 Mbps upload speed while for US servers it only offers 34 Mbps down and 25 Mbps upload.
The simple user interface is easy to use and offers all the controls on the main page. It comes with features like unlimited bandwidth, 256-bit AES encryption, zero traffic logs, unlimited, P2P traffic, SOCKS5 web proxy, and up to 10 devices simultaneous connections.
These are the key features of IPVanish:
Over 1000 servers in 60 countries
Unlimited bandwidth
256-bit AES encryption
Allows up to 10 simultaneous connections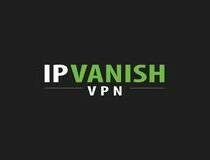 IPVanish
Tired of your VPN not working in India? You should give IPVanish a try.
6. TunnelBear – Reliable tunneling tools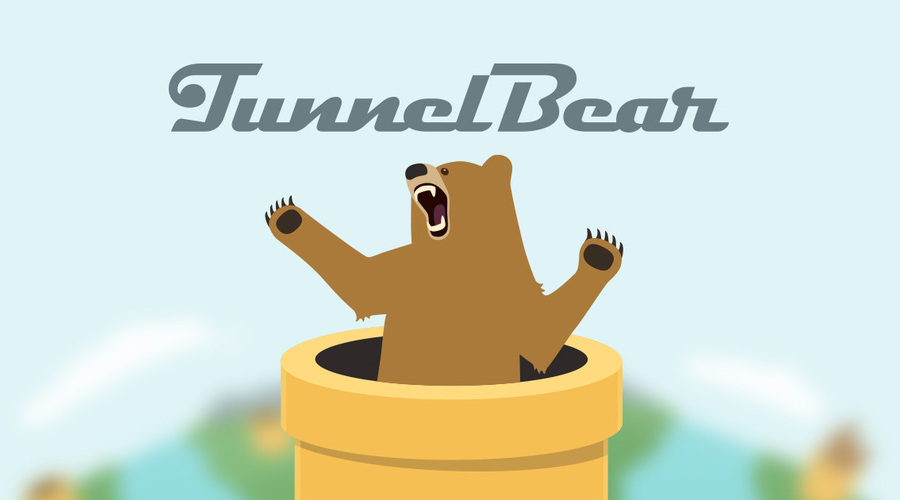 For those looking for a free VPN, TunnelBear can be a good choice. It comes with a very limited free version with 500 MB bandwidth that is good enough to browse websites but not for downloading large files over the internet.
You can upgrade to the premium plans that offer unlimited bandwidth and you can find them at some accessible prices.
TunnelBear, bought by McAfee, LLC, offers a simple user interface which is the easiest of the lot. It follows a strict no-logging policy, and we did not detect any IP leaks in our testing.
TunnelBear uses AES-256 for data encryption and SHA256 for data authentication. Users can connect up to 5 devices simultaneously per account. It also comes with features such as Anonymous OP and Kill-switch.
One interesting bit about TunnelBear is that it is independently audited for security. This means an independent organization was allowed to test the security of the VPN for its security features.
On the other side of the coin, TunnelBear has some room for improvement. The downloading and upload speed is slower than other major VPNs in this list. It offers a max speed of 52.26 Mbps for download and 26 Mbps for upload.
Check out TunnelBear's most impressive features:
AES-256 bit data encryption
Kill Switch
Unlimited bandwidth for the premium version
Allows you to create up to 5 simultaneous connections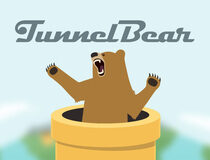 TunnelBear
TunnelBear is a reliable VPN that will protect your privacy and works even in India.
7. Hotspot Shield – Stable connection speed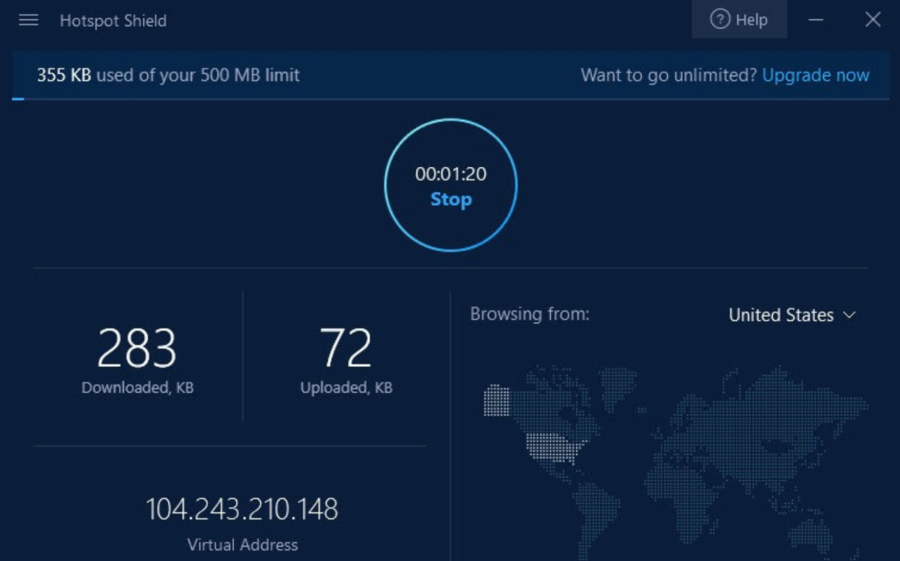 Hotspot Shield offers free VPN software as well as a premium version named Hotspot Shield Elite. The free plan has a bandwidth cap and acts more like a proxy while the premium plan offers unlimited bandwidth with OpenVPN tunnel protocol.
Hotspot Shield supports 256-bit AES encryption. The user policy shows that it collects some user data to show advertisements on its free plan.
Our speed test found Hotspot Shield to be one of the fastest VPNs offering speeds up to 92 Mbps for download and 45 Mbps for upload on the EU server.
The speed is even better on UK servers and up to the mark on the Asian server. It is on the US server, the speed is slow at 27 Mbps down and 13 Mbps up.
Hotspot Shield supports torrent downloading that is routed through anonymous servers. It is also compatible with Netflix to access Geo-restricted content.
Hotspot Shield is operated by a company called AnchorFree. It is a great alternative if you are looking for a free VPN. While the premium plans are expensive, Hotspot Shield does offer excellent speed for a VPN.
Take a look at Hotspot Shield's key features:
256-bit AES encryption
Fast and secure
OpenVPN protocol and unlimited bandwidth
Works perfectly with Netflix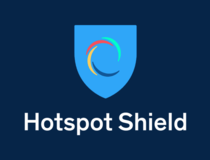 Hotspot Shield
If tired of not being able to access your favorite content from India, take this Hots Shield protection.
Can Indian police track VPN?
No, it is not possible for Indian police to track your VPN usage. Every provider has its privacy policy and you should be aware of the conditions.
Even if the police can't track your data per se, it is possible that they reach your ISP or contact the VPN company for log data.
Is it legal to use a VPN in India?
Even if virtual private networks may conjure images of illegal activities and mysterious figures on the dark web, you should know that VPNs are currently legal to use in many countries, including India.
However, keep in mind that there are thousands of websites that are now banned in this country, using opaque and official or unofficial means.
Can I use a free VPN for India?
Even if there are several free options you can use to bypass India geo-restrictions, we would recommend not doing it.
It is important not risking your data and digital traffic. So, for real online protection, you should invest in an option that won't give you headaches and this is only possible by running a premium solution.
Which free VPN has Indian servers?
You can find completely free VPNs with servers in India, and that would be ProtonVPN.
This VPN delivers high-speed servers to access content from India and obtain online freedom, plus enhanced privacy on risky websites.
Why did Nord VPN remove India?
Simply put, this VPN provider pulls out Indian servers due to privacy reasons regarding the residents. The cause is probably the government tracking over residents' Internet usage.
NordVPN doesn't support Indian servers anymore from June 26, 2022.
What are the fastest locations for VPNs in India?
As a general rule, the fastest locations for VPN India are set in the biggest and most developed cities in the country.
In these terms, you should definitely consider using a virtual private network that provides access to New Delhi and Mumbai.
What is the best gaming VPN for India?
For those of you who are wondering what is the best gaming VPN for India, well, if we were in your shoes we would definitely go for ExpressVPN.
This tool gives you speed, security, and freedom while gaming. In these terms, you won't have to worry about being attacked by enemies or encountering lags.
Plus, it works with multiple devices and allows you to create simultaneous connections, so it would be a pleasure to share the gaming experience with your loved ones.
The growing demand for online streaming sites has compelled the streaming giants like Netflix and Amazon to make not only the original Indian series for the audience but also offer international shows for their subscribers in India.
However, not all the major international series are available for streaming in India or take their own time before it becomes available in the country.
With our recommendations of the best VPNs for India, you can bypass internet censorship in India and unblock Netflix US and other services to stream international shows.
Do let us know which VPN you are using to unblock sites in the comments below.